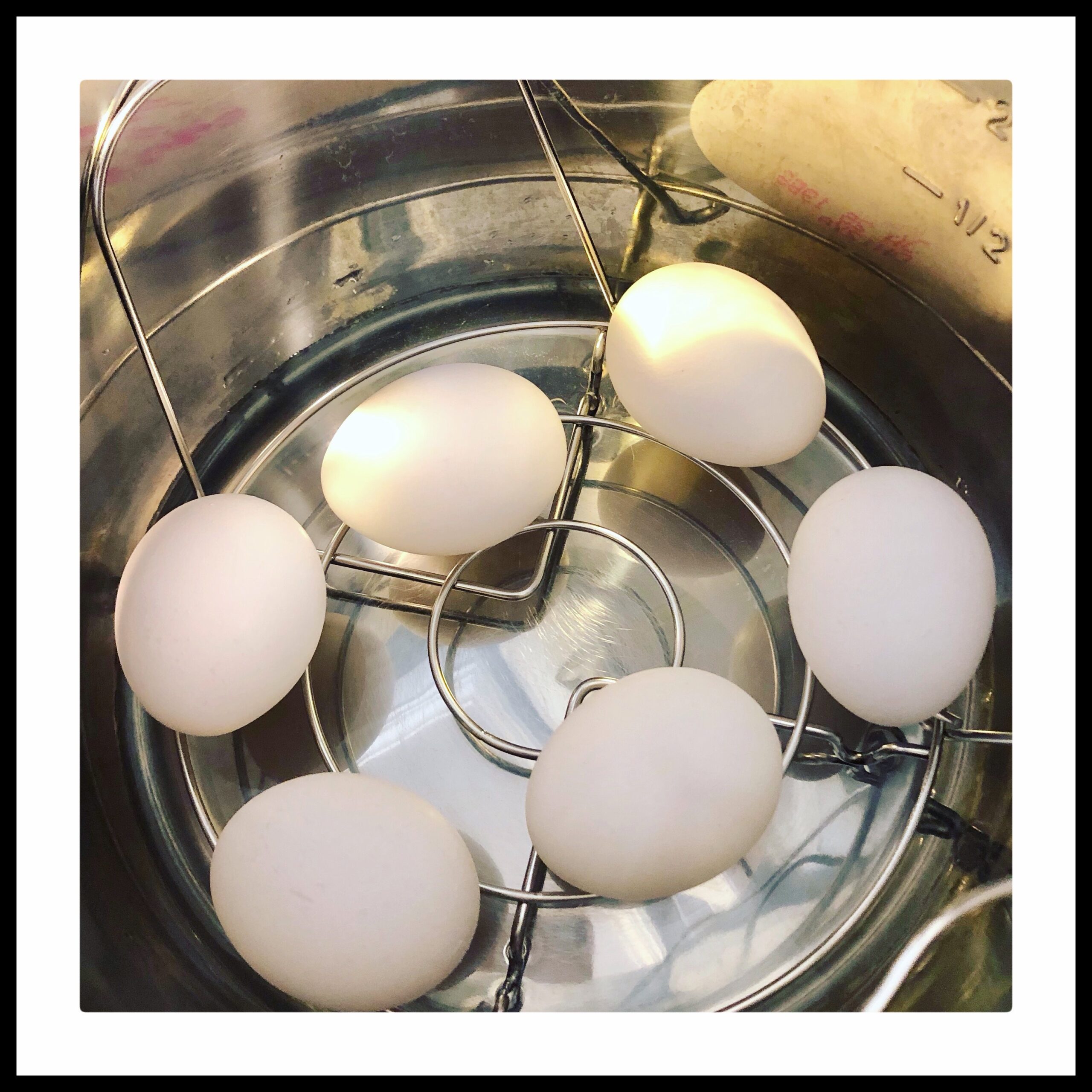 How To Hard Boil Eggs in the Instant Pot
Have you tried making hard boiled eggs in the Instant Pot yet?
It's a must!
Why? Because it works like a charm.
Easy to peel, perfectly cooked, no yucky gray or green rings on the yolk….in other words the ideal hard boiled egg!
There are quite a few variations to the cooking times out there on Pinterest and the web.
So, the instructions I am sharing here are what worked best for me, using a 6 quart size Instant Pot Duo model.
I have prepared my eggs this way, and only this way, since my first success with them, and to be honest I see no reason to go back to using the pot on stove method…ever!
You will need a trivet to place the eggs on inside the pot and hopefully you got one with your Instant Pot like I did.
If you do not have the trivet, you can also use a steamer basket that fits inside your pot. The idea is to have the eggs sit just above the water rather than immersed in it or touching the bottom of the pot.
Without further ado, here are the instructions…
HOW TO HARD BOIL EGGS IN THE INSTANT POT
Print Recipe
How To Hard Boil Eggs In The Instant Pot
Ingredients
Trivet

1

cup

Water

(regardless of how many eggs)

6

Eggs

(thats how many I used, but instructions are the same for any number)
Instructions
Place trivet in bottom of pot.

Add 1 cup of water.

Lay eggs on the trivet and lock on the lid.

Set up a bowl with cold water and some ice cubes, set aside.

Set pressure valve on lid to sealing.

Press "Pressure Cook" and adjust timer to 6 minutes.

When the time is up, let timer count up for 5 minutes of natural pressure release, then carefully turn pressure valve on lid to venting, to release remaining pressure.


Once pressure pin is down open lid and transfer eggs to ice water bowl.

Leave to cool for 5 minutes.

If you are using the eggs immediately, crack up the egg shells and peel under cold running water.

If you are making them ahead for a future use, refrigerate them until needed, in their shell.
What can you make with hard boiled eggs?
I use them mostly in salads, and usually make a batch specifically for egg salad sandwiches.
Here's an easy recipe….
Classic Egg Salad for Sandwiches
,center>
Print Recipe
Classic Egg Salad for Sandwiches
Ingredients
6

hard boiled eggs

peeled

3

tbsp

mayonnaise

1

tsp

mustard

1/8

tsp

each salt + pepper

1

tsp

finely chopped green onion

optional
Instructions
Add all ingredients to a medium bowl.

Mash together until well combined.

Spoon out and spread on your favourite bread (slices, buns, pita, even saltine crackers) and enjoy.
Please follow and like us: