How To Make Chicken Bone Broth In The Instant Pot
Happy New Year Instapotters!
In the spirit of starting the year off on a healthy note, here is a recipe for bone broth.
This golden, strained soup is rich in nutrients and minerals, and is proven to be beneficial for your gut, immune system, bones, skin, etc etc.
Drink a mug of it every day,  or use this flavourful broth to make delicious soups!
Just what the doctor ordered I'd say, as we enter the coldest month of the year…stay warm and drink up! Cheers🍜
INSTANT POT CHICKEN BONE BROTH
*using a 6 qt instant pot ip-duo model
STEP 1
Add all ingredients to the instant pot in the order listed and lock on the lid.
Cook on high pressure for 2 hours.
STEP 2
Allow pot to run on natural pressure release for 30 minutes, then pop open that lid and take in the amazing aroma of the delicious broth you just cooked!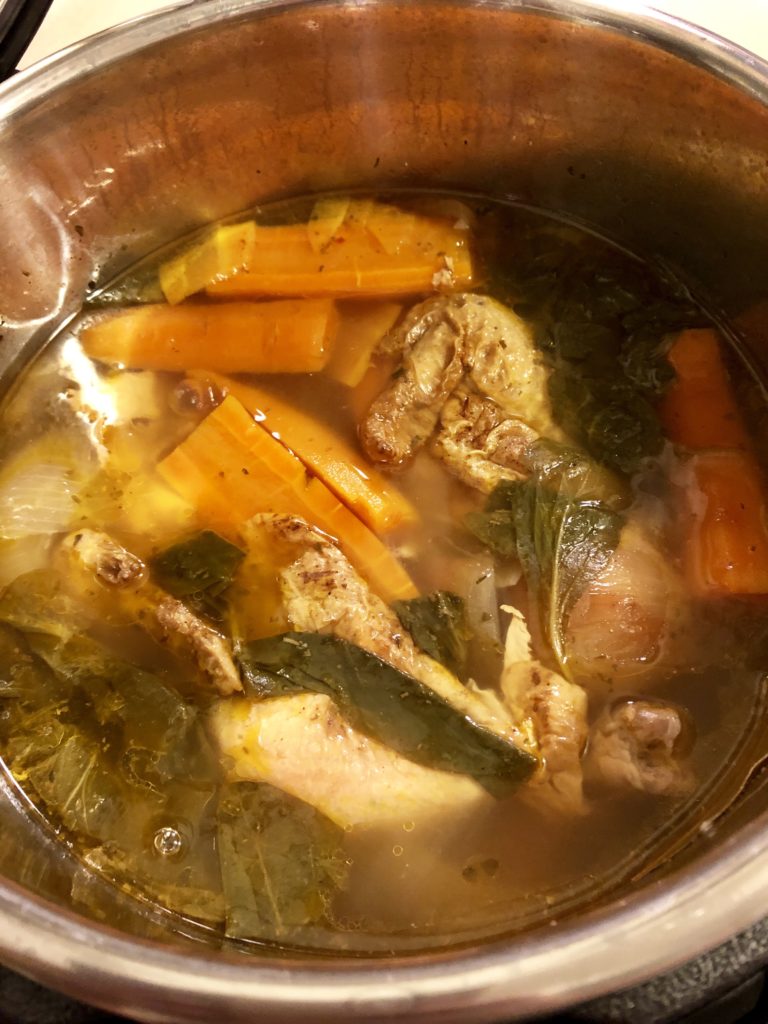 STEP 3
Remove the carrots, onions and anything else you wish to keep to use in a soup and set aside.
Strain the rest through a sieve into a large bowl, then transfer into jars or containers and store in fridge or freezer.
Here is the printable recipe…
Print Recipe
Instant Pot Chicken Bone Broth
Ingredients
1

roasted chicken carcass (great way to use up rotisserie chicken leftovers and bones)

2

carrots

washed, peeled, quartered

2

onions

quartered

2

medium potatoes

peeled, halved

a few cloves of garlic

peeled, smashed

a handful of greens such as celery stalks + leaves, spinach, kale, chard, collard greens

(anything you have on hand)

1

thunmb sized piece of fresh ginger

peeled

1

sprig fresh rosemary (or 1/2 tsp dried)

a few sprigs fresh parsley

2-3

bay leaves

1/2

tsp

ground turmeric

1

tbsp

Apple Cider Vinegar

(the good stuff with the mother is best)

1

tbsp

soy sauce

(optional but adds flavour)

8

cups

water (or fill pot to just under the max line)
Instructions
Add all ingredients, in order into the instant pot.

Lock on the lid, and turn steam valve to sealing.

Choose pressure cook and set timer to 120 minutes (2 hours).

When time is up, let pot and timer proceed with natural release for 30 minutes.

Open lid, and take in the delicious aroma of your broth...yummmm!

Do a taste test and adjust flavour with salt and pepper to your liking, I used the bones of a store bought rotisserie chicken which had plenty of flavour and seasonings already so my broth didn't need any extra.

At this point, you will want to remove the carrots, onions, celery and any good chicken meat that is in the broth, and reserve for using in a chicken noodle soup (which of course you can also make using this broth).

Place a fine meshed sieve (or cheesecloth) over a large bowl and pour the broth over it, then ladle the clear broth into a couple of large mason jars (or smaller ones, if you want to do ready to go portions).

This broth will last at least a week in the fridge, or many months in the freezer.

To use simply pour yourself a cupful, heat it up and sip away
Notes
*I made it in a 6 quart Instant Pot Duo
,center>
Please follow and like us: