Instant Pot Shredded Chicken Tacos
We love taco night over here!
It makes for a great family meal because each person gets to build their own tacos with whatever toppings they love best. And that makes everyone happy…even the picky ones.
In the past ground beef  was our go-to taco filling. We made them just about every week and the girls looked forward to them.
But now everyone's all grown up, and it's usually just 3 of us having dinner together.
And, we've really cut back on the beef eating these days, so I needed to come up with a good chicken alternative.
I found one…
Shredded chicken tacos for the win!
As always, when it comes to cooking with the Instant Pot, this recipe is easy and the chicken comes out moist and perfect for shredding.
The best part of course, is that you can walk away from the chicken while it cooks and get other things done, like preparing the taco condiments.
How do you dress your tacos?
We stick to the basics when it comes to the toppings…shredded cheddar, sour cream, shredded lettuce and chopped tomatoes.
I personally also enjoy guacamole, or sliced avocado, black olives and chopped red onion.
But who are we kidding, these ingredients rarely make it to the taco table, because nobody else likes them…uuugh!
I found the inspiration for this recipe on Pinterest. There are several versions, using a variety of different ingredients, cooking times and methods.
I chose to make mine following the basic chicken cooking methods that have worked well for me using the Instant Pot.
Give it a try, I think you will enjoy this!
Instant Pot Shredded Chicken Tacos
Print Recipe
Instant Pot Shredded Chicken Tacos
Ingredients
1

tbsp

olive oil

3

skinless, boneless chicken breasts

cut in half

salt and pepper for seasoning chicken

1

packet

Chicken Taco seasoning

1/4

cup

water

1

cup

Salsa of your choice (mild, medium, spicy, etc)

(I like the roasted red pepper salsa medium)

hard and soft taco shells

taco toppings such as shredded cheese, chopped tomatoes, shredded lettuce, sour cream, guacamole, salsa, olives
Instructions
Add olive oil to Instant Pot and press SAUTE button.

When screen reads HOT, add chicken pieces and season with salt and pepper.

Cook 2 minutes, turn, season again and cook 2 minutes more.

Press CANCEL.

Sprinkle packet of taco seasoning over chicken, pour water over it and top with salsa. DO NOT STIR!

Lock on lid, turn pressure valve on lid to SEALING.

Press PRESSURE COOK button and adjust timer to 10 minutes.

When time is done , allow the timer to count up for 10 more minutes of natural pressure release.

Press CANCEL.

Turn pressure valve on lid to VENTING to release any remaining pressure.

Open lid and remove chicken pieces to a plate.

Press SAUTE button and cook down liquid left in pot while you shred the chicken.

To shred chicken you can use 2 forks or for a faster method use your electric mixer (just place in bowl and run at medium speed until meat is shredded).

Return the chicken to the Instant Pot and give it all a good stir.

Press CANCEL.

Use immediately as filling for your hard and soft taco shells, or let sit in pot to stay warm until ready to serve.

Set up your condiments and toppings and warm your taco shells to serve along with the chicken.
Step by step photo instructions: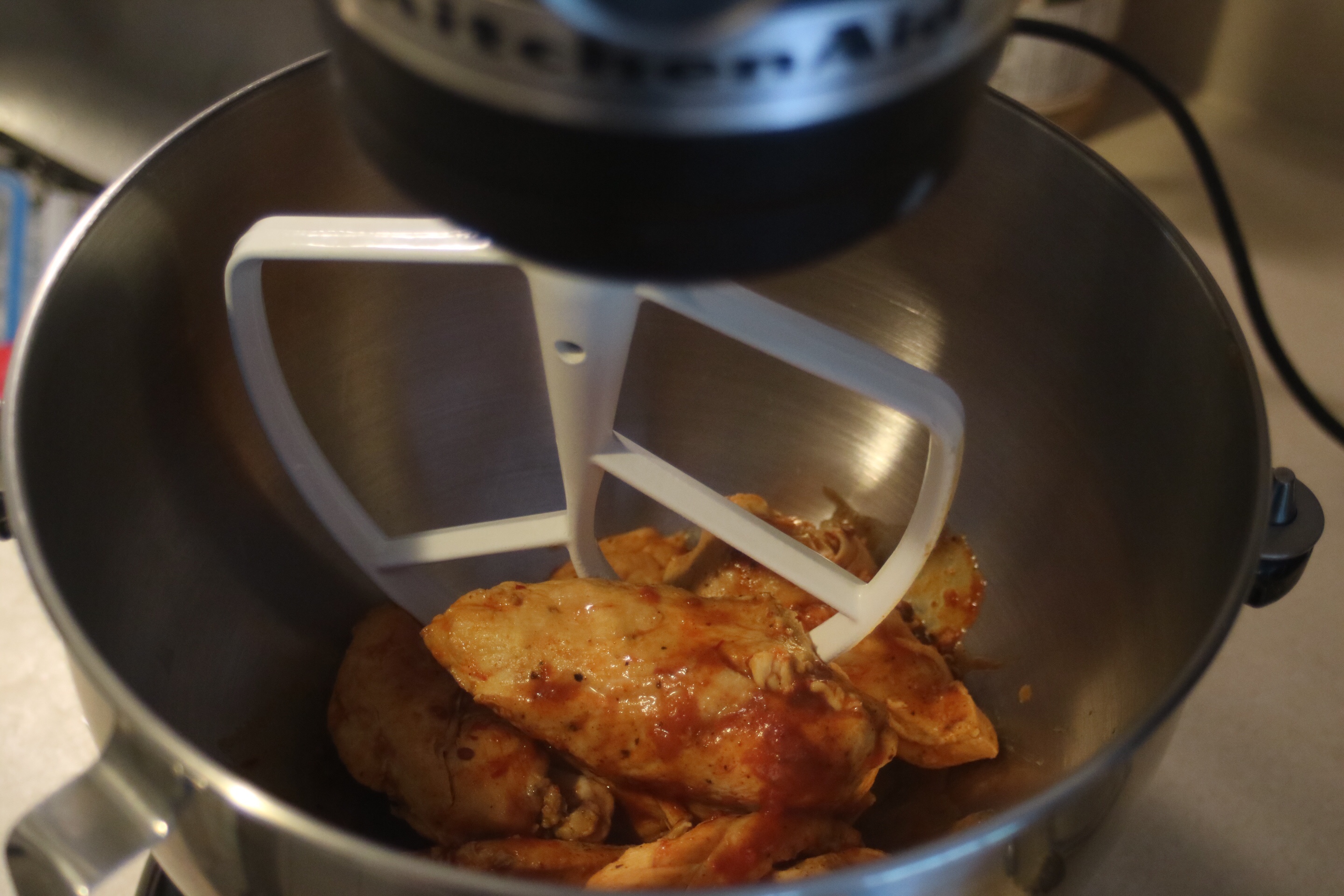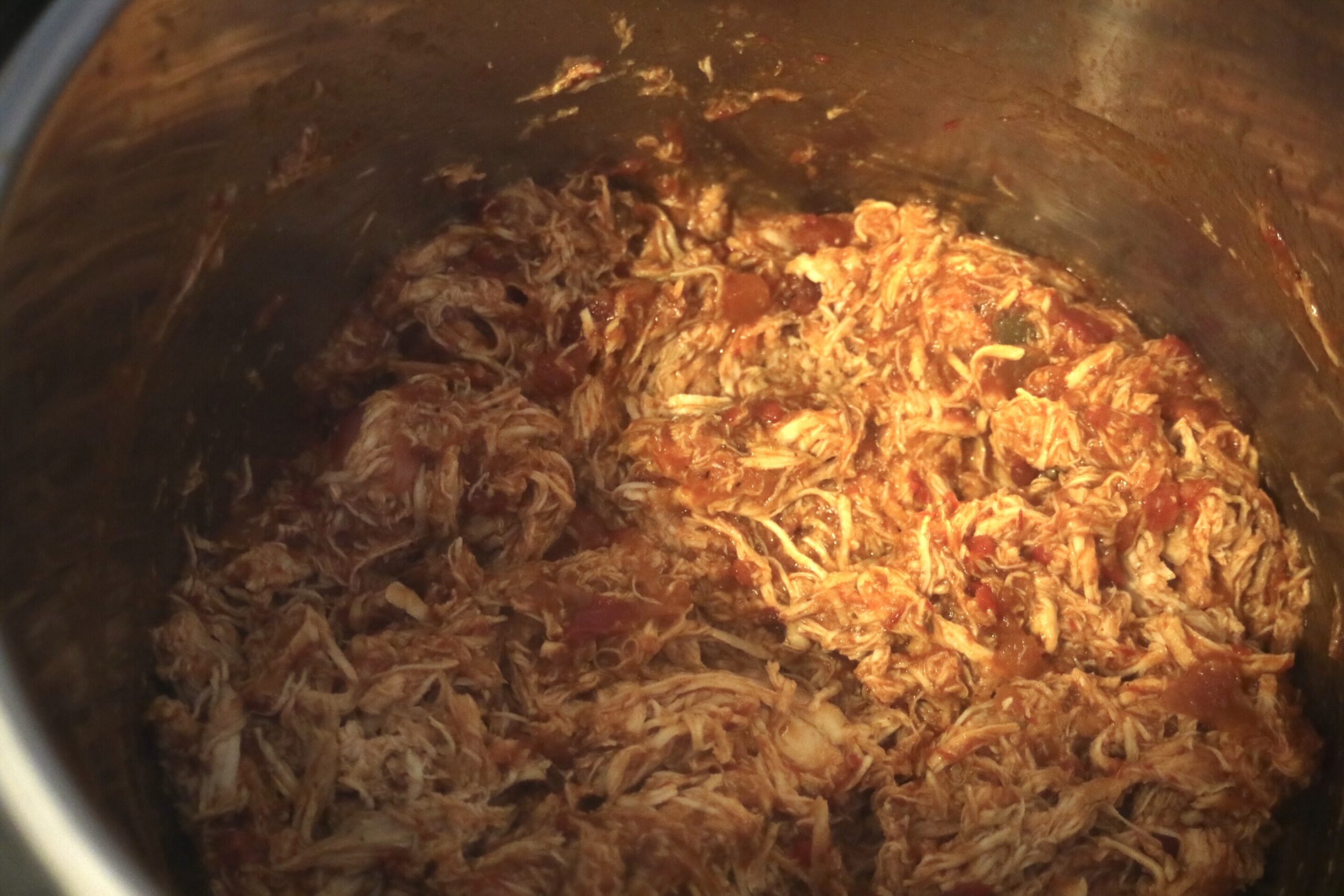 This post was featured at:
WEDNESDAY LINK PARTY #288 @ Grandmas House DIY
Over the Moon Link Party @ Marilyn's Treats
,center>
Please follow and like us: