Instant Pot Garlic Chicken with Herbes de Provence
Here you go…
Today I'm sharing this really great recipe for a delicious chicken that some of us were lucky enough to taste recently, from our friend Carol.
It came from an official Instant Pot cookbook, purchased at Costco.
And considering the success of this recipe it might just be worth purchasing. After all there are 99 more recipes in there that I'm now very curious about.
Just a heads up on this meal, there's a quite a bit of garlic and a lot of herbes de provence in the recipe.
Please don't  get scared, like my daughter did when she saw all that garlic on the cutting board. 😜
Have faith, I promise you it will work out. It all comes together to create a very flavourful chicken dish.
To make it my own, I did make a few small changes:
Reduced the salt from 1 tsp to 1/2 a tsp, which in my opinion is more than enough
Added a splash of wine to the marinade and a bit more to deglaze the pot, because I wanted to end up with more sauce, and because I add wine everywhere I can in my cooking!
Used chicken breasts instead of thighs and upped the amount from 1 lb to 1 1/2 lbs, enough to serve 4, or have leftovers for lunch the next day (I did not adjust the amount of rest ingredients)
I didn't use cream since I didn't have any, but I'm sure it would be a nice addition which I shall definitely add next time
Thickened the sauce (it was very thin) with a mixture of  flour + butter (you could also use cornstarch dissolved in a bit of cold water)
That's it folks, pretty easy and very tasty.
Now get that Instant Pot out and start cooking! 😋
*if you're interested in the book,  it is this one:
Instant Pot Fast & Easy by Urvashi Pitre
(you can order it Amazon)
Instant Pot Garlic Chicken with Herbes de Provence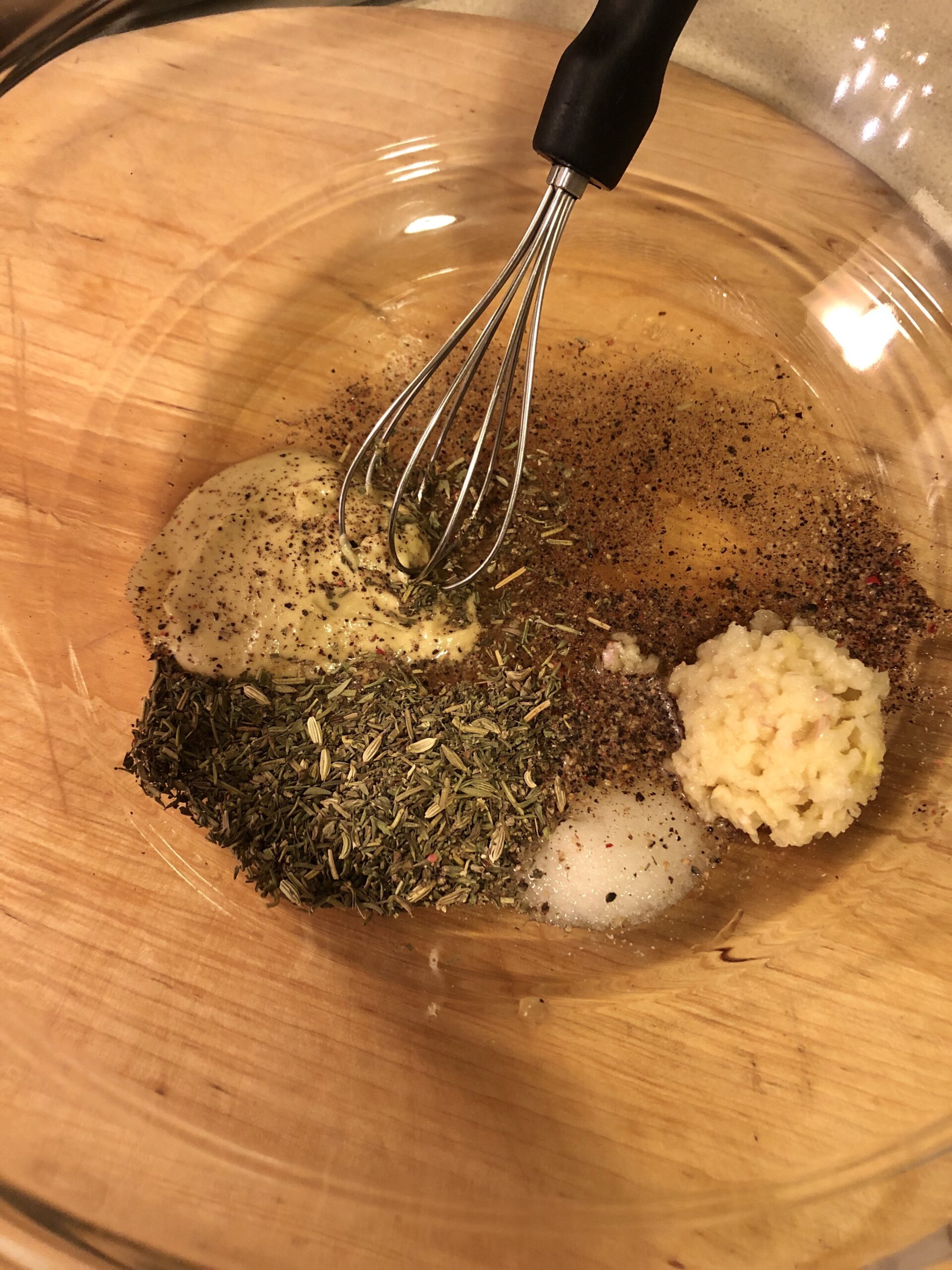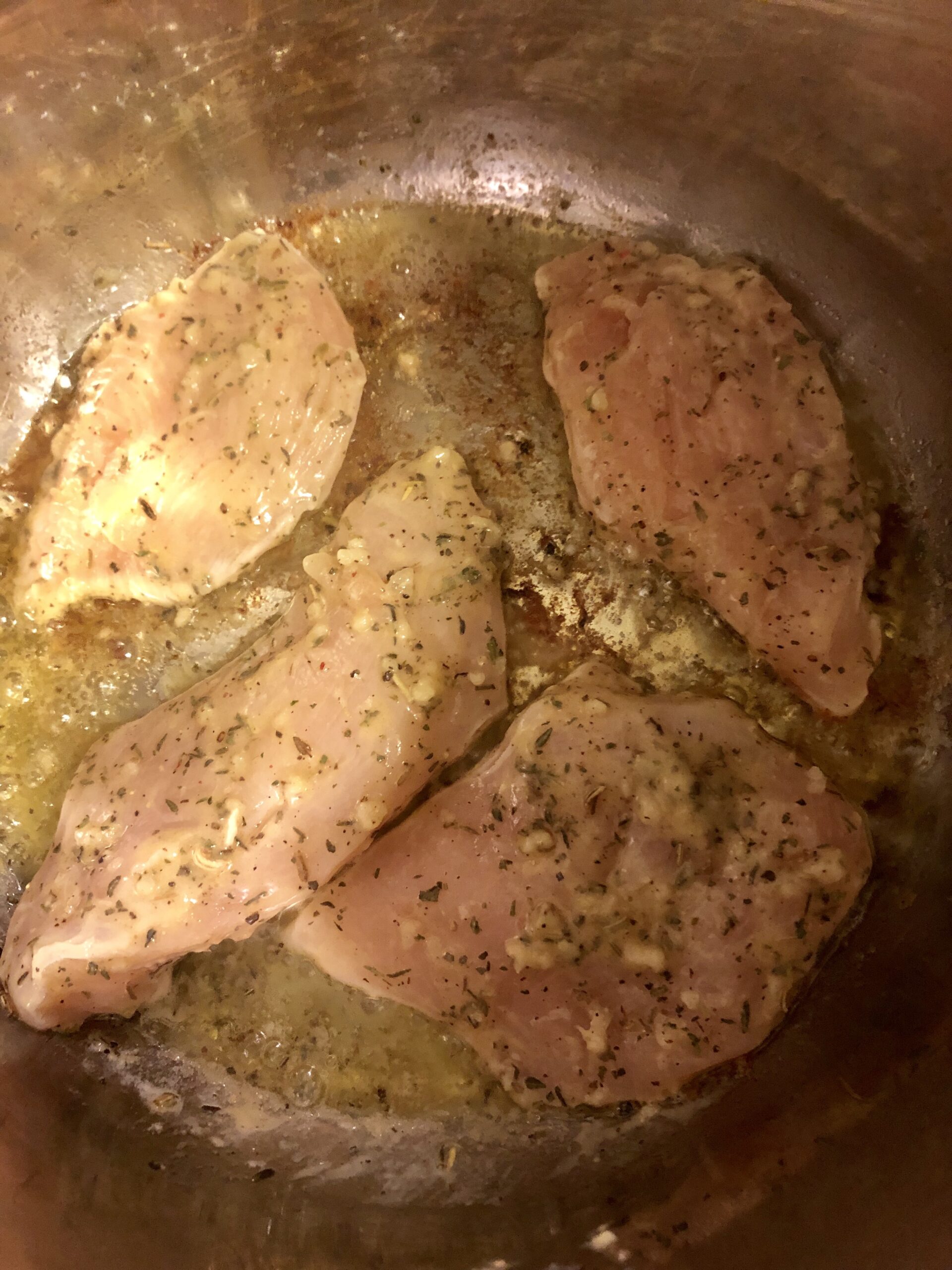 Print Recipe
Instant Pot Garlic Chicken with Herbes de Provence
Ingredients
1

tbsp

Dijon Mustard

1

tbsp

Apple Cider Vinegar

1

tbsp

Minced Garlic

2

tsps

Herbes de Provence

1/2

tsp

Salt

1/2

tsp

Pepper

3

tbsp

Olive Oil

2

tbsp

White wine

optional

1 1/2

lbs

Chicken Breasts (or thighs or a mix of both)

boneless, skinless

2

tbsp

Unsalted Butter

8

cloves

Garlic

finely chopped, or minced

1/4

cup

white wine

sub with water if needed)

1/4

cup

Water

1/4

cup

Heavy Cream

(optional)

1

tbsp

Unsalted Butter

1

Tbsp

Flour
Instructions
Make the marinade: whisk the first 8 ingredients together in a large bowl

Add the chicken pieces and turn to coat each piece well

Cover bowl, and refrigerate for about 30 minutes.

Press SAUTE on your Instant Pot, add butter and heat until pot display reads HOT.

Add chicken and cook for 2 min each side, in batches, taking care to leave as much marinade in bowl as you can.Transfer to a plate and set aside.

Add wine to pot to deglaze, then add remaining garlic and cook 1 minute.

Add water and reserved marinade and whisk together. Return chicken to pot, select CANCEL.

Lock on lid, turn pressure valve on lid to SEALING.

Choose PRESSURE COOK mode and set timer for 6 minutes.

When done, let timer count up for 10 minutes of natural pressure release, then release remaining pressure by turning valve on lid to VENTING.

Open lid and transfer chicken pieces to a serving place, cover to keep warm.

Select SAUTE mode, add cream and whisk to combine.

Mix together flour and butter to make your slurry and whisk into sauce, cook a few more minutes to thicken.

Select CANCELl to turn pot off.

Pour some sauce on the chicken, the rest in a gravy boat, and serve with a side of mashed potatoes.
*disclaimer: some of the links on this post are affiliate links which means that if you make a purchase from following them, I may receive a small commission. I appreciate your support. 
,center>
Please follow and like us: