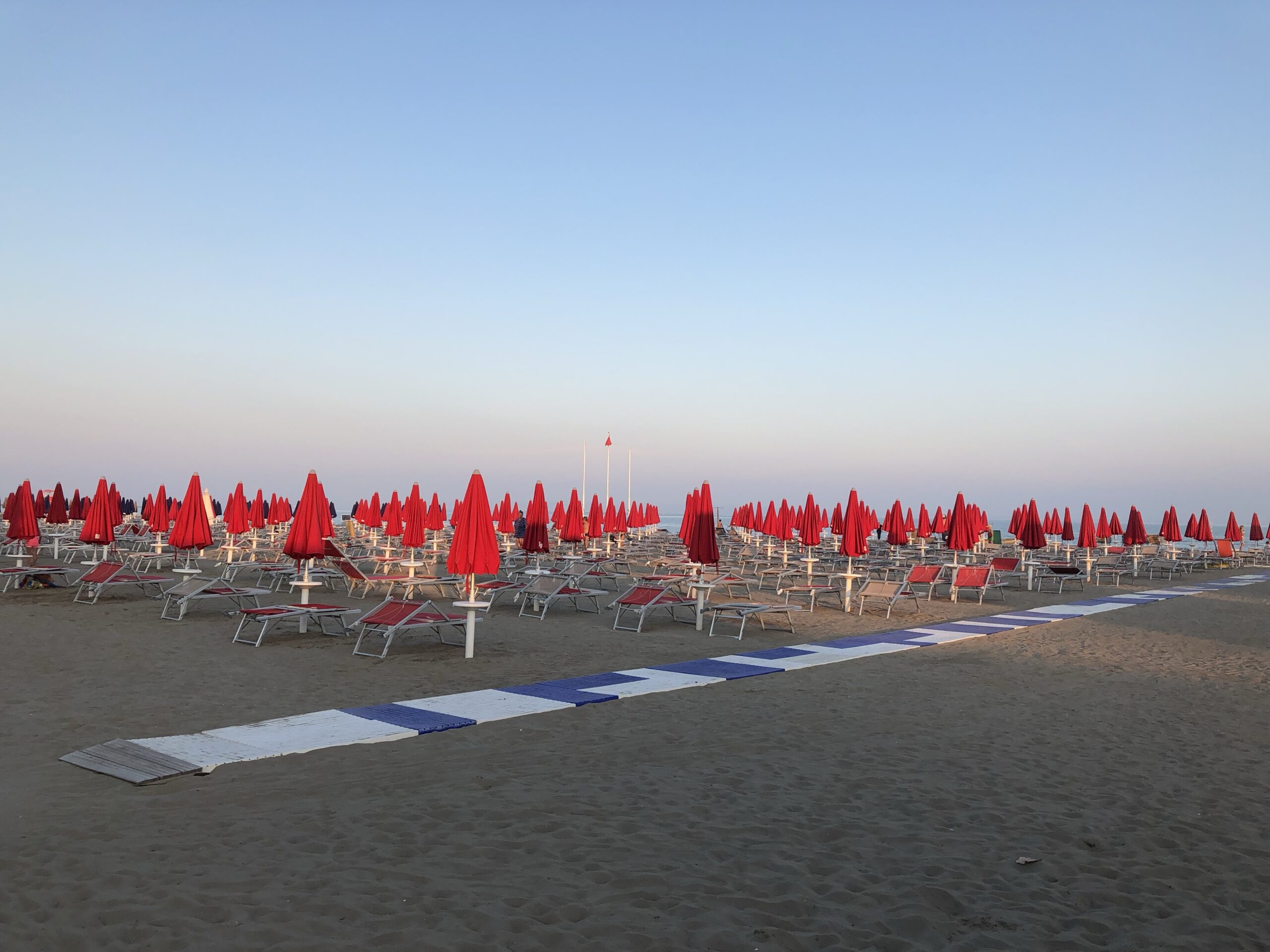 The Resort Town of Grado, Italy~A Travel Guide
Isola del Sole….
That's what the Italians call this charming little corner in the north part of the country. It means Island of the sun and it suits Grado perfectly.
While it might not be a place you've ever heard of, Grado is actually a well known tourist destination for Italians and a popular beach vacation for the Austrians.
When I was a child living in Italy, we came here often, to visit family, go out for lunch, or simply enjoy a day at the beach.
Grado Pineta was our preferred spot, as it was free to enter, not as busy as the main beach, and it offered plenty of shade with its lovely pine forest.
But Grado, in general, was not one of our favourite beach destinations.
The sand was too hot, the beach too full of tourists, and the water much too shallow to enjoy swimming and snorkeling.
That's the way I remember it anyways. LOL
My aunt on the other hand, she absolutely raved about Grado.
And after coming for some therapeutic treatments, she became a regular, and eventually also a home owner here.
For me, returning as an adult, made me realize that I took a lot for granted, and missed out on so much of what this resort town has to offer.
Where is Grado
Grado is a small, medieval town, located on an island, in the region of Friuli Venezia Giulia.
You can find it by driving down the peninsula that juts out into the Adriatic sea, about half way between Venice and Trieste.
It's connected to the main land by a causeway.
When to Go
The summer months of July and August are the ideal time to visit Grado because it is primarily a resort town. The weather is perfect for the beach and all businesses are open and ready for the tourist season.
The downside?
It is by far the busiest and hottest time of the year.
Also…mosquitos.
So. Many. Mosquitos.
If they love you as much as they love me, do not venture out in the evening without spraying yourself head to toe with some form of repellent.
Trust me on this.
Summer crowds not your thing? Consider visiting in May, June or September. It's usually warm enough to enjoy the beach, but not too humid. The sea water might be a bit cooler but you can definitely still swim.
Of course, you can visit Grado any time of the year.
But do keep in mind that for at least half the year this is primarily a small fishing town, with a population of about 8000.
Many businesses, especially shops and restaurants are seasonal and shut down in the fall and winter months.
It does get cold, damp and often very windy, with temperatures sitting at just above 0 degrees C.
But on a sunny day, there's still enough activity here to enjoy the sights and have a great meal.
What to See and Do
Whether you are travelling alone, with a special someone or as a family, there is something here for everyone to enjoy.
There's much more to Grado than just sea and sand.
Explore the Old Town
The historic centre was built mostly in Venetian style. It's very small and doesn't take much time to see, but it's worth a look.
Stroll the narrow streets called Calle. Allow yourself time to enjoy lunch or dinner at the small restaurants tucked away in the prettiest corners.
Stop at the Basilica of Santa Eufemia, a church, located in a small square in the centre. It dates back to the 4-6th century.  Although much of the building has been rebuilt over the years, there are many original remnants, including very well preserved floor mosaics.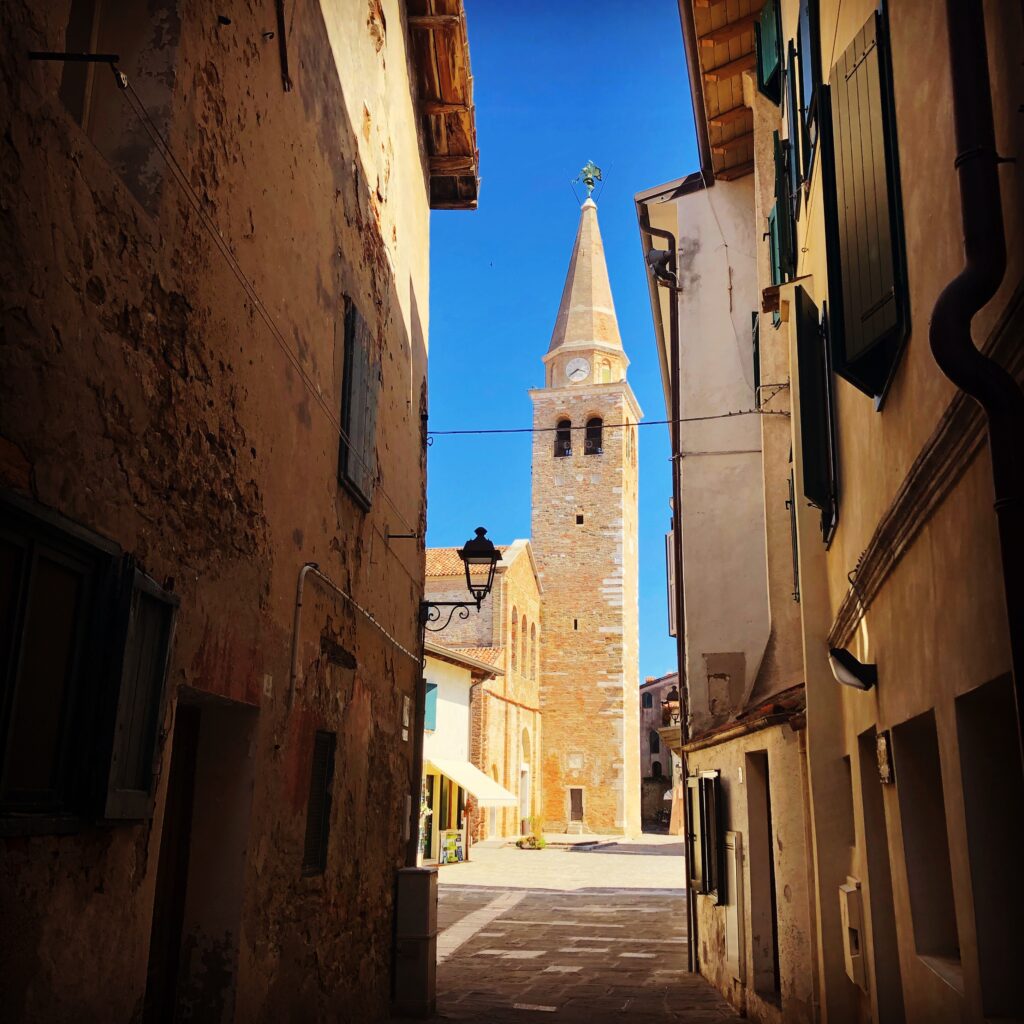 Visit the Basilica di Santa Maria delle Grazie, beside the larger Santa Eufemia. This is one of the oldest churches in Italy. It's very small but has beautiful mosaics and roman columns.
In the Piazza Biagio Marin, you can see the excavated remains of mosaics from another Basilica dating back to the 4-6 century.
Most of the area is a pedestrian only zone, so walking around is easy and enjoyable.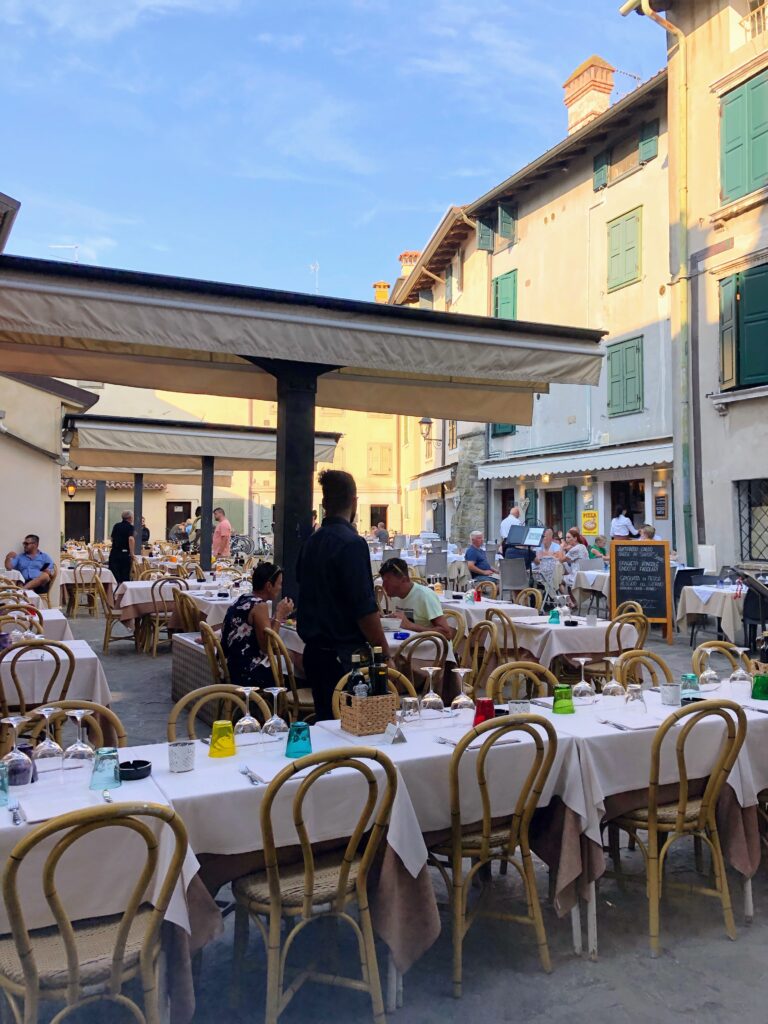 Explore the New Town
As you leave the oldest part of town, you enter the tourist part of the town, as well as the area when many of the locals live year round.
Walk around small port and over to the pedestrian only zone. Or follow the canal over to the bridge that connects to another small island with homes and some good restaurants and bars.
Everything you need for your stay in Grado can be found in this area, including supermarkets, shopping, as well as services such as banks and pharmacies.
This is also where you will find many restaurants, gelaterias and bars. Most provide outdoor seating, which is so enjoyable on a warm summer night.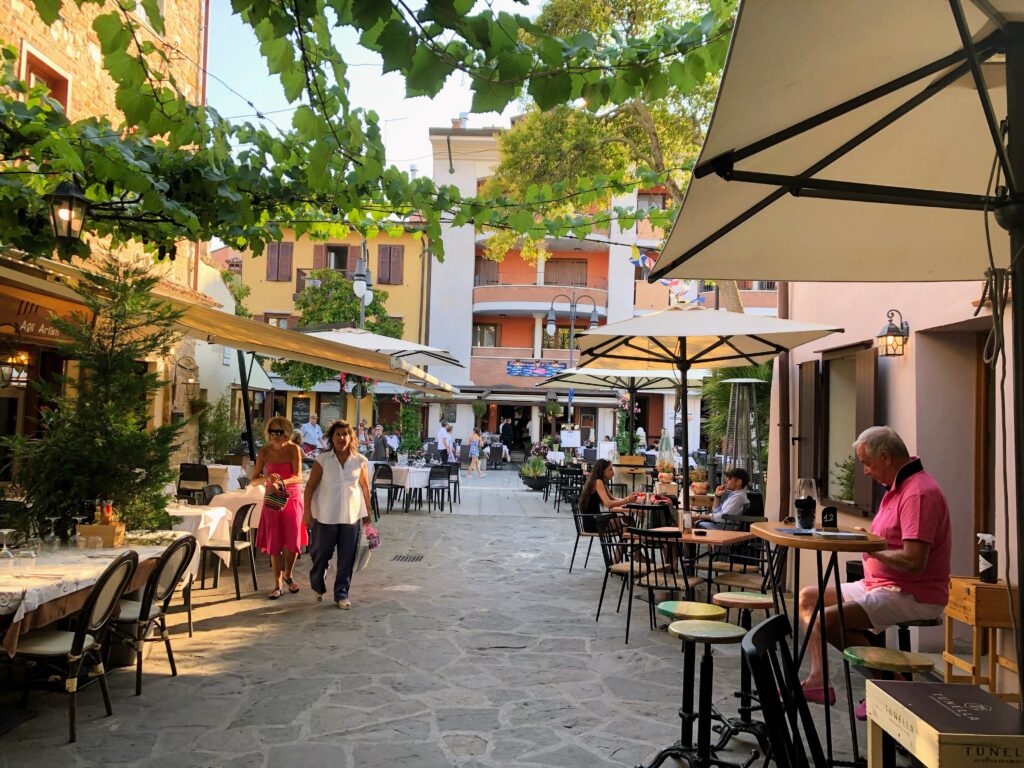 Visit the Sanctuary of Barbana
Take a boat ride to the ancient Shrine site located on an island in the middle of the lagoon.
It's one of the first things you see out in the water, as you arrive into Grado.
On the first Sunday of July, there is a pilgrimage to the sanctuary called the Perdon de Barbana. A decorated procession of boats leaves Grado to make its way to the Shrine. Anyone can take part if they wish, but plan in advance to secure boat tickets.
This has been going on since the year 1237 as a thank you for the Madonna giving relief from the plague to the citizens of the town.
Plan on spending about 1-2 hours here on most days, and you can also have a simple but tasty lunch here.
Rent a bike
Exploring Grado by bike is ideal.
A large network of cycling paths allows you to discover the town and many interesting places nearby.
In fact Grado sits at the end of the Alpe Adria cycle route, a 425km route that starts in Saltzburg, Austria and is said to be one of the best in Europe.
There are several places to rent bikes from, as well as a few from the Visitor Centre. Also, some hotels will have bikes available for your use.
Bike sharing services like RIDE ME are also an option.
Most of the town is flat, so this is a great activity to do on your own or with family.
Seaside Promenade
A walk along the seaside promenade is a must. It offers great views of the water and on clear days an excellent view of the hills and even mountains across the other side of the sea.
This is a wonderful way to spend a late afternoon or evening , and best enjoyed with a gelato in hand.
A word to the wise…there is no shade to be had anywhere along the way, so leave your strolling for the late afternoon hours in the summer. It gets really hot out there.
Now, if you are here in the off season you can extend your walk along the entirety of the beach which is open and free to access (whereas in summer it's only accessible to paying customers).
Explore the lagoon
Rent a boat or take a guided tour and explore the Lagoon which has about 100 islands.
Part of the lagoon is a natural protected reserve, home to a large variety of wading birds. This is a haven for bird watching enthusiasts, and organized trips are available.
Make it a Spa day
Grado was declared the official spa of the Empire in 1892 by Emperor Franz Joseph, and has been a choice spot for relaxation and rejuvenation ever since.
The salt water and sand both provide healing properties, and a multitude of specialized therapeutic treatments are available.
The most famous one is the Sand Bath, which was started here in Grado. People come from all over to experience it.
What exactly is a Sand Bath, you ask?
It's a therapeutic treatment where whole body is covered in sand and sea water, while you lie outside under the sun. The intense heat of the summer rays activates the beneficial properties of this therapy.
Go to the beach
Grado prides itself in the fact that all its beaches are Bandiera Blu (blue flag). This is a status awarded to Italian beaches with excellent water quality and high environmental standards.
While these are not the most beautiful beaches in Italy by far, the sand is soft, the water is calm and very clear, and it warms up well in summer. And with all that Grado offers, you can see why a beach vacation here is so popular.
The Spiaggia Principale is 3 km long. It is the main beach of Grado and you can expect a very typical Italian beach experience here.
That means rows upon rows of colourful beach umbrellas, chairs and cabanas, ready to be used, for a fee of course.
Yes, entrance and amenities require payment, and it's not cheap. However, everything is well organized, clean, with access to everything you may need. There are lifeguards, washrooms, change rooms, beach showers, and several casual restaurants to get some pretty delicious lunch food, while still in your bathing suit.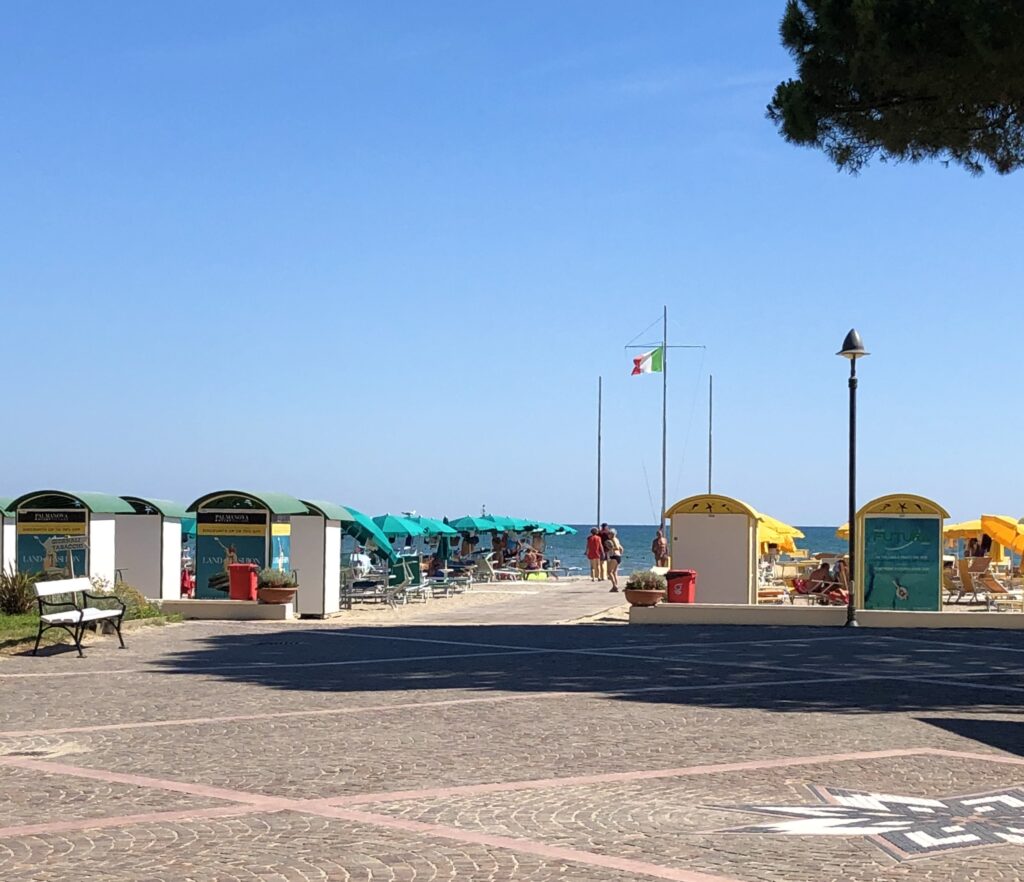 There is also an indoor therapy pool, along with other spa and therapeutic services.
Topless sunbathing is a thing here, as it is all over Europe, with both the young and old partaking. After the initial shock to the eyes LOL it all becomes rather normal. Nobody seems to care much, so do as you please.
The water is shallow, and the sandy bottom makes for a very gentle, easy entry into the sea, which is great for young children and the elderly too.
At low tide the very shallow water extends out for quite a distance. Not great for swimming but fantastic for long walks and exploring. On a hot summer day it's a beautiful thing.
Costa Azzurra beach is mostly free to access, and very popular with the locals.
Snoopy beach is perfect for those who want to bring their dogs.
Grado Pineta is set in the pine forest area, lots of shade, quieter area, some is free and some is not.
Al Bosco beach area is free.
Do a little shopping
On Saturdays visit the street market on Viale Italia, from 8am to about 1pm. You can find clothing, beach wear, food, and house wares at the many stalls. It's a great place to pick up a beach towel.
Seasonal markets around the old town pop up often, with an assortment of handmade and local products.
Visit nearby Aquileia
Aquileia is located only 14 km outside of Grado.
If you have the time, I highly recommend taking this little side trip.
It is an important UNESCO World Heritage site that was founded by the Romans in 181 BC.
Back in the 2nd century AD, it was one of the largest cities in the world, with a population of over 100,000.
But in 452 AD Attila the Hun and his army almost completely destroyed the city and it never truly regained its prominence.
Now it is home to only about 3500 people, but it is an incredible archeological site and definitely worth a visit.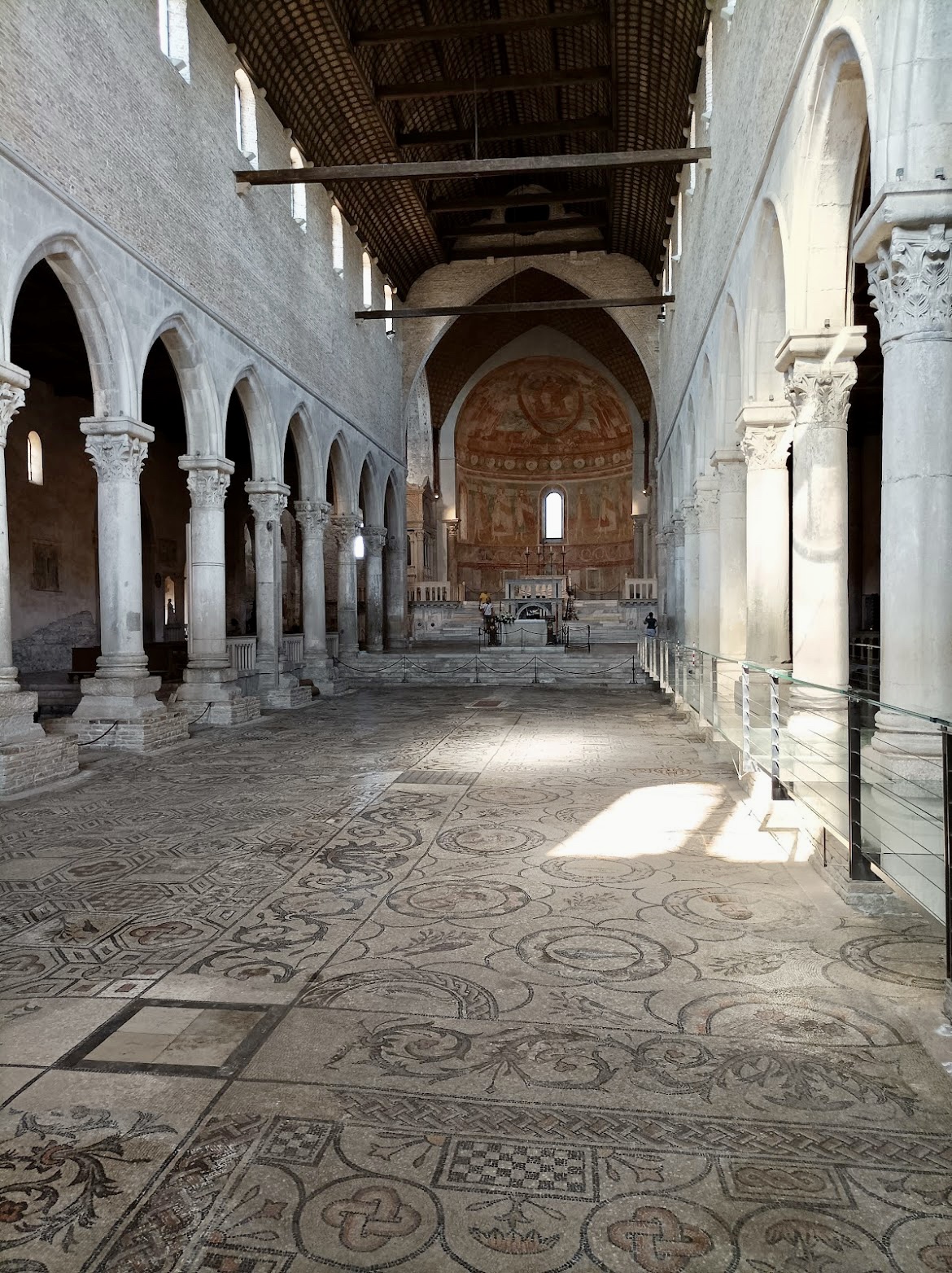 What to Eat 
If you love seafood you will really enjoy the food here.
With the Adriatic Sea at their door, almost all restaurants offer some variety of fresh fish every day.
I've eaten some of the best Seafood Pasta dishes here, and would recommend you try the Spaghetti alle Vongole (clams). Delicious!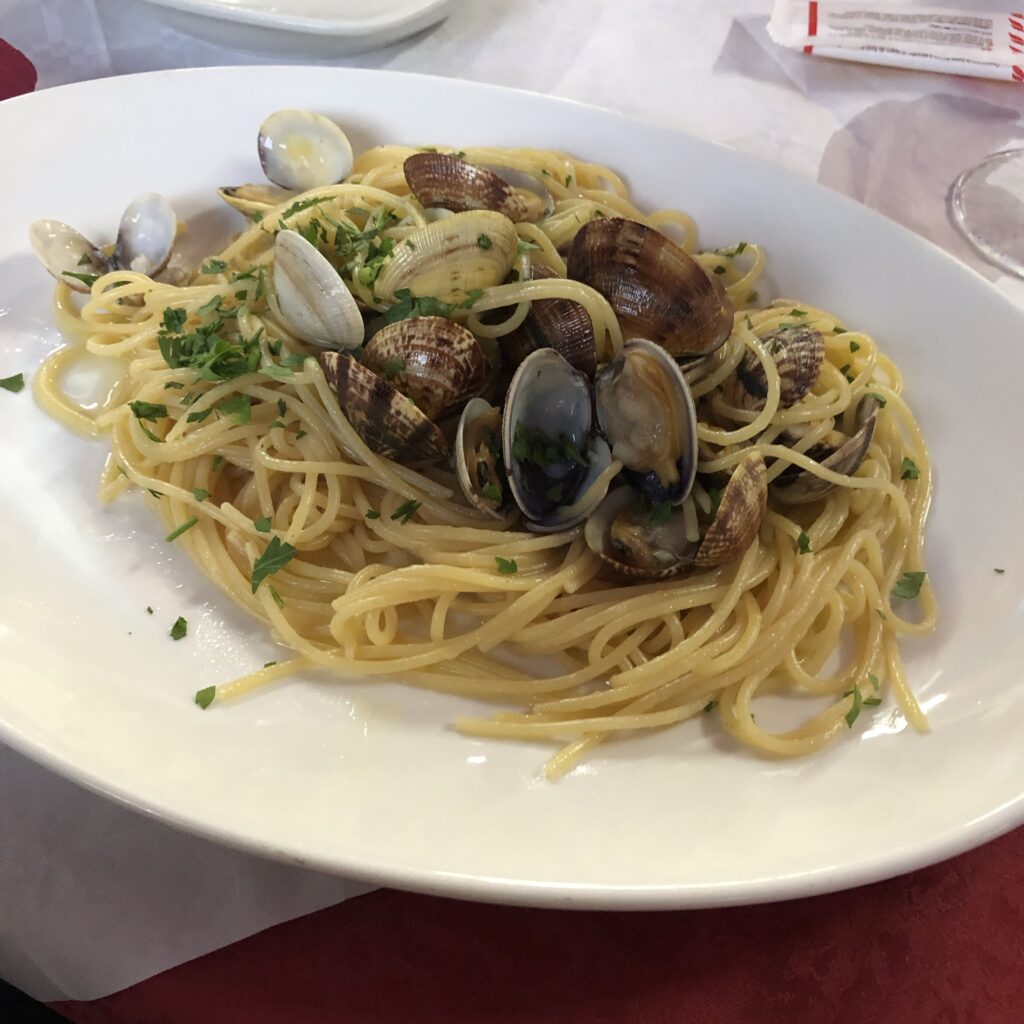 For something a little different, time your visit to coincide with the Asparagus Fair called the Mostra degli Asparagi.  It is held late April to early May. Taste the Fossalon Asparagus, a white variety that goes well with fish and seafood dishes that are served in Grado.
Of course you can never go wrong with pizza in Italy. You can find it just about anywhere, including here in Grado.
My current favourite is the Prosciutto and Burrata Pizza. OMG so so good!
Love gelato? You're in the right place. There are so many Gelaterias (Ice cream shops) in Grado. They offer an amazing assortment of flavours, including some delicious vegan varieties which can be hard to find elsewhere.
Take a break at one of the many outdoor and sip on the very popular Aperol Spritz cocktail. When you order cocktails here, you will also be served a small snack to enjoy with it (included in the cost of the drink), sometimes its chips or nuts or little savory toasts.
Try the Polenta. This is a typical  side served with fish or meat dishes. It's made of boiled cornmeal that is then shaped into a brick or roll, then sliced and grilled. It's the Italian version of grits.
Where to Stay 
Grado is a tourist town, so accommodations are plentiful.
There are quite a few hotels to choose from, none are over the top fancy. I think you can find something in every price range. Most are walking distance to the beaches.
I've always had my eye on the beautiful Art Nouveau buildings called the Ville Bianche.
They were built in 1900 for the vacationing nobility of the Austro-Hungarian Empire. They have kept up with the times and have been completely renovated to offer both rooms and apartment style accommodations. Guests will enjoy the central location, overlooking the main beach area and in very close proximity to the old town, .
I've long admired them, and staying there is on the bucket list!
If you are coming for a week or longer, then renting an apartment is a great idea, especially for families. This is a very popular option here with many choices. You can find them on most of the well known online websites such as Airbnb. There are also rental agencies in the town to help you with your search.
For those that enjoy camping, there are also campgrounds  and cabins for rental in Grado Pineta.
How do you get to Grado
The best way to get to Grado from Canada, or North America, is to fly to Venice (VCE).
From there you can take the train to Cervignano (about 1 hr ride) and then take a 25 minute bus ride to Grado. It's very easy.
The closest airport to Grado is actually the airport of Trieste (TRS).
It's only about 18 km away, but the bus ride will take you about 1 hour.
Unfortunately there are very few direct flights from international destinations to the airport of Trieste, and none currently from Canada. However you can fly into Rome or Frankfurt and take a short flight to Trieste.  It's a good second option.
Grado should definitely be on your itinerary if you are visiting the Friuli Venezia Giulia region of Italy.
,center>
Please follow and like us: