How To Spend 3 Days In Marrakesh: What You Need To See And Do
Dreaming of travelling to the beautiful north African country of Morocco?
You should go!
What an interesting and colourful country! So much to see and do…the desert of course, but also mountains, the seaside, the history of the old, the beauty of the new…the shopping…in a week we barely scratched the surface.
If Marrakesh is on your itinerary, and it absolutely should be, then you'll want to read up and get a feel for what to expect.
I've included here some top attractions to see, a few restaurant recommendations, tips for the best experience and some must see and do places that we missed, but that should be on your list, if you have the time.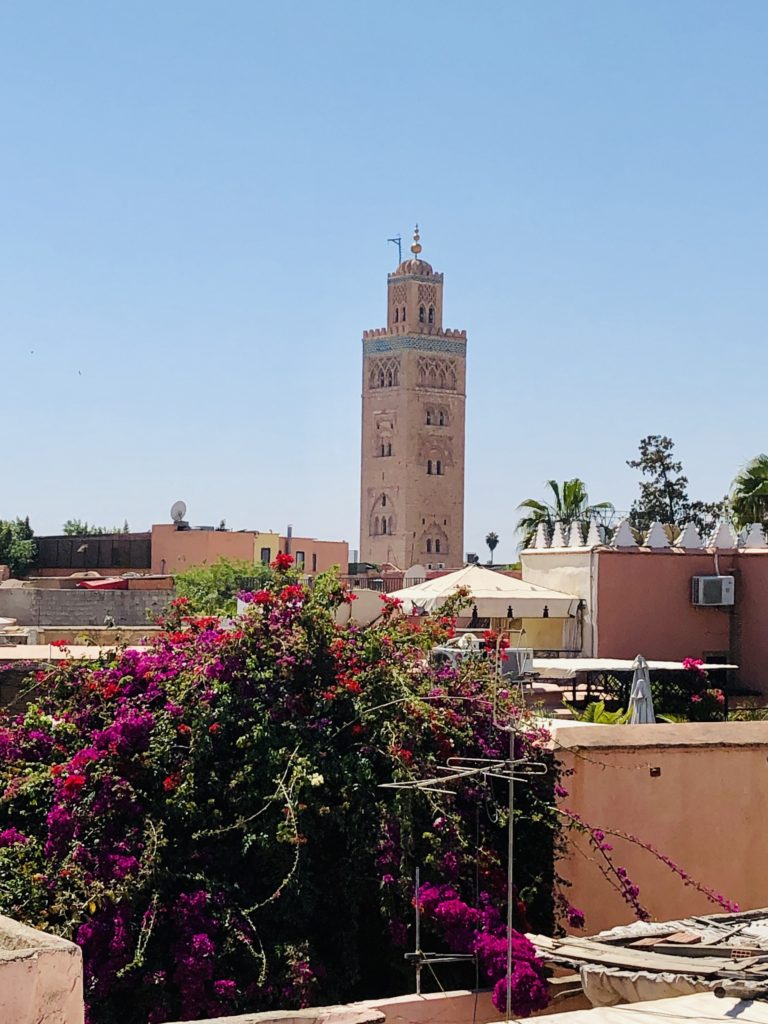 WHERE...Marrakesh, Morocco
WHEN…we travelled to Morocco at the end of March (apparently a wonderful time of year to see Morocco as it is much greener and the weather is hot but comfortable)
TEMPERATURE… daytime 23-27C and night time around 10-15C
Marrakesh is one of the four Imperial cities of Morocco. Originally founded almost 1000 years ago, it has survived despite a very tumultuous history of wars, conquests and destruction. Because of its central location it was the best place for merchants to stop overnight, on their journeys deeper into Africa or out to the port cities. As a result, it became a trading post of sorts and to this day is well known for the variety of merchandise sold here.
With only 3 days in Marrakesh we wanted to make the most of our time here, so we opted to hire a driver from Casablanca to Marrakesh and skip the hassle and extra time wasted dealing with the trains.  What a great idea! We got into the city a bit earlier and that left plenty of time to settle into our riad, rest up and enjoy the rest of the day. Worth the extra cost for us on this first visit, since we were splitting it.
I can't comment on the train specifically from Casa to Marrakesh, but the ones we experienced during the rest of our stay in Morocco were excellent. So don't be afraid to go that route if it suits you better.
The drive was about 3 hours long, roads were excellent and scenic, much greener than I had anticipated.
We arrived in the "Red City", as Marrakesh is known, at about noon. The name comes simply from the fact that so many of the buildings here are constructed from red clay and pink sandstone. It was surprising to see the snow capped Atlas mountains in the distance.  I had not realized they would be so visible, such a contrast to the very tropical desert vibe of the city. As you enter Gueliz, the newer and more modern area of Marrakesh, there is a notable sense that this is the resort area of the city. The Marrakesh we came to see however was hiding behind the fortified walls of the ancient Medina. Crossing over through one of the many gates, is like stepping back in time.
We booked a Riad inside the medina, as we wanted to experience this very traditional type of accommodation. It's the thing to do when in Morocco and there are price points for everyone, from the very fancy, expensive one that Madonna and the like stay at, to the simpler much more affordable no fuss riads like the one we chose. Ours was ok overall but I would not recommend it (it had some issues)…you can do better for probably the same price. There are so many choices. Staying inside the medina puts you within walking distance to most of the sights.
I do recommend choosing a Riad that includes breakfast, and many do. Not only is this convenient since there's no need to figure out where to go for your morning coffee and a bite to eat, but it also provides the opportunity to try some traditional Moroccan foods. Every morning a tall glass of the sweetest freshly squeezed orange juice awaited us. I'm craving it as I write this, it was that good! Other offerings included slices of pound cake, yogurts, fresh fruits, cheese, and a variety of traditional breads. One morning we were treated to crepes, something resembling crumpets another, and there was always a small dish of apricot jam, date jam butter and olives. And of course coffee and mint tea. A perfectly acceptable breakfast and all we needed to start our day.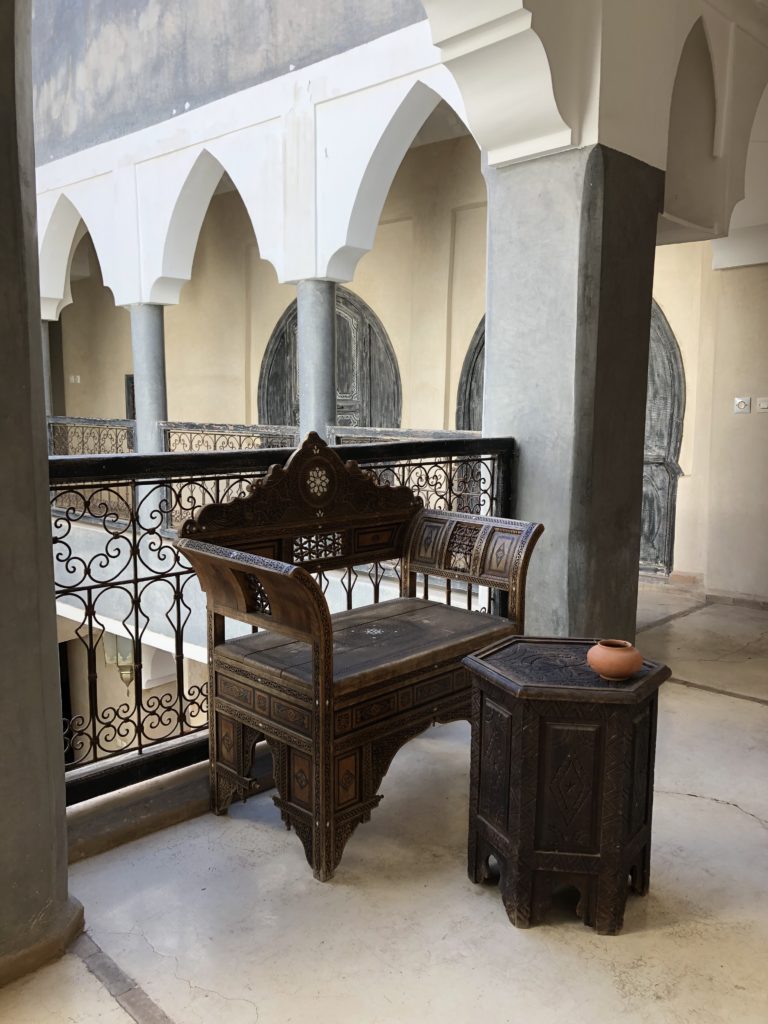 Now, when travelling to a country like Morocco the best advice I can offer is that you arrive with an open mind and a "never say never" attitude. Seriously! Why you ask? Well…chances are good you'll experience sights, sounds and smells you're not accustomed to. Some will not appeal, and might even shock you.
Well, my friend….you are in north Africa, and things are different here…but different is what you came to experience remember, otherwise you might as well have stayed home!
Go ahead, take it all in, make the most and best of it, and above all enjoy it!
Places to see
Explore the Medina and the Souks
The Medina of Marrakesh is a designated and protected UNESCO site. Navigating the maze requires one to be in full alert mode. There's a lot going on everywhere, and from every direction. All this is further complicated by the fact that motor vehicles are allowed inside. You really need to keep your wits about you, watch out for motor bikes and scooters, cars and carts pulled by donkeys and local people, moving their goods and supplies around. You might find yourself pressed up against a wall, waiting for one or several of these to squeeze through the narrow roads. The paths are dusty and uneven, so beware your choice of footwear.
There are shops big and small along the way, and the merchandise they sell is beautiful. I wanted to buy so much more than I did! The textiles and rugs really caught my eye with their vibrant colours and gorgeous patterns. It's hard not to stop and take a look, even if you're not in the market for those items. It's also hard to get away from the vendors if they do lure you into their shops. They're persistent, but if you are not interested just smile and slowly back yourself away. LOL
I've read of tourists having horrible experiences shopping here, but I didn't find it bad at all. Just be friendly, be kind, engage in the small talk and remember this is their livelihood, and also their way of life.
Of course, if something catches your eye and you are interested in it, you'll need to dive in and ask for the price. Get ready for some serious haggling.
Never ever pay the first price quoted, it's extremely inflated. Instead offer a fraction of it and go from there. You've got to decide, almost instantly what you're willing to pay for this desired item and what your top price will be. Chances are good they will match it or come very close. But be fair, people do have to make a living, and many of these items are truly handcrafted works of art. Know your exchange rate so you don't miss out on something you love, haggling over an extra dollar.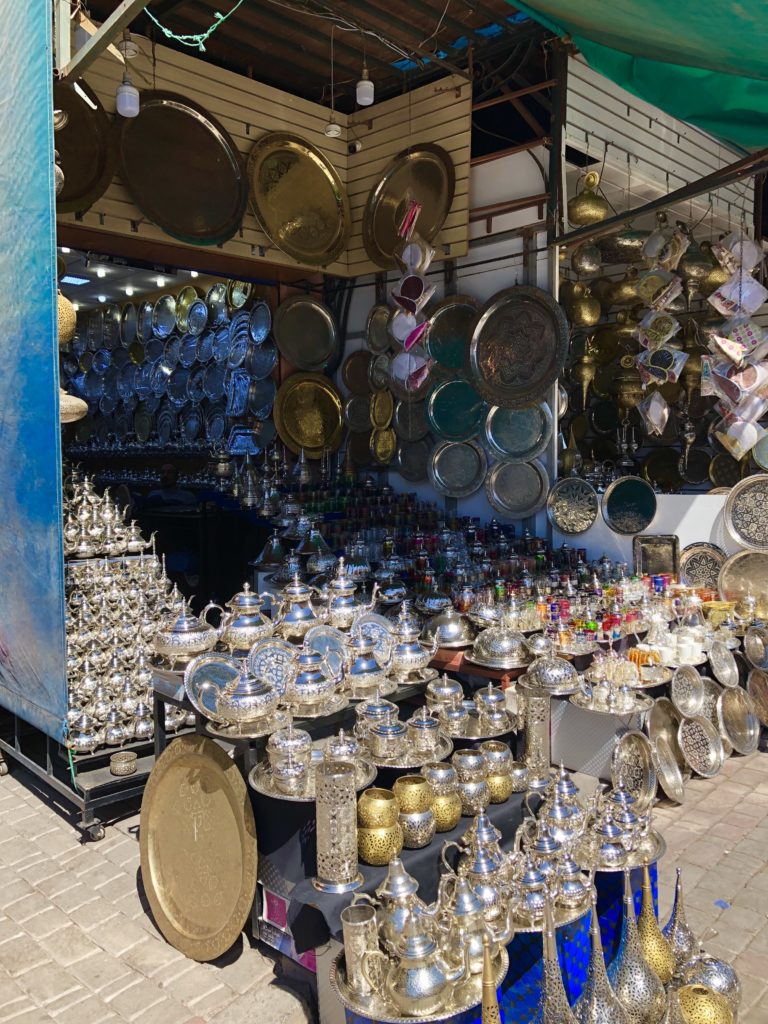 The souks further away from the market square seemed to have more interesting items, I would have loved a bit more time to explore them.
Also, don't make the mistake of thinking you'll go back tomorrow for an item, because you'll likely not be able to find that particular store or stall again.
Koutoubia Mosque
Your first glimpse of the Koutoubia Mosque, will likely be from the rooftop of your Riad. You'll easily spot the Minaret, as it is the tallest structure in the medina at 77m in height. There's an actual law stating that all buildings in the Marrakesh medina cannot stand taller than the height of a palm tree. This ensures that the Mosque and its Minaret retains its status as the tallest and most important building around.
The Mosque was built in the 12th century and is considered to be the oldest and most complete structure of the Almohad period.
Although it is not possible to enter the mosque unless you are of muslim faith, you can walk around the area freely.  Adjecent to the mosque are the ruins of the original one.
At some point during your stay in Marrakesh you are bound to hear the call to prayer played over the speakers of all the minarets.  It's unavoidable as the chant is bellowed out 5 times each day. It's both fascinating and odd to hear it.
Jemaa el-fnaa Market
The centre and heart of the Medina is the market square. In the morning and throughout the day, this area is vibrant but calm. Tourists and locals are mostly passing through, on their way to other destinations. There are many stalls selling fruits and vegetables, nuts, olives, juices and smoothies.
However once the sun begins to set everything changes. The market becomes quite chaotic, loud and very smoky. Locals and tourists mingle throughout the rows and rows of stalls, looking for something interesting to eat. There's a lot of meat and fish cooking on the outdoor grills. And a flurry of activity with street entertainers, snake charmers, men with monkeys, traditional Berber water men, fortune tellers and henna drawing ladies all trying to lure you to partake in whatever they're offering. A word to the wise…payment is expected if you decide to snap some photos.
Bahia Palace
Behind the walls of this very unassuming entrance you'll find a beautiful 19th century built palace and its gardens.  The grand Vizier to the sultan, Bou Ahmed, his four wives and 24 concubines all lived here in the late eighteen-hundreds. All this was said to be built for the "most beautiful" one, Lalla.
It's a wonderful place to take in Moorish architecture and design, intricate tile and stucco works, and gorgeous cedar wood decor. The rooms are empty, there are no furnishings or artwork hanging on the walls.  So its worthwhile to either have a guide with you, or perhaps a guide book, if you can find one, to explain what you are seeing.  Otherwise you might walk away disappointed and wondering what all the fuss is about. That would be a shame because it really is beautiful and interesting.
Be prepared for some serious neck straining, there's a lot to see if you look up…the ceilings here are magnificent. The grand courtyard is lovely, with touches of bright blues and yellows, and tiled with italian carrera marble. I found it interesting that this was the place where Moroccan commoners, who had broken the law in some way, were forced to wait for endless hours in the scorching sun and heat, to beg the Vizier for mercy. It seemed such a bright and happy place…go figure.
We toured it all with our hired city guide. He gave us lots of information about the palace and those who lived here, and made it come alive.  While only a small portion of the place is open to the public, it's definitely worth a look.
My suggestion would be to go as early as you can, we arrived at around 11 am and it was quite busy with tour groups.
You'll need about 1 1/2 hours to see it all, and cost to enter is 70 dhrs.
Jardin Majorelle + Berber museum + YSL museum
Located outside of the medina in the new city, you will find the popular Jardin Majorelle. This desert garden oasis was originally designed by french painter Jacques Majorelle (1886-1962) and took over 40 years to complete.
In 1931, a cubist style villa was build inside the garden and painted a striking cobalt-indigo colour, which became known as Majorelle blue. Later Yves Saint Laurent and his partner purchased it and restored it to its former beauty.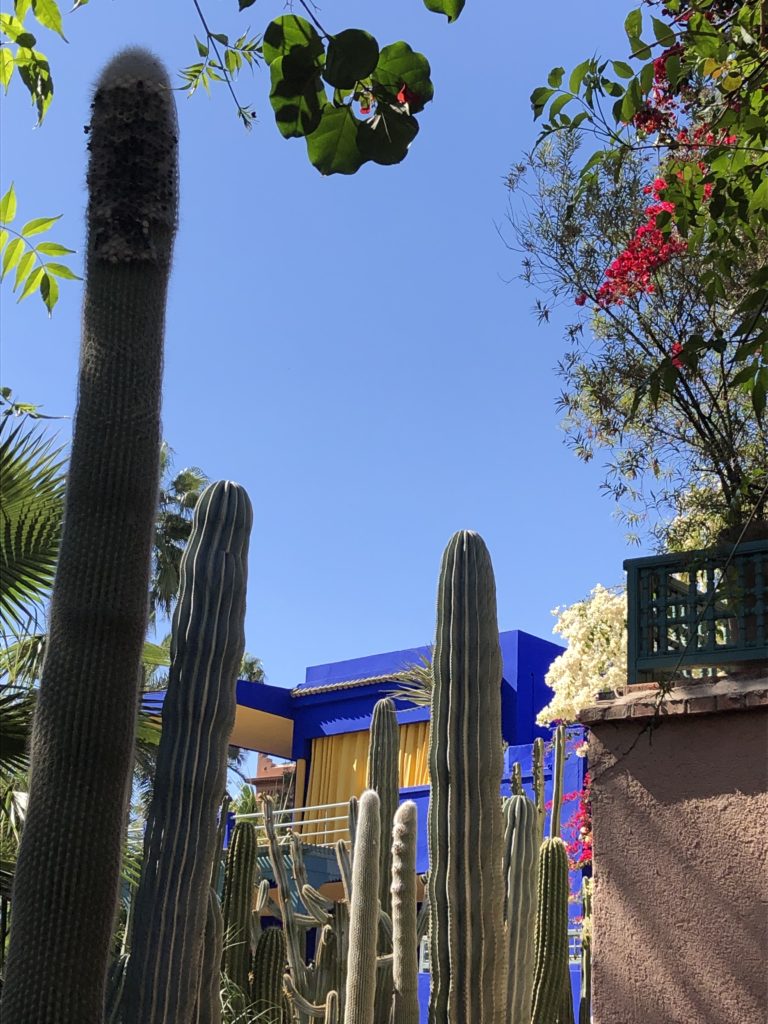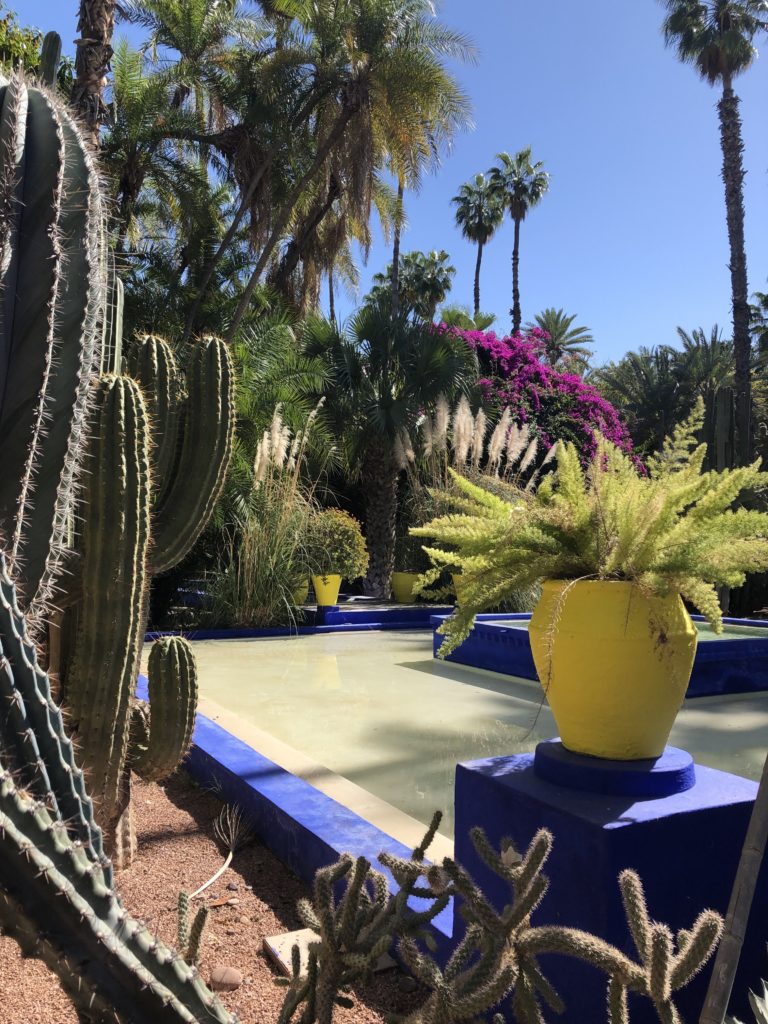 The Berber Museum is located in a small painters studio on the premises. The presentation is small but well curated, with many Berber artifacts, interesting jewelry and traditional costumes and clothing. These items came from Pierre Bergé and Yves Saint Laurent's personal collection.
The YSL museum is a new addition to Marrakesh, it opened its doors at the end of 2017. It is located just up the street from the entrance to Jardin Majorelle.
The collection showcases the designs Yves Saint Laurent is most famous for. Pieces like the trench coat and pea jacket, the safari jacket, the smoking jacket and the first pantsuit and jumpsuit, along with many beautiful gowns and outfits.
There are also some beautiful photos of  Yves and of celebrities wearing his fashions. Don't miss the 15 minute movie running on repeat in the theater hall. We caught this at the end of our visit and decided it should have been the first thing we saw, rather than the last.
Purchase a combined ticket entry to see all three places, and go early. The garden opens at 8am every day, and gets very busy after 10am. It's something a little different than the Marrakesh you might be expecting and I do think it's worth visiting. I enjoyed it.
You can read more about our visit to the garden and museums here:
Le Jardin Majorelle +Berber Museum + YSL Museum: everything you need to know + tips for the best experience
Restaurants we ate at that I would recommend
BAZAAR CAFE
(inside the Medina) … Serving traditional Moroccan and Mediterranean cuisine. Both the lemon chicken and beef tagines were super flavourful here, better than at other restaurants, and yes, they do serve wine, beer and cocktails.
There's a nice rooftop terrace if you fancy eating outdoors, we did and it was lovely.
Definitely try the very unique and delicious ice creams with flavours like lavander, rose, mint, almond and fig.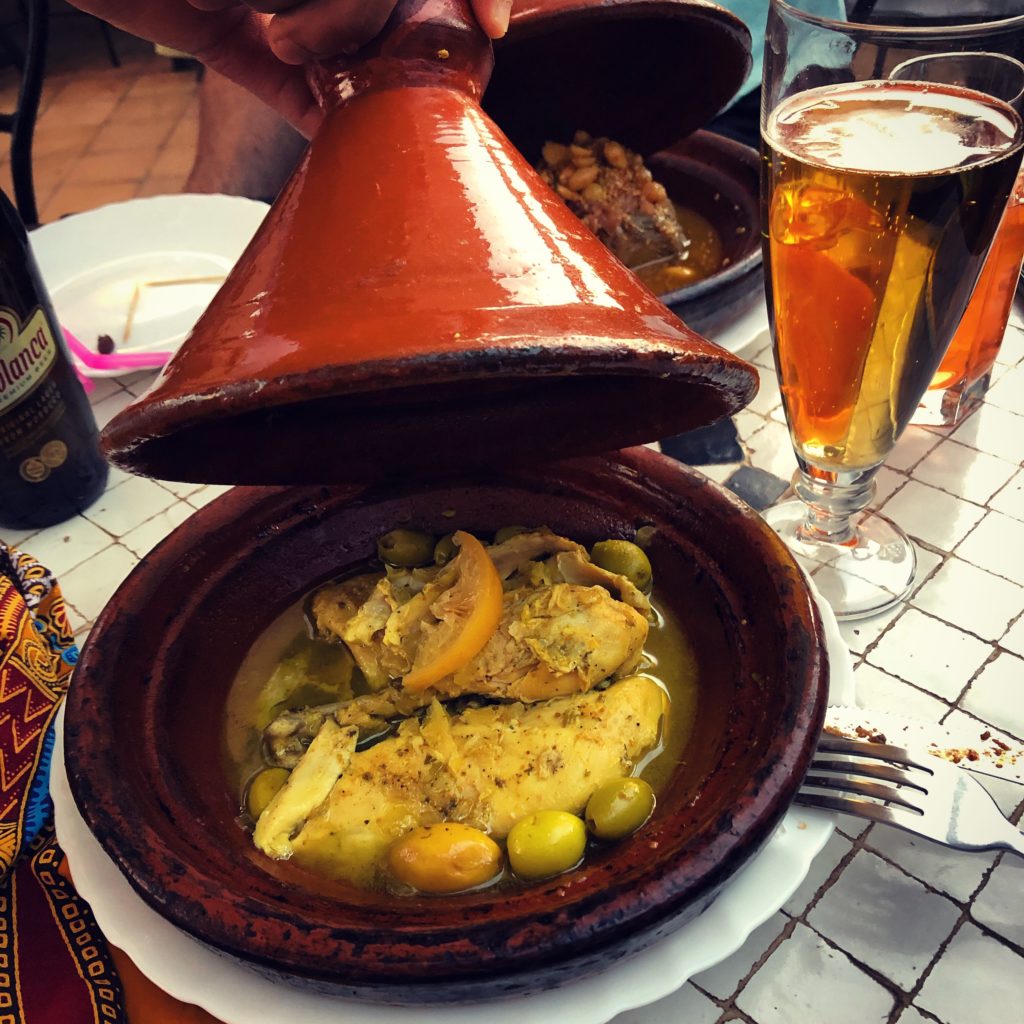 TERRASSE DES EPICES
Located inside the medina, in an old spice market area, this locale serves both moroccan and international food, as well as alcoholic beverages. The chicken pastilla was my favourite of the trip. The bohemian chic vibe of the rooftop terrace is nice and so is the view. We had lunch here, but I think this place would have been wonderful in the evening as well.
KATSURA JAPANESE & THAI RESTAURANT
I was not expecting to come to Morocco and eat Thai food that's for sure. However this place was enthusiastically suggested to us by a couple staying at our Riad. We were ready for some non moroccan fare at this point, so we gave it a try.
This restaurant is located just outside the medina, in the new city of Marrakesh. Our food was beautifully presented and delicious, the menu is extensive with many sushi choices, shareable plates and a most excellent shrimp pad Thai. Alcoholic beverages are available, we tried a Moroccan white wine named Zellige, which we enjoyed very much.
Although we had been warned very few places served alcohol, we seemed to stumble into them quite easily. Both the local beers and the wine were excellent. In general cocktail prices to be about the same as an entree, so be prepared to double the cost of your meal.
Useful Tips for the best experience:
Arrive with some local cash…Of course there are ATM machine around, especially in the new city, but still, it's always better arrive armed with enough cash for your first day. As I expected, this is still very much a cash culture, so be prepared. However, the exchange rate was much better in Marrakesh than what was offered in Canada, so don't change all your money in advance.
Haggle for the cost of all taxi rides here!… Although they are equipped with meters, we couldn't find any taxi drivers that would agree to use them. They outright refuse to turn them on for tourists apparently (believe me we tried!). So before you head out for the day, ask the hotel or riad staff what the cost of the taxi ride should be, so you have a guideline for the fair price. Don't be afraid to walk away from the taxi if the rate quoted is high. More often than not they will come after you and lower it. Something to keep this in mind…if you're stuck at a difference of 5 dirhams, remember that's less than 1 Canadian dollar, so consider what it's worth to you, sometimes you can get so caught up in the haggling that you forget common sense. LOL
*you can find taxis as you exit the market square, just past the horse carriages, or outside any of the medina gates
(Keep in mind that petit taxis carry a max of 3 passengers plus the driver, for larger groups you will need a grand taxi, which will cost a bit more. Also the price goes up in the evening, after 8pm it seems…night fares…but you still have to haggle)
Don't drink the water, and ask for no ice when ordering drinks… It really is best to stick to bottled water here, it's inexpensive at most places and costs about 5-10 dhr, more in a restaurant of course
Beware your choice of fresh salads, fruits and uncooked vegetables… Unfortunately this is how a lot of tourists get sick. Try to stick with cooked foods or at least fruits and vegetables with a peel that you don't eat. It's the washing in the local water that causes the upset stomachs and bathroom runs, so be careful (or bring Immodium! LOL)
Voltage… Electricity runs at 220v. You will need an E plug converter to use any appliances you travel with. Keep in mind that it must either have a built in voltage converter, or you will need to use a voltage converter as well as the E plug adapter. Bring one from home, don't wait to search for one here.
Download MAPS.ME on you phone prior to your arrival… this very useful app will help you navigate the streets of the medina and Marrakesh (and other cities in Morocco too). It works great, we used it! Google maps is not up to par here.
Take a guided tour of the Medina on your first full day …they will you show you the highlights and more touristy attractions, and this will also give you a good idea of the medina layout. You will feel much more confident to explore on your own afterwards. A 3-4 hour walking tour with a local guide cost us $40 CAD, it was well worth it. These can easily be arranged through your hotel or riad.
Brush up on the art of bartering and haggling…it's a way of life here, and if you don't partake you will get ripped off.
Learn a few key arabic words… like hello and thank you perhaps. Use them whenever you can. Better yet, brush up on your high school french. It will really come in handy here. When you make an effort to communicate in the local language it always goes a long way.
If you are lost, ask a shop keeper or a local woman for directions...unfortunately, like in many touristy places these days, there are scammers out there. Men and young boys too, might approach you offering to help you find your way or show you their "unique" shops. They will then demand payment for their services. Or worse they might distract you with questions, while another pick pockets you. Firmly turn them down and move on, even if you are lost. We didn't run into any issues, and found everyone to be helpful, but this is apparently a problem many tourists run into, so be prepared.
Some things I missed and would like to do, if I am ever lucky enough to return to Marrakesh:
Take a cooking class. I read and heard about this but didn't have the time to pursue it. It would be interesting to learn how to cook in the tagine and also to shop in the food stalls and market with your class.
Go for a sunset camel ride at the Palmeira Grove. Yes it's a touristy thing to do…but still I think it would be fun way to spend an evening.
Visit Ben Youseff Madrasa… a 14th century Islamic school is very well preserved, with beautiful architecture, woodwork and tiles. Unfortunately it was closed for renovations, but by all accounts is worth visiting.
Take a hot air ballon ride over the area for a different perspective of the landscape. I have never done a hot air balloon ride anywhere, it's on the bucket list so next time it might happen…
Take a day trip to Ourika Valley…this lush area at the foot of the Atlas mountains offers beautiful views, waterfalls and hiking.
Go for the Hammam experience – Before arriving I read a bit about this traditional bath and scrub experience. It didn't sound all that pleasant, some tourists even complained that it was painful! So I decided to skip it. However, we had a peek at one of the more luxurious and beautiful, but still affordable spas here and wow!! I have since changed my mind…I'll go for it next time.
Visit the ruins of El Badi Palace…once grand and filled with riches, this palace was unfortunatelys stripped of all its valuables by a successor sultan. However there's enough left to still make it an interesting place to walk through and explore. You will need at least an hour. You will also see storks and their huge nests here as they have made the place their home. I'm sad to have missed it…
See the Saadian Tombs…This beautiful mausoleum is the final resting place of Saadian Sultan Ahmed al Mansour ed-Dahbi and along with many of his nearest and dearest. The Italian marble, ornate tile work and opulent gilding is apparently worth the visit.
Whew!! That was a lot of info, but there's so much more to tell you about! More posts on Morocco coming soon. Stay tuned!
As you can see Marrakesh has a lot to offer, so give yourself at least 3-4 days to take it all in.
Time to start planning your dream trip! And if you've already been perhaps it's time to go back…take me with you!
How to get there
Air Canada mainline flies nonstop, year round from Montreal to Casablanca every second day. The overnight flight is 7 hours long and gets you into Casablanca at about 8:00 am.
You can get to Marrrakesh from Casablanca by plane, train or private car.
Royal Air Maroc flights are about 1 hour long.
Train rides take about 3-3 1/2 hours and cost about $20-25 CAD per person, in 1st class. (cost changes depending on time of day) check  ONCF online ticket info + prices
A private car transfer from the airport to your hotel will cost you about $200-$250 CAD depending on the exchange rate.
PIN ME FOR LATER
,center>
Please follow and like us: