Surprising Places To See In Marrakesh: Le Jardin Majorelle + YSL Museum (Tips for the best experience)
Headed to Marrakesh?
Looking for more to see and do?
Here's my suggestion…a morning visit to Le Jardin Majorelle, and the two museums that are associated with it.
This beautiful hidden oasis consistently ranks as a favourite with tourists, and now that I've been there myself I completely understand why.
It's located in the new city of Marrakesh, outside the medina, on a street aptly named Rue Yves Saint Laurent. This is a great place to take a break from the craziness and congestion of Marrakesh.
Even though it was crowded during our visit, we still enjoyed it. The place felt special and serene. And that Majorelle blue is stunning!
Enchanting Jardin Majorelle
a little history….
Designed by french painter Jacques Majorelle (1886-1962), these beautiful desert gardens took over 40 years to complete.
In 1931, Jacques commissioned the architect Paul Sinoir to design a cubist style villa for him. Built inside the garden and painted a striking cobalt-indigo colour, it stands in stark contrast to the greenery of the plants. The colour of paint became known as Majorelle blue. Years later the gardens were opened to the public, to help offset their costly maintenance, but unfortunately fell into disrepair after Jacques's death.
Yves Saint Laurent and his partner Pierre Bergé discovered Le Jardin Majorelle in 1966, during their first visit to Marrakesh. They loved the gardens and visited often to enjoy the quiet space. When they learned that the property was being sold off to real estate investors hoping to build hotels and condos, they jumped in and purchased the 10 acre property in 1980, saving it from being demolished.
After restoring the gardens to their former glory, they opened them to the public once again.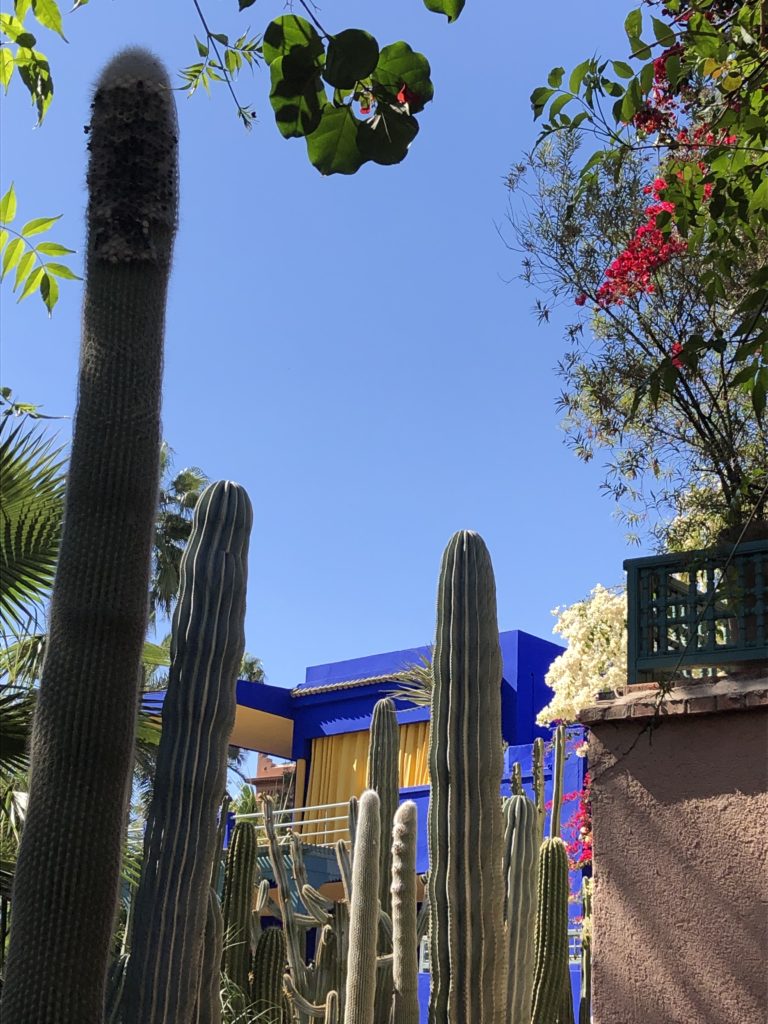 We headed out to Le Jardin Majorelle mid afternoon, despite having read that going early in the morning was the best time to visit. Not ideal, but unfortunately squeezing it in after our guided tour of the medina was the only time we were able to go.
The thing is that these gardens provide a beautiful backdrop for photographers. This makes them extremely popular…and when it's busy, it's hard to get those perfect photos that you will be inspired to snap while there. There's a reason Instagrammers loves this place!
As expected the line to purchase tickets was long. But we lucked out because our guide was still with us. He bought the tickets and we skipped the line completely. We parted ways and headed inside.
Once you pass through the unassuming gates you enter into a lush and dense bamboo garden and path. What a sight! I had seen photos online but the beauty of it in real life surprised me. A photo of that path with nobody on it would have been fabulous, and it would have been lovely to sit under that canopy and take in the beauty, but there were just too many people around…go early my friends, go early!
Take a closer look at the picture below…
Let me tell you that we were all pretty shocked, and saddened, to see that all the bamboo trunks had been vandalized by visitors carving their initials on them. Every single one of them!
Why oh why do some people feel the need to leave their mark everywhere they go? Sometimes humans really tick me off! Uugh!!
It left me wondering why this has been allowed to happen in the first place, and if the damage is permanent. I don't have an answer…
The path then meanders on, through the manicured desert style gardens. You will see a variety of very large and old cacti, many succulents, along with the occasional pop of colour from a flowering specimen.
Take it all in as you listen to the cheerful chirping of birds all around you…simply beautiful.
Eventually we arrived at the memorial pillar dedicated to Yves Saint Laurent and Pierre Berge.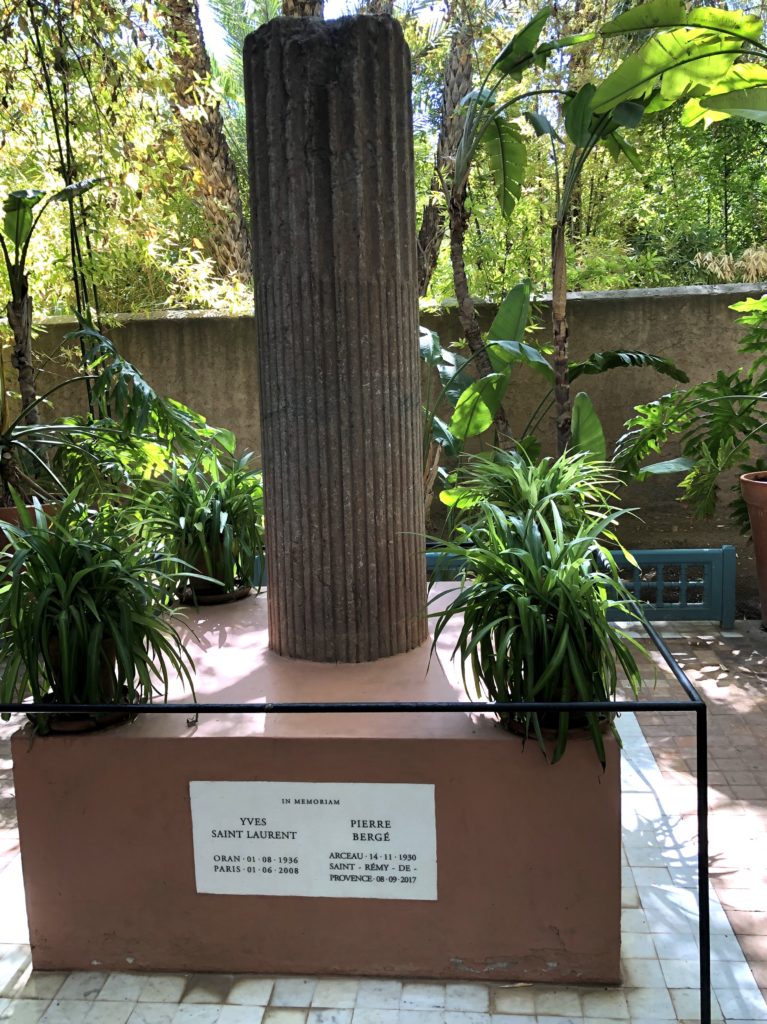 Then we continued on to the fountains and pools and finally the cobalt house. I wasn't able to get a clear view of the whole house from any vantage point. However every time you turn the corner another part of the house reveals itself, and you find yourself trying to capture the beauty with yet another picture.
That pop of blue from the house peering through the vegetation is stunning. The colourful yellow and blue pottery along with the pretty fuchsia bougainvillea flowers cascading down the side of the walls…the clear and bright blue sky…its all so darn gorgeous!
I guarantee that these gardens will leave you with a newfound appreciation for the colour blue.
It left me with the thought that my backyard is in desperate need of a Majorelle makeover!
Some brightly coloured pots, cushions, more succulents and desert plants should do the trick.
Yes, I know cacti don't love Canadian winters,….just let me dream a little would ya!
Unique Artifacts at the Berber Museum
Once you arrive at the house you have the option (if you bought the extra entry) to visit the Berber museum, which is located in the old painting studio. We walked through it in about 20 minutes. It's worth a look.
The collection is small but well curated, with many Berber artifacts, interesting jewelry and traditional costumes and clothing. These items came from Pierre Bergé and Yves Saint Laurent's personal collection.
We took another look around the water fountain and then continued on towards the exit.
Take advantage of the decent toilettes, then exit and proceed up the street to the next entrance…home of the YSL museum.
Fashions of Yves Saint Laurent at the YSL Museum
The museum is a new addition to Marrakesh, it opened its doors at the end of 2017.
The collection showcases the designs he is famous for having created. Pieces such as the trench coat and pea jacket, the safari jacket, the smoking jacket and the first pantsuit and jumpsuit, along with many beautiful gowns and outfits.
I was surprised by how recognizable Yves Saint Laurent's fashions are, not to mention timeless in style.
It reminded me of a well known quote, which I now discovered came from YSL himself…"Fashion fades, style is eternal"…he certainly proved it.
There are also some beautiful photos of  Yves and of celebrities wearing his fashions.
In the Pierre Berge Auditorium, there is an interesting 15 minute movie  shown on repeat. We caught this at the end of our visit and decided it should have been the first thing we saw, rather than the last.
Here's a little back round info on Yves Saint Laurent…
Yves began his career by working as an assistant to Christian Dior.
When Dior died in 1957, Yves Saint Laurent became artistic director of the House of Dior. A year later he presented his first collection, named Trapèze, to great acclaim.
Unfortunately just when things were going so well, he was called to military service. And then he was hospitalized. In 1960 the House of Dior dismissed YSL.
In 1958 he met his partner Pierre Bergé.  They worked together to create their own couture house, and presented their first collection in 1962.
Yves Saint Laurent's claim to fame is that he invented the modern woman's wardrobe. He created women's clothing using male dress design. A very innovative approach, offering women something they had not had before. A way to dress that was practical, functional and comfortable, like a man's suit, but still looked feminine and fashionable.
Yves St Laurent was born in Algeria in 1936, and passed away on June 1, 2008, in Paris. His ashes were scattered in the rose garden of his home, the Villa Oasis, located near the Majorelle gardens. By all accounts, he loved Marrakesh, and his fashion was greatly inspired by his love of Morocco.
There is a book and souvenir shop in the museum, with some interesting items to check out.
And if you're hungry or thirsty there is also a lovely restaurant, Le Studio Cafe, serving both moroccan and french dishes. We didn't have a chance to try it.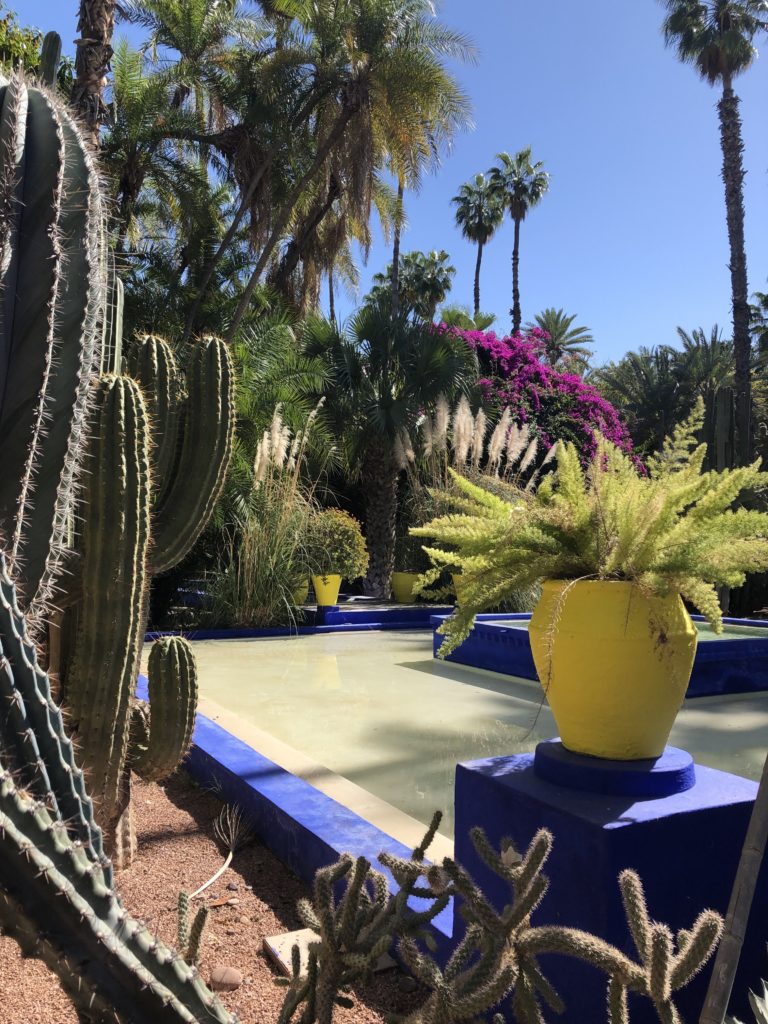 Some Useful Tips For the best experience
*location: Rue Yves Saint Laurent, Marrakesh
*the gardens open at 8:00 am every day of the year (check website for closing times as they vary by season)
*the YSL Museum opens at 10 am
*admission cost: 180 dhs for combined entry ticket to all 3
Get there early, by 9 am preferably. The crowds of tour groups and Instagrammers arrive from 11am-4pm.
Start your visit at gardens, which open first, but purchase the combined ticket which gives you entry into the garden plus both museums
You will need about 2 hrs to cover the gardens and museums
You do not need a guide to navigate your way through any of the places, however some light reading on YSL might make it more interesting.
Make sure you arrive with lots of space on your camera or enough battery juice on your phone to take lots of photos. Yet another good reason to go first thing in the morning. The gardens are very picturesque and the bright contrast of the cobalt blue house and decor makes for some stunning photography. Unfortunately you cannot take any photos at both museums.
The YSL museum is open every day from 10 am to 6 pm (except Wednesdays) last admission is at 5:30 pm
I suggest you go directly to the theatre and watch the ongoing YSL movie before you see the actual collection. It is about 15 minutes long and gives you some history and back round information on the clothing you will see in the collection.
A taxi from the medina square costs about 50 dhs (we paid 30 dhs to return to our Riad which was close to the Ksour gate). You need to agree on the price before you get into the taxi. They will quote higher fares and you will need to haggle for the fair price. Walk away if its too high, they will most likely follow you and agree to lower it or match it.
*keep in mind that petit taxis carry a max of 3 passengers plus the driver, for larger groups you will need a grand taxi, which will cost a bit more
If you find yourself in Marrakesh, I really do recommend a visit to these three wonderful places.
It goes without saying…if you are a fan of Yves Saint Laurent then a visit is not optional…it's a must do!
I think a return visit to the garden is a must for me. Next time I will plan it better! That means getting there early, wear something striking…pink or orange perhaps…and Instapose my way through this very special spot in Marrakesh! Why not right! LOL
Pin Me For Later
,center>
Please follow and like us: