4 Fantastic West Kelowna Wineries to Visit + A Cider tasting too
Did you know that there are over 180 vineyards in the Okanagan Valley.
You might be surprised at that number.
I sure was!
I had no idea there were so many until I started reading up on the area.
What makes this part of the world so appealing to wine makers?
The reason is this: unique  climate and geological conditions make this region ideal for grape growing and high quality wine making.
The best news, for wine lovers like myself, is that where there are so many vineyards, there's sure to be a lot of wine tastings experiences offered.
And there sure are!
But how does one decide where to go?
That's a lot of choices after all.
Well, you've gotta start somewhere, and so I did…
Taking full advantage of my daughter living in West Kelowna, that's where I began my "research".
Wineries of West Kelowna
West Kelowna, which was once called Westbank, is located just outside of the city of Kelowna, in the interior of British Columbia.
The area is home to 40+ wineries, and 16 are located in West Kelowna specifically.
If you are imagining  vineyards everywhere, you have the right idea.
Honestly, just get in your car and drive around, and  it won't be long before you stumble upon a winery to stop at.
Now, for the purpose of this post, I'm focusing on some fantastic places I visited specifically in the West Kelowna area.
These are ones that made an impression on me for one reason or another and that I feel are worth checking out.
I also found an excellent cider house, that you must absolutely make time for.
Full disclosure…I am in no way, shape or form a wine expert.
I may be Italian, but this, contrary to popular belief, does not mean I've been sipping wine since I was a baby. Nor does it mean I instinctively know my way around the myriad of grapes and varietals.
However, I do, very much appreciate a good glass of wine.
And that my friends is all you need in order to enjoy a wine tasting experience.
The best part of visiting the wineries here, besides the wine of course, haha, is the stunning natural beauty that surrounds you, as you blissfully sip away.
It completely elevates the experience and turns it into something extra special.
If you haven't been to the Okanagan, you absolutely must go!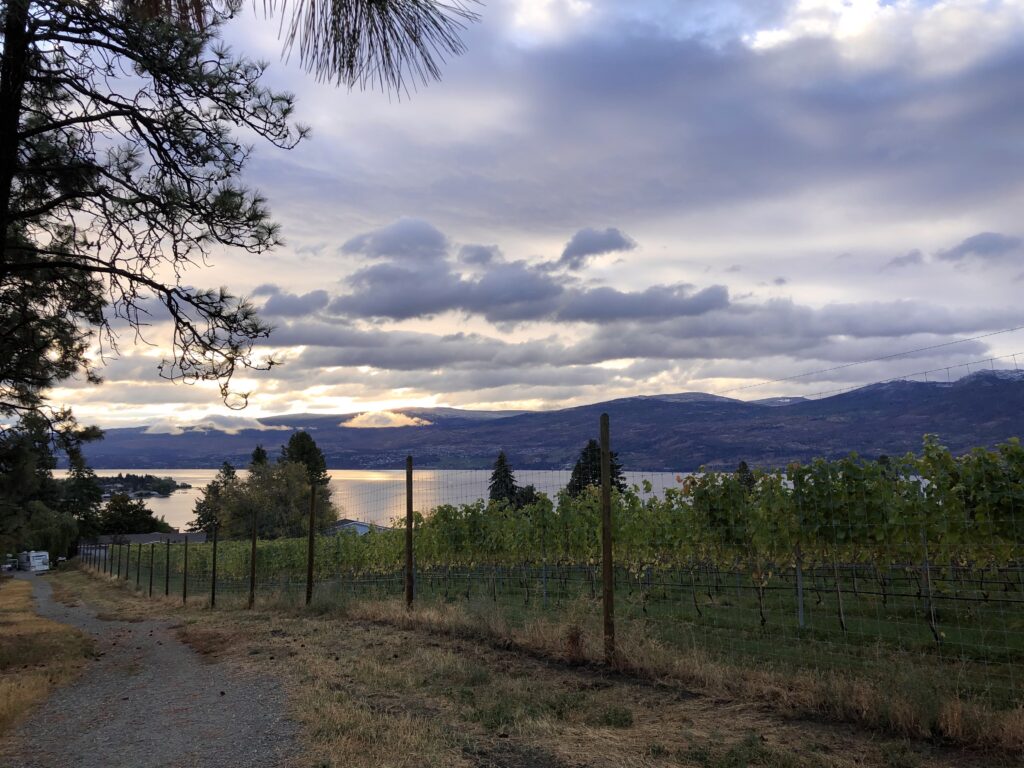 Wine Tasting
Indigenous World
My first suggestion for you is one of the smaller wineries I visited, and one I was not familiar with at all.
After passing by the sign several times, I finally convinced my family to stop and check it out.
I wasn't driving so I was at their mercy, but thankfully they listened to my whining. HAHA
The teepee outside is what first caught my eye and peaked my curiosity, so I checked it out online and it sounded worth visiting.
I'm so glad we stopped by because it turned out to be a great find.
The owner's desire to represent the modern offerings, while being respectful of the indigenous land they farm on is well described in the message on their website…
"When you taste an Indigenous World wine, you are tasting fruit from the land that has supported the Syilx people for over 10,000 years"
The wine tasting was offered on the terrace outside.
And, like all the wineries I have visited in the area, it offered a beautiful view of the valley, the vineyards and lake below.
The Wine Tastings are offered daily from 11am to 6pm.
For our experience, we were offered a flight of 5 different wines.
The cost was $5.00 (prices may have changed for 2023) and this was waived if you made a purchase.
*for more information on this winery check HERE
My absolute favourite wine from this tasting was the bonus tasting that they offered, and it turned out to be the one bottle I bought here.
It was the Simo Small Lot Red Blend.
An absolutely delicious and special wine.
Not cheap, but worth it.

Mission Hill
You might be familiar with the wines from this large estate, as it's one of the better known labels from the region.
This stunning winery is set high on a hilltop, overlooking the Okanagan Lake and vineyards below.
From the moment you drive into the property you are struck with the beauty of the land.
The picturesque views are incredible from this vantage point.
And that beauty is taken to another level with the unique architectural details that you will see in every corner of the property.
Walking around this vineyard is an absolute pleasure, and the wine is the icing on the cake.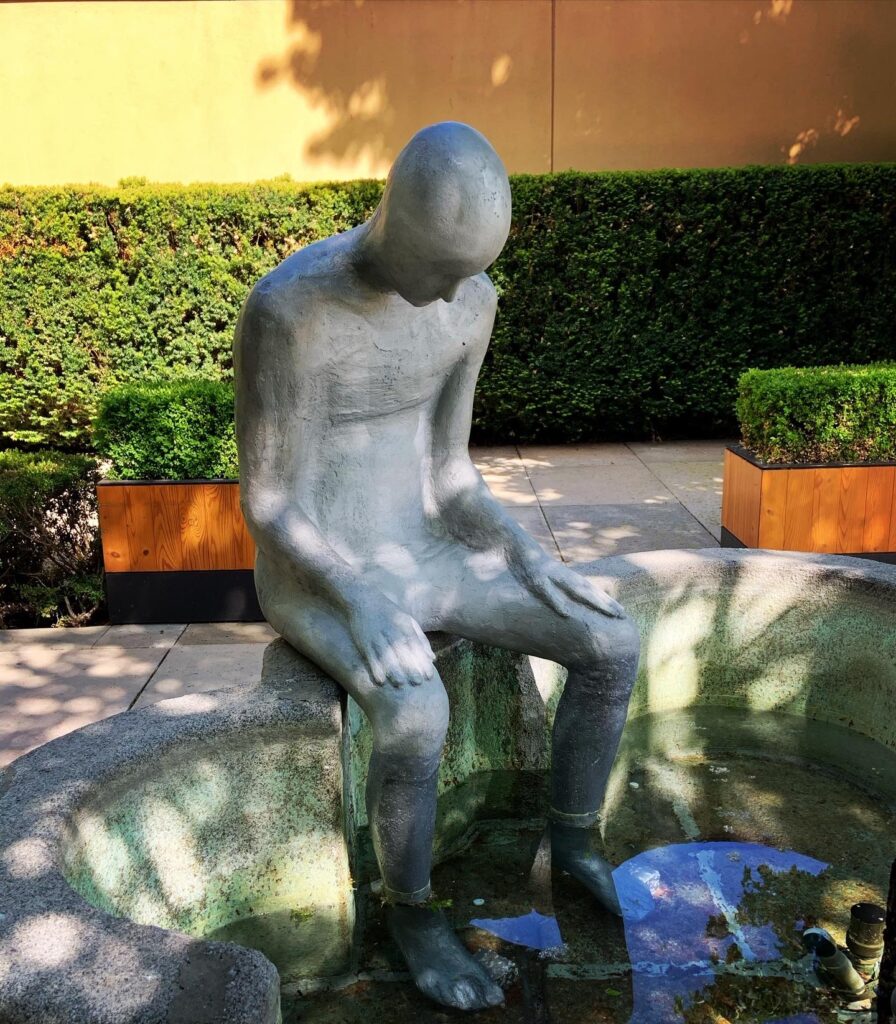 The tastings and cellar tour, as well as the Terrace restaurant are all outstanding.
They also offer culinary classes, special tastings, and host summer concerts in their outdoor Amphitheatre.
The lineup for 2023 is impressive and includes Diana Krall, Lyle Lovett, Colin James, and Sarah McLachlan.
And the gift shop is spectacular, with so many unique gift items and interesting home decor.
The only downside to this place is that nothing is cheap here.
Not surprisingly.
However this is an amazing place to visit.
Seriously. Go. Even if you don't like wine. Go.
*for more information check out their website HERE
Oculus is one of Mission Hill's  specialty wines.
Crown & Thieves
A newcomer to the area, this winery is definitely one that you must add to your list.
The building itself is unique and appears unfinished at first glance.
But it was all done on purpose as part of the design plan.
And, the whole place is decorated with an assortment of interesting and unique antiques, collected by the owner for years, from around the world.
Wine tastings are offered of course.
The tasting room is open every day from 11am to 6pm.
For a special evening out, you can also dine here, at the restaurant on the upper terrace named Angel Share.
It wasn't open during my visit, but it's getting great reviews and I hope to give it a try one day soon.
The views are beautiful from this vantage point, and that combined with great wine and delicious food, would make for a very special experience.
Sounds like a fantastic date night outing!
The tasting room
And, if that's not enough, there's also a secret Speakeasy downstairs in the cellar.
It's called The Broken Hearts Club and it hosts live musical performances, comedy acts and magic shows.
In fact, the owner of this vineyard is also a musician and his band performs here on occasion.
You can host your own private event here also.
Quail's Gate
This winery was one of the first family owned estates in the area and is a very popular one to do a tasting at.
I visited in late winter, and some of the experiences were not available but the wine tasting was very enjoyable and I left happy with several bottles of wine. LOL
Regrettably I didn't walk around the vineyard paths much here, but the lake views from the main building were still so beautiful.
A variety of tasting options are offered here.
You can do the typical 4 wine selections wine tasting and discover some of their most popular, and very great tasting wines.
Or give the wine and cheese tasting a try. I always enjoy those because it's nice to learn what goes well with what.
The one that really peaked my interest was the wine and dessert tasting, and I'm hoping to go back soon to give that a try.
These two were my favourites from my wine tasting flight
There are also two restaurants here that both sound really special.
You can enjoy a full dining experience at the Old Vines Restaurant, or stop in for a coffee or light lunch at The Market.
Both menu options looked fantastic and are a definitely one of the reasons I will be returning here.
But wait, that's not all….
For the full experience you can also book a stay for you and your group at the Lake House, a beautiful home with all the amenities, or The Nest, a vintage log cabin, both located near the lakefront part of the property.
Oh but hold on, there's more….
If you are a member of their wine club (anyone can join)  you can also partake in a special Yacht Wine Tasting Experience on Lake Okanagan
OMG that sounds fabulous.
Like I said before, I must return!
Cider Tasting
Truck 59 Cider House
This gem is still relatively new.
In fact it was just opening up when I visited the first time, in 2020.
But it really interested me, since I hadn't been to a cider tasting.
And their selection has really grown in the last few years, there's always something new going on here.
Truck 59 offers ciders made from locally grown apples and other fruits.
Located on the hillside, facing the water views means you will be sipping on your flight of ciders while taking in gorgeous views of the Okanagan Lake below.

They have set up a large sitting area on the grass with picnic tables and umbrellas.
The flight tastings are a generous size. And the ciders are really good.
My favourite so far has been the Bourbon Blackberry Cider.
There's also a food truck that offers some pretty darn delicious choices to enjoy with your ciders.
A great spot to enjoy dinner outdoors on a beautiful day, and there were actually some families with little ones enjoying a picnic style outing also.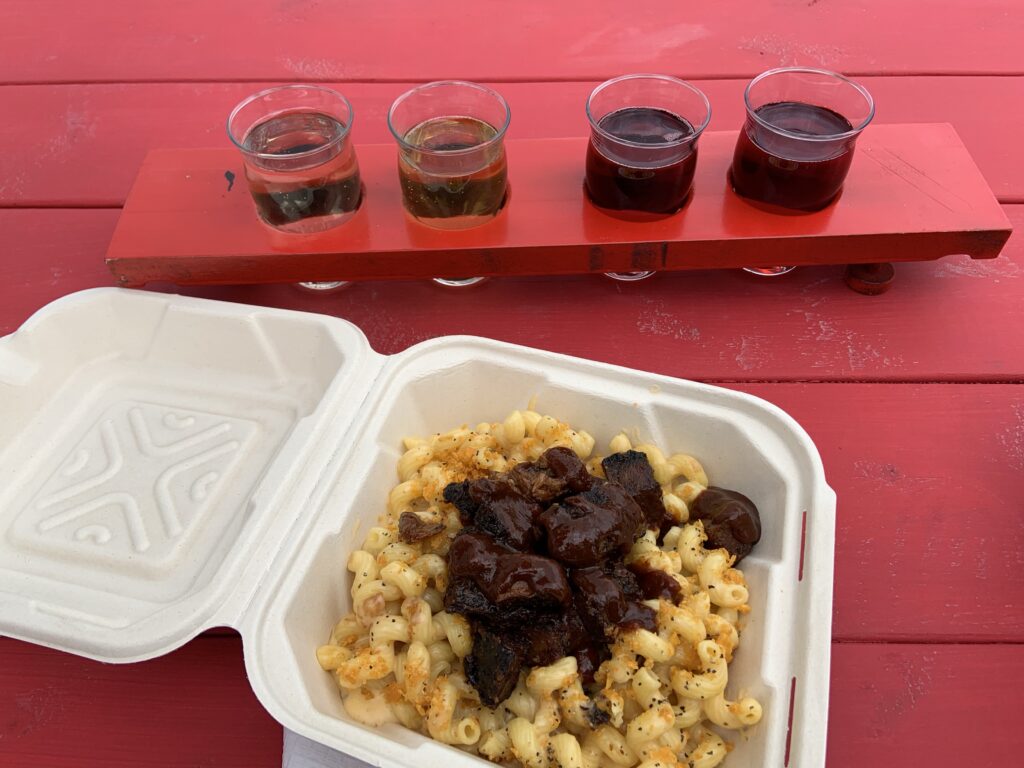 Other Wineries + Cider Houses in West Kelowna
These are some of the other wineries in West Kelowna that I have yet to visit, but which I'm certain deserve to be discovered:
Wineries
Volcanic Hill Family Estate
The Hatch Winery
Beaumont Family Estate Winery
Rollingdale Winery
Ciao Bella Winery
Grizzli Winery
Off the Grid Organic Winery
Cider Houses
Westside Cider
Scenic Road Cider Co. (East Kelowna)
The truth of the matter is that every winery around West Kelowna, and the Okanagan, will have some really good wines to offer, as well as more average selections.
I find it very enjoyable to explore a "new to me" winery,  taking the opportunity to try wines I might not be familiar with, and discovering some new favourites.
The added bonus of a tasting is the guidance of the experts who are doing the pouring.
They know a lot about the wines they offer. Listen to their comments and you will learn a lot.
Also, very important, do yourself a favour, get someone else to do the driving around.
Don't be fooled by the size of the tastings. They may appear rather small,  but believe me, they will sneak up on you. LOL.
But seriously, don't drink and drive.
West Kelowna should absolutely be on your list of places to visit if you enjoy wine and are looking for some wine tasting options.
The area is stunning, the wine selection is quite diverse and I am certain you will have a very enjoyable and memorable experience here.
PIN ME FOR LATER
*THIS POST WAS FEATURED AT:
TUESDAY TURN ABOUT #211 @ My Wee Abode
,center>
Please follow and like us: