Visiting Lake Louise in the Fall
Are you planning a trip to Lake Louise and wondering what time of year you should go?
Most people will tell you that summer is ideal, and it certainly can be.
But I want you to consider another option…Fall.
There are some good reasons for visiting in the autumn months that can make for a really great experience.
Smaller crowds and a completely different view of the Lake are two big ones.
I finally got the opportunity to return to beautiful Lake Louise.
It was long overdue.
My last visit was over 20 years ago, and as you can imagine, a lot can change in that span of time.
In fact, as we approached the area, I must admit that a feeling of dread came over me.
I couldn't help but wonder if some of the splendor of this special place might have been lost after so many years.
It's such a hot spot for tourists, from all over the world and just the kind of place where the encroachment of humanity on nature is bound to happen.
To be expected of course, as more visitors means that there is a greater need for bigger and better facilities to accommodate us very needy humans.
I noticed some changes as soon as we pulled up to the parking area.
A much larger car lot has been paved to accommodate buses, and an outdoor washroom facility has also been added (useful no doubt), presumably so that tourists don't have to go into the hotel.
However, I'm happy to report that Lake Louise remains as magnificent as ever.
On that cloudy and incredibly cold October day the lake glimmered, even though there were just slivers of sunlight breaking through the thick clouds.
The desire to get closer to the water's edge was strong, daring me to dip a finger (doable) or perhaps even a toe (didn't happen haha).
Lake Louise is truly beautiful.
Just the Facts:
Where: Lake Louise is situated about an hours drive from the town of Banff inside Banff National Park, in the province of Alberta, Canada
When: we visited during the third week of October
Temperature: average temperature during our visit was a very cold -20C to -25C during the day, with the sun out! (but it was unusually cold)  normal temps are 1C to -10C for this time of year and with less snow
Plan your visit
Fall is a great time of year to visit Lake Louise.
However, the season looks a little different here in the Rockies.
In other words, be prepared for winter conditions.
A week before we visited the weather had been above 0 degrees C and not one snowflake on the ground.
But everything changed in a matter of days.
So check the weather reports before packing.
But don't let that deter you from visiting.
A fresh snowfall adds more beauty to the already splendid lake colours and the water surrounded by freshly fallen snow makes for some beautiful photography.
Decide how you want to spend your day here and plan the length of your visit accordingly.
Walking the main trail will take a couple of hours. If you want to venture to higher ground and hike the other trails, that will take significantly longer.
And do consider enjoying lunch or dinner at the hotel. It gives you a good excuse to check out the interior and also enjoy some good food with a fabulous view.
Hikes + Trails
The trails at Lake Louise are fantastic.
Whether you are an avid hiker or just want to walk along a scenic path for a couple of hours, there is something here for you to enjoy.
Many of trails are best enjoyed late spring to early fall. Some are closed during the winter season or not recommended unless you are hiking with avalanche gear. Not something you want to mess with.
However the lakeshore trail can be enjoyed year round.
My experience has only been with fall hikes and with snow underfoot. But on both occasions, the lake was not yet frozen, and this makes for an incredibly beautiful setting, that is worth planning for.
The best time to capture this is mid to late October, just after the first snowfalls.
Visiting Lake Louise in late fall and winter is still possible of course. But it offers a different experience altogether.
You will not be able to take in the incredible turquoise and ever changing colours of the water unfortunately, but….
You will be able to ice skate on the lake.
Which actually sounds amazing. Imagine skating smack in the middle of such beauty. WOW.
I've been told the lake stays frozen for about 1/2 of the year.
Lake Louise Lakeshore Trail
This is the most popular trail and the one I walked, on this visit.
It starts at the parking lot by the Chateau lake Louise Hotel and takes you to the opposite end of the lake, in front of the Victoria Glacier.
The hike is 2 km long one way, so for a 4 km walk allow yourself at least 2 hours. You will be stopping repeatedly along the way as there are so many incredible photo ops that are just too irresistible to pass up.
This trail is very user friendly and accessible to most levels of walking/hiking abilities. The terrain is mostly flat and well groomed.
However in the fall, with snow on the ground, there were many icy patches, especially as you got closer to the Glacier end of the trail. This made the walk a bit more challenging, and something to keep in mind. Good boots are a must.
The trail hugs the lake almost the entire distance, so you rarely loose sight of that stunning water and its ever changing hues, not to mention the beautiful rocky backdrop with the sun peeking through it.
There is something magical about the water colours here, as blues and greens change and intensify as you walk around the trail, and as the sunlight changes direction. It is truly a stunning sight, that did not disappoint the first or second time.
*Follow the link below for a full list of the available hiking trails at Lake Louise, and current conditions
Parks Canada Information on Hiking Trails At Lake Louise
Tips for a great visit + hiking experience
It goes without saying that being well prepared is ideal, and some of my tips will seem like no brainers.
However I am including them because surprisingly, in the excitement of venturing out to new places, we often forget the most basic things, and a little reminder list is always helpful.
We did this trail in late October. Temperatures hovered at a very chilly -25C,  and there was a lot of snow on the ground already, but it was still fresh and had only fallen the week before.
So with that in mind here are my best tips for a fall hike:
1. Dress appropriately for the weather
Feeling cold is not fun and will take all the enjoyment out of the experience.
Dressing in layers with a t-shirt, a hoodie or wool sweater and then a jacket overtop is best.
Stay away from cotton socks and instead buy yourself a decent pair of hiking socks, you wont regret it. They are made for this purpose and really work to keep your feet warm and dry.
Good boots are extremely important also and should be lightweight, designed for walking and cold temperatures, and with soles that grip the snow and ice.
2. Start out early if you can, and you will have more of the trail to yourself
As with most touristy destinations, the earlier you get there the better, if you want to avoid lines, and crowds.
However, on this trip we arrived in the afternoon and it still worked out beautifully.
It was an extremely cold day and a bit cloudy too, and with some pandemic restrictions still in place, it wasn't as busy as it normally would have been.
The afternoon sun shining down on our backs helped to keep us warmer on such a chilly fall day. Having said that, the sun setting behind the mountains is a beautiful sight and that was our reward for a late day hike.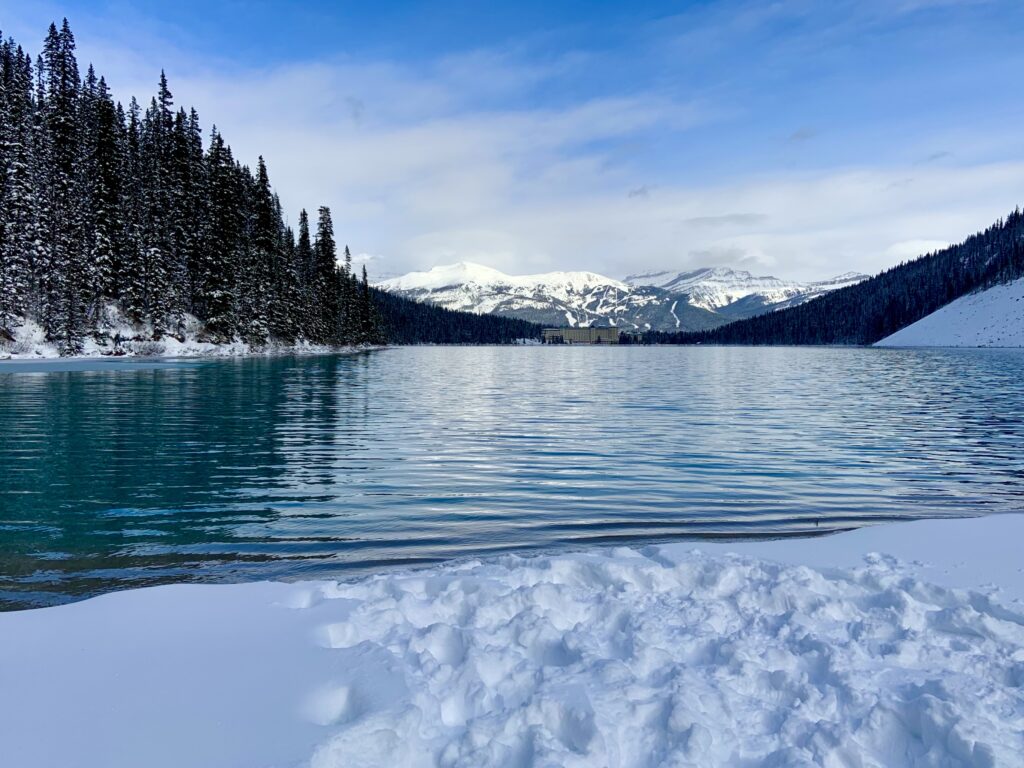 3. Visit the washroom facilities before you head out
There are none on the trail and it will take you a good 2+ hours to complete the hike (more if you want to venture further). Don't mess with this one tip, just get 'er done!
4. Bring only what you really need with you
Don't weigh yourself down with a heavy purse or backpack, unless you are doing a more strenuous hike that requires advanced gear. For the lake trail all you really need is a crossbody purse or small knapsack to carry your phone, a snack and drink. You are not leaving civilization on this trail so don't pack like you are.
5. Carry water and a snack
Do bring a reusable bottle with water (or perhaps a warm beverage like tea or coffee) and a small snack such as a granola bar or a chocolate bar. When you get to the other end of the lake, which takes about an hour, you will undoubtedly be thirsty. This is the perfect time to take a break, admire the scenery and enjoy your snack (please take your garbage with you, don't litter).
6. Stay on the marked trails
Sure you can venture off a bit but once the snow falls it really isn't safe to go too far off the visible paths. And definitely stay off the ice that is starting to form by the shoreline.
7. Be friendly to your fellow hikers
Give them a smile and say hello. If you saw something extra special on your hike and you're making your way back, share it with those you meet along the way. Don't forget to warn others of any wildlife sightings, especially if dangerous.
One more thing, offer to take a photo for those hiking alone or even couples or families, and they will likely offer the same in return.
8. Be aware and alert to wildlife
Cougars and bears have been spotted on the higher elevation trails. Carry bear spray if you are planning on venturing out there.
Some folks from our group came across a large porcupine but that was about it for us thankfully.
And of course you should never approach or feed any of the wildlife you might encounter, even if they are cute and begging.
By the way did you know that you should report bear and cougar sightings to Parks Canada? It helps them determine levels of danger for us unprepared tourists so do call them if you should see any, that's after you're safely far away from it of course.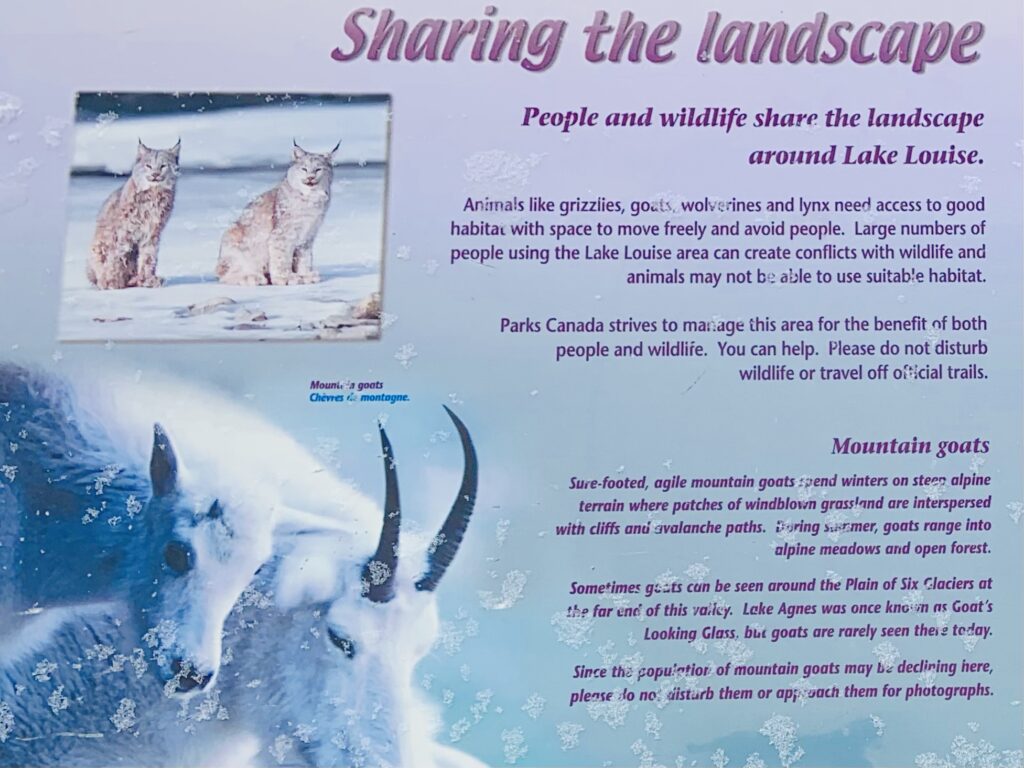 What about Chateau Lake Louise?
Here's a question I've been asked many times….
Should I stay at the Chateau Lake Louise or somewhere else close by?
Is it worthwhile?
Are you kidding me? Is this even a question?
The answer is easy. Without a doubt, if your budget allows for it, you must absolutely stay here for 1 or 2 nights.
Chateau Lake Louise is an impressive Fairmont property and you just can't beat the location.
This is an elegant hotel with well appointed, modern rooms and all the amenities.
The hotels sits at one end of the lake, facing the Victoria Glacier at the other end of the lake, offering breathtaking views.
And of course if you are hiking, it's the ideal place to crash after a day of outdoor activities, without having to drive anywhere.
It doesn't get any better than that.
The restaurants here are very good, including a wonderful European style fondue place.
We treated ourselves to dinner at the Lakeview Lounge after our hike, even though we were not staying overnight.
Yes, you can do that.
The restaurant is perfectly situated with floor to ceiling glass windows that face the lake.
And, I highly recommend you try the Lobster Mac & Cheese.
My friend ordered it and was kind enough to offer up a taste.
OMG I thought I'd died and gone to heaven. It was so delicious.
I've been dreaming of it ever since.
In fact, I have got to find a way to recreate that dish at home!
Seriously, if you get the chance, try it.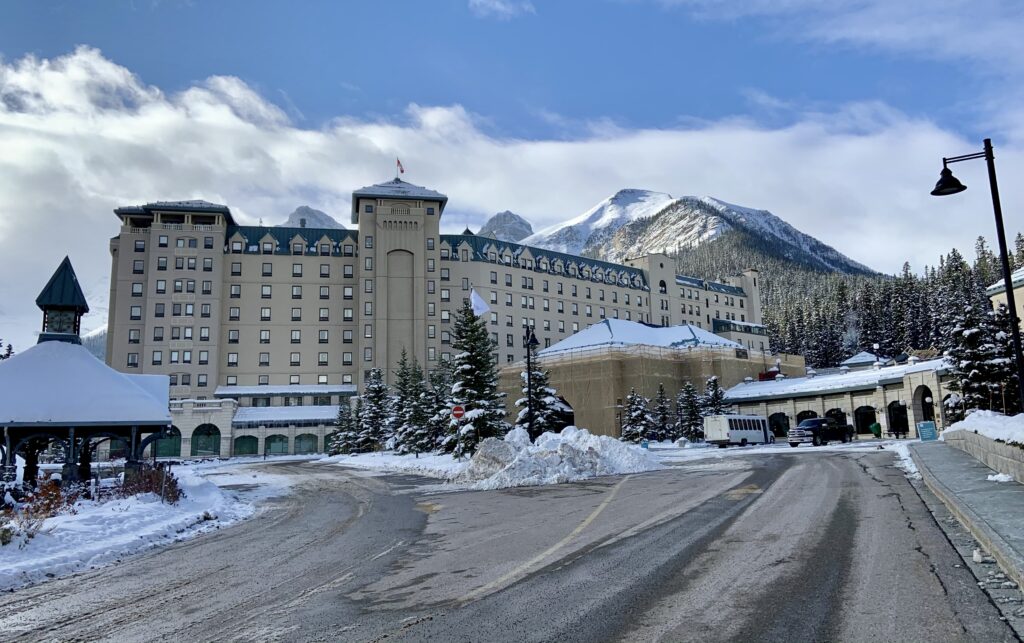 More Useful Information
Visiting Lake Louise and walking the trails is free.
However, you will need to pay for parking at the lot closest to the entrance and the Hotel, from May to October.
Be warned, the lot is not that big and it fills up very quickly.
However you can also park for free at the Parks Canada Park & Ride and use the free Parks Canada shuttles to access Lake Louise.
Lake Louise is about a 45 minute drive from Banff, and about 2 hours drive from Calgary.
Final Thoughts….
You need to know that Canadians absolutely love the Rockies and Banff National Park.
That means it's a very popular destination, not just for foreigners, but also for those of us who call Canada home.
Lake Louise has visitors year round, but I have to admit that the amount of people around on such a cold day really surprised me.
So, come prepared, take the tips I've shared with you to heart, and make the most of your visit.
The beauty is undeniable and absolutely worth the trip.
Check out these great AMAZON finds for your travels
,center>
Please follow and like us: