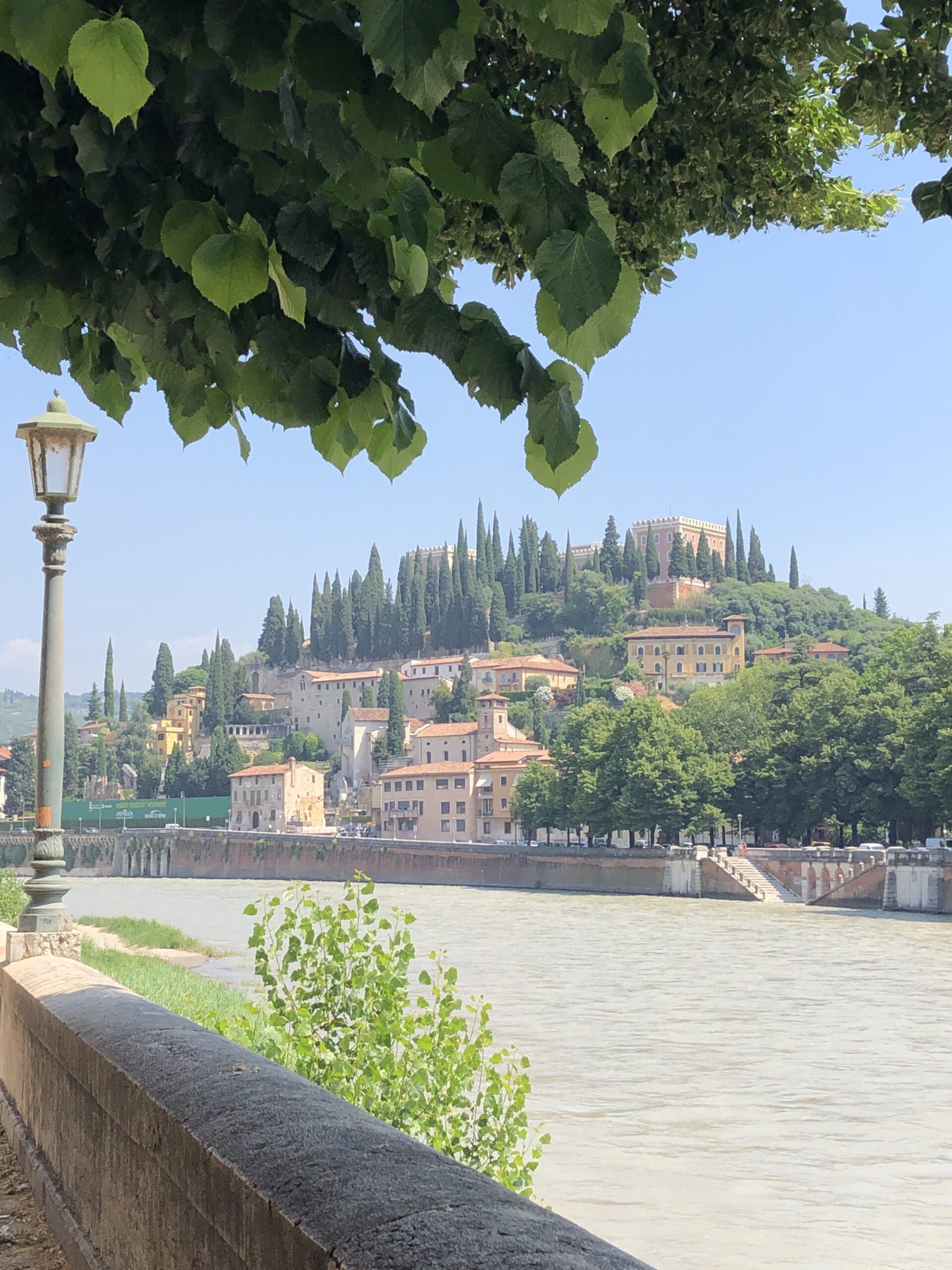 Verona: Italy's City of Love~A Travel Guide
Wow Verona!
You really surprised me.
Italy's city of love had been on my to-see list for years but for one reason or another I kept skipping it.
This year however, I had some serious encouragement from my teenage daughter to contend with.
She had just finished reading Shakespeare's Romeo and Juliet at school, and to say she was obsessing is an understatement.
Truth is we were both eager to visit  Verona, and the setting of the most famous of all love stories.
I'm so happy we took the detour.
It was absolutely worth it.
Verona is a UNESCO World Heritage site
Verona is a beautiful city, with an interesting historic and medieval centre. The area was actually designated by UNESCO as a World Heritage site.  Most of the tourist attractions are walking distance from each other, so it is possible to see quite a bit in one or two days.
Although the city is one of the top visited cities in Italy it didn't feel crazy busy with tourists, at least at this time of year anyways. Walking around was a complete pleasure and visiting the sites was an easy and memorable experience. We never felt rushed or too crowded. We really enjoyed our time here.
The only drawback was that it was darn hot (although gloriously sunny) and that tired us out quickly.  We needed lots of beverage breaks (that part I enjoyed, bring on the Aperol Spritzes haha) and probably didn't see as much as we might have if we had visited in the spring or fall.
Summer however, is the most popular time to visit Verona, and I discovered that most people squeeze in Verona on a day trip, sometimes just a few hours.
Not enough time folks. Trust me on this!
We opted to stay for two nights, and I definitely would urge you to stay at least that long, if you want to truly enjoy all that the city has to offer. You won't regret it.
I would have liked one more day, to explore some nearby vineyards perhaps, or take a side trip to Lago di Garda.
That would have been perfect….but then again now I have a reason to return…
WHAT TO SEE IN FAIR VERONA
As with most of the larger Italian cities, there's so much history here and therefore no shortage of interesting things to see and do. It's hard to fit it all in, especially in one or two days.
So how does one choose?
Try to make your choices based on your personal interests and those of the people you're travelling with, rather than just the list of must see sites. It might mean you will not visit some popular places. But on the other hand it means you're making the most of your time seeing the places that are worthwhile to you.
On this trip I had my 14 year old daughter as my travel companion, and although I always encourage her to keep an open mind and take an interest in new things, the reality is that she's just not that into museums and churches yet. So we opted to leave those out for the most part, and spend our short time here checking out the arena, visiting some of the Romeo and Juliet sites of course, and doing a lot of walking exploring the old city centre while enjoying a gelato.
We certainly did not see it all, but these are the highlights that I would recommend based on our experience.
THE ARENA
Walk towards Piazza Bra and you will find yourself in front of the ancient Arena of Verona. This large Roman amphitheatre is as iconic to Verona as the Colosseum is to Rome. Built during the middle of the 1st century AD, it is almost 2000 years old.
Although a lot of people are surprised to see an ancient arena outside of Rome, there were in fact many built by the Roman empire. This is by far one of the larger ones.
In ancient times it could hold about 30,000 spectators. People would come from all over the area to watch the bloodiest of sports, the gladiator games. These elaborate shows included parades and musical performances. The highlight of the games were the duels between gladiators who were there to fight each other to the death. Sometimes they would hunt and fight exotic, wild animals like lions or tigers. That was an amazing spectacle for a crowd who otherwise would never see such animals. And there were also criminals to be dealt with…this was the perfect time to publicly execute them, usually in very creative and gruesome ways.
In later years the arena hosted jousting tournaments and equestrian competitions.
The Arena in Modern Times
Today, thanks to much stricter health and safety regulations the arena now seats only half that amount, about 15,000.
Spectators are treated to amazing concerts and opera performances rather than bloody duels….aren't you glad you were born in this century!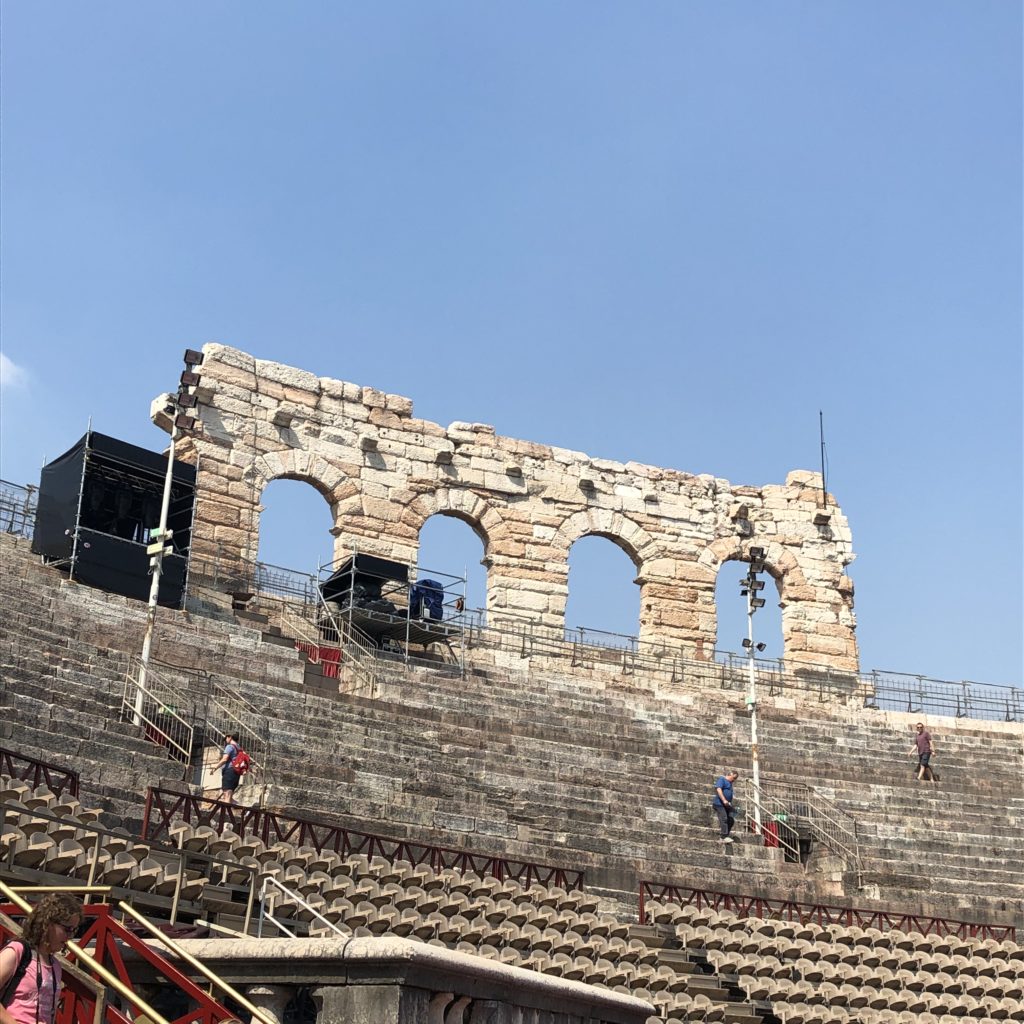 The elliptical shape of the arena allows for excellent acoustics and is therefore perfect for concerts and other musical performances.
There are 44 levels of seating. The top tiers (aka the cheap seats) spectators sit on the actual ancient stone (for performances you can rent a cushion or bring your own!). The lower tiers have been outfitted with more comfortable stadium seating.
During the summer months it's home to an impressive Opera Festival of large scale opera productions. This has been going on since 1913 and is world renowned.
Can you imagine watching an opera like Aida in this incredible setting and atmosphere! Wow! That's now on my bucket list and if I'm ever lucky enough to return I will be checking the performance schedule beforehand. I've been told it's absolutely worth it.
Get inside
It is possible to tour the inside of the arena, but some days only parts of it are open, depending on what performance is being held there. We were able to go inside, through the tunnels and walk around the various tiers of the seating area.
As you walk around the outside of the arena you will come across giant props that are stored there until needed for that performance. There were huge Egyptian statues from Aida, oddly out of place beside the ancient arena, and this enormous prop from Il Trovatore. It's quite an interesting sight to behold, we found the ginormous pieces totally fascinating.
The arena is a beautiful sight during the day, but if you can swing it, do return to the area in the evening and see it lit up. It gives the whole Piazza a stunning glow.
FUNICULAR of CASTEL SAN PIETRO
Make your way towards the Adige river and you will find yourself looking out at a very picturesque hilltop across the water, the Colle San Pietro. It's not that far of a walk and definitely worth the effort.
Once you cross the bridge simply follow the signs to the Funicular. It will take you up the hill in under 2 minutes, to the viewing terraces above.
From there you can take in beautiful and scenic vistas of the city, the surrounding hills, the bridges and the Adige river.
The Funicular originally operated from 1941 to 1944 as a way for students to get to the Castel San Pietro's Arts Academy. After the war it ceased operating. It remained out of service until 2017 when it finally reopened to the public with a new cable car.
Unfortunately the buildings of Castel San Pietro are currently closed to the public because they are undergoing a large scale restoration.
*Open every day except Christmas day and New years day. (apr to oct 1000-2100) (nov to mar 1000-1700)
*bikes and pets are allowed, also it is noted that it's wheelchair accessible and it appeared to be true
PIAZZE DELLE ERBE
Apparently this large square was built on top of the Roman forum of ancient Verona. This means it will likely never be visible again, as that would require destroying a lot of the Piazza and the important historic buildings that are found here.
Today it's home to an open air market selling fresh fruits and vegetables, assorted food items and lots of touristy souvenirs. It's a pretty piazza, with some restaurants and bars to sit at and enjoy an espresso or Aperol Spritz.
PIAZZA DEI SIGNORI and DANTE STATUE
In the centre of this piazza you will find the statue of Dante, built in the 17th century.
Dante was an Italian poet and writer from the late middle ages. He was also a philosopher and political thinker, but is most famous for his written work The Divine Comedy.
The piazza was once the royal square of the Scaligeri Palaces and the main piazza of Verona.
Close by, located next to the Church of Santa Maria Antica you can see the Scaligeri tombs, impressive monuments, built in a gothic style.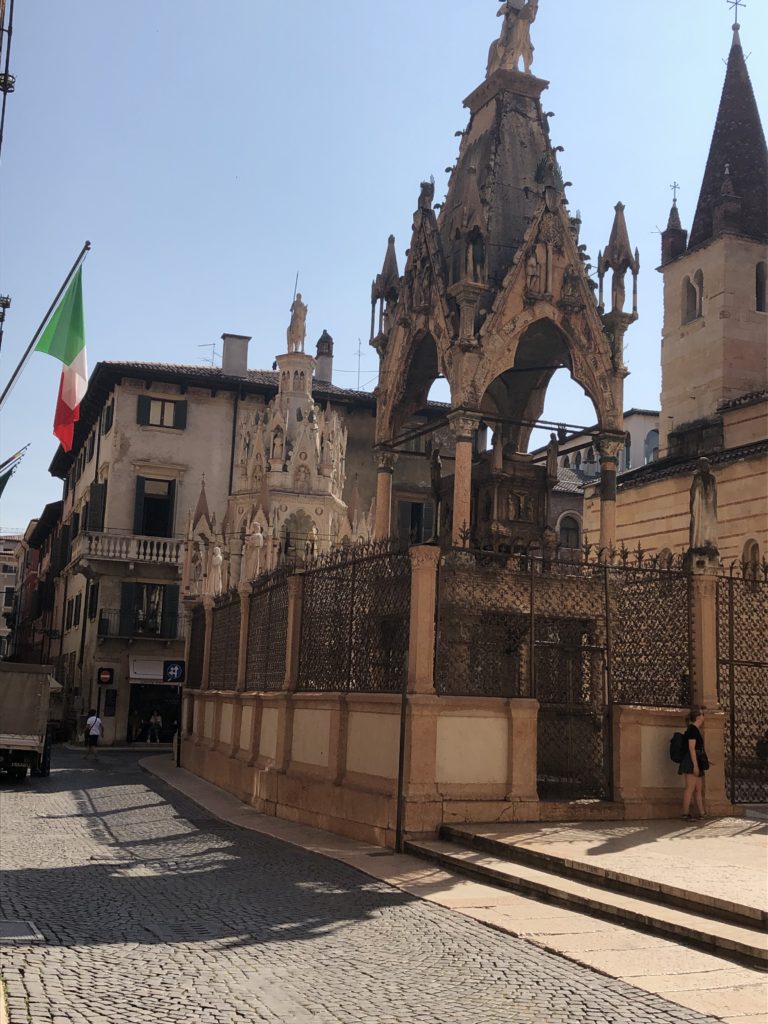 TORRE DEI LAMBERTI
Looking down over the Piazza delle Erbe, in the heart of the medieval centre of Verona, you will find this elegant tower.
The entrance to the tower is just off the Piazza Dei Signori and beside the Scala della Ragione.
It's the highest point in the centre of Verona and it offers incredible panoramic views of the city below.
The tower was built in 1172 for the Lamberti family. It was a private tower and that time it stood at 37 m high. After being struck by lighting in 1403, it was repaired, restored and the octagonal belfry was added, raising the tower to 84 m.  The clock was added in 1779.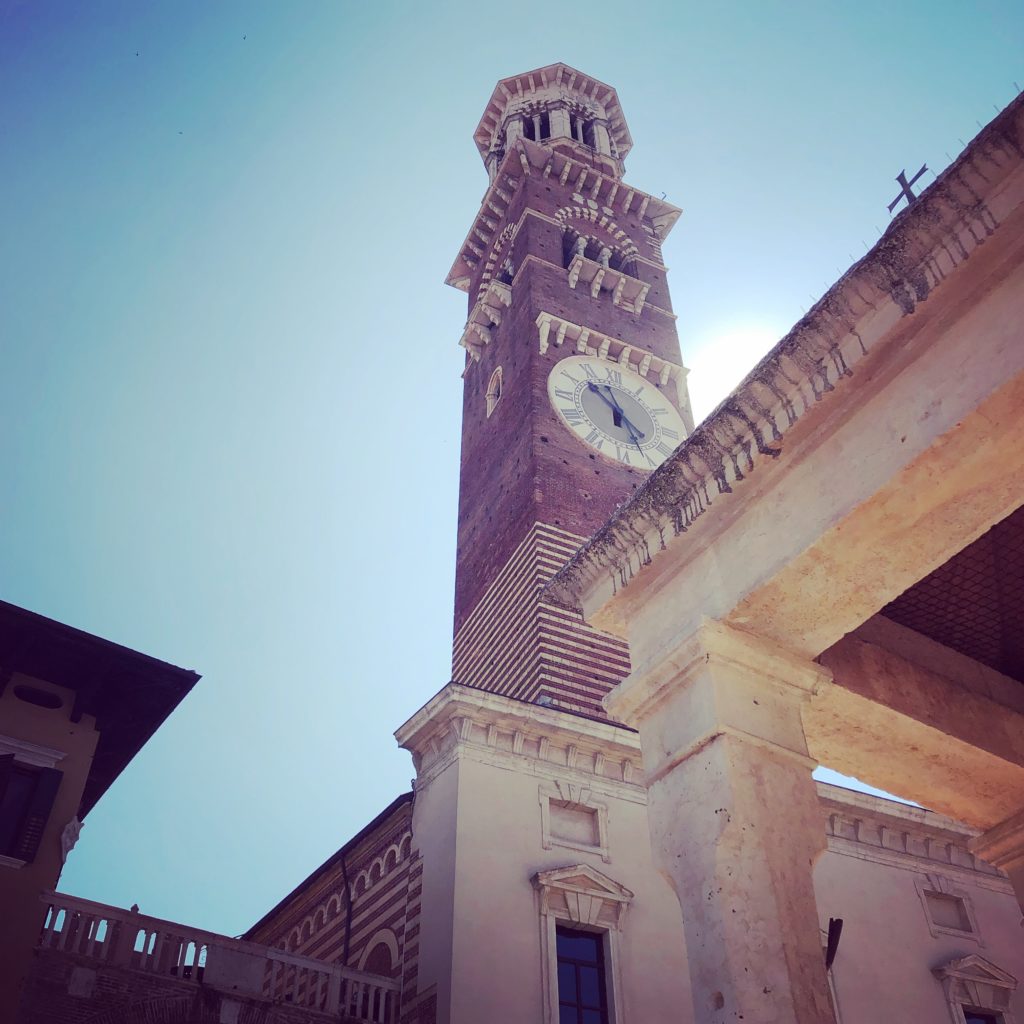 There are two ways up, you can opt for the stairs (368 steps) or you can take the elevator. Once you reach the top there are just a few more stairs to get to the belfry and the bells. Unfortunately all the openings are covered with netting, presumably to keep the pigeons out and probably also to keep people from tossing or dropping anything. This isn't great for photos, but the view itself is spectacular nevertheless.
A word of warning…the bells toll on the half and full hour, so be prepared or time your visit accordingly.
We were there at 10 am, when it was just opening. We beat the lineups, which made for a very enjoyable experience.
If you're looking for something different to do, the tower hosts special Aperintorre events on certain days. This offers you the opportunity to see the city lit up at night with a cocktail in hand…sounds perfectly lovely doesn't it.
Hours: (mon-fri 1000-1800) (sat/sun or holidays 1000-1900)
Entry fees:  8 euros plus an extra 1 euro if you wish to use the elevator to the top
Via dalla Costa 2
JULIET'S GARDEN AND STATUE
Via Cappello 23 is the perfect place to begin your fictional tourism tour of Shakespeare's famed Romeo and Juliet.
This is the site of the "Casa di Giulietta", Juliet's home and garden….or so the legend goes.
The garden area was calm when we first arrived but quickly got busy with the arrival of some big tourist groups.
The statue of Giulietta (that's Juliet in Italian by the way) was the centre of attention as expected.
When it's busy you've got to be pushy and quick if you want to get a turn at a photo and a rub of her right breast. Ahem, yes you read that correctly, apparently legend says this act will bring you good luck in your love life.
Basing this entirely on my own experience, I'd say the best to visit the garden to avoid the crowds is early mornings, before the tourist groups arrive. When we walked by again later in the day it was also much calmer.
As you might be able to see in the picture below there is a theatre on the rooftop terrace nearby.
It's the Teatro Nuovo where a performance of Romeo and Giulietta is put on during the summer month.
The show is actually a walking show, meaning it, and the audience move around the historic centre of the city for parts of the show. This makes for a very unique way to experience this famous tale.
Although we didn't get a chance to watch it, the reviews say it's excellent and very worthwhile. The setting is certainly perfect wouldn't you agree.
Yet another reason to return…
*for more information follow the link below:
Teatro Nuovo- Romeo and Juliet Performance 
JULIET'S HOUSE AND BALCONY
Now that you've seen the garden and the statue of Juliet, you might want to dive deeper into the world of Shakespeare's Romeo and Juliet by visiting the house and standing on the famous balcony.
This reconstructed medieval home was once the home of the Cappello family. Rumors say they may have been the Capulet family of the Romeo and Juliet story.
Once inside you will find the original statue of Juliet that stood in the garden.
She was replaced because of some serious wear and tear, specifically to her right breast. A hole had begun to form (you can see it in the photo below) thanks to all those human hands rubbing the good luck right out of it!
On the upper floor you can join a small line in order to gain access to the balcony. We waited under 10 minutes for our turn.
It seemed customary for those next in line to offer taking a photo of those on the balcony. So we did, and in turn got our photo taken.
Once we were done touring the rest of the house, my daughter stood in the line again while I went back down to the garden. This is the only way to snap a photo of anyone you know standing on the balcony and looking out into the garden. That's how its done folks!
On a side note, the balcony is believed to be an ancient roman sarcophagus…hmmm….alrighty?!
A interesting example of the reuse and recycle program of centuries past I guess.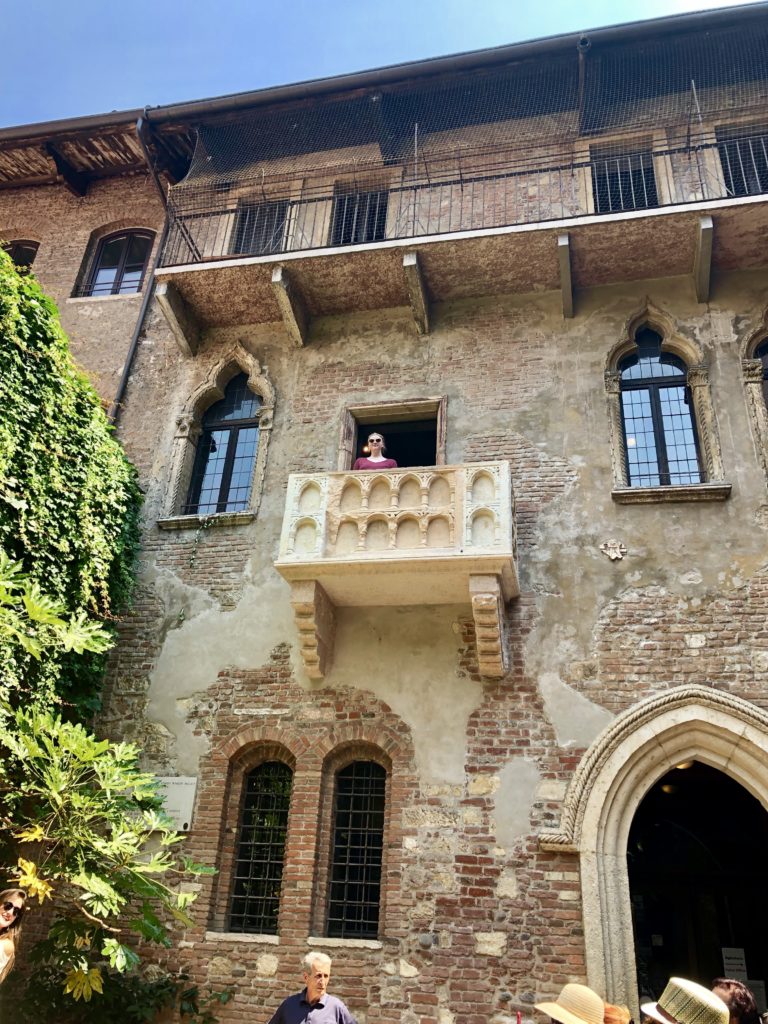 Also inside the house you can view the costumes from the Zeffirelli film of Romeo and Juliet, as well as the bedroom set.
Letters to Juliet
There's a mailbox here to drop off your letter to Juliet as well.
What's this…you didn't come prepared with your letter? Do not worry darlin' because they've thought of everything here and have computers set up inside just for this purpose. I hear it's a long long wait to receive a response in the mail but you will get one. There's a small but dedicated team of volunteer secretaries, called the Juliet club, that are chosen and trained for this special and often sensitive task.
Where can you leave your love lock or notes you ask…
As you pass through the entrance into the courtyard garden you will see that the walls are covered with love notes of all sorts. Some are held up with gum or even band-aids which is rather gross, and there's a lot of graffiti as well. I'm always torn about places like this…I sort of understand why people do it, but I still find it to be vandalism at the end of the day. What do you think?
The wall of love locks is located in the garden near the statue of Juliet.
If you didn't bring a lock of your own, they are of course available for purchase at the souvenir shops nearby.
Write a message or your initials on it and lock in place, if you can find one!
JULIET'S TOMB
At first we decided to skip this spot because it was a bit further out on our walk. We were tired, it was too hot and it just didn't seem worthwhile.
After all, it is in fact an empty sarcophagus and the authenticity is rather dubious, not surprisingly.
There are various, sketchy stories as to how it became known as Juliet's tomb.
It all felt a bit too fake.
However, in the end we decided to go.
The place is a good 20 minute walk from the historic centre and a bit off course from everything. But we found it easily by following the city map we got at the tourist office.
It turned out to be a quiet but very charming area.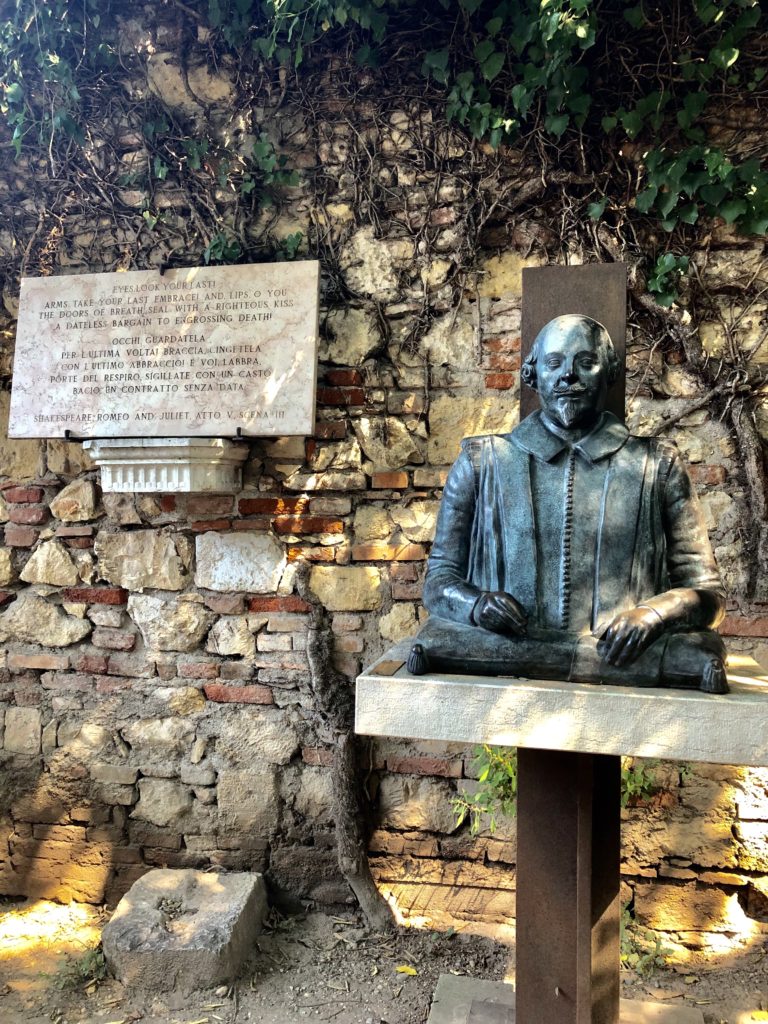 The crypt itself is open and empty of course. The cellar area that it's located in kinda gave me the creeps and the smell was rather unappealing.
However, the bonus was that we had the place to ourselves, with only one other family walking around. No crowds here contend with.
So is this indeed Juliet's tomb?
Most say absolutely not. Shakespeare's tale is fiction after all.
But others insist there is written proof of the existence of the two feuding families and the tragic death of their children. Shakespeare heard of the tale and spun it into his famous play.
True or False?
The story of the tomb goes something like this…
A proper burial was not given to someone who committed suicide in those days. However the monks here pitied Juliet and her untimely death so they secretly laid her to rest in an unmarked grave. Over the years as the story became famous, people began searching for the grave. The monastery decided it was best to spread the remains and hide the grave by turning the sarcophagus into a water trough. Later it was moved to the cellar area where the atmosphere is much more in keeping with a tomb setting.
If you're a big fan of all things Romeo and Juliet, and enjoy following the paths created by fictional tourism, then yes you should visit this site. Otherwise it's probably one you can skip, giving you more time for other interesting things to do here in Verona.
CASTELVECCHIO
The castle is a large medieval fortress. It was built by the Scaligeri  (that's what all the members of the Della Scala family were called) as a military base. They took control of Verona and the surrounding area around 1259 and ruled it for 125 years. Although they were powerful, imposing warlords and not necessarily well liked, they left behind an impressive legacy of castles and other important structures in the Veneto region, such as the Castelvecchio.
Today the castle can be visited and has been turned into a museum.
It houses an impressive holding of art, sculptures, medieval weaponry and archaeological finds from the area.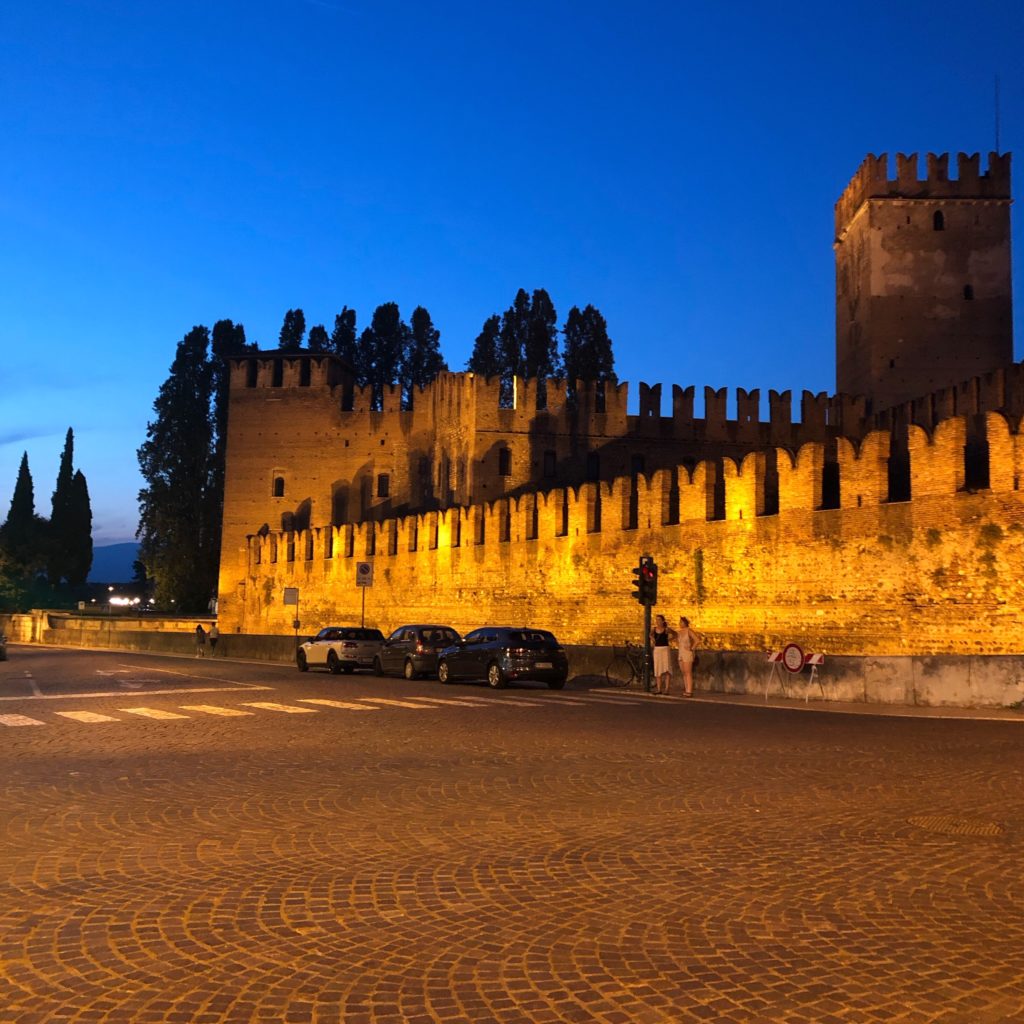 PONTE SCALIGERO AT CASTELVECCHIO (THE BRIDGE)
Here's a tip for you….
Go close to sunset hour.
The setting sun casts some pretty gorgeous hues on the stone of the bridge and castle.
It's such a beautiful spot to admire the views all around you.
Amazing photo ops here!!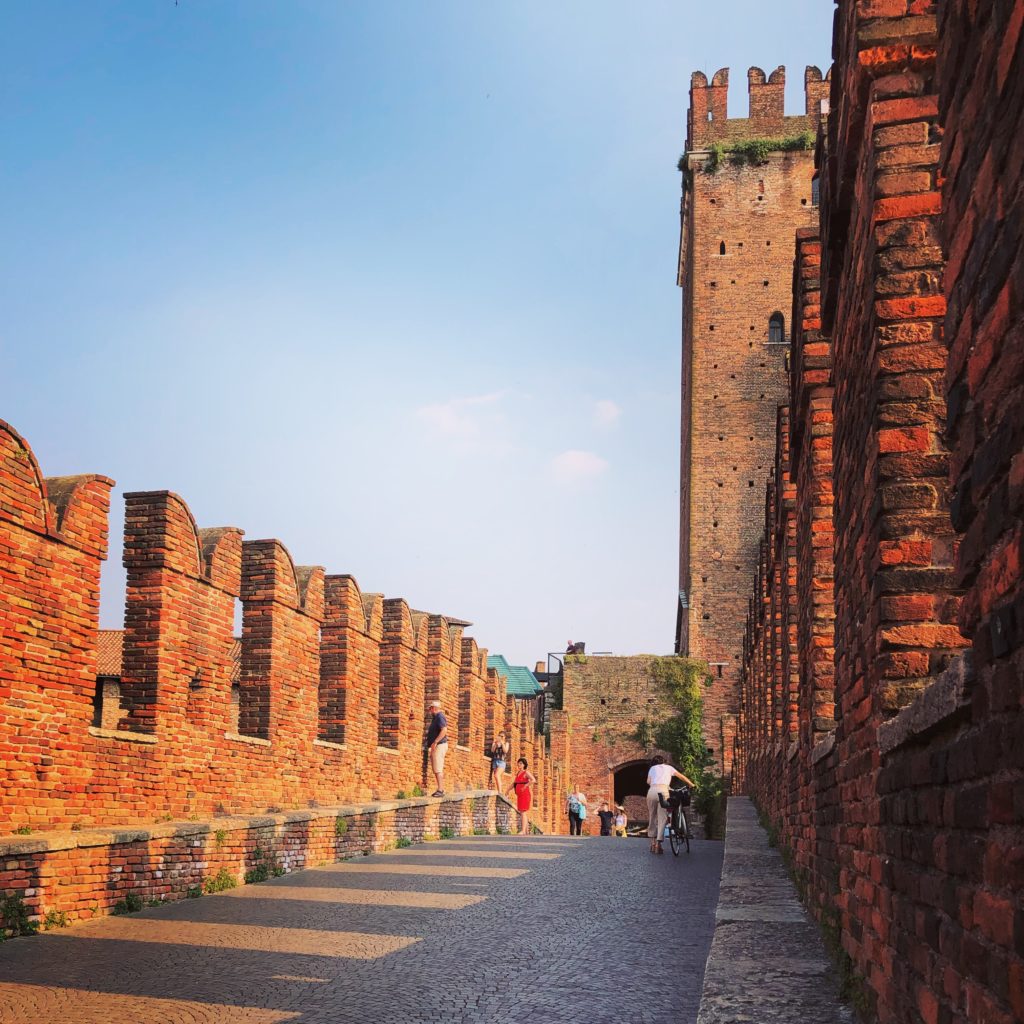 Other things to see and do, that we missed, but that are worth checking out…
Giardino Giusti
This beautiful Italian Renaissance style garden is everything you imagine an Italian garden to be. With intricate hedges cut into mazes and tall cyprus trees…by all accounts worth a visit.
Churches
The Basilica di Santa Anastasia is the largest church in Verona.
The Basilica di San Zeno is famous because this is the site where it is believed that Romeo and Juliet were married.
Wine Tours of  Valpolicella area
The hills outside of Verona are home to a well known wine region. The area is famous for the very good wines Valpolicella, Ripasso and Amarone…I especially love Amarone!
There are many vineyard tours available. You can learn all about the process of making wine and partake in lots of wine tastings too. They sound informative and very enjoyable and I would love to do this on a future trip.
Check online or even with your hotel, or the Verona tourist office, for more information about specific tours. There are many to choose from.
Lago Di Garda
Located about a half hour's drive from Verona you will find Lago di Garda, Italy's largest lake. You can get there from Verona quite easily using regional buses. The medieval town of Sirmione on the lake, is home to another Scaligeri fortress that sits at the edge of the water and looks stunning in the photos I've seen.
Tips for a great Verona visit
Read up on the history of Verona
There's so much more to know about Verona. To truly appreciate all that the city as to offer I encourage you to read up on a bit of its history, especially about the Della Scala family. It will help you to put everything you see here into perspective it and make it that much more interesting. Italian history is absolutely fascinating. It's amazing to me how much went on in this small country, and what a huge influence it had to the rest of the world.
Download the free VERONA SMART APP
The app gives you access to free WIFI connections around the city. It also has lots of information on the tourist attractions, walking itineraries, transportation, restaurants and hotels.
WHAT TO EAT IN VERONA
Unless you're a big foodie or restaurant connoisseur, don't waste too much time looking for the perfect place to eat.
Truth is, you're in Italy and the food is fabulous just about everywhere here.
When you're hungry take a look around you and you're sure to see a restaurant (or a few) close by. You can find the menus posted outside, so take a look before you commit, and if it fits your budget go in and enjoy.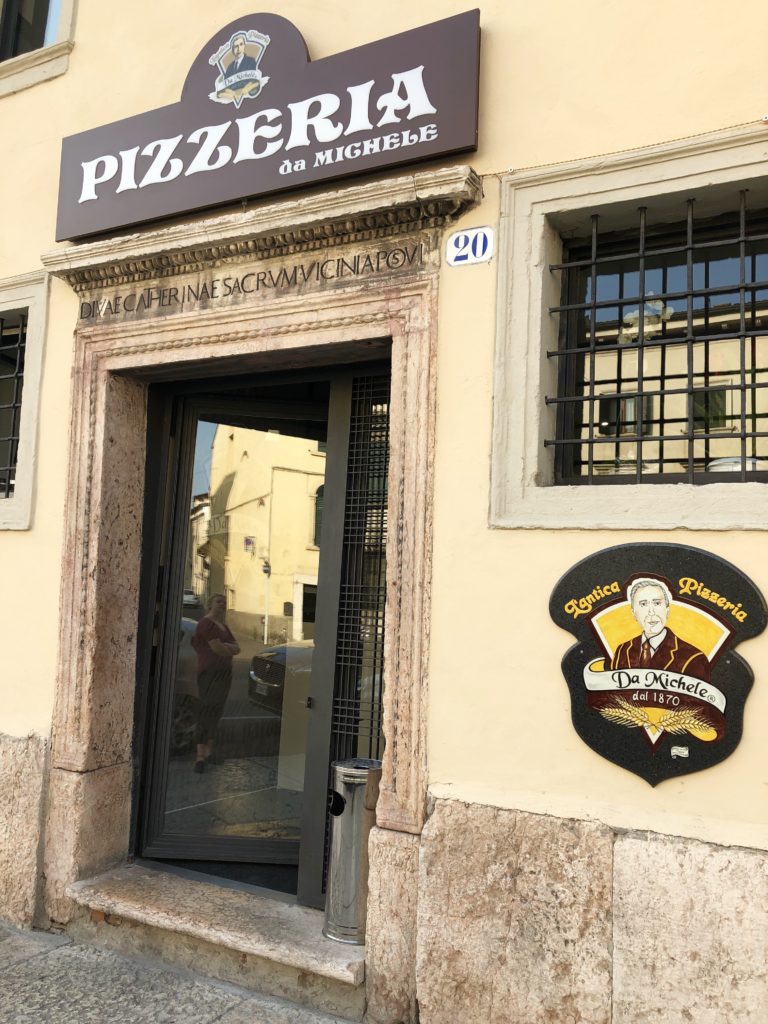 Also…
ALL bars make great espressos, cappuccinos and Aperol spritzes.
All of them!
And…
ALL the  gelato is delish.
Seriously, it's hard to make a bad choice here, so don't get caught up in the "which is the most authentic gelato" debate.
It's something that comes up all the time on travel posts, but honestly it's not worth fretting over.
You are in Italy, eating Italian made gelato.
Enjoy it!
Some typical dishes I would highly recommend trying  are:
Gnocchi– there are many ways these typical regional potato dumplings are served, my favourite though is the traditional Gnocchi with Ragu (meat sauce)
Bigoli-thick spaghetti like pasta
Risotto all"Amarone -a rice dish made with a delicious wine from this area
Also, you can't go wrong with Pizza.
They're delicious and filling. The ones we ordered were huge!
HOW TO GET TO VERONA
Verona is situated approximately halfway between Milan and Venice. If you fly into either city, you are a short 1 hour  and 15 minute train ride away from the city centre. The train station to look for is Porta Nuova. That places you a 20 minute walk to the historic city centre.
An enormous Egyptian statue greeted us as we exited the station. It's one of the props from an earlier performance of the opera Aida and there are several others scattered around the city. A most unexpected and interesting sight.
Once you are in the city, you should give the Verona tourist office a quick visit. They have all the information you need to make the most of your visit and are conveniently located just off Piazza Bra and the Arena.
Here's the link to their website:
(The IAT Verona Tourist Office was kind enough to provide us with complimentary entries into the city's attractions, in exchange for sharing some photos on our social media sites and spreading the word about beautiful Verona. We are very grateful to them for helping us make this trip to Verona an amazing experience.
Time of year we visited: end of June
Temperature: 27-32 C (hot hot hot)
PIN ME FOR LATER

Check out these great Amazon finds….
This post was featured at:
WEDNESDAY AIM LINK PARTY from Grammys Grid
SATURDAY SPARKS LINK PARTY from Pieced Pastimes
,center>
Please follow and like us: