Rovinj {Rovigno} Jewel of Istria Croatia
The Hydrofoil ferry approached yet another
peninsula jutting out into the Adriatic,
but this time my heart skipped a beat…
because I knew that we were getting closer,
and around the next corner I would finally
catch a glimpse of my beloved Rovigno.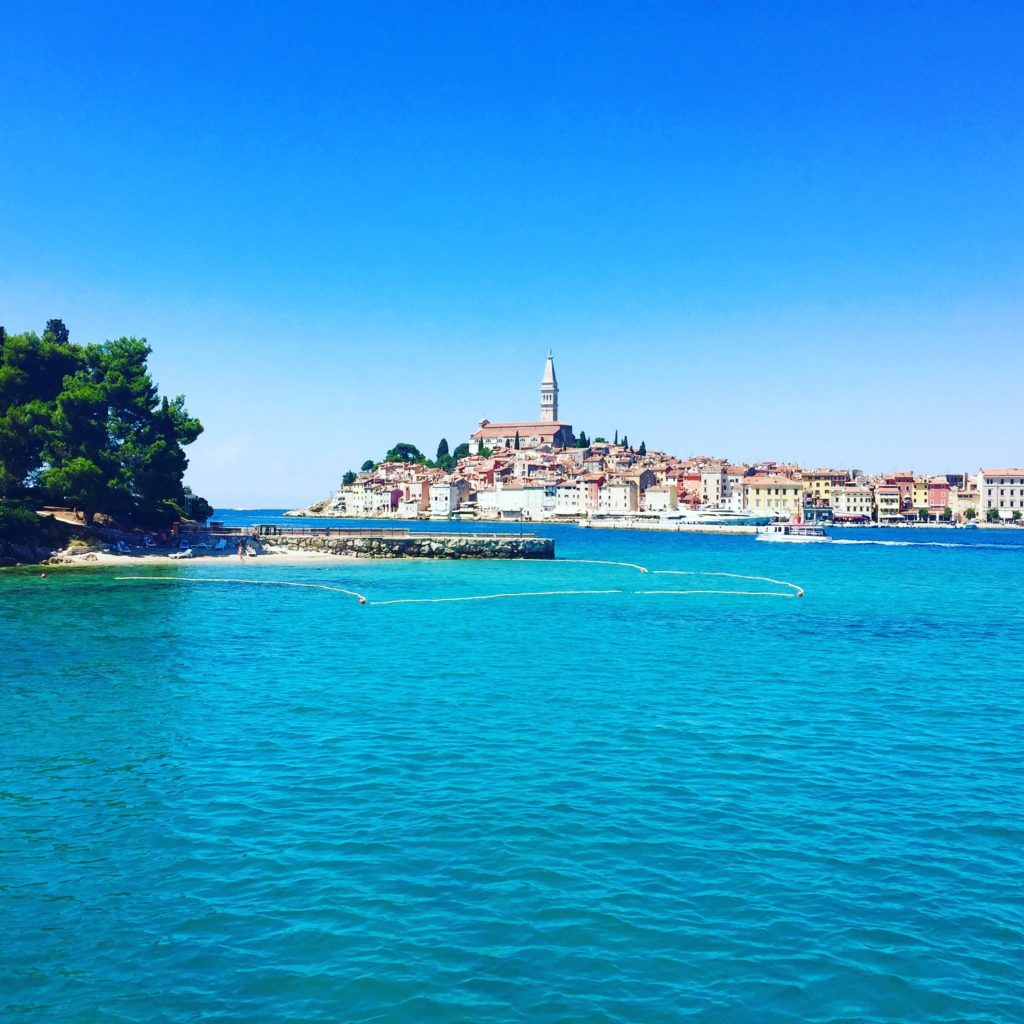 That iconic view of the town rising out of the water with the Church of Saint Euphemia perched above is a picture perfect, postcard view like no other to me. And arriving by way of the sea is by far the best introduction to this idyllic coastal town, located off the beaten path in Istria, Croatia.
Thanks to the rising popularity of tourism to Croatia, Rovinj has become a big tourist draw for those venturing away from the bigger cities, looking for unique places to visit and enjoy hot summer days by the sea. However for Europeans this area is well known as the Jewel of Istria, a place they have been visiting as tourists for many decades.
Croatia is an uber hot destination right now.
That's because  there's something for everyone here.
Medieval cities with amazing historical sites to discover. Natural wonders to satisfy the keenest explorers. And beautiful seaside towns with crystal blue waters offering the perfect setting for boating, swimming, scuba diving and snorkeling adventures.
So much to see and do…
But me, I've barely scratched the surface, because I keep going back to my first love in this part of the world, Rovigno.
It is special.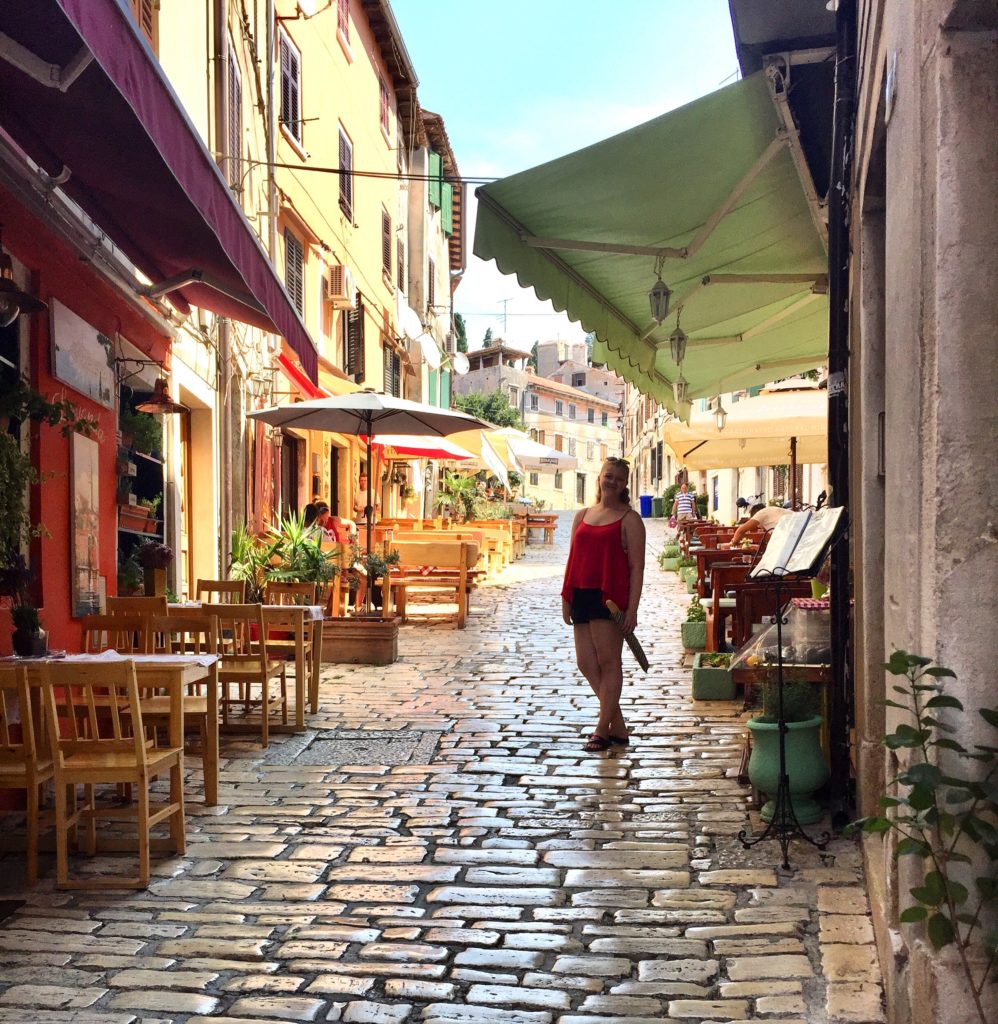 I used to think it was mostly my family and I that were so enchanted with Rovigno.
After all this was the birthplace of my grandfather. He always talked about it as if it was heaven on earth, perhaps because he was just a young man when he left and it held the best memories for him.
I spent my early childhood summers there, while still living in Italy and those days are very dear and special to me. I still have family living there and always look forward to visiting.
More recently however, I began to realize that there was definitely more to this place than just my own sentimental attachment.  As Croatia became better known to the world, picture perfect Rovinj began to appear in magazines and online articles.
And so the secret was out.
A little history…
Rovinj dates back to 3rd and 4th century Roman times.  It was originally an island separated from the mainland by a narrow channel. In the late 1700's the channel was filled in so that the town could expand and Rovinj became a peninsula.
The whole Istrian Peninsula was part of the Republic of Venice for over 500 years. In fact today you can still see many architectural details that hint at the history of the old town. The winged Lion for example, a symbol of the Venetian empire, is found on several buildings and on the main gate to the old city called Balbi's Arch.
After the fall of Venice Rovigno became part of the Austro-Hungarian Empire, who then lost the area to fascist Italy after WW1. Unfortunately for the Italians, who cherished this beautiful coastal area, Istria was lost in WWII and became part of Yugoslavia. In 1991 Croatia declared its independence from Yugoslavia and Rovigno was renamed Rovinj.
Despite all these changes the area still retains a large Italian population. Many locals speak both Italian and Croatian, and the younger generation speaks at least some English and German thanks to the large summer tourist draw.
What to See and Do
Rovinj is often mentioned in tourist itineraries as a place to visit for the day.
One day? Are you kidding me?!
That's just wrong.
What a big tease that would be, especially in the summer time.
Sure, one day might give you enough time to walk the old town and port promenade. You might even have time for a quick swim at Monte.
But there's so much more to experience here.
I urge you to give yourself at least 3 full days to explore and enjoy all that Rovinj has to offer.
Here's a great list of places that are not to be missed…
Explore the Old Town of Rovigno
Enter the old town from the main square, through Balbi's Arch, the old town's main gate. This elaborate arch was built in 1679 and is decorated with symbols of the Venetian Empire.
Wander the narrow cobbled streets without worrying too much about which direction you're going in. And don't be afraid to get lost, it's a small place, you will find your way out eventually.
Do give yourself a couple of hours as there will be many distractions along the way, especially the open doorways and alleyways with staircases leading you right out into the turquoise water, beckoning you to jump in for a quick dip.
Expect to be sidetracked often, with all the charming shops and artist studios, small cafes and enticing restaurants that are now just about in every nook and cranny of the old town.
Stop and look.
Sip and savour.
Enjoy it and above all, don't rush.
This is what you came for after all.
A slice of heaven on earth.
Of course, during the peak season you will be sharing this place with a lot of other tourists.
This is the new reality of summer in Rovigno.
Honestly, I still find it fascinating and a bit shocking that my little gem of a place has become so popular.
The narrow, cobbled paths become congested pretty quickly.
But don't be discouraged. If you just venture off any of the main streets you will find so much to enjoy.
Just remember, that this is a town that needs to be explored on foot, so be prepared for walking.
A visit to the Church of Saint Euphemia is a must
Make your way up to the very top of Rovinj during the day, and then do it again at sunset. The view from up here is fantastic, and the sunsets are truly stunning.
Situated at the top of the old town, this simple but beautiful Baroque style church honours Saint Euphemia, the patron saint of Rovigno.  It was built in 1725 over the site of a previous church.
The bell tower is older, built in the mid 1600s. It is modeled after the Campanile of St. Marks in Venice.
If you're up for it, you can climb up to the top via a reportedly rickety old staircase. I haven't ventured up yet as I had no idea it was possible, but you can be sure I'll be climbing first chance I get. I'm certain the views from up there will be worthwhile.
However even if you don't make the climb, you will still be rewarded with beautiful scenic vistas of the town and the islands nearby. Definitely not to be missed.
Visit the Valdibora Market
Shop for fresh fruits, vegetables, and other local specialties such as truffles, olive oil and honey. Truffles are a special delicacy around these parts and if you're not familiar with them, this is the place to try them!
This is also a great spot for souvenir shopping. You can find everything from the usual trinkets to unique local arts and crafts..
At the back of the market, facing the sea you will find a memorial monument, built in 1956. This monument commemorates the fallen fighters and victims who strongly opposed the fascists during WWII.
Unfortunately there are no plaques explaining the significance of this important memorial and I find it is often overlooked.
Take a 5 minute ferry ride to St. Katarina Island
Your reward…the best views of Rovinj.
Just look at that clear turquoise water!
This is one of the larger islands in the archipelago and the closest to the old town.
It's small enough to walk its entirety in less than an hour, but it will take you longer. And for good reason, as you'll be stopping to admire the scenic views and to explore the hidden coves along the way.
If you turn right once you exit the ferry and walk the path along the shoreline, that is where you will get the most amazing photo ops of the whole town of Rovinj.
You will be tempted to go for a swim, the water is stunning here.
I hope you came well prepared, wearing your bathing suit and donning some water shoes. It's nearly impossible to walk down to the water's edge without them, and just as tricky to exit the water back onto this very rocky and rugged coast. There are a couple of pebble beach areas on the other side of the island, where the water is more easily accessible. You will still need water shoes however. There is also a restaurant here and washrooms nearby.
The historic and renovated hotel Island Hotel Katarina is a beautiful place to stay overnight if your budget allows it, it's not cheap. I've been dreaming of lodging there, perhaps one day…
You don't need to buy a ticket to take the ferry to the island, however you must purchase a ticket from the booth near the pier, to ride the ferry back to the mainland.
Take the 15 minute ferry boat ride to St Andrews island (also known as Isola Rossa or Red Island)
There are actually two islands here which are connected to each other by a concrete walking bridge.
The ferry docks at the main/ busier island.
Safe mooring for boats and a very nice hotel make this a popular place for families to spend the day. All the amenities beach goers need are available, including beach chair rentals, bars and restaurants, as well as children friendly area and a water trampoline park.
Entering the water for a swim here is a bit easier and the rocks are flatter, making it easier to find a place to lay down your beach towel and enjoy the day. The pine forest behind you is a great place to escape to when the sun gets too hot, or if you need an afternoon nap in the shade.
You can walk around the entire island in about an hour, but again, just like at St. Katarina, it will take you longer.
There are some incredibly scenic spots along the way that will be hard to resist. You will need water shoes here also, if you want to enjoy swimming in this part of the island.
The sparkling sea here is perfect for snorkeling so bring your gear.
The crystal clear water allows you to easily spot a variety of sea life, but…beware of the black sea urchins.
They love hanging out and attaching themselves to the rocky shoreline and stepping on them is painful to say the least.
What's even worse is removing those pesky quills from your feet. Trust me on this, I speak from experience.
You can venture across the bridge to the second island for a more secluded and naturalistic experience.
In fact it used to be exclusive to naturists.  Although that is not the case any longer, it still is is very popular with the "undressed".
Consider yourself warned. LOL
The ferry ride to the island is free, no ticket required. However to return by ferry you must purchase a ticket at the island kiosk before you depart.
Go for a swim at Monte
Located in the old town, directly below the Church of Saint Euphemia, this rocky beach area is very popular with both locals and tourists. It's small but somehow manages to accommodate a pretty large number of people. Pack a towel and your water shoes, find yourself a bit of flat rock to suntan or sit and enjoy the scenery. Follow the stairs that lead you right into the water and go for a swim in the clear blue sea. This is a great spot for a late afternoon dip or to watch the sunset.
There are no sandy beaches in Rovinj, and as much as I love the feeling of sandy toes, I don't miss it here…it would somehow be out of place.
Walk or bike ride to Punta Corrente (Golden Cape Forest Park)
This is a beautiful natural coastal park located about 1 1/2 km away from the city centre. Enjoy the trails, take a kayak tour or go for a swim. For the adventurous, try rock climbing the old quarry wall. From this vantage point you can take in scenic views of the nearby islands. Venture further in to find secluded and quiet spaces to enjoy.
Visit the Batana Museum
At this small museum you can learn about Batanas, traditional flat-bottomed fishing boats that are particular to Rovinj. They are a unique part of the town's history as a fishing port. I was not aware of this museum until recently, so unfortunately I have not yet visited…adding to my to-do list.
Charter your own boat or take a guided tour to the other islands
There are many other small islands in the Rovinj archipelago, and they can only be reached by private boat. If you have the chance to visit them do it. They offer amazing opportunities for snorkeling and swimming, or simply enjoying nature. There aren't any public amenities on them, like washrooms or restaurants, so take that into account. And prepare your eyes for naturist sunbathers which tend to seek out these private places.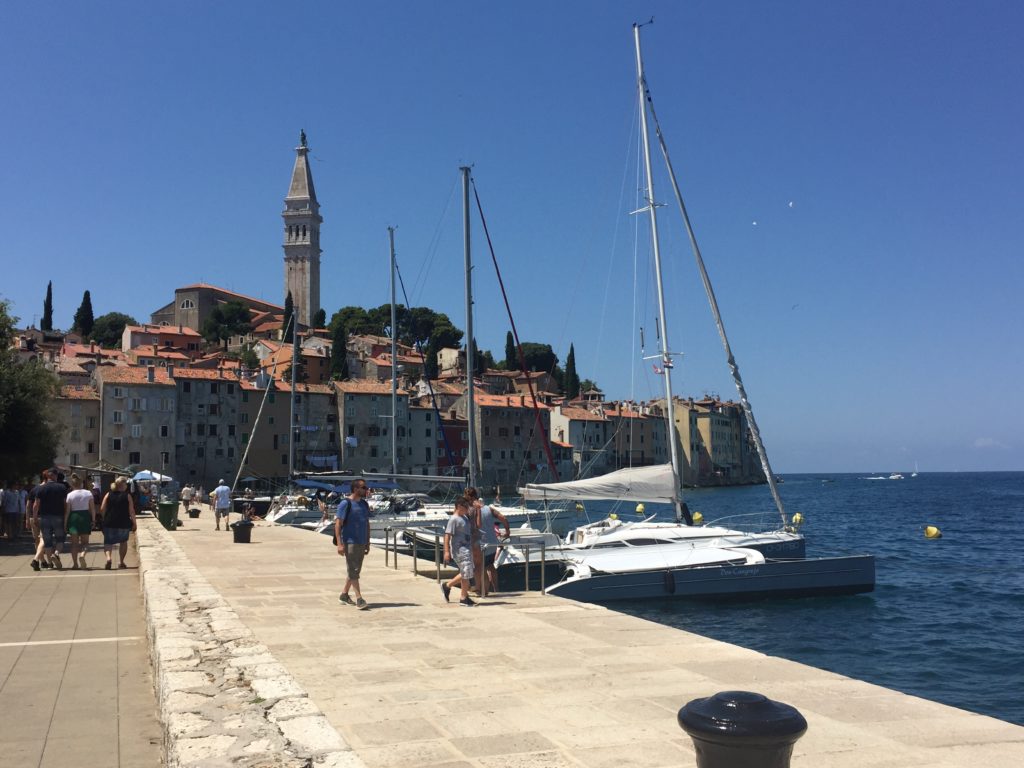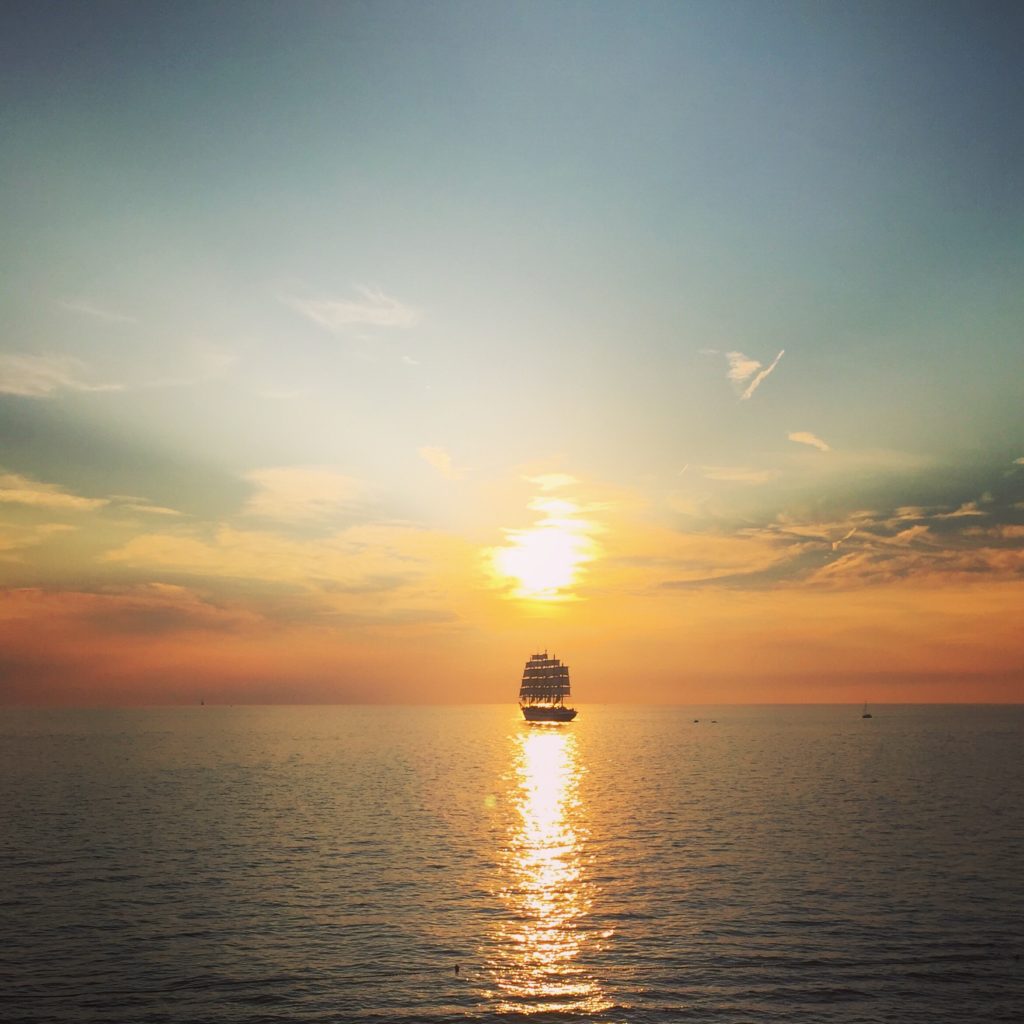 What to shop for
Don't miss out on the the white and black truffles. They are a special delicacy from this area. At the market you will see several vendors offering samples of products made from them, such as spreads and flavoured oils. Give them a try, they are delicious.
This is one specialty you don't want to miss out on.
The honey here is also very good, thanks to the large variety of wildflowers in the area giving the honey some wonderful, unique flavours.
Local art such as beautiful scenic paintings and sketches of the old town and streets make great souvenirs, as well as a lot of interesting handcrafted items.
You will also find quite a few shops selling local lavender, fresh and dried, and used to make an assortment of unique items.
Nearby places to see
Rovinj is also a great spot to stay at and use as a base to take day trips. There are a lot of interesting cities and places in the area and a lot to see and do, all within within a 2 hour radius. These are just a few suggestions, but there are many more.
PULA – The ancient city of Pula is about a half hour drive from Rovinj. It is well known for its well preserved roman structures, in particular the Pula Arena which is a smaller version of the Colosseum in Rome.
Plitvice Lakes National Park – This amazing National Park is located about 2 hours from Rovinj (about 1 hr from Zagreb). It is most famous for its spectacular lakes and waterfalls, but also the hiking trails and natural woodlands…a unique and beautiful place.
LIM CANAL – Check out the Lim Canal Fjord. It's is the largest fjord on the Adriatic sea and has breathtaking views. It's only a 20 minute car ride from Rovinj.
Tips and Info for a great visit
Despite the fact that Croatia is part of the European Union, they have not yet switched to the Euro. You will need to exchange your money into the local currency, called the KUNA.  Exchange your money in Croatia to get the best rate.
Are you arriving by car and staying at a private or rented residence? You will need to park your car at one of the car lots. They are located walking distance to the market and old town. Most of the old town is pedestrian only and most homes do not have any parking spaces. But don't worry, you do not need a car to explore this place. It's quite small and easy to navigate.
Definitely pack your water shoes. The beaches are rocky, and you will often find yourself climbing through rugged shorelines to enter the water, especially in the most scenic spots. While you're at it pack your snorkel mask and fins too, the clear waters here are perfect for it.
And while we are on the topic of shoes, beware your choice of footwear for walking the cobbled stone streets, which have become worn and slick over time, and can be quite slippery especially when wet. High heels are not a great idea here, stick to practical shoes with rubber soles.
Where to Eat
There are so many good restaurants and cafes here that I'm not going to single out any particular ones. They are forever changing. Specialties here are fresh fish and a lot of Italian and Croatian dishes. If you can splurge a little, try one of the many restaurants that are located in some very scenic locations. You are mostly paying for the view…but it can be worthwhile.
However, if you're looking for a budget friendly option I suggest you go for Pizza! There are so many places around where you can enjoy delicious, traditional Italian pizza baked in a  wood fired oven, that is just as good, if not better than in Italy. Yes I said it! It's true!
In need of a cocktail? Try Croatia's version of a sangria, the MIŠ MAŠ.  It's a glass of red wine topped with orange pop. Hits the spot trust me!
Where to Stay
There are lodgings here to accommodate all budgets. The larger hotels just outside the old town are more expensive usually but offer everything you need and more. Many tourists here choose to stay in bed and breakfasts or rented apartments right in the centre. This is a great option as it puts you within walking distance of everything that you want to do here. Everything from gorgeous, modern and beautifully renovated places right in the old town to very budget friendly simple accommodations in family homes. The charm of this place is being able to get up in the morning, packing your beach bag and venturing off to one of the islands for a day of swimming and sunbathing, then returning later and strolling around the town enjoying an ice cream or sitting down for dinner at one of the many restaurants lining the cobbled streets and waterfront.
How to get here
The the closest large international airports are in Zagreb (about 2 1/2 hours away) or Trieste in Italy (about 1 1/2 hours away). The closest airport for connecting flights from Europe is in Pula, about 30 minutes away.
You can rent a car or take a coach bus to get to Rovinj. I have never rented a car here therefore cannot comment on that. However the Flixbus coach service that is available pretty well all over Europe, services this area. It is inexpensive and comfortable, and sometimes has WiFi on board.
There is also a seasonal Hydrofoil ferry service from the city of Trieste, in Italy. The trip is between 1 1/2 hrs to  2 1/2 hrs long, depending on the day and route (some days it stops in 2 other port cities on the way). Honestly, this is my favourite way of arriving, especially on a beautiful, sunny day.
Rovinj is not the easiest town in Croatia to reach, but it is definitely well worth it.
If you have the chance to visit, take it! You will not regret it.
I love this place…
PIN ME FOR LATER
,center>
Please follow and like us: