One Epic Day In Sydney Australia
Australia, the land down under…
It sat at the very top of my bucket list for over 30 years, probably even more.
In fact when I first started working for the airlines, it was the number one place I dreamed of travelling to. I had plans of going the moment that I passed probation and got my travel passes.
But somehow I just kept putting it off and the years passed…too quickly I might add.
The problem was that I had visions of a grand, cross country, see it all adventure. You know what I mean, the kind that requires lots of planning, a slew of extra vacation days and some serious cash flow.
An ambitious plan that was a tad more difficult to pull off than the short impromptu jaunts airline employees are famous for.
Australia became a "hopefully when I retire" bucket list destination. Sad.
Thankfully fate had other plans…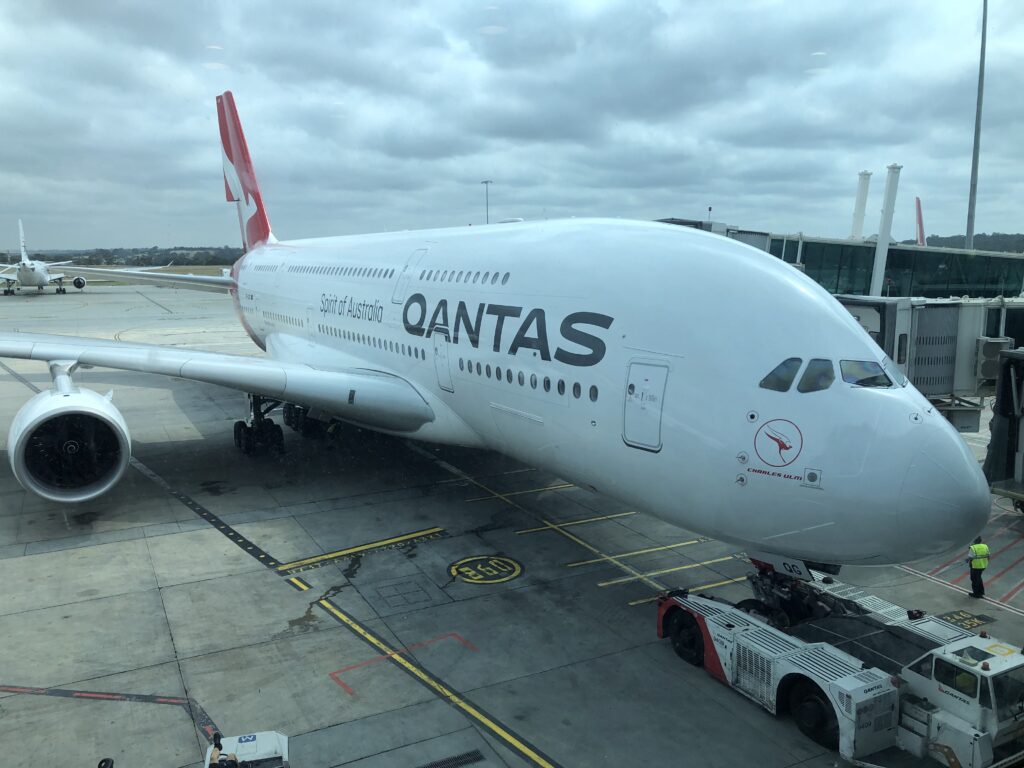 The Detour
My friends and I ended up in Sydney for about 24 hours on an unexpected but most welcome detour.
We made the most of it!
To say that a day in this fantastic city is too short is an understatement, as you can imagine. But here was an opportunity to get a taste of Australia and we jumped at it.
We arrived early in the morning, after a long and boring 7 hour overnight flight from Singapore.
But the sun was shining bright and I was beyond excited at the prospect of spending the day exploring Sydney and all it had to offer.
After quickly booking a cheap hotel online, we called for an Uber. The app worked well and was a convenient option for getting us to the hotel quickly and without the need for local currency. It's a very affordable choice when you are sharing the cost with your friends.
*To get around the city I recommend getting an Opal card, a tap on, tap off card way to pay your fares, which gives you discounted rates on buses, trains and even the ferries. They can be purchased at the airport, or local retailers, loaded with funds and can easily be topped up with more when needed
Thankfully we were able to check into our room early.  The Ibis hotel we chose was super budget. However, it was clean, safe and the price was right. More than acceptable for one night. This gave us the much needed opportunity to freshen up and then leave our belongings, and be free to start exploring.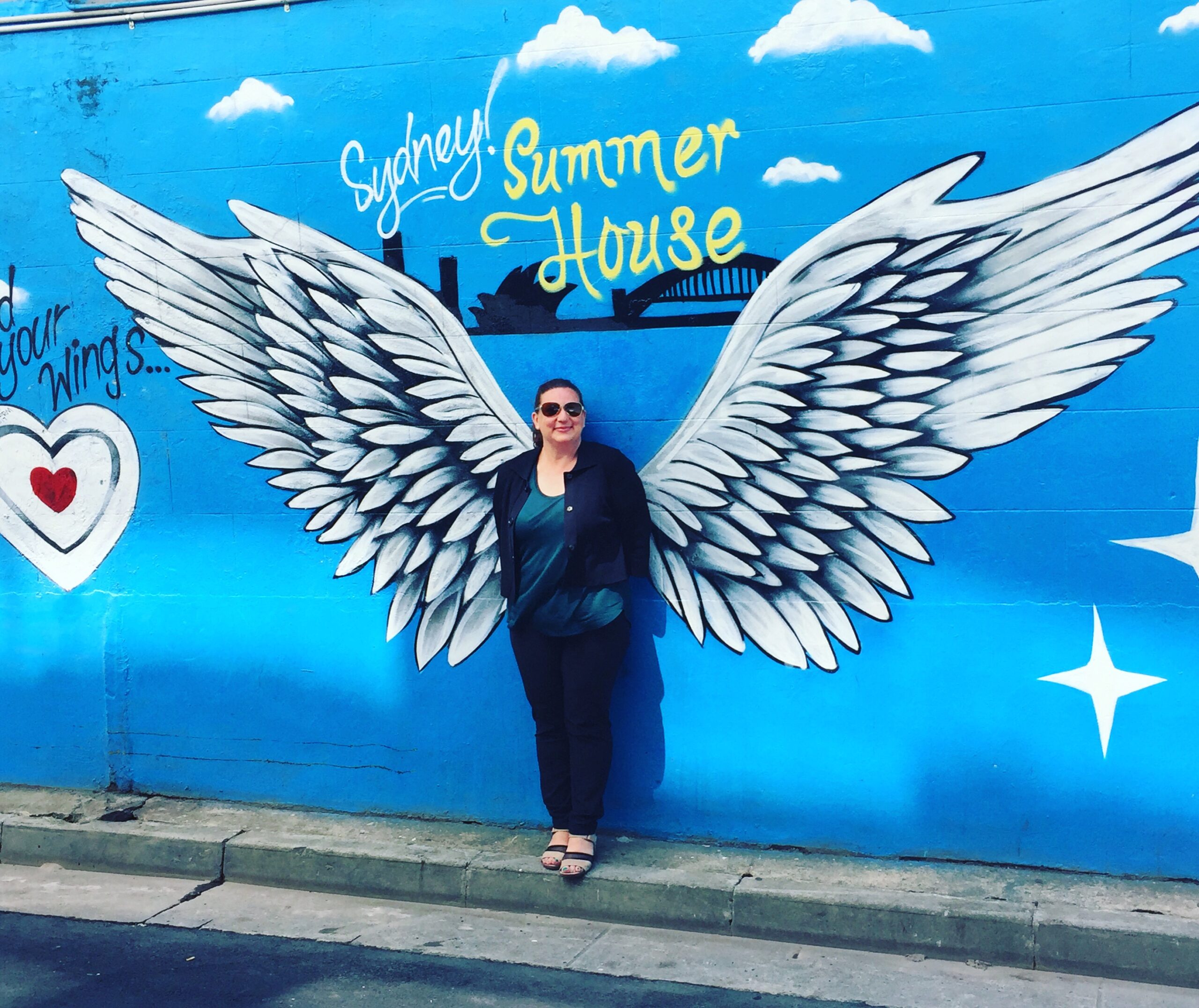 What to see in such a short time
A sightseeing plan was set in motion…
First up, surprisingly, was Bondi beach. The ideal destination for a fish lunch and some sand & sun! It was a gorgeous day after all.
I was a bit skeptical I must admit. However my friend, who had done this before assured us it was very doable by bus, within the short time frame we had. And she was adamant that it would be worth it.
It sure was!
Bondi Beach
Bondi Beach has all you need and more. It's a great area for walking around and offers many food options, shopping and lots of people watching. Plus, unlike too many well known beaches around the world, it's completely open and free to the public. Just walk up and enjoy.
We picked up the most delicious fish and chips for take out, and set ourselves up for an impromptu picnic on the beach.
After a leisurely stroll along the waters edge, and dip of the toe into the Tasmanian sea, which by the way was freezing cold, we packed up and set out for downtown Sydney.
The hour long bus ride back was a blessing in disguise. We were feeling the effects of a lost night's sleep and the dreaded jet lag and this gave us a chance to rest.
Sydney Harbour and the Opera House
We headed straight to Circular Quay and got our first glimpse of the famous Sydney Opera House and its unique white shelled roof.
It's an iconic view that screams Australia as much as any koala or kangaroo.
Taking it in with my very own eyes gave me all the feels. It was surreal.  I just couldn't believe I was actually standing there, finally, after waiting so many years.
It's an amazing feeling when dreams become reality isn't it.
A moment that I will forever treasure in my travel memories.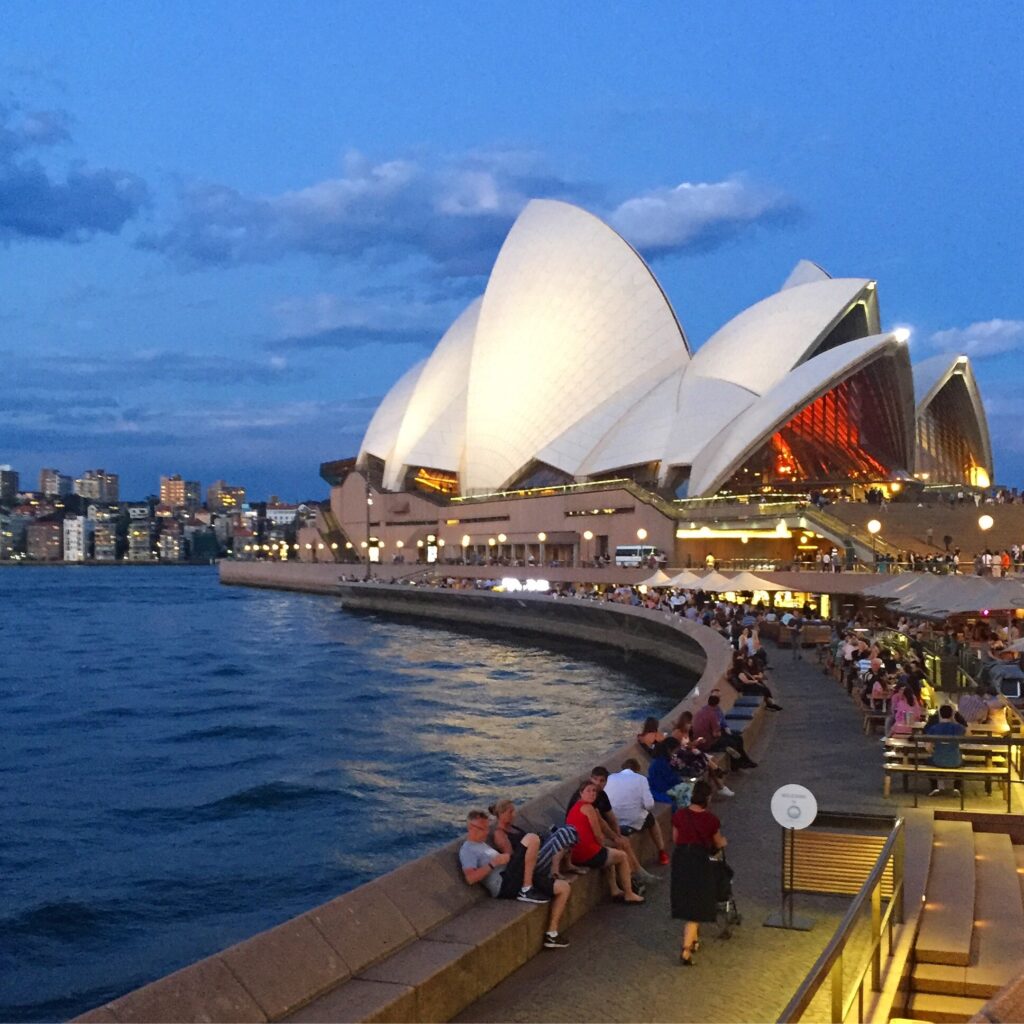 The Opera House itself is in fact a beautiful, multi-venue performing arts centre.  It has hosted operas of course, but also ballets and performances by many contemporary artists.
Jørn Utzon , from Denmark, won the international competition to design the space, and construction began in 1959. It finally opened in 1973.
The Sydney Opera House was added to UNESCO's World Heritage List in 2007.
You can walk around it freely and no ticket is needed to enter it and look around, as long as there isn't a performance going on. There are also guided tours available for a fee. If time permits it would probably be an interesting thing to do.
Sydney Harbour…Views from the water
Now, if there is one thing I have learned from my travels, it's this: if the city you are visiting is at water's edge, be it an ocean, sea, lake or river, get yourself on a boat and see it from that vantage point!
You've got to do it!
And in Sydney it meant seeing the Opera House from a very different perspective.
There are several ferry rides that leave from Circular Quay and offer you that opportunity. They connect people to other areas of the city and its suburbs. Some loops, are several hours long,  but there is one that lasts about an hour. It's perfect for sightseeing, and it's inexpensive.
So that's what we did. It was wonderful and so worthwhile.
You also get a great view of the Sydney Harbour Bridge and the city skyline.
The ferry stopped briefly at several inlets of the harbour. Beautiful places that begged to be discovered and enjoyed.  But unfortunately there just wasn't enough daylight left for that.
Still, it was all very interesting, relaxing and so enjoyable.
Once back at the Quay we walked around for a while and explored.
There are shops, ice cream parlors and restaurants to peruse but the main attractions is definitely the Opera House. The building itself is so architecturally unique.
A word to the wise, do be careful, and hold on tight to your belongings when walking up the massive staircase leading up to the Opera House.
This is so not the time to dig through your purse or adjust anything!
One of us, who shall remain anonymous, dropped her glasses and they fell through the open stair riser. We spent the better part of an hour trying to get them out before we finally went into the Opera House and begged for help.
Turns out they had just the gadget needed to fish them out. Apparently we are not the first folks this has happened to. Not surprising. LOL
Badu Gili
As the sun set and the sky grew darker a 3D projection show began to play out on the Opera House roof.
The white sails were illuminated with an evolving series of beautiful indigenous, artistic images, set to music.  It was an incredible sight.
This unexpected delight is a permanent installation called Badu Gili. It lasts just 7 minutes and is free to enjoy daily at 7pm in winter and 9pm in summer. I highly recommend you stick around for it or plan to be there when it is on.
We walked around the downtown area a bit longer, but things were closing up and we were fading fast.
So we made our way back to Kings Cross near our hotel. The area was bustling and vibrant despite the late hour.
Apparently this inner city suburb had a not so great reputation in the past. Too many bars, mega sized nightclubs, drugs and drunks on the streets and a lot of crime.
However things have changed a lot in the last 5 years or more I was told.  Cocktail bars, trendy little restaurants and a more grown up scene have turned this suburb into a worthwhile place to visit. And there is still a lot of nightlife.
I found the area to be somewhat quirky and very colourful.
And, it felt safe enough, even at night. Still, I don't think I would want walk around alone.
We got our second wind (maybe third or fourth at that point haha) and took advantage to souvenir shop and grab a very late dinner.
It was very much a whirlwind tour kind of day, but we made the most of it!
24 Hours Is Not Enough
Sydney is a beautiful city. It reminded me a lot of Vancouver in Canada, a city that I adore.
There's no denying that the mountain views were missing, but the buildings and the overall mood felt very familiar somehow.
And 24 hours is not nearly enough to take in all that the city has to offer. I would venture to say that you would need at least 4 days to cover some decent ground.
Ours was not a conventional sightseeing plan. We certainly would have seen more of Sydney if we had hopped on an organized bus tour.
But you know what? More is not always better.
For a few hours we lived and breathed the Sydney vibe. We shared the day with both tourists and locals. And we enjoyed every second of it.
It's really  important when you travel to not get caught up in the "I must see it all" attitude. It can leave you disappointed and disenchanted.
Instead, make the most of your time based on the weather the day of your actual visit, how you feel, who you are with, and what you enjoy seeing, as well as your budget of course.
We planned our day with all that in mind.  It worked out beautifully and left us with many happy memories and no regrets, only a desire to return.
"Australia, I will come back to you" I said.
"And next time I will give you the time you deserve" I also said.
The 2nd and 3rd visit don't count, do they?
Fate is a funny thing….
I did return, and sooner than I expected.
Earlier this year, before the pandemic blew up worldwide and clipped my wings, I booked a cruise. The last one it would seem, for a long while.
I took, what one might call, the scenic route to get to Singapore, the first port of call. The connection point was Sydney. But alas, I had just a couple of hours between flights.
No time for anything remarkable. Certainly no time to dig deeper as I had dreamed. Just quick lunch and some time spent watching the cool McDonald's food delivery system in action.
Would you believe it? On my return, I found myself in the same predicament as the first time, having to detour via Melbourne this time, to get home from Singapore. A mere 4 hours of a layover.
Don't ask, it's all a bit too crazy to make any sense, unless you're an airline employee, then you don't need to ask because you've been there, done that and more! And it all makes sense. LOL
I wish I had been able to stay a night or 2. I've heard wonderful things about Melbourne. But I had to get back to work…it was not meant to be.
And in retrospect probably not a good idea at the time, with bush fires raging in the outskirts, smoke in the air, and as another friend found out the day after, snakes blocking the walkways! Say whaat??
So once again I find myself saying "Australia I will return, and next time nothing will stop me from taking in all that your beautiful country has to offer!"
The kangaroos and koalas are waiting for me!
Until then…
What to know before you go:
Time of year I visited: mid October
Weather: high 20's C daytime, about 15 C at night and lots of sunshine
Currency: Australian dollar (AUD) (almost on par with CAD)
*ATM machines are easy to find, work with north american bank cards, and credit cards are accepted everywhere
Official language: English
Voltage: 230V  and plug type I (therefore if coming from Canada or USA you will need a voltage converter plus the appropriate plug converter, but if coming from Europe you will only need the plug converter)
*for you iPhone or android you will only need to use the plug converter as cell phones have built in voltage converters
Safety: Sydney is considered to be a safe city with a low crime rate, so take the usual travel/ tourist precautions of not flashing your valuables, walking alone in dark alleys, etc. (carrying a purse is safe)
However all literature on the subject always mentions that what you really need to fear are the many poisonous insects and snakes, dangerous animals and toxic plants…those can be deadly! Consider yourself warned!
How to get there: from Canada there are non stop flights to Sydney from Vancouver on Air Canada, the flight is about 15 hours long, plenty of time to catch up on your movies, reading, music listening and sleep
*NOTE….this flight route is on hold and not currently operating, due to the global covid-19 pandemic
Our 24 Hour Itinerary
Bondi Beach-great spot on a nice day,walk the main strip, shop and enjoy the many food offerings which you can take out to the beach. If water is warm enough take a dip in the Tasmanian sea, otherwise walk along the water's edge or if you want to stay a bit longer, walk the coastal trail from Bondi to Coogee (6 km)
Circular Quay-take a ferry ride around harbour and enjoy fantastic views of city, opera house and bridge, as well as a peek into the suburbs of Sydney further in the harbour
Sydney Opera House-explore this architectural wonder that is now on the Unesco list, and walk around the whole area, with restaurants and shops. Come back at sunset for great views and photo ops, then stay for the amazing 3d show Badu Gili, projected on the roof of Opera House.
Kings Cross-finish the evening off with some late night snacks or drinks, souvenir shopping and soak in a bit of Sydney nightlife
*IMPORTANT TO NOTE…due to the ongoing worldwide covid-19 pandemic and therefore the constantly changing rules, regulations and lockdowns please check all tourist destinations, restaurants, shops, etc etc, to see if they are open for business (better yet, call if you can, as I have found that websites are not being updated and cannot be trusted, and Google often gives you incorrect information during this crazy time because it cannot keep up with the constant changes)
**all photos are my own and were taken with an Iphone 6**please do not use without my permission
*this post was featured at:
HEARTH & SOUL LINK PARTY @ April J Harris
BLOGGERS PIT STOP #246 @ Bloggers Pit Stop
,center>
Please follow and like us: