How To Make Basil Oil And Add Fresh Summer Flavour To Your Dishes
I absolutely love basil, and grow it every summer in my garden.
It's a must have for tomato lovers like myself, you can't have one without the other!
This year my plants have done amazingly well and they are still going strong, despite my constant leaf picking for salads.
But now the time has come to start thinking about preserving some, before the inevitable arrival of fall…
There are many ways to capture and preserve the intense, aromatic flavour of fresh basil.
Here is one of my favourite methods…Basil Oil.
This delightful and flavour packed oil is reminiscent of a simple pesto but in liquid form, which as you might imagine, makes for a very versatile concoction.
I drizzle this stuff on everything!
I really do!
Because it makes everything that much more delicious!
This is what I call a short term method of preservation, as the oil lasts well in the fridge, but only for about a week or so.
Because of this I recommend making just a small batch at a time.
Still, it's a wonderful way to use up some of your basil crop and capture that amazing summer flavour.
Making your very own basil oil is easy and takes just a few steps. Follow the recipe below for success.
Enjoy…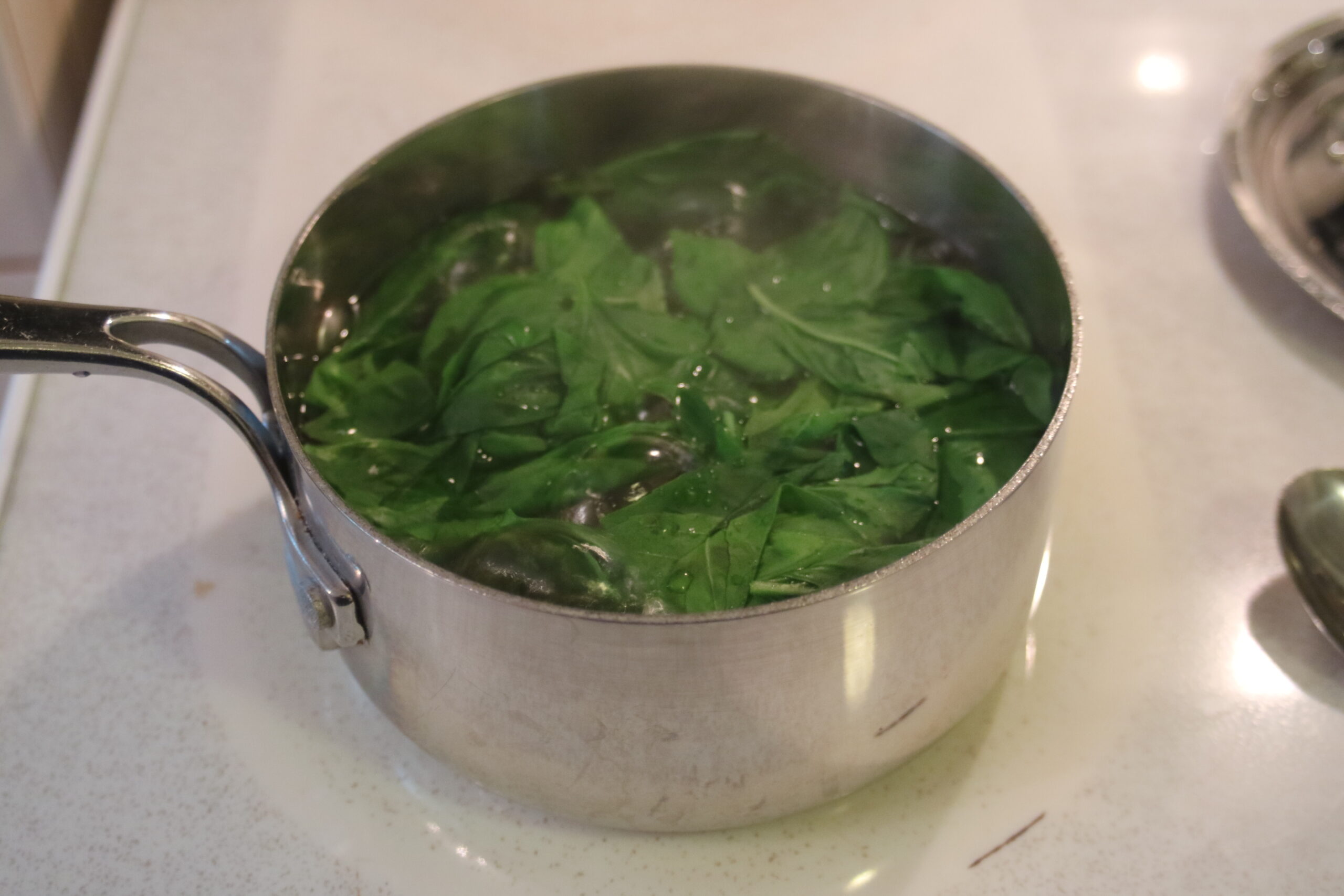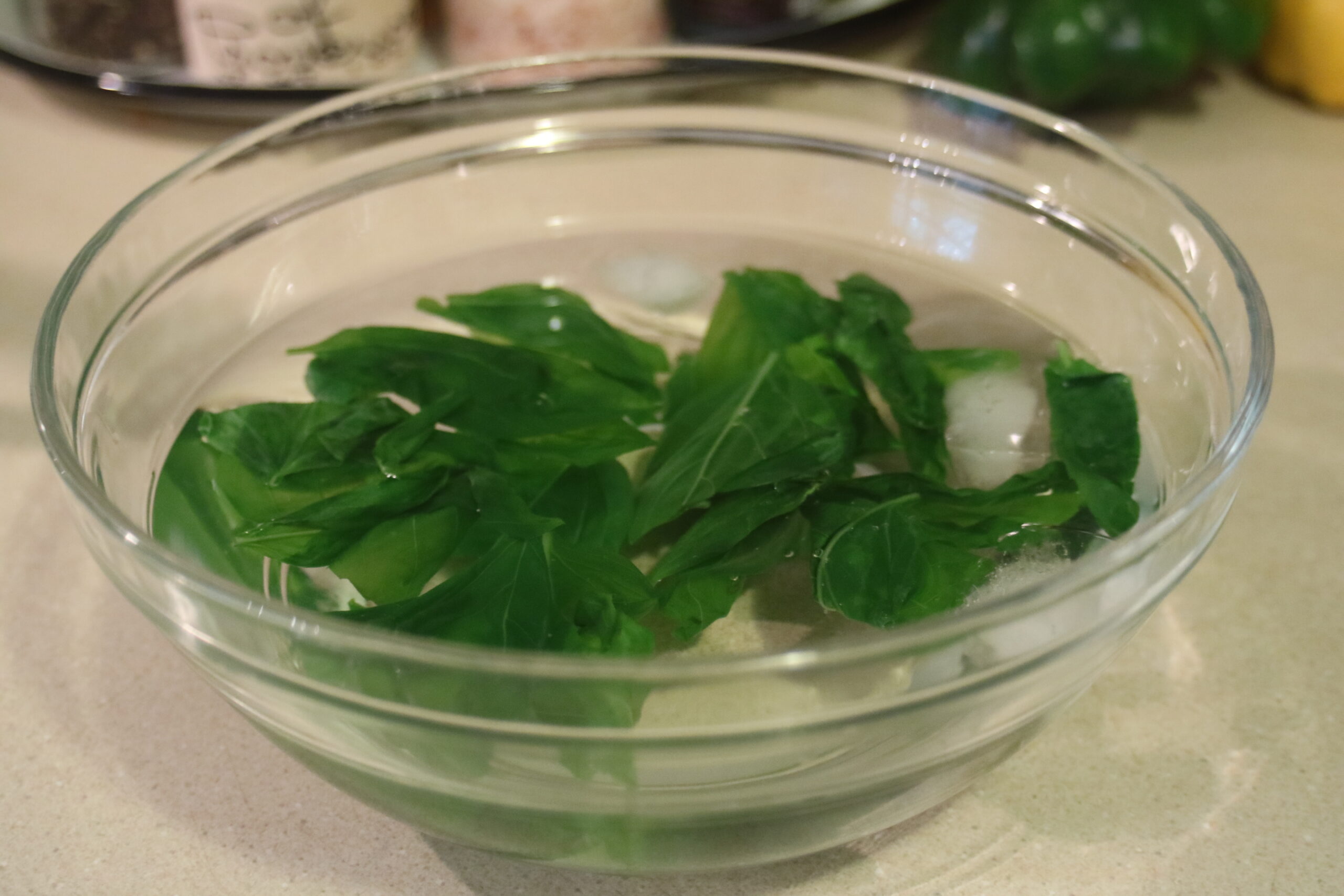 Here are some ideas for using up your freshly made batch.
How to use Fresh Basil oil…
Pour some into a small bowl and serve as dipping sauce for fresh bread
Drizzle it over a tomato or any salad for that matter, to add some extra flavour
Spread a little  on your bread slices when making a sandwich (great with Italian cold cuts or roasted veggies, tomato and cheese, avocado, ect.)
Drizzle it over BBQ chicken, other meats or even seafood
Add a drizzle over soup before serving
Fresh Basil Oil
Print Recipe
Fresh Basil Oil
Ingredients
1

cup

fresh basil leaves

about 24 large ones

1

very small clove garlic

(you don't want to overpower the basil)

1/8

tsp

salt

1/2

cup

olive oil
Instructions
Wash the basil leaves, picking off the stems.

Bring a small pot of water to a boil, add the basil leaves and blanche them for 20 seconds (this step helps the basil retain a nice green colour).

Using a slotted spoon transfer the leaves to a bowl filled with cold water and a few ice cubes, and let them sit for a minute.

Pat the leaves dry between two paper towel sheets.

Transfer basil to a small food blender cup, add garlic, salt and olive oil.

Pulse and process until smooth.

Pour into a small container with lid and store in fridge until needed.
Notes
*this oil will keep well in fridge for about 7 days, and probably a bit longer but mine usually gets used in about a week
*good olive oil solidifies in the fridge, so when you wish to use this you will need to let it sit on your counter for 5 minutes to bring the oil back to room temperature
PIN ME FOR LATER
**this post was featured at:
A morning cup of Joe link party
Fiesta Friday #342 @ FIESTA FRIDAY
Your Whims Wednesdays @ MY GIRLISH WHIMS
WEDNESDAY LINK PARTY #260 @ Grandmas House DIY
A MORNING CUP OF JOE – 99 @ The Cottage Market
GRACE AT HOME #477 @ Imparting Grace
,center>
Please follow and like us: