Emerald Lake in Beautiful British Columbia
Want to be left speechless and in awe of the incredible natural beauty we have been blessed with, here in Canada?
Head to Emerald Lake!
WHERE IS EMERALD LAKE LOCATED
You will find this beautiful lake inside Yoho National Park, in the province of British Columbia and I promise you it will not disappoint.
Tucked inside the Canadian Rockies, this easy to reach gem might just be the most beautiful lake I have ever seen.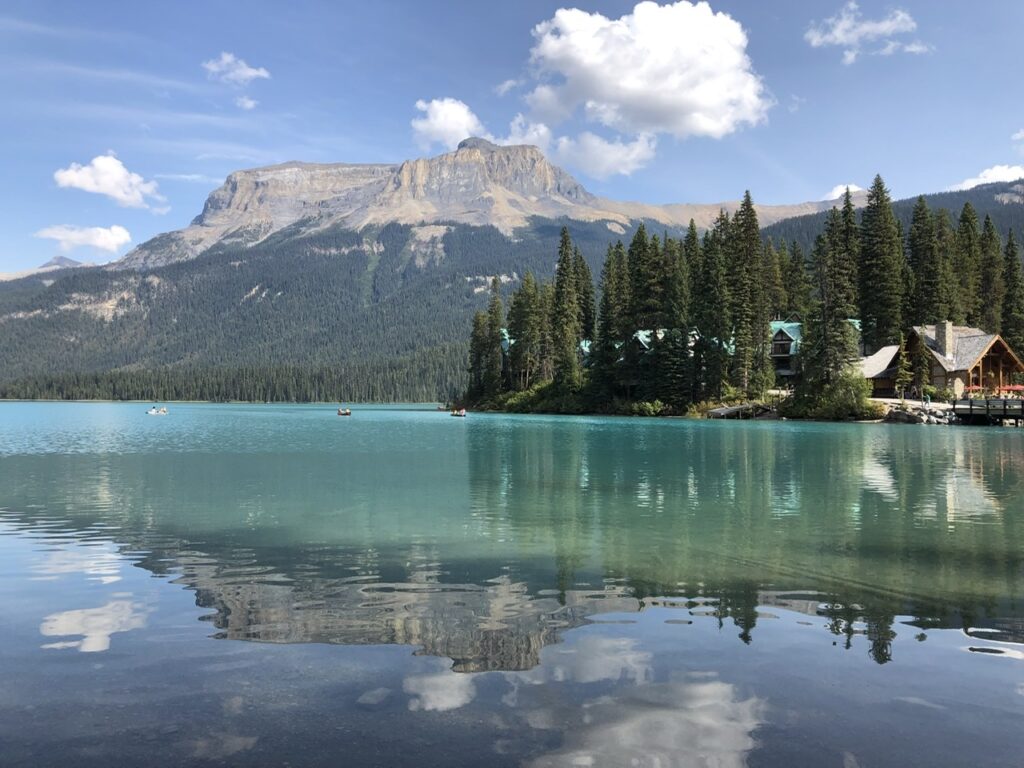 It's actually very close to the provincial border with Alberta.
The better known and much more popular (aka busy) Lake Louise and Moraine Lake are only a half hour away. So if you are planning a visit to those two lakes, I urge you to give yourself some extra time and drive out to Emerald Lake.
WHAT YOU NEED TO KNOW
This is the largest of the 61 lakes and ponds located inside the park, although it's really not very big at all.
And, despite the numerous tourists that visit every day, the lake retains a very calm and peaceful quality.
Tranquility at its finest.
The only businesses here are the lodge, restaurant and canoe rental store. That's it.
And I'm not sure if it's true or not, but I've read that there is no WIFI or TVs in the lodge accommodations. That's just unheard of these days.
Although the incredible colours of the water at Emerald lake are best enjoyed from late spring to end of October, this is in fact a year round destination.
The setting looks spectacular in the winter photos I've seen. What a beautiful spot to get out and do some back trail cross country skiing and snowshoeing.
You might be wondering if it's possible to swim at Emerald Lake.  That water sure looks inviting.
But don't forget where you are. These waters are fed by glaciers and getting in is for daredevils. LOL
It's going to be a heck of a chilly swim, but if you're crazy enough to want to do it, it is indeed allowed.
WHAT TO SEE + DO AT EMERALD LAKE
What you can see and do here will largely depend on what time of year you visit.
(We visited at the beginning of September, on a warm and sunny day)
Walk the Trails
Walk the Lake Trail loop. This easy, family friendly hike circles the entire lake and is about 5km long.
It will take you about 1 1/2 hours to complete it at a leisurely pace. This is a very worthwhile, and free activity. It gives you the opportunity to see the lake from different vantage points.
Hike one of the more challenging trails in the immediate area, that take you further up the mountains and deeper into the national park.
There are several to choose from, but not all are open year round due to the danger of avalanches on the higher trails.
Check with the tourist office before you arrive, if this is something you plan on doing.
Rent a canoe
For a totally different perspective on the beauty of this lake, rent a canoe for 1 hour and paddle your way along, enjoying the calm waters, at your pace.
The cost was $75 for 1 hour, with a max of 3 people in the canoe. (prices for canoe rentals are higher at Lake Louise and Moraine Lake in case you are wondering if this is worth it).
Here's a tip: if you're renting a canoe, you'll need to put your belongings back into your car first. They are not allowed in the canoe.
WHERE TO EAT AT EMERALD LAKE
Enjoy lunch on the patio at the Cilantro restaurant, in the summer months, and weather permitting. It's situated close to the entrance and offers a great view of the lake.
The food was tasty but a tad pricey. You're definitely paying extra for that scenery but let me tell ya, we enjoyed every second and every bite!
Or grab a quick lunch or a coffee from the takeout window on the side of the building. I forgot to snap a photo of their menu unfortunately, but the offerings sounded great.
Lunch at Cilantro Restaurant
Pack a light picnic and plan on enjoying it during your walk along the trail.
There were some picnic tables not too far in, near the start of the trail loop.
Several spots along the way also had nice rustic wooden benches, perfectly situated for enjoying stunning lake views.
WHERE TO STAY AT EMERALD LAKE
If your budget and time frame permits, I would highly recommend staying here overnight.
Emerald Lake Lodge offers cabins overlooking the lake and mountains.
I can only dream of waking up to this magnificence.
*for more information check HERE
TIPS FOR A GREAT VISIT
Before you go
Stop in at the Yoho Park Visitor Centre before you head out to the lake.
It's located in the small town of Field, about 15 minutes away.
The staff can provide you will all the information you need for your visit. They have maps and good details for all the hikes that are open in the area, at the time of  your visit.
Parking
Arrive early if you can. Getting to these popular tourist destinations early in the day usually makes for an easier visit all around.
Parking won't be an issue and you'll have more of the place to yourself.
But please don't miss out on this place if you can't get there till later in the day, the late afternoon sun makes this place magical.
Parking is free and the lot is literally steps away from the actual lake, which is very convenient.
This also makes the lake views easily accessible for anyone with mobility issues. Keep in mind, however the lot itself is not very big.
Depending on time of day that you arrive, you may have to park further down the road and walk a significant distance to the lake. Many people were doing it when we visited. We lucked out and found a spot after doing the loop twice around the lot and spotting some visitors leaving.
While you are there
Try not to lug too much stuff with you on your hike around the lake. Keep yourself as light as possible and the walk will be a lot easier on you.
Bring your camera, you will want to take tons of photos.
Always carry a reusable, filled water bottle, especially on hot days.
Wear comfortable walking shoes. It seems so logical and not worth noting. However you'd be surprised how often this small piece of advice is forgotten. Especially in the summer when we tend to live in flip flops.
Extra tip:
To get the most out of everything you will see around you, download a Plant & Animal identifying app on your phone.
I use the SEEK app and love to scan any interesting plants, bugs and birds I see, to find out what they are.
Spotted a Green Comma butterfly
But honestly, the most important piece of advice I can offer is this…
Don't rush your visit!
Emerald Lake is incredible.
Take your time and really soak in the beauty that surrounds you.
Lock those fantastic vistas into your memories to keep for a lifetime.
Emerald Lake…you stole my heart.
I will be back.
*this post was featured at:
A MORNING CUP OF JOE @ The Cottage Market
,center>
Please follow and like us: