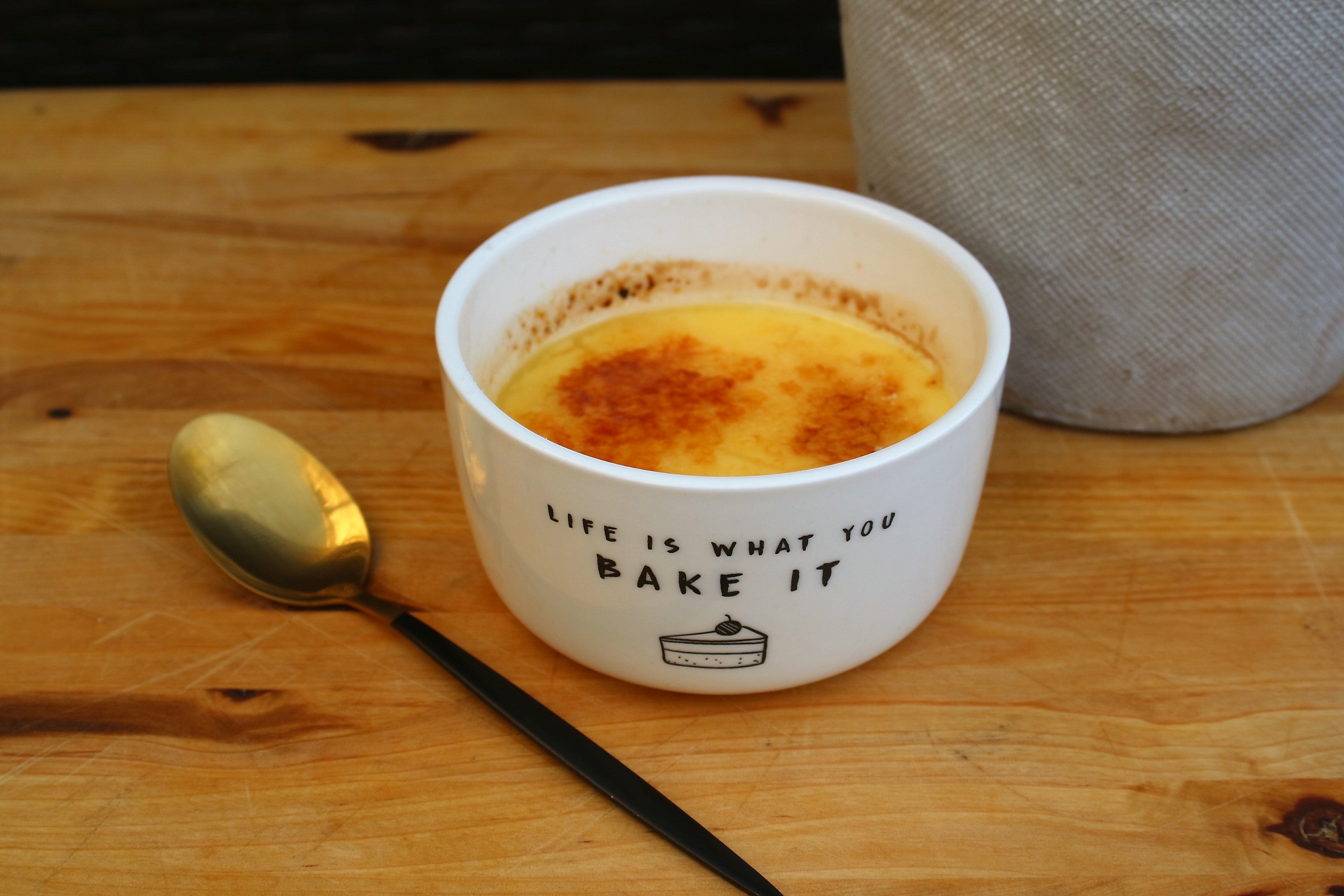 How to Make Crème Brûlée in the Instant Pot
French desserts are one of life's greatest pleasures.
And I have a real weakness for them, especially Crème Brûlée.
A spoonful of this silky smooth custard laced with crunchy shards of burnt sugar is simply heavenly.
However let's be real, I very rarely get to enjoy this bliss.
It's a treat that I usually order at a restaurant….or on a cruise ship (those who know, know lol).
And, with all the restrictions and lockdowns we've endured the last couple years (thank you covid) you can guess that I haven't had the pleasure of eating this delicious dessert in a long long time.
But this girl had a craving…
So out came the Instant Pot to save the day.
Now, just like many other recipes that can be made in the IP, the most import thing you need to figure out is how long to pressure cook the food for. And for that a quick search online gave me enough information to figure it out.
I already had a recipe that I liked, but had only tried it in with the traditional oven cooking method. I did not make a change to the ingredients except to add a bit of Cointreau for a hint of orange flavouring.
The first test run was very good but I felt the custard could have been a little firmer. So I added a couple of minutes cooking time and got the results I wanted on the second try.
I'll be honest, this dessert is a tiny bit fussy, even though you're using such basic ingredients. But do not despair, these 3 tips will make all the difference between success or failure.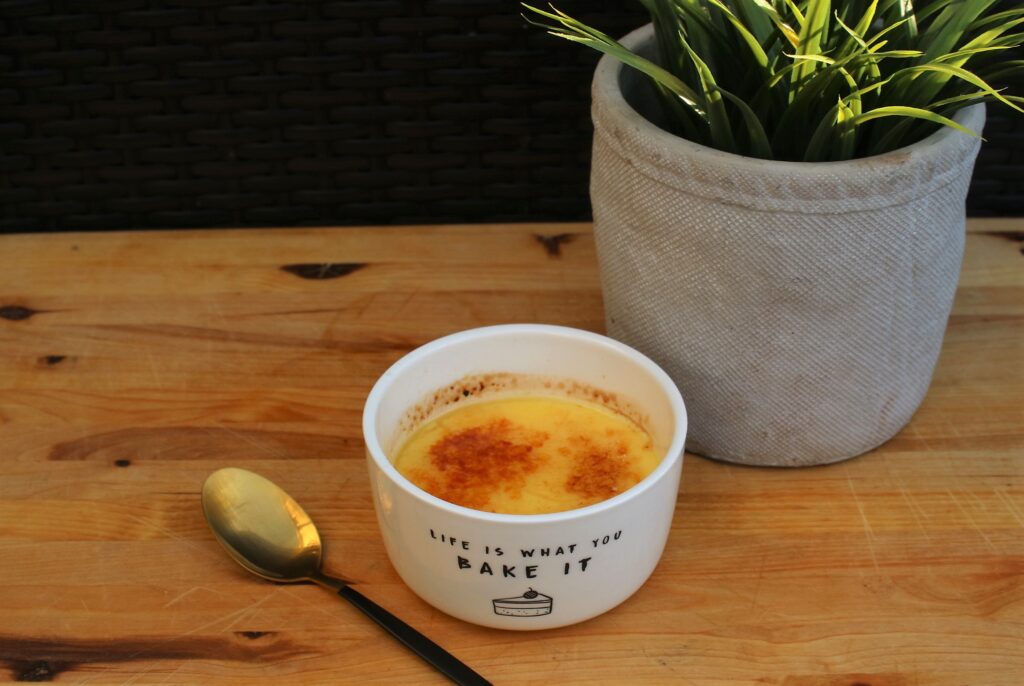 Here are 3 tips for success:
Pour the custard through a sieve before transferring to the ramekins. This ensures a smooth, bubble free texture.
The custard is ready when it is firm but still jiggly when the ramekin is lightly shaken. This is where the IP is most helpful because it cooks it to the right consistency.
That yummy hardened sugar shell is not optional, don't even think of skipping it. And, it must executed correctly or it's just not a brûlée (more on this below)
What I really like about this dessert is that it can be prepared well in advance (even a few days ahead). It's ideal for a get together, when you don't want to be stuck in the kitchen while your guests are having all the fun.
And…
What I hate the most about this dessert is that it needs to be prepared in well in advance. It needs a good 4 hours in the fridge to set properly, so when you have a craving that feels like a lifetime.
Now back to the preparation….
Unfortunately there's one thing the Instant Pot cannot do for you, and that is to make the very important caramelized sugar topping.
For that my friends, you're gonna need a torch!
LOL thankfully not the industrial kind but rather a chef's torch.
That topping is the signature "pièce de résistance" of this dessert, so you've got to do it right. Go get yourself one, online (see link below) or at stores like Walmart or Canadian Tire. They are inexpensive and worth having in your kitchen gadgetry, if you want fantastic results.
Because, I'm here to tell you that tapping that sugar shell until it cracks so you can dig into the luscious custard below is an extremely satisfying part of enjoying crème brûlée.
Don't mess with it.
Do. Not.
Some interesting tidbits about this famous dessert:
July 27 is National Crème Brûlée Day, in the USA, but apparently celebrated around the world (I'm onboard!)
The recipe first appeared in a 1691 edition of the French cookbook Le Cuisinier Royal et Bourgeois by Francois Massialot. He was a cook at the Palace of Versailles.
Crème Brûlée is french for "burnt cream", which doesn't sound that great in english, but we already know everything sounds better in french haha
So? Have I got you craving this delish dessert yet?
Go on, treat yourself.
How to make Crème Brûlée in the Instant Pot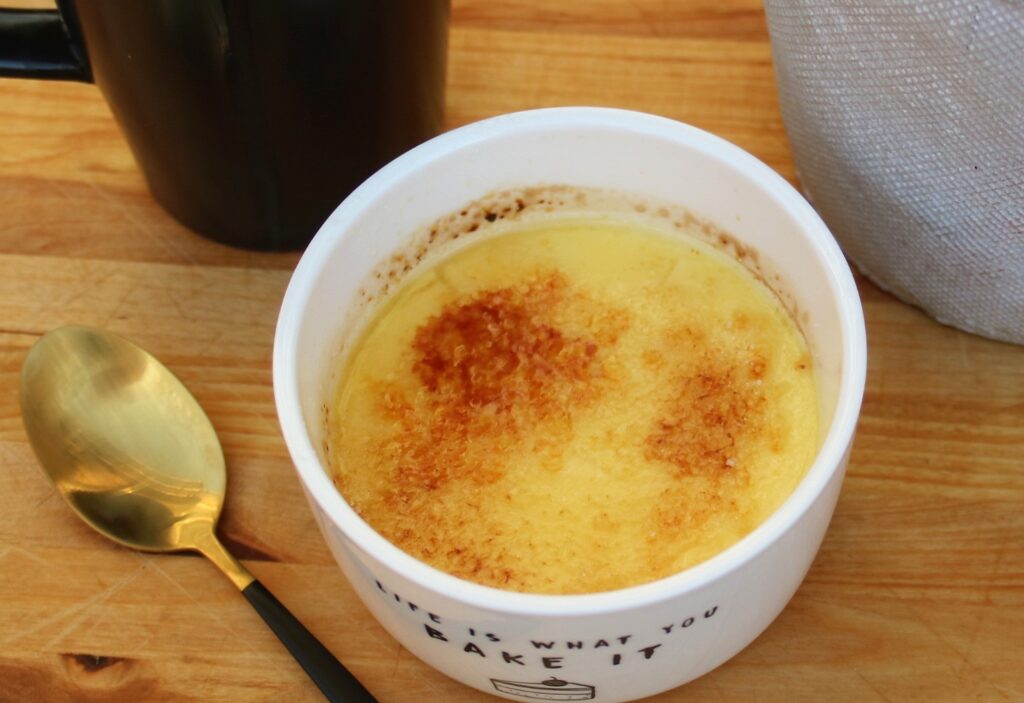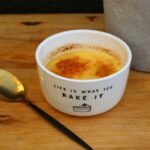 Print Recipe
How to make Crème Brûlée in the Instant Pot
Ingredients
4

large egg yolks

1/3

cup

white sugar

1 1/2

cups

whipping cream

1 1/2

tsp

pure vanilla extract

1

tbsp

Cointreau or other orange liqueur

(this is optional and can be left out if you want the traditional creme brulee flavour)

pinch of salt

more white sugar for topping
Instructions
Add the egg yolks and sugar to a large mixing bowl and whisk together until the sugar has dissolved and everything is well combined.

Add the cream, vanilla, Cointreau and salt to egg mixture and whisk again until combined.

Pour the custard mixture through a fine strainer into another container, preferably one with a spout for easy pouring.

Divide the strained mixture evenly into 4 ramekins or custard dishes (or 6 ramekins if they are small).

Add 1 cup of water to Instant Pot, then place the trivet in the pot.

Wrap each ramekin well with aluminum foil, and place on trivet in Instant Pot (they can be stacked if needed).

Lock on lid and turn pressure valve on lid to SEALING.

Choose PRESSURE COOK and then set it to LOW PRESSURE.

Set timer for 12 minutes.

When timer is done, let it run another 15 minutes to release pressure naturally, Press CANCEL, turn valve on lid to VENTING to release any remaining pressure and open lid.

Carefully remove foil wrapped ramekins and place on a small baking sheet, and refrigerate for at least 4 hours.

When ready to serve, remove foil and sprinkle 1-2 tsps of sugar over the custard.

Using a kitchen torch brown the sugar by holding the flame about an inch and half from the sugar and moving it around the ramekin from the centre out, in a circular motion until the sugar is golden and hard, this will take about 30 seconds to accomplish.

Let sit for 5 minutes then serve and enjoy.
Notes
If you do not have a chef's torch you can also use the oven to make the brulee.
Set the oven rack about 5 – 6 inches away from the broiler.
Place the ramekins on a baking sheet, sprinkle tops of custard with sugar and broil for about 5 minutes until sugar caramelizes (keep an eye on them, they can burn quickly)
*disclosure: some of the links on this post are affiliate links. This means that if you purchase something from them I may receive a small compensation, at no extra cost to you. I appreciate your support.
Shop for essentials here…
Please follow and like us: