So there's been a recipe circulating the internet for months called the "Jennifer Aniston Friends Salad".
The intriguing part about it is the story that goes with it…
Rumor has it that Jennifer ate this salad every day on set, for 10 years.
Ten years!
And the rest of the "Friends" gang often joined her.
And..
They didn't add any salad dressing. Not even olive oil. (I can't get on board with that lol)
Needless to say, I was intrigued and had to give it a try.
Well, it turns out that our "Friend" Jen makes a great salad! LOL
It really is a a simple mix of typical Mediterranean ingredients.
You can't go wrong with bringing chickpeas, parsley, mint, onion, cucumbers, bulgur and feta together, but the addition of chopped pistachios makes it extra special.
It works, and it's delicious.
A hit in this household.
And worth making, even if only once a week.
I made my own version of the salad by adjusting the measured amounts of ingredients to my liking.
I also felt a bit of dressing was in order, so I added lemon juice, olive oil, salt and pepper.
Give my version, or the original, a try and let me know what you think.
Could you could eat this salad every work day for 10 years?
The famous "Friends" Salad
 1. Chop all ingredients
2.  Add everything to a bowl and toss together. That's it!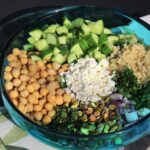 Print Recipe
The Famous "Friends" Salad
Ingredients
1

cup

cooked, room temperature bulgur

(medium or coarse grind)

3

mini cucumbers, finely diced

or 1/2 of a long English cucumber

1/4

cup

finely chopped red onion

1/4

cup

finely chopped parsley

1

tbsp

finely chopped mint

1

cup

canned chickpeas

drained and rinsed

1/3

cup

chopped salted pistachios

1/2

cup

crumbled feta cheese

juice of 1/2 lemon

a good drizzle of olive oil

salt + pepper to taste
Instructions
Add all ingredients to a large salad bowl and toss together well.

Serve and enjoy.

If not using immediately, cover and refrigerate up to 5 days.
Notes
*substitute the regular feta with vegan feta (try the Farm Boy one) and you now have a delicious plant based/vegan meal
Wondering how to cook the bulgur that this recipe calls for?
Get instructions here: How to cook Bulgur in the Instant Pot
Curious about the supposed original recipe that's circulating the net?
Don't worry I've got u covered.
Keep in mind that I really have no idea on its authenticity, but this is what's posted on many sites out there in the web.
Here you go…
The Friends Salad from Jennifer Aniston
 (makes a large bowl)
1 cup of bulgur
2 diced cucumbers
1 (15-oz) can of chickpeas, rinsed and drained
¼ cup finely diced red onion
2 tablespoons chopped fresh parsley
1 tablespoon chopped fresh mint
½ cup crumbled feta cheese
½ cup salted pistachios, chopped
Cook bulgur according to package instructions, and allow to cool completely.
In a large bowl, stir together all ingredients until well combined.
Serve right away, or move to an airtight container to store in the fridge for up to a week.
PS…apparently they ate it without any dressing
This post was featured at:
A MORNING CUP OF JOE @ The Cottage Market
Please follow and like us: