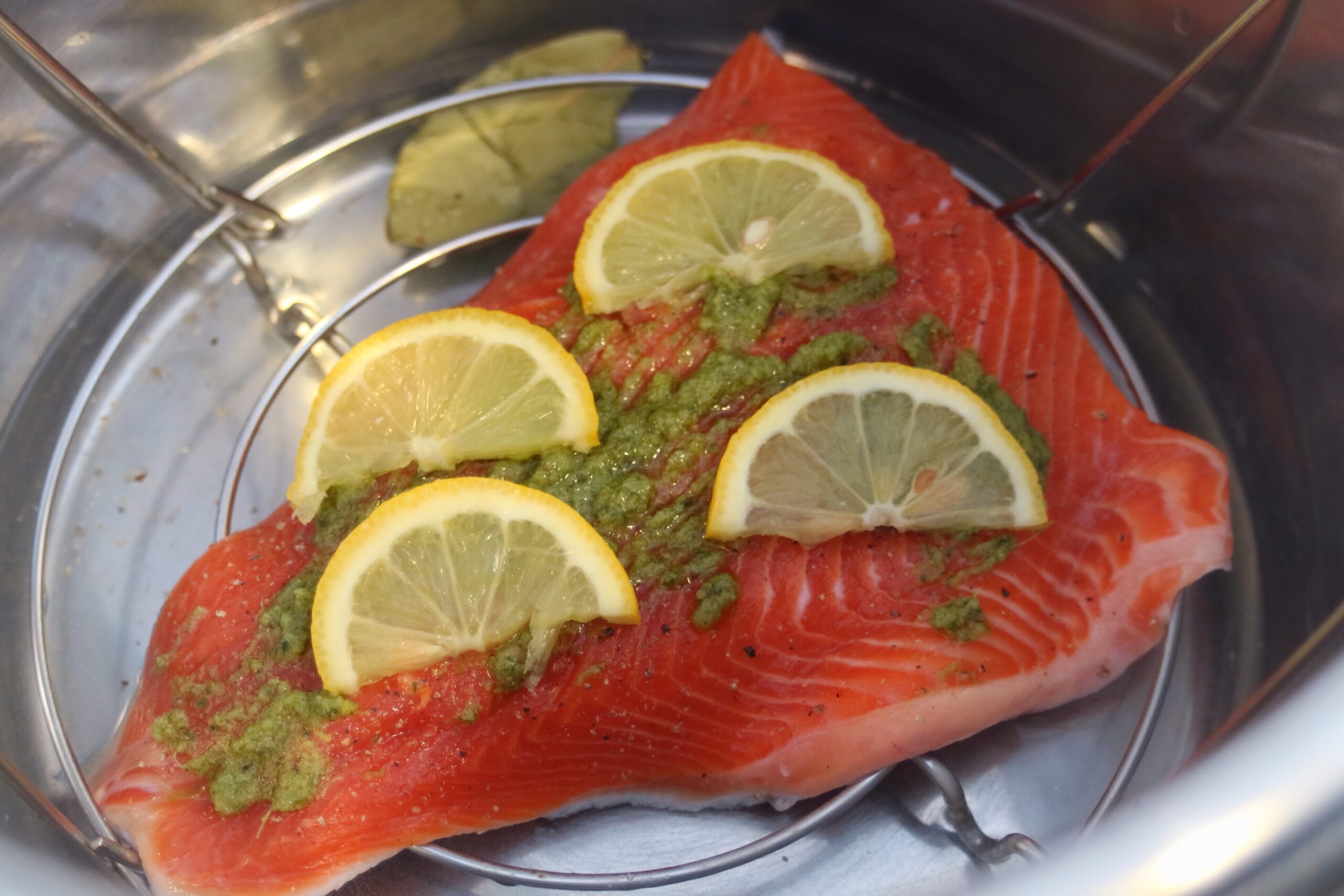 Instant Pot Salmon With Pesto
Have you tried cooking salmon in the Instant Pot yet?
If you haven't, it's time my friend…because you are missing out!  The fish turns out so moist, flavourful and delicious…you'll be wanting this meal every day.
Here's a super easy recipe to get you started. Nothing fancy, but I really love it.
Salmon makes a fast, light and healthy lunch or dinner. And all you need is a side of rice, veggies or a salad to round out your meal.
Start with a fresh (or frozen) filet of salmon, seasoned with salt and pepper, lemon and a spoonful of delicious pesto. That magical concoction of basil, garlic and olive oil is so versatile isn't it. I call it the Italian version of Franks Hot Sauce because I seriously do put that s*** on everything! LOL
(And as a side note: while I do make my own pesto in the summer when fresh and beautiful basil is plentiful, I also use store bought prepared pesto quite often. The varieties that are found in the refrigerated sections taste the best)
Just 6 minutes on high pressure in the Instant Pot and voilá, the filet is perfectly cooked all the way through and dinner is ready!
If you've cooked your salmon in a pan then you know how easy it is to overcook it and end up with dry salmon. But with the Instant Pot the fish is perfectly steamed and retains the moisture and juices that make it so darn delish!
Give it a try with salmon, trout or other firm fish filets.
Have a beautiful day 🙂
SALMON WITH PESTO
Step 1
Add water to IP, place salmon fillet on trivet and lower into pot. Add pesto sauce and lemon.
Step 2
Pressure cook on high for 6 minutes, and do a quick release pressure when done. Open pot and enjoy over rice, salad or a side of veggies.
Print Recipe
Instant Pot Salmon With Pesto
Ingredients
1

cup

water

1

bay leaf

1

salmon fillet, to fit your pot (cut in half if too big) about 1 inch at thickest point

fresh or frozen, skin on or off

salt and pepper to taste

1

tsp each

Pesto sauce + fresh lemon juice (adjust amount according to your filet size)

mixed together in small bowl

2

slices

lemon

cut in half
Instructions
Pour water into pot, add bay leaf and trivet.

Lay salmon skin side down on trivet.

Season with salt and pepper, spread pesto/ lemon mixture over fish and top with lemon slices.

Lock on lid, turn pressure valve on lid to Sealing.

Choose "pressure cook" setting and set timer for 6 min (if your fish is thicker add another minute to cook time)

When done, press cancel and do a quick release of pressure by carefully turning pressure valve to Venting.

Once pressure pin is down, open lid and lift trivet with fish out of the pot.

If you fillet had a skin, separate it from fish by running a spatula underneath it. Serve your beautiful salmon over rice, couscous, veggies, a salad...your pick!
Notes
*you can also add a few small potatoes in with the fish, cook together using above instructions.
*adjust cooking time of fish according to thickness rather than size or number of fillets, a thicker one will need another 1-2 minutes. Also, it's totally ok in this recipe to close the lid and pressure cook another minute or 2 if fish is not done to your liking.
PIN ME FOR LATER
,center>
Please follow and like us: