Instant Pot Eggs En Cocotte
Here's another egg recipe idea for the Instant Pot!
Eggs en cocotte…sounds rather fancy doesn't it?
Well they kind of are. Not difficult to make but not as easy as boiling them in a pot or frying them up.
Lucky for us Instant Pot owners, the magic pot takes away all the fuss of making them and turns it into a dish you can serve up any time you like.
If you like soft boiled eggs, you will love this recipe.
Also…we're are adding cream and cheese….that makes everything more delicious!
I made two for lunch today and I have to confess I ate them both….so yummy!
Eggs en cocotte simply means eggs baked in a covered dish.
This presentation also makes them a perfect breakfast or brunch dish for a nice get-together.
You can fit 3-4 ramekins in a 6 quart pot, depending on their size, and they only need 2-3 minutes max of low pressure cooking, so it's a pretty fast meal.
Serve them up with buttered bread, sliced into fingers (or soldiers as the British call them) for dipping into the soft, runny yolks.
I tested the traditional herbs and cheese version, but you can substitute or add whatever you like. Smoked salmon is delicious, mushrooms, goat cheese, crumbled sausage…the possibilities are endless.
Instant Pot Eggs En Cocotte
Step 1
Grease ramekins, add cream, egg, parmesan, herbs and seasonings.
Place them on trivet in pot. Lock lid and cook 2 min on low pressure.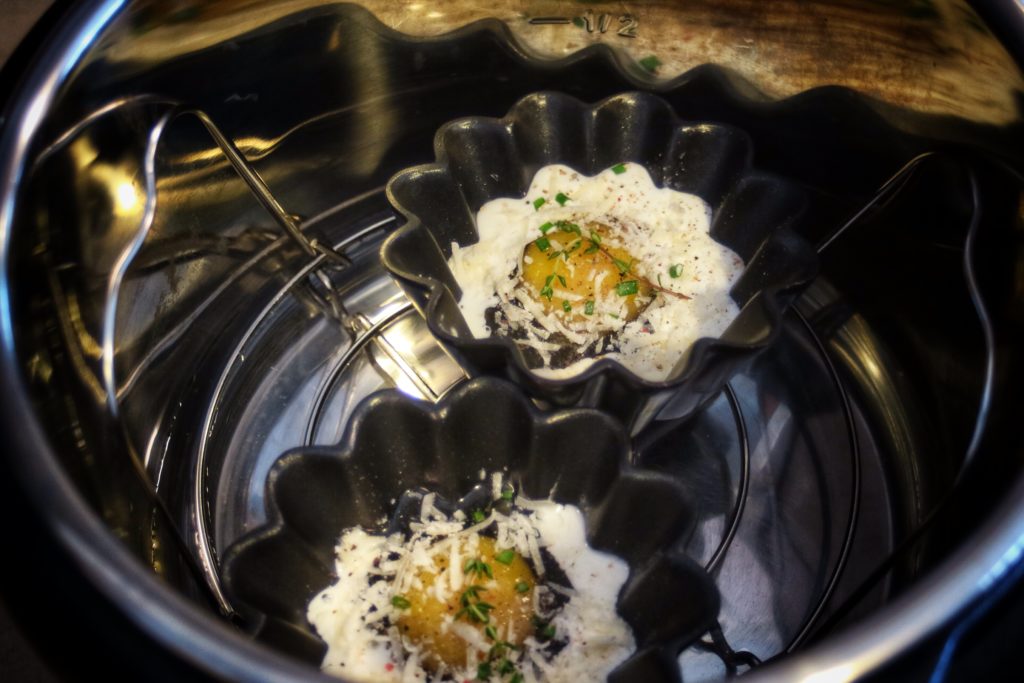 Step 2
When timer beeps done, do a quick release of all pressure.
Open lid and remove ramekins. Serve hot with toasted bread for dipping.
,center>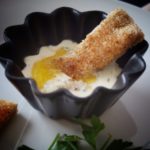 Print Recipe
Instant Pot Eggs En Cocotte
Ingredients
pat of butter

for greasing ramekins

eggs ( one egg per ramekin )

heavy cream (35%)

(1 tbsp per ramekin)

grated Parmesan cheese to taste

a few snips of chopped chives

salt + pepper to taste

2

cups

water
Instructions
Butter ramekins.

Crack an egg into each one.

Add 1 tbsp cream to each ramekin, top with grated parmesan, some chopped chives, salt and pepper.

Add water to instant pot, then add trivet.

Place ramekins on trivet.

Lock on lid and turn pressure valve on lid to sealing.

Choose Pressure Cook setting, then press Pressure Level button to adjust pressure to low.

Adjust timer to 2 minutes and let instant pot begin cooking. (If you like runny yolks 2 minutes is great, for a slightly more cooked egg try 3 minutes)

When done, press cancel.

Do a quick pressure release, by carefully turning pressure valve on lid to venting.

When steam stops and pin is down, open lid and carefully remove ramekins (use tongs or a canning jar lifter).

Serve immediately with buttered toast fingers for dipping. Enjoy
Notes
Variations *substitute parmesan and herbs with these delicious combinations:
Add chopped smoked salmon, lemon zest and a bit of dill.
Add crumbled, cooked bacon and grated cheddar.
Add crumbled cooked, sausage meat and grated gouda or emmenthal cheese.
You can make as many as will fit in your pot.
For best results, always add at least 3 ramekins to pot, and if cooking only two ramekins, fill the third with water.
Please follow and like us: