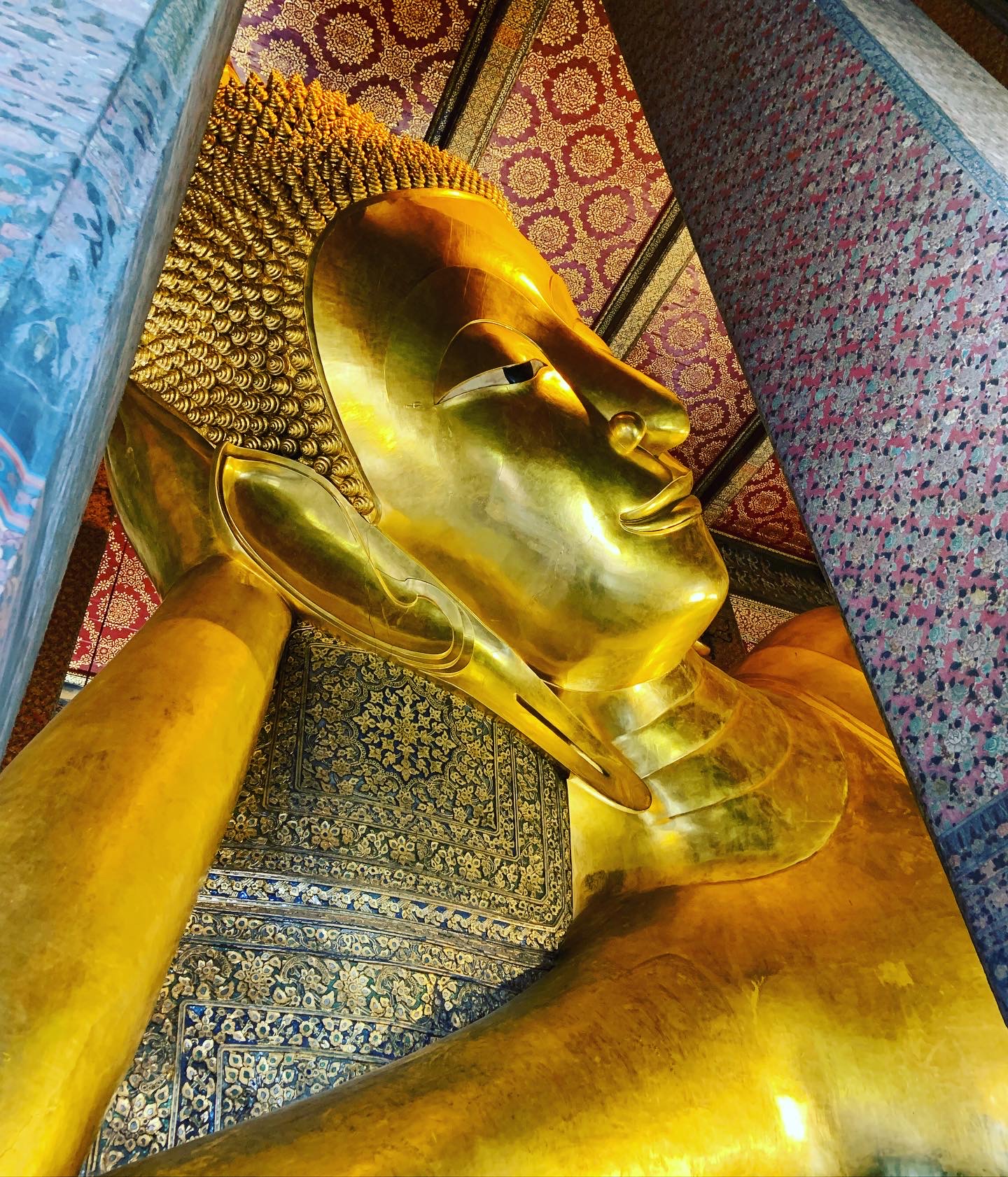 A Must See in Bangkok: The Reclining Buddha and Temples at Wat Pho
Travelling to Thailand has been a dream of mine for a very long time.
Many friends and colleagues have taken trips. They returned raving about islands like Phuket and Koh Samui, sharing tales of stunning beaches, delicious food and beautiful people.
Of course I wanted to go!
So when the opportunity arose to take a cruise with a stop in Thailand I jumped at the chance to get a smidgen of a taste of this amazing country.
Having heard so much about it, I foolishly believed that I had some knowledge to prepare me for my first visit to Bangkok.
But I quickly realized nobody had actually shared any information on the big city itself…beyond the crazy traffic, the tuk tuk ride experiences and the "lady boys".
I was hours away from arriving and faced with the reality that I knew very little about this capital city.
Unprepared is what I was! Not my usual style…
At this point however, it was too late to do anything about it, especially without an internet package on the ship and therefore no Google to aid my research! ha ha
Flying by the seat of our pants as they say, we took a chance on a "Hidden Jewels of Bangkok" excursion and set out on a long but comfortable 2 hour bus ride to the city.
What I can tell you with certainty is that Bangkok has a lot of  jewels!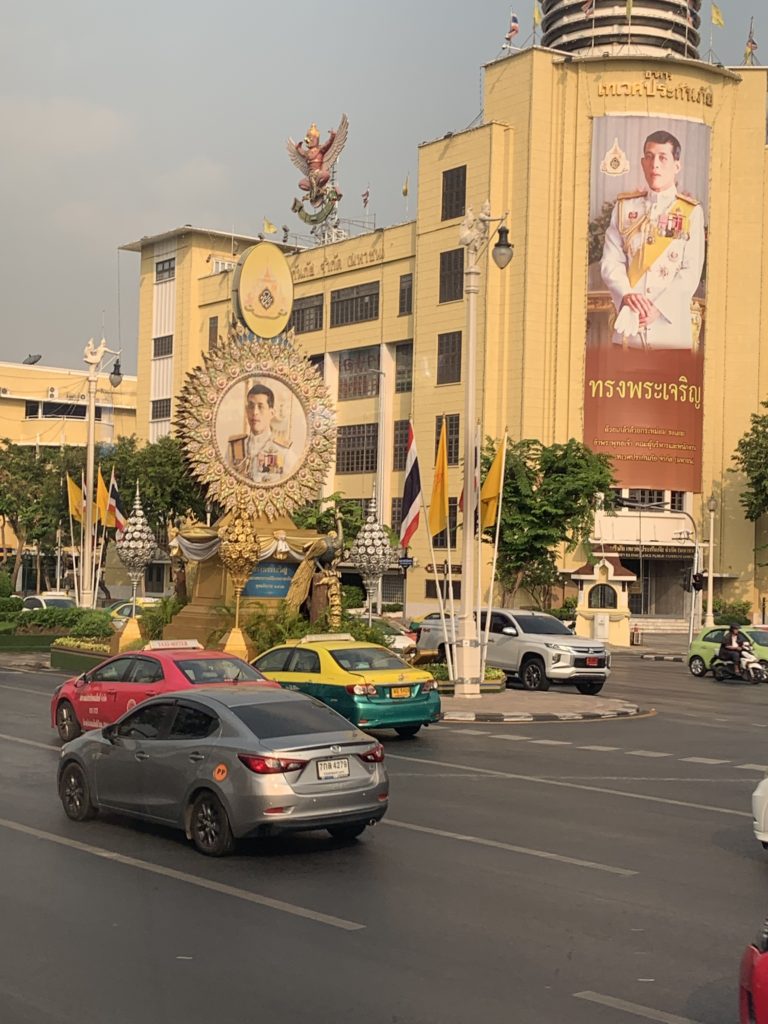 This is a grand and royal city, with wide avenues and beautiful, old colonial buildings mixed with amazing new architecture.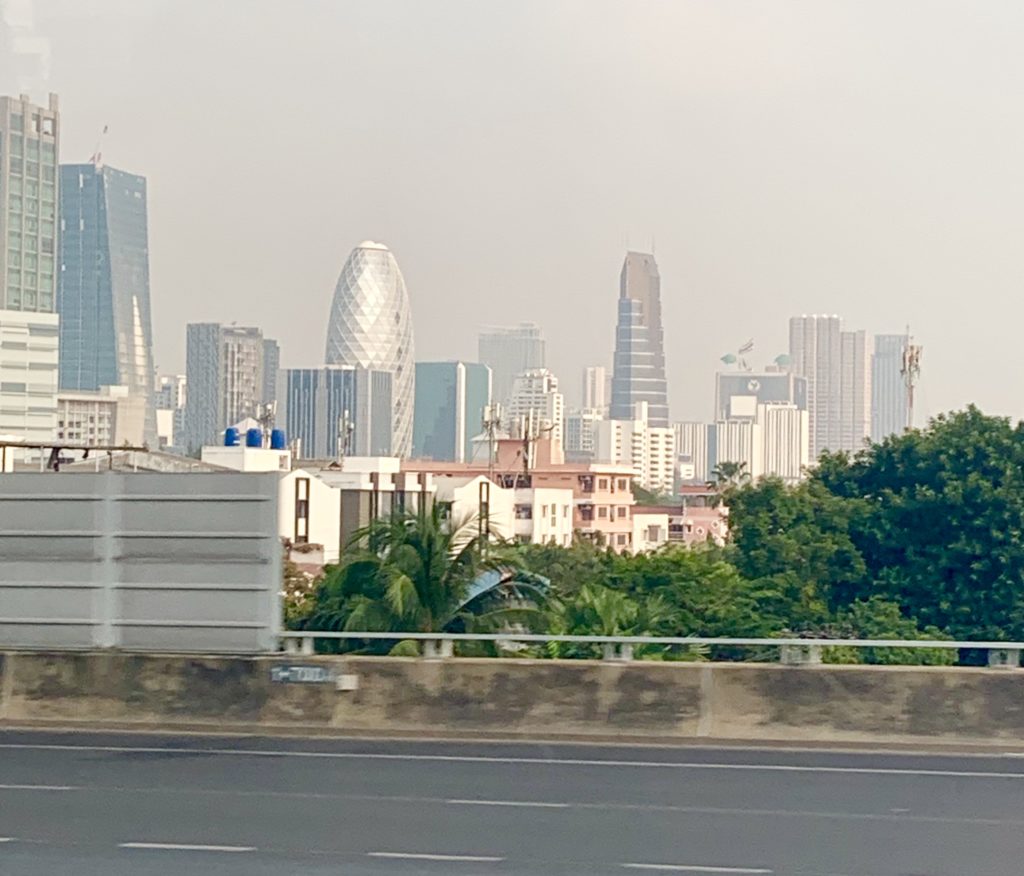 I was expecting chaos but instead was greeted by grandeur.
The one jewel that really stood out for me was Wat Pho. WOW!
WAT PHO
This amazing Buddhist temple complex is home to the massive golden reclining Buddha, which is quite simply a stunning sight to behold.
If you see nothing else while here, it will be enough…
But please give yourself time to explore, there's so much more to see.

No one knows exactly when the temples were first constructed, but inscriptions and history seem to suggest that structures were here in the late 1600s. The complex grew and changed with the comings and goings of different kings and royal families but much was retained, restored and rebuilt to what you see today.
As you enter the ancient complex through one of the 16 gates (only 2 are accessible by the public), you will be immediately taken in by the intricate spiral structures and an abundant use of red and gold. It's stunning!
These highly decorated structures are called chedis. There are 4 large ones, and 91 smaller ones of various sizes throughout the complex. Many of the chedis house the ashes of royal family members.
While this is an extremely popular attraction, it's interesting to note that so much more goes on here, besides the many tourists coming and going.
This is considered to be the birthplace of traditional Thai massage. The art is still taught here today, and if you so desire you can actually get one while you are visiting.
The myriad of halls and temples are also home to an education centre for Buddhism, a school for Chinese medicinal arts, and a monastery.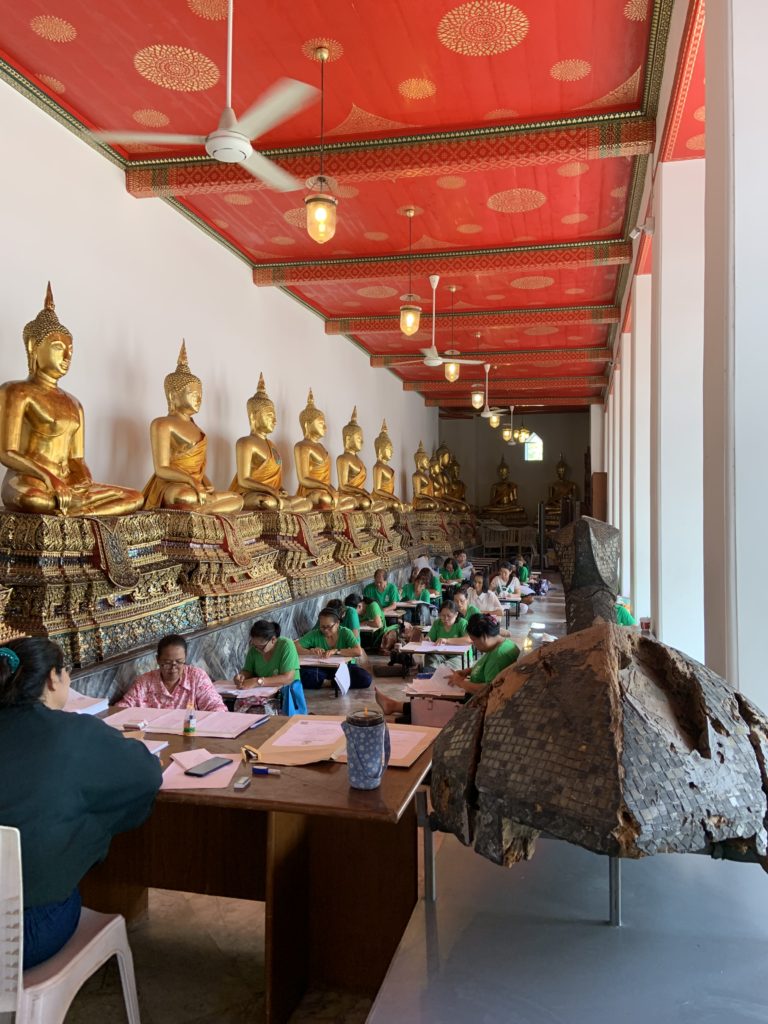 It is absolutely worth taking the time to see this incredible complex and all it has to offer.
We were on an organized excursion and therefore were only given an opportunity to see the highlights. Our time was well spent however since we had a guide with us.
THE RECLINING BUDDHA (Phra Buddha Saiyas)
The Reclining Buddha is said to be almost 200 years old. The form was created from brick and stucco, then lacquered and covered in gold foil.
The statue is 46 m long and 15 m high, making it one of the largest Buddhas in Thailand. The feet of Buddha are huge!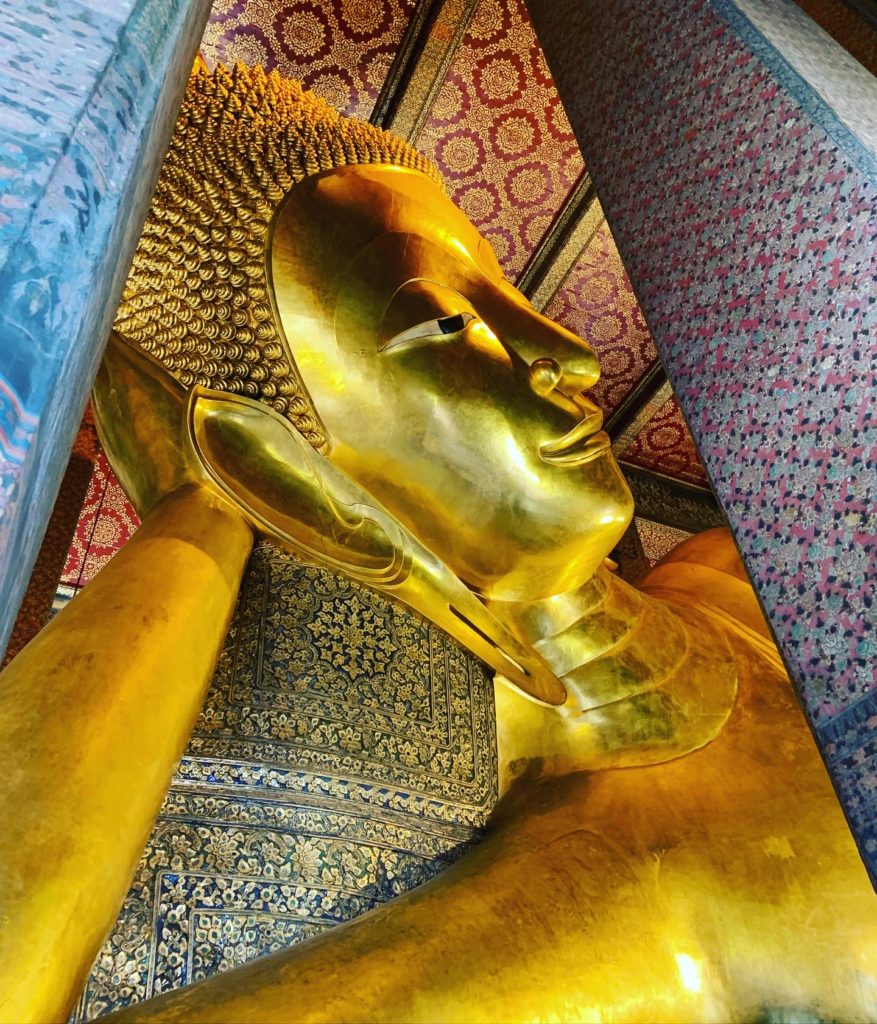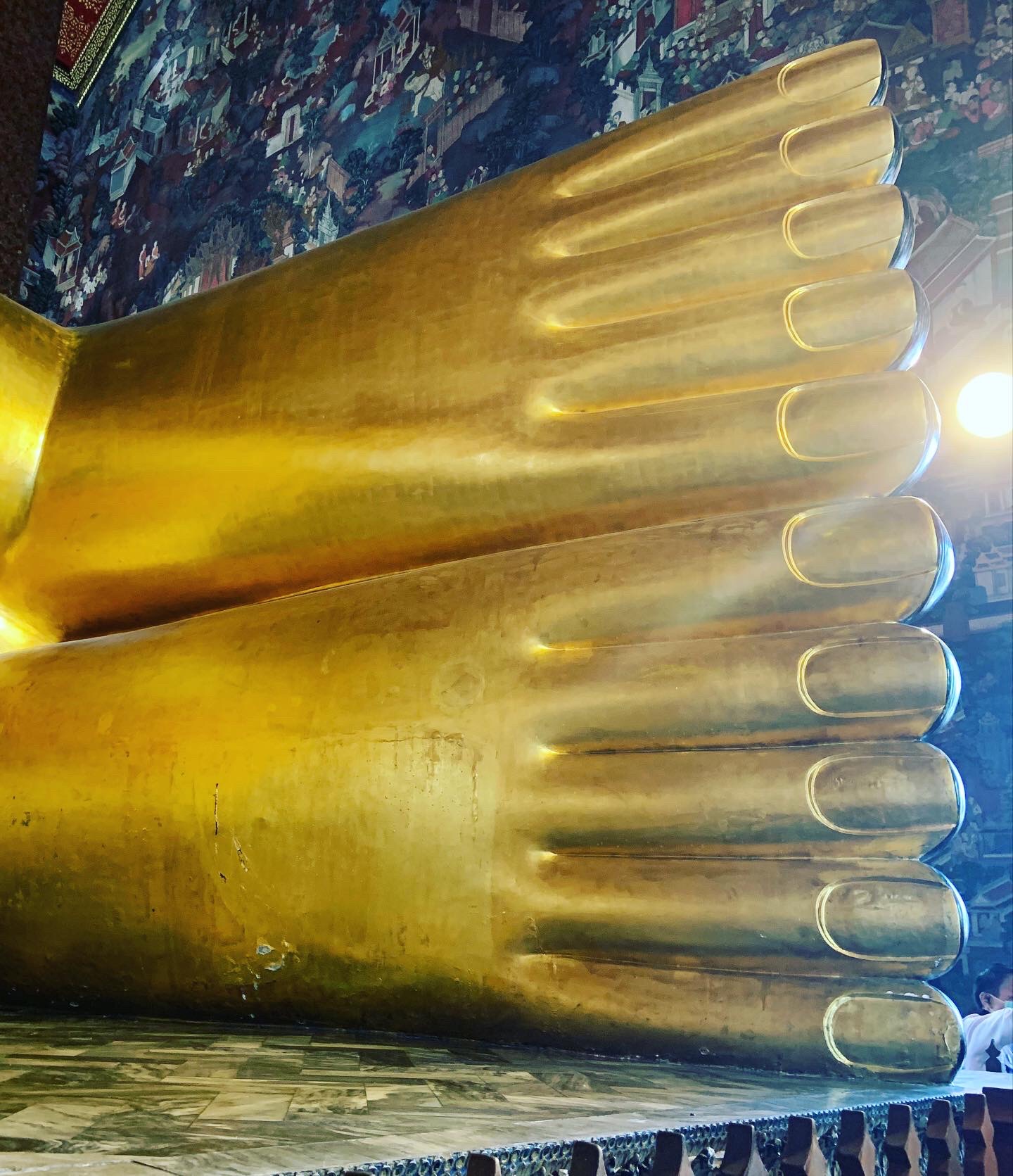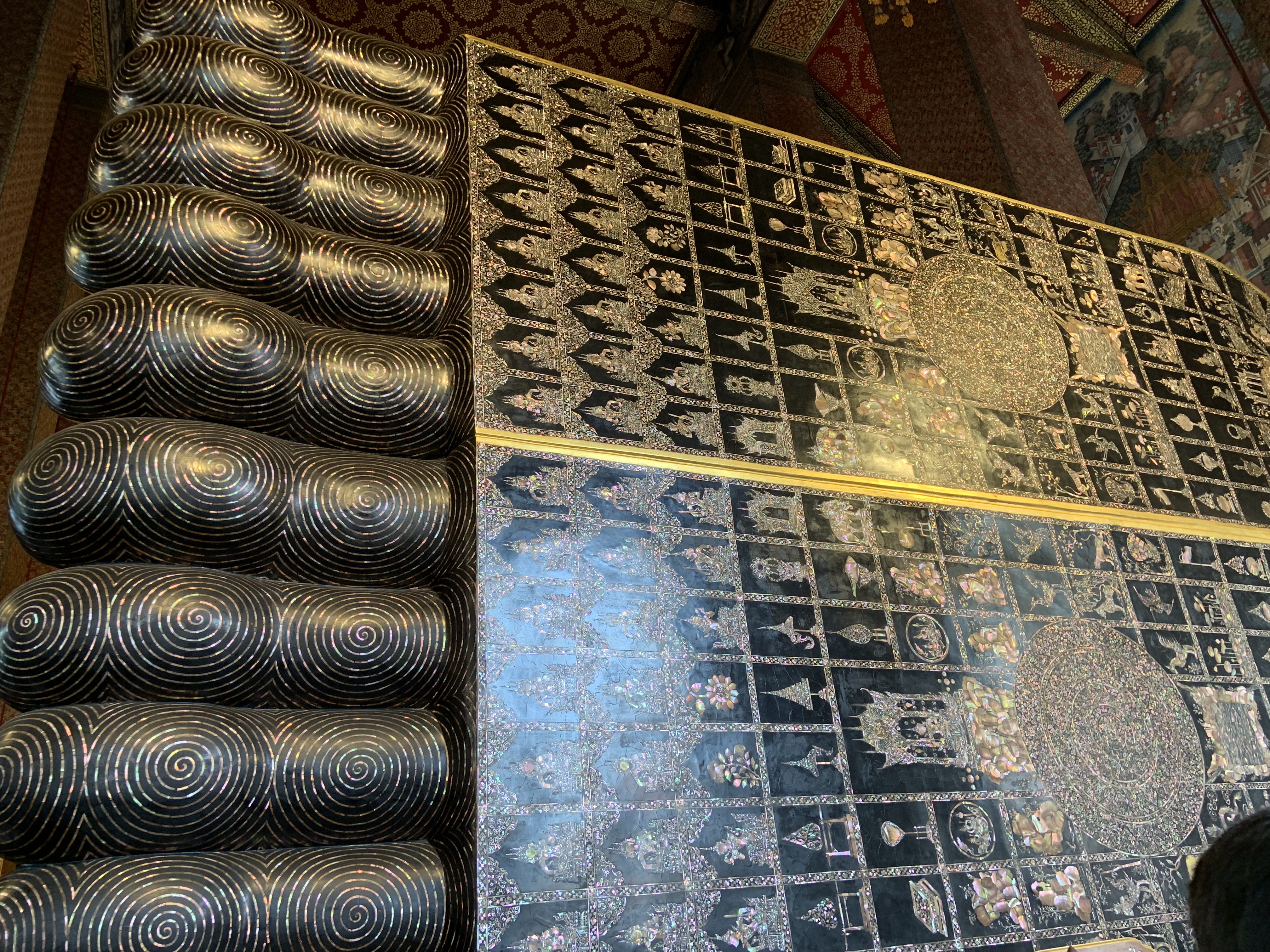 This Buddha is stretched out in a "lion sleeping" position, also referred to as the Nirvana position, a pose of total tranquility.
Unfortunately it's not possible to stand in front of the Buddha and see it in its entirety. This is most unfortunate and a bit dissapointing. I imagine it would be quite an amazing sight to behold!
The hall built to house this grand statue is actually rather small considering the size of the Buddha. There are pillars along the way that obstruct the view.
The best one can do is to take this somewhat strange skewed view of Buddha from feet to head, or a panoramic photo from the same angle, as seen below. It makes for some odd photography. (and no, it's not curved)
THE COIN MEDITATION
As you come around the back of the reclining Buddha, you will see people walking along and dropping a coin in each of a long line of buckets. We didn't know what it was all about at the time. I asked and searched for information and found out we had missed out on an interesting ritual.
This is meditative practice, and all who wish can partake in it, not just Buddhists.
Purchase a bowl containing 108 coins from the lady at the stand beside the Buddha (cost is 20 baht for 1 filled bowl). You can then take a thoughtful, calming and meditative walk along the wall, dropping a coin in each of the 108 buckets.
This process is said to grant you good fortune and who doesn't need more of that!
Why 108? Apparently this is a holy number in the Buddhist faith. There are 108 auspicious symbols represented on Buddha's feet that each represent things like prosperity, greatness, health, the cosmos, etc.
SO MANY BUDDHAS…
You will see a whole slew of Buddha statues as you walk around the many temples and halls in the complex…a lot of them!
In fact we were told this is the largest collection of Buddha images in Thailand. There are well over a 1000 of them on display here, in various sizes, styles and poses.
Many were brought here during the reign of King Rama I. He ordered that sacred statues from the many old, crumbling temples around Thailand be collected and brought here.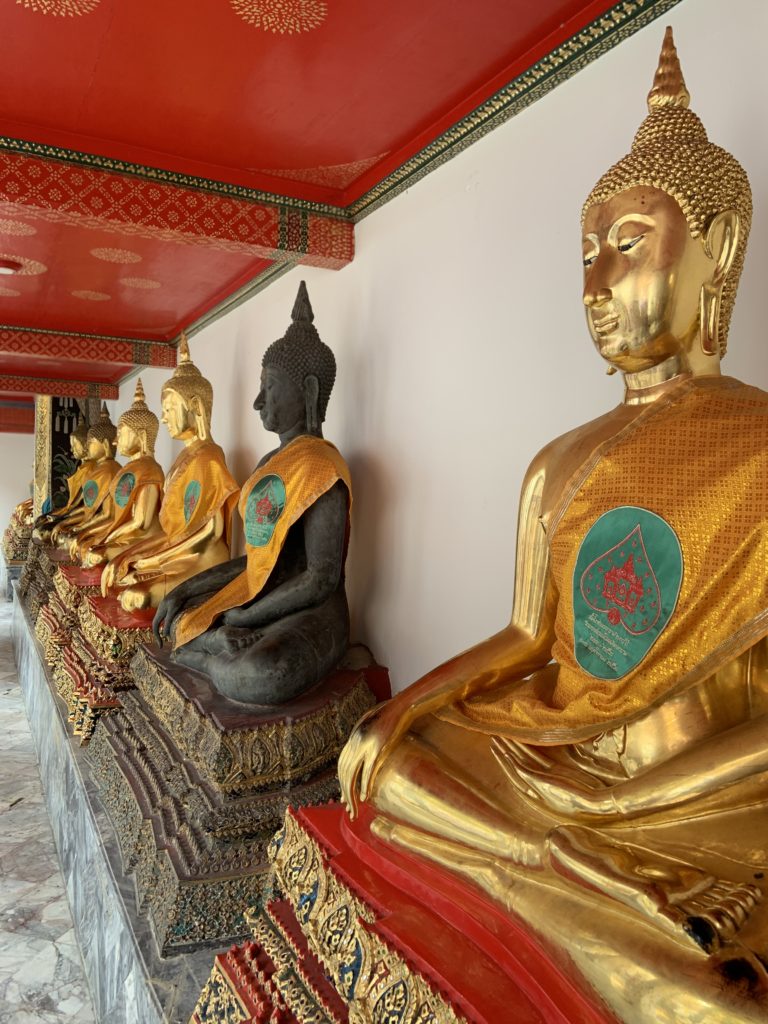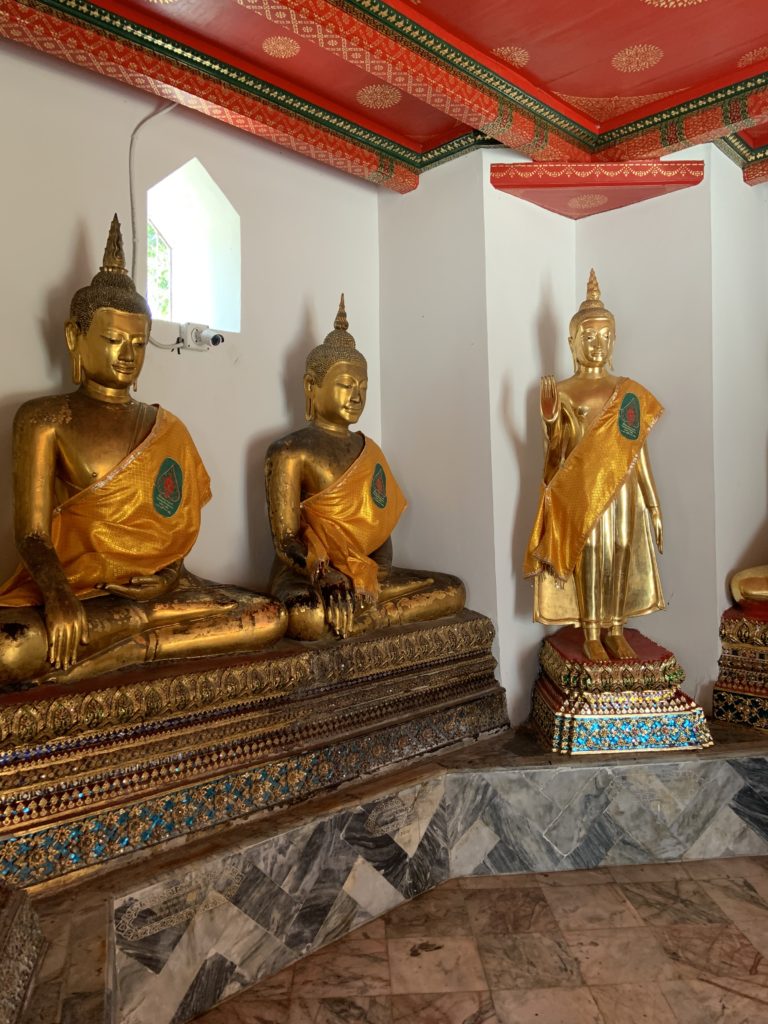 Things to know before you go:
Shoulders and knees must be covered to enter temples, so don't wear tank tops, shorts or short skirts. Throw a pashmina or shawl in your purse to cover up in case you need it. (for those caught unprepared there are vendors outside the gates selling coverings)
You must remove your shoes to enter the temples. No exceptions! Be prepared by wearing easy shoes, no straps and buckles to fiddle with. I wore socks and slip on runners…easy to take on and off and my feet were protected too.
Do remember that this is a religious shrine and a place of worship, as well as a monastery. Be respectful, calm and quiet in the temples. There are many tourists who are just admiring the sights, but there are also many devotees who are here to pray.
Hours to visit are 0800-1830 and the complex is easy to find as it is located close to the Grand Palace.
A morning visit is said to be best, however we were there in the early afternoon, on a Sunday, and it was very enjoyable despite the large number of visitors. This is definitely one of the most popular tourist sites in Bangkok.
Entry fee is 200 Baht, and children under 4 feet high are free.
The temple complex is quite large so give yourself a few hours to walk around and take it all in. We came as part of an organized tour and unfortunately did not have any free time to walk around and explore further.
When I went: mid January
Weather: hot, sunny and some humidity, 32-35 degrees Celsius

Wat Pho is a special place indeed.
Make it a point to go see it and enjoy all that this beautiful jewel of Bangkok has to offer.
For me this short trip was just a small taste of Thailand.
And it left me wanting more.
As I often say….I will absolutely need to return!
PIN FOR LATER
THIS POST WAS FEATURED AT:
BLOGGERS PIT STOP @ The Bloggers Lifestyle
,center>
Please follow and like us: