Winter Trip to Edmonton ~ A Travel Guide
Edmonton in winter?
Really?
I hear you, it's probably not at the top of your bucket list.
It certainly wasn't on mine.
But when the opportunity arises to travel I run with it, and that's how I ended up in Edmonton on a chilly, but sunny winter day.
It wasn't my first time in Edmonton mind you. I had visited several times before, but on those occasions my purpose was solely to spend time at West Edmonton Mall, which is in a world of its own and therefore doesn't really count. LOL
On another short visit, also in winter, I made it to the city centre, but truthfully it left me feeling underwhelmed, with no desire to return.
So, on this short trip I really wanted to see what Edmonton, the city, had to offer.
Even, in the less appealing, winter months.
What I found was an up and coming city, with an artsy urban vibe that couldn't be denied.
I enjoyed walking around the downtown core, taking in the art installations and checking out some of the attractions, treating myself to some delicious food and great coffee along the way.
Of course I didn't see it all. There's no shortage of things to do.
You definitely need more than one day here.
However, I think I saw enough to feel the vibe of the city, and it left me with a desire to return.
What I took away from this overnight trip, and what I want you, my readers, to know is this:
Edmonton is a place you can absolutely enjoy visiting in winter!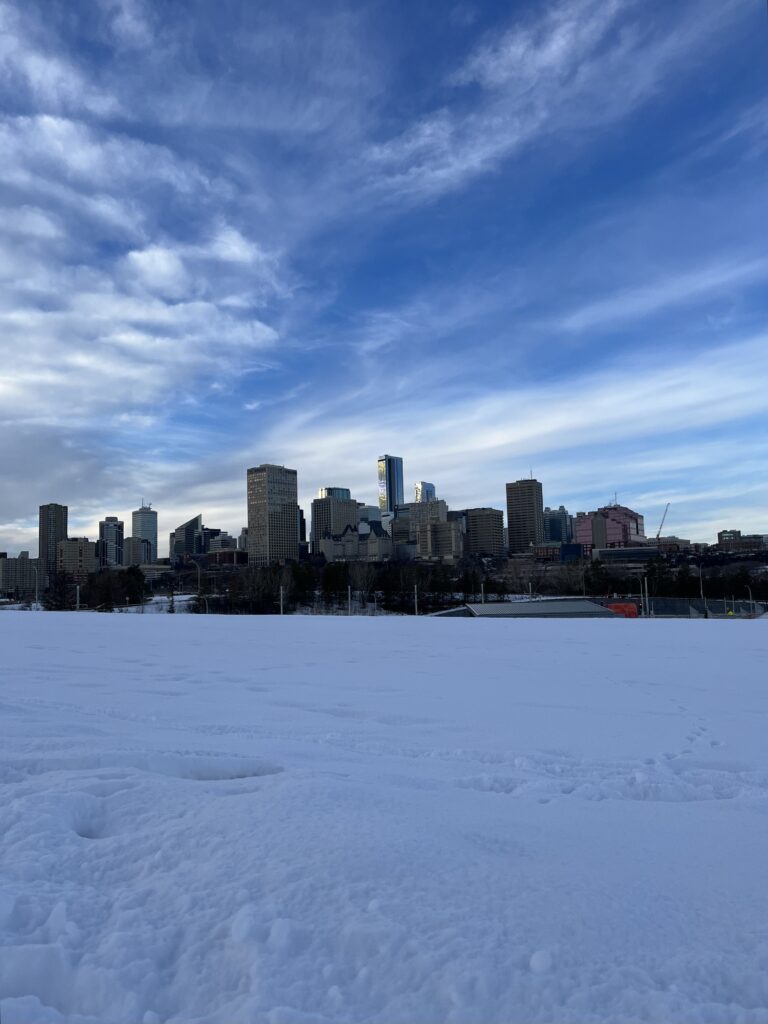 Just the Facts
Edmonton is the most northern major Canadian city.
It is the capital of the province of Alberta.
Population is just over a million.
The city sits on the banks of the North Saskatchewan River.
Temperatures in winter range between -5 C and -25 C but often fall much lower than that. Brrrrr
Daylight hours in winter are shorter than I'm used to in Toronto, however Edmonton is one of the sunniest winter cities in Canada.
Here's a tip for you,  if you visit in summer, daylight can last up to 17 hours. That's a lot of time for exploring!
Edmonton is also known as the city of Festivals and hosts many throughout the entire year.
An interesting fun fact, that kept popping up when researching Edmonton, is that it's a rat free city. In fact there are no rat populations in the whole province of Alberta, and you can't even have one as a pet.
I think that's amazing. I hate rats!
When I visited: mid February
Temperature: -5 C and mostly sunny
What to See and Do
Walk around the downtown core
Although it was a cold day, the sun was out for most of the short daylight hours.
I was prepared for the weather so walking around the city was quite pleasant. Boots, winter jacket, gloves and a hat are a must.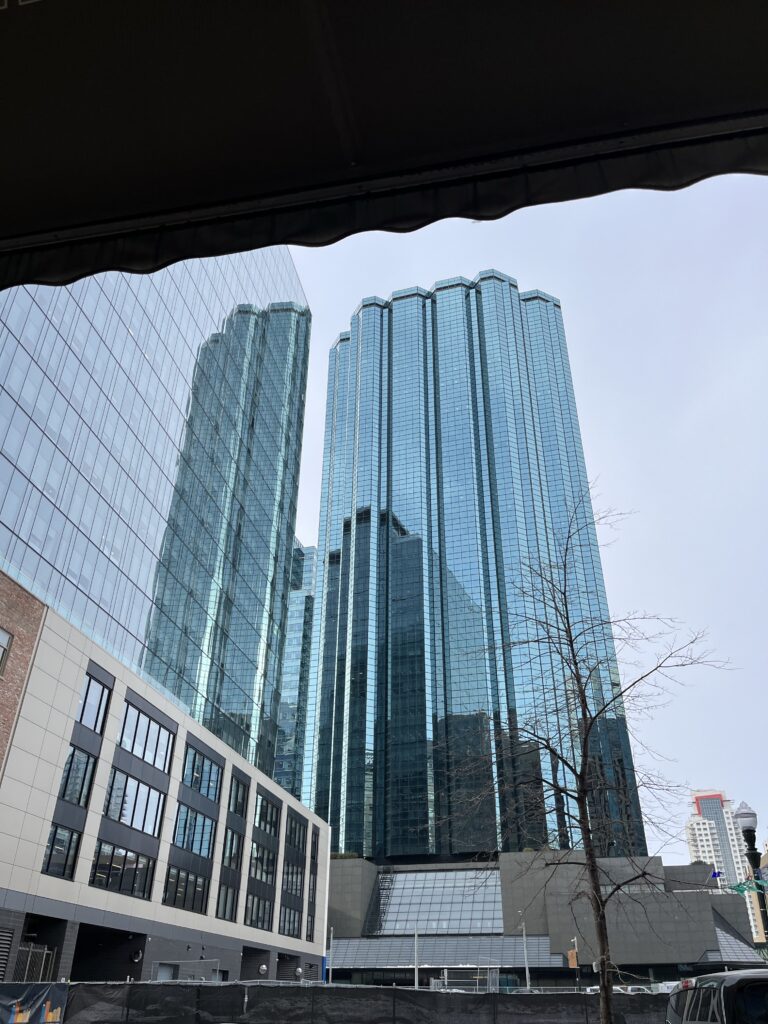 Need to warm up after a couple hours of wandering around?
Stop by LUI-CHI, an unexpected gem that I stumbled upon while exploring the city.
Sit and relax, while sipping on a great cup of coffee, all while enjoying live music (yes, in daytime hours) from talented musicians.
I have no idea who they were but they were fabulous!
This old world style coffee bar uses organic coffee beans are aged in whiskey barrels, then roasted over an open fire, making for some well crafted cups of java.
(address: Phipps-McKinnon Building, 10020 101A Ave NW)
Look for the Public Art and various Art Installations around the city
There are many interesting works of art, murals, sculptures, statues and other various art installations around the city.
I don't know how but I forgot to photograph them as I saw them, however I did snap a pic of this hard working man on his lunch break, lol.
You can find him near the Winston Churchill statue at Churchill square.
Visit the Art Gallery of Alberta
The unique building that is home to the Art Gallery is located in Churchill Square.
The focus of this gallery is to showcase art produced in Alberta and other parts of western Canada, including both historical and modern art works.
Travelling exhibits are also on display here and change throughout the year.
On a cold winter day this makes for an enjoyable and interesting indoor activity.
(address: 2 Sir Winston Churchill Square)
Seek out the Lookouts
For the best and most impressive views of the city and river valley, the lookouts are where you need to go.
There are several along the river, and they are the perfect places to take in panoramic vistas of the city and the river valley.
Try to go back at night for fantastic views of the city lights and the Walterdale Arch Bridge, that looks amazing lit up.
100 Street Funicular and Lookout
You can find this location around the corner from the Fairmont Hotel MacDonald.
The lookout offers you a beautiful view of the valley and river below and also of what's on the other side.
The funicular is the best way to access the lower part of the city to the river valley. It's free and has no operator, but it's easy to use.
I saw several people with their bikes, use it to return back up to the downtown core.
Although, I found the stairs rather interesting too, and I imagine they are a great spot to sit and enjoy the view on warmer days.
The River Valley
The river valley captured my imagination on this trip.
It was the first time I had seen it in daylight and could really visualize all that it could offer.
I can't wait to return in summer to explore and enjoy this incredible part of Edmonton.
With over 30 urban parks along the river valley that are all connected with over 100km of multi-use trails, you can imagine that there's lots to see and do. The area is home to a large variety of birds, wild animals, trees and plants.
In winter, of course it's not all accessible, but some areas are still open, for walking or snowshoeing.
Old Strathcona
This charming and hip neighborhood is also the heritage district of the city.
It's located across the river from the downtown core and was once a city in its own right. It amalgamated with Edmonton over a 100 years ago.
Head to the main road called Whyte Ave, where you will find many unique shops, cafes and restaurants.
Check out the city's largest indoor Farmer's Market, open year round, which sells local and regional produce, meats, crafts, and clothing. (10314 Whyte Ave)
For lunch I headed to MEAT, a southern BBQ smokehouse. (address: 8216 104 st) (for more info click HERE)
The reviews were good so I took a chance. Thankfully, it did not disappoint.
My beef brisket sandwich was very flavourful and quite delicious, as were the seasoned fries.
I washed it all down with a tasty Burwood Grape Lemon Vodka Soda, which was new to me, and then headed over to the Muttart Conservatory, which was conveniently also on this side of the river.
Muttart Conservatory
The 4 striking glass pyramids that make up the conservatory sit on grassland in the river valley and can be spotted from across the river.
Three of the pyramids are set up to represent a distinct climate area and are filled with plants unique to them. They are: Tropical, Temperate and Arid.
The 4th is a Feature pyramid with temporary but unique displays that change often.
My favourite was the Arid pyramid, because I happen to love cacti and the desert landscape. But all are interesting in their own special way.
There are also special adult only events called Pyramids After Dark, that are perfect for a date night or just a night to yourself.
Although the gardens are not large, there is a lot to see if you appreciate plants.
I visited in the late afternoon and spent about 2 hours here. It was not busy at all and I enjoyed the peaceful setting.
I was told that mornings can be much busier, with school groups that visit, something to keep in mind.
There is a small cafe, and gift shop at the entrance with unusual gift items and some unique plants available for purchase.
To plan your visit further check out this link:
https://www.edmonton.ca/attractions_events/muttart_conservatory/directions-maps-parking
(address: 9626 – 96A Street)
The feature pyramid had this cool exhibit happening!
Take a walk around the grounds of the conservatory as well, and enjoy some wonderful views of the downtown on the other side of the river.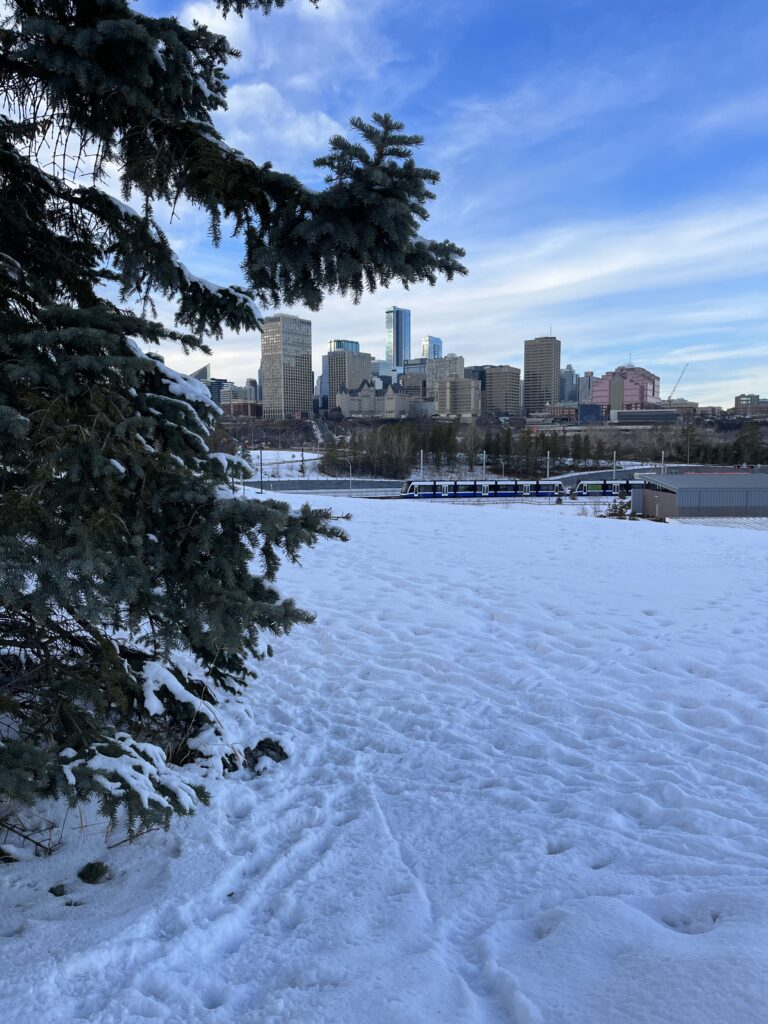 Skiing
The Edmonton Ski Club is a great spot for learning to ski or getting back into skiing if you're feeling rusty. It's located at Gallagher Park, behind the Muttart Conservatory. Lessons are offered.
And in the summer months they offer mountain biking lessons too.
I did not ski but walked around the runs, and the views of of the city from this side are fabulous.
If you are looking for an activity this could be just the thing to do.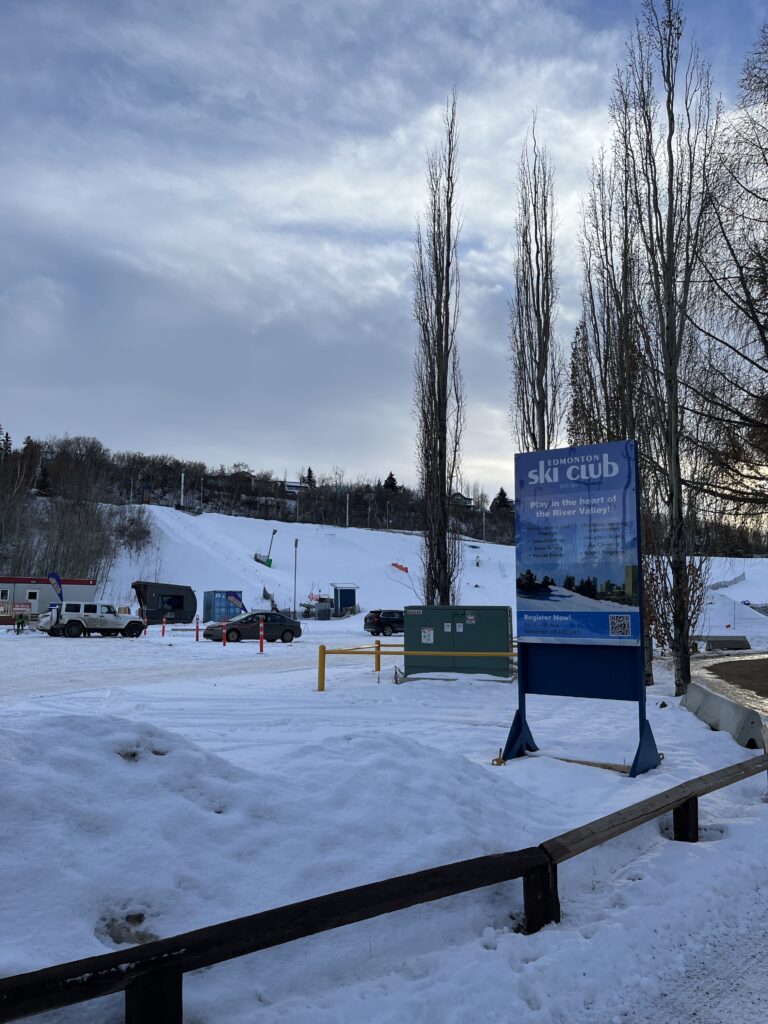 Edmonton Mall
Of course you've heard of West Edmonton Mall right?!
It's a huge draw for the city and the top most visited attraction in Edmonton.
I think it's worth checking out.
This is definitely where you want to hang out when it's too "wintery" outside". LOL
The complex spans 48 city blocks, so yes it's big.
Not surprisingly there are many, many stores to shop from. However most of them are the same ones you'll find in all the malls around the country, and that was a bit disappointing.
There are also lots of food options and many services available.
But shopping and eating are just a small part of all that's available here.
One of the biggest draws is the water park. It's a lot of fun, for all ages, with many slides and the biggest wave pool ever.
There's a fairly large ice skating rink, with skate rentals available.
If you feel like bowling or playing a round of mini golf, it's also available here.
The Marine Life area offers a Penguin Meet & Greet, with the sweetest little penguins, and there's a water show with some very funny sea lions every few hours. There's also a Sea Cave exhibit where you can see and even touch some very interesting sea life.
And then there's the Pirate Ship, that sits in the water in the middle of the shopping areas.
If you are coming for a special occasion, plan ahead and you can hold your event, like a birthday party, or even a small wedding reception on it.
And that's not all, there's also a pretty large indoor amusement park in the mall, with many rides for kids. It used to have a rollercoaster but that is now gone.
All these activities do have entry fees of course. But if you are looking for something to do besides shopping, you can literally spend days here trying it all out.
To take advantage of everything the mall offers, you will definitely need to visit more than once.
In fact, if your budget allows, you might want to consider staying a night or two at the hotels in the mall.
The Fantasyland Hotel is the only one I've stayed at and it was great. Their quirky themed rooms are fun, especially with kids, and the location can't be beat.
For more information on the mall check out their website HERE.
Catch a Hockey Game
If you are staying in the city overnight, plan ahead and get some tickets to a hockey game.
It's a very Canadian thing to do, eh.
The Rogers Place is the home arena for the Edmonton Oilers.
The neighborhood also offers some great dining options.
The Giant Cowboy Boot
This giant boot structure is the quirky roadside attraction of Edmonton.
It sits on the western edge of the city, is 40 feet tall and made of fiberglass.
It's become a local landmark and as such was saved even though the factory that first installed it is gone.
The world's largest cowboy boots are found in San Antonio, Texas, but this one boot is almost just as tall.
It was on my list of things to see but I didn't get to it unfortunately.
(address: 10007 167 Street NW)
Just outside the city
Visit Elk Island National Park
The park is located about 30 minutes outside of Edmonton.
It is open every single day of the year, 24 hours a day. That means you can literally visit any time you want.
This is one Canada's smallest national parks, and is best known for its role in the conservation of bison.
You will see bison here!
In winter, it's a serene and beautiful place to spend some hours snowshoeing or cross country skiing.
It's also in dark sky territory, with very little light pollution. This makes it an ideal area for observing the Aurora Borealis (Northern Lights).
The winter months make for particularly spectacular light shows.
Check the weather updates  for clear night skies and you might just get lucky.
Although I didn't have the opportunity to visit Elk Island on this trip, or see the northern lights from the ground, I got super lucky and saw them from the plane on my way home.
A very unexpected and surprising sight.
Here's a tip: choose a window seat on the left side of the plane, if you are flying eastbound at night and start looking out, soon after takeoff.
These photos in no way do justice to the views we got from our airplane seats, but it gives you an idea.
It was all a bit surreal.
I've really only scratched the surface of all there is to see and do in the city of Edmonton.
There's so much more, but my focus for this post was on winter friendly ideas.
I think cities like Edmonton, that are very cold in winter, tend to be overlooked during those months.
Perhaps this post will inspire you to visit, even during the less desirable times of the year.
There's always something to enjoy in this city, that's for sure.
,center>
Did you enjoy this post? Please share it!
Please follow and like us: