Instant Pot Parmesan Cauliflower Mash
It's official! You can substitute all of your favourite foods with cauliflower! I really think you can…Pinterest tells me so….
But seriously, who knew cauliflower was such a versatile vegetable. As a kid I absolutely loathed it, along with broccoli, brussel sprouts and cabbage.
Such stinky foods…why would anyone willingly eat them, I thought to myself, as I ran screaming noooooo from the kitchen.
Thankfully my taste buds eventually evolved and now I've come to love them all, especially when cooked in ways that bring out their delicious flavours rather then their unquestionable odour!
It turns out that mashed cauliflower is indeed a great alternative to mashed potatoes, especially if you're looking to cut the carbs and calories.
It doesn't turn out as quite as fluffy and thick as mashed potatoes but it's really tasty and satisfying. And it needs only a bit of butter and cream to come together, unlike the potatoes that soak up milk and butter like a sponge!
Steaming the cauliflower in the Instant Pot is easy and yields perfectly soft florets ready to be smashed and enjoyed.
You'll find the recipe version I created below. Give it a try and let me know what you think.
Stay dry my friends, the sun will come out tomorrow…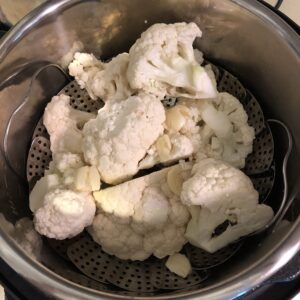 ,center>
Print Recipe
Instant Pot Parmesan Cauliflower Mash
Ingredients
1

large cauliflower head

cut in florets, trimmed of leaves and hard core

1

cup

vegetable broth

(you can also use plain water)

3

small cloves garlic

smashed

2

tbsp

butter

2

tbsp

heavy cream

1/4

cup

grated Parmesan Cheese

salt + pepper to taste

snipped chives + Parmesan for garnish
Instructions
Add broth to Instant Pot.

Place steamer basket inside pot.

Place cauliflower and smashed garlic cloves in steamer basket.

Lock on lid and turn pressure valve on lid to STEAMING.

Press PRESSURE COOK and adjust timer to 3 minutes.

When timer beeps done, let timer count up for 3 more minutes of natural pressure release.

Once time is up, carefully turn pressure valve on lid to VENTING to allow all remaining pressure out of pot.

Press CANCEL.

Open lid and remove steamer basket to a plate and drain water from Instant pot.

Place cauliflower in a large fine sieve, and press it down with a bowl, to squeeze out as much water from it as you can.

Return cauliflower to the Instant pot.

Add butter, cream, Parmesan, salt and pepper to pot, and mash together with a potato masher, until it has reached the consistency you desire. You can also use an immersion blender if you want your mash to have a creamier consistency.

Transfer to a serving bowl, garnish with more grated Parmesan and snipped chives.
Notes
One cauliflower head reduces a lot once cooked and mashed. It makes enough for about 3 servings. The 6 qt pot will fit 2 chopped cauliflower heads, if you want to double the recipe.
Please follow and like us: