Italian Burrata + Tomato Salad
I've just returned from a lovely vacation in Italy, and as you might imagine I ate some pretty darn good food!
So I really want to share with you some of my favourite dishes and specialties…the ones I seek out, every time I visit, because they are just too good to miss out on.
First up is this amazing tomato salad with Burrata…I love it and look for it everywhere I go!
Do you know about Burrata?
Let me introduce you…
Burrata is a fresh, semi-soft Italian cheese that looks like a fresh mozzarella ball on the outside. However the inside of the Burrata holds a secret delight. It's filled with a creamy mixture of fresh mozzarella curds and cream…yes it's as heavenly as it sounds!
Thank goodness that it's a tad expensive here in Canada, and not quite as divine….because I'd be indulging way too often otherwise!
If you do come across it at your local store, buy it and treat yourself to this beautiful salad. It's similar to a Caprese salad but taken to the next level!
My one suggestion for success is to go out and splurge on a small bottle of good quality, thick balsamic vinegar. You only need a thin drizzle of it to dress this salad to perfection.
This recipe makes one delicious lunch or enjoy it as a starter and share it with someone special.
Enjoy!
PS…if you can't find Burrata, you can substitute it with a fresh Mozzarella cheese ball. Look for the ones that are sold in a bag or container with water in it.
ITALIAN BURRATA + TOMATO SALAD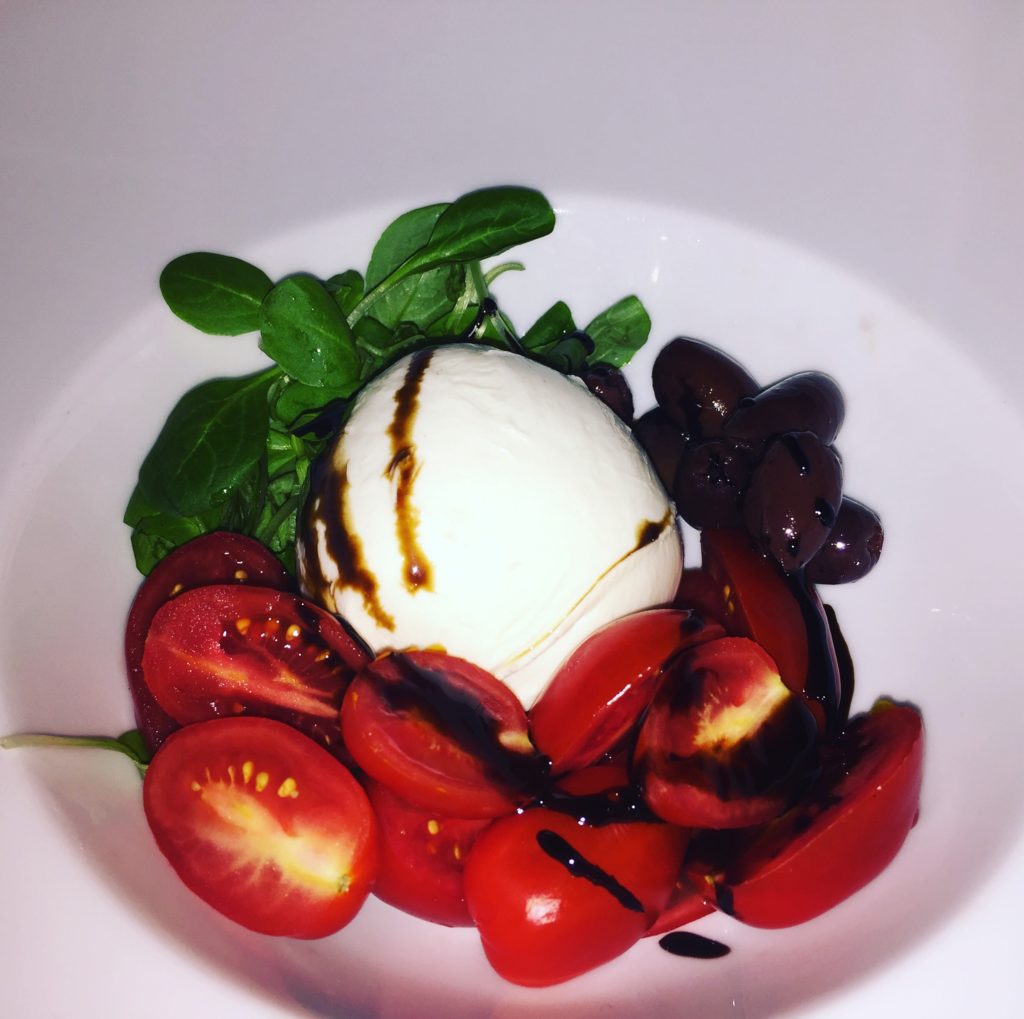 Print Recipe
Italian Burrata + Tomato Salad
Ingredients
1

Burrata Cheese ball

( you can sub with fresh Mozzarella cheese ball)

handful of ripe cherry or grape tomatoes

washed

6-8

black or Kalamata olives

pitted

a few leaves of baby salad greens

drizzle

good quality Balsamic Vinegar

dash

sea salt
Instructions
Place the Burrata cheese in centre of a salad bowl.

Cut cherry tomatoes in half and arrange beside Burrata.

Arrange salad greens and olives around Burrata.

Lightly drizzle salad with balsamic and add a dash of salt, serve and enjoy.
Notes
This salad makes a wonderful fresh lunch for 1 person, served with a crusty bun.
If you are serving this to 2 persons, as a side, I recommend cutting the Burrata in half with a sharp knife, but keep intact in bowl, then each person can take their half along with tomatoes, salad and olives.
PIN ME FOR LATER
,center>
Please follow and like us: