The "Real" Jennifer Aniston "Friends Salad"
I hate to break it to you, but….
It turns out that the famous "Friends" salad which has been making its rounds on the internet for the last couple of years, is not exactly the salad that the girls were lunching on daily, on the set of friends.
What?? Like what???
Hmmmm…..
Ok, I'm not really that surprised, but I wanted to believe, didn't you? LOL
Upon further investigation, it doesn't appear that there was actually any footage or proof of Jennifer telling us that this was indeed "The Salad".
So, how did the Fake Friends Salad even come about?
I have no idea.
However I will tell you that I have been making it and enjoying it immensely ever since I came across it.
It's a great tasting salad.
I dare to say it's even a healthy one.
In fact, I even created a post about it. (follow the link HERE to see the recipe)
Look at this pic of the "Fake Friend's Salad"…
Doesn't it look delish?
I'd be lying if I didn't say that I'm just a little bit disappointed.
But, the facts cannot be denied my friends…
It's not "The Salad".
How do I know this?
Because there is actual video evidence of Jen talking about the famed lunch choice.
And, while the salad she describes does have some common ingredients, it is in fact very different.
Jennifer called it a Cobb Salad that the commissary on set provided to the actors.
It was available daily, and yes they had it quite often.
Needless to say, I had to give this new "authentic" version a try.
So here you go, the salad Jennifer describes in her interview, with no specific ingredient amounts, or instructions. (since none were given)
Feel free to create your own using your best judgement for putting it together.
The "Real" Jennifer Aniston "Friends Salad"
The "Real" Jennifer Aniston Friends Salad
Ingredients
iceberg lettuce

shredded

tomatoes

chopped

chickpeas

chopped salami

crunchy turkey bacon

cubed cooked chicken

grated pecorino cheese

Italian dressing
Mary's version of the "Real Friends Salad"
I put together my own version of the salad, using the ingredients Jennifer mentioned as inspiration, and I think overall I got the vibe of the salad flavours the Friends feasted on.
So, how did I like it, you ask?
Well, it's definitely a delicious combination of flavours. I can see how it wouldn't get boring to eat this often, as you could play around with the amounts of the specific ingredients, thus creating a variety of very different meals.
I will say that this is a very filling salad. It's a great choice for a lunch meal, and leaves you more than satisfied.
The "fake Friends salad" on the other hand, probably makes a better choice as a salad to be served on the side.
Bottom line is, whether you are a "Friends" fan or not, these are all delicious tasting salads and are definitely worth trying.
Give them a go and let me know which one you like best.
Enjoy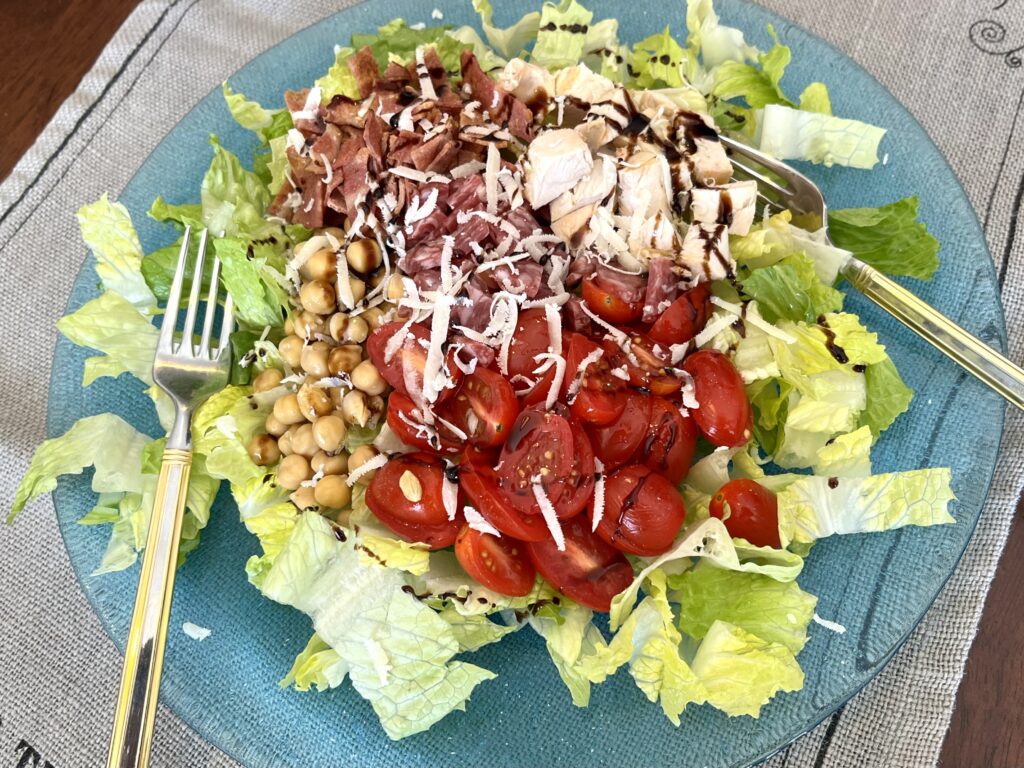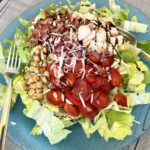 Print Recipe
Mary's version of "The Real Friends Salad"
Ingredients
Salad
1

small head romaine lettuce

chopped

1

cup

grape tomatoes

cut in half

1/2

cup

chickpeas

from a can/drained and rinsed

handful chopped salami of your choice

3

slices

turkey bacon

cooked till crispy/chopped

1/2

cup

cooked cubed chicken

2

tbsp

shredded parmesan cheese
Salad dressing
a generous drizzle of olive oil

a generous drizzle of balsamic vinegar

a good squeeze of fresh lemon juice

salt + pepper to taste
Instructions
Add all salad ingredients to a large bowl.

Top with the dressing ingredients and toss well to coat.

Enjoy.
,center>
Please follow and like us: