Instant Pot Loaded Roasted Cauliflower Soup
Ok friends this is a delicious soup.
You've got to try it!
I've been wanting to make this type of recipe in the Instant Pot for a long time.
What was holding me back you ask?
Well have you seen the ridiculous price of cauliflower lately??
I just could not justify it.
But finally last week a sale….
And I bought the most beautiful, big cauliflower. EVER.
When you're adulting and trying to survive in this crazy economy, it's the strangest things that get us most excited dont you find? LOL
Well, anyways, I knew immediately what I was going to make with it.
A Loaded Cauliflower Soup of course!!
The recipes I found on the web were apparently inspired by keto followers that wanted to capture all the deliciousness of a Loaded Potato Soup, but in a low carb version, which of course means no potatoes.
Although I personally don't follow such a diet, I thought the idea of using cauliflower instead of potato was genius.
So I found some basic recipes for the loaded soup and adapted them to create my own version.
The big change I made was to roast the cauliflower, onion and garlic. I was going for maximum flavour.
It does add a bit of time to the total cooking process, but I find it is always, and I mean always, worthwhile to roast the veggies for use in soups.
Roasting brings out an extra layer of flavour that's not to be missed.
Trust me on this.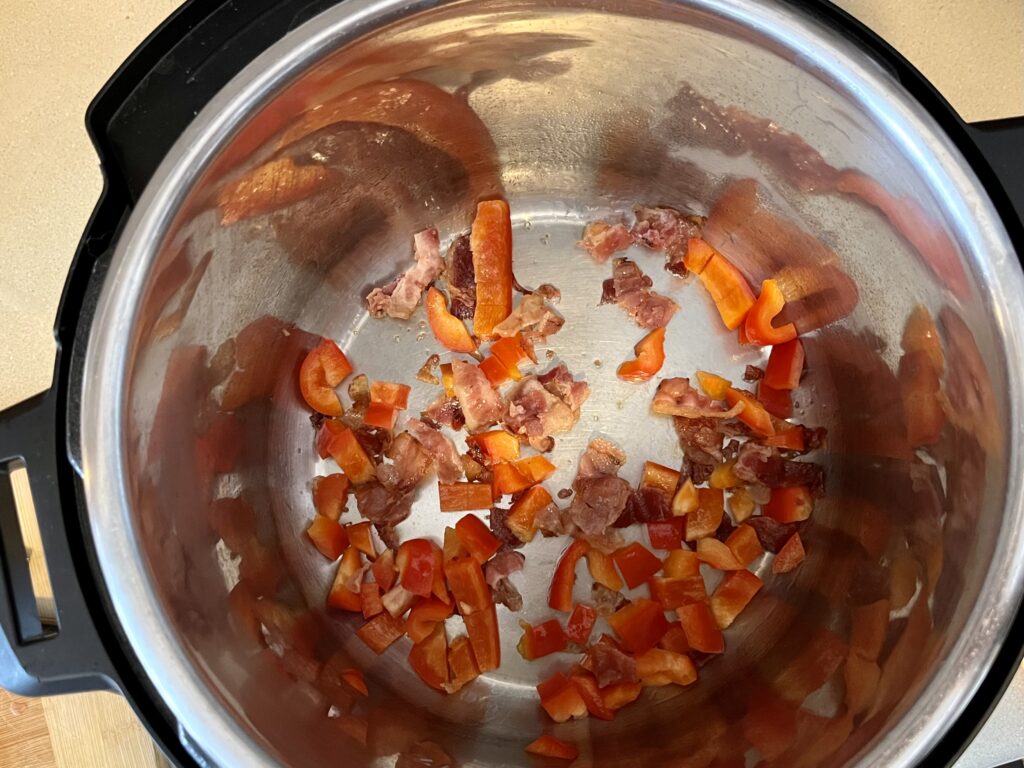 Use an immersion blender to puree the soup right in the Instant Pot, it's so easy.
I highly reccomend this method, instead of pouring your soup into a blender.
Now, what makes this soup even more delicious is of course the toppings.
The idea here is to use the same toppings you might use to load up your baked potato.
Bacon, cheese, chives….you could even stir in some butter or add a dollop of sour cream.
The end result is going to be delicious.
An excellent soup for a cold winter day.
There's another storm in the forecast for tomorrow, please stay warm, stay safe and you might as well make soup!
Instant Pot Loaded Roasted Cauliflower Soup
Print Recipe
Instant Pot Loaded Roasted Cauliflower Soup
Ingredients
1

large

head cauliflower

divided into florets and washed

1

large

onion

peeled and quartered

3

cloves

garlic

peeled

olive oil for drizzling

salt and pepper to taste

a few sprigs fresh thyme

3

slices

bacon

chopped

1/2

small red pepper

diced

1/3

cup

white wine

4

cups

chicken broth

1

bay leaf

1

cup

freshly shredded cheddar cheese

(not pre shredded cheese, it doesnt melt smoothly)

1/2

cup

grated parmesan

1/4

cup

heavy cream/whipping cream

1

tbsp

chopped chives or green onion
Instructions
Line a baking sheet with parchment paper, arrange cauliflower florets, onion and garlic on it.

Drizzle or spritz everything with olive oil, add salt and pepper to your taste and a few of the thyme sprigs (save a few for cooking with soup)

Roast in oven for 25-30 minutes until cauliflower starts to brown slightly.

Remove from oven and set aside.

Press SAUTE on Instant Pot.

When screen reads HOT add bacon and red pepper and cook until bacon is browned.

Transfer bacon and pepper to a small bowl, using a slotted spoon and set aside. (leave any remaining bacon fat in the pot)

Add roasted vegetables to the Instant Pot then pour in the wine, cook 2 minutes longer.

Press CANCEL.

Add broth, bay leaf and remaining thyme. Give it all a good stir.

Close lid, turn pressure valve on lid to SEALING.

Press PRESSURE COOK and adjust timer to 15 minutes.

Once pressure cooking timer is done, allow timer to count up another 10 minutes for natural pressure release.

When time is up press CANCEL, carefully turn pressure valve on lid to VENTING to release any remaining pressure, and once pressure pin is down you can safely open lid.

Remove bay leaf and thyme sprigs and discard.

Using an immersion blender puree soup until smooth.

Stir in the grated cheddar and parmesan cheese and continue stirring until cheese is melted, then stir in heavy cream.

Close lid and keep warm.

When ready to serve ladle soup into bowls, top each bowl with a bit more shredded cheddar, bacon + red pepper mixture, and garnish with chives.

Enjoy.
This post was featured at:
THE REALLY CRAFTY LINK PARTY @ Keeping it Real
,center>
Please follow and like us: