Don't Skip Fez When Visiting Morocco!
Fez has a reputation for being a mysterious, reserved city, steeped in tradition, perhaps even stuck in it.
Everyone has heard of Fez but many skip it when visiting Morocco.
Tourists tend to head straight to the more vibrant and popular Marrakesh, like we did. It's a tourist friendly city that's easy to enjoy, even if you're not on a organized tour.
Fez on the other hand is known to be chaotic. The medina is a giant labyrinth. It can be overwhelming, and if you arrive without a plan you might be inclined to recoil back to the safety of your hotel and move on to another destination.
However if you're seeking an authentic Moroccan experience, then this is absolutely the place you need to be!
Fez, for me, was a peek into ancient Morocco, a step into the past. I found it absolutely fascinating!
The highlight of the city is definitely the Fes el-Bali medina.
It is the largest and oldest medina in the world.  Photos do not do it justice.
It needs to be experienced!
This is north Africa's oldest imperial city. It was founded under the Idrisid rule during the 8th-9th century. Fez was the capital city of Morocco until 1912 when the french made the city of Rabat it their administrative centre. Eventually it became the official new capital.
The medina was designated as a protected UNESCO site in 1981 it is currently undergoing a fair amount of restoration to save it from urbanization and collapse.
Viewed from the rooftop of our riad, Fez appeared to be just a jumble of concrete sprawled out into the hillside. It didnt' seem all that special. But at street level and with the help of a guide, it revealed itself and all its secret splendor.
The medina is indeed a maze and was purposely built this way to deter invaders. It was nearly impossible for them to strategize an attack because it was just so difficult to navigate the narrow streets. And the lack of windows and decor on the outside of the buildings, made it that much more difficult.
Imagine this, there are apparently over 9,000 alleyways inside the medina. It is truly a labyrinth and getting lost is all but guaranteed here.
One of many incredibly narrow alleyways…slightly claustrophobic!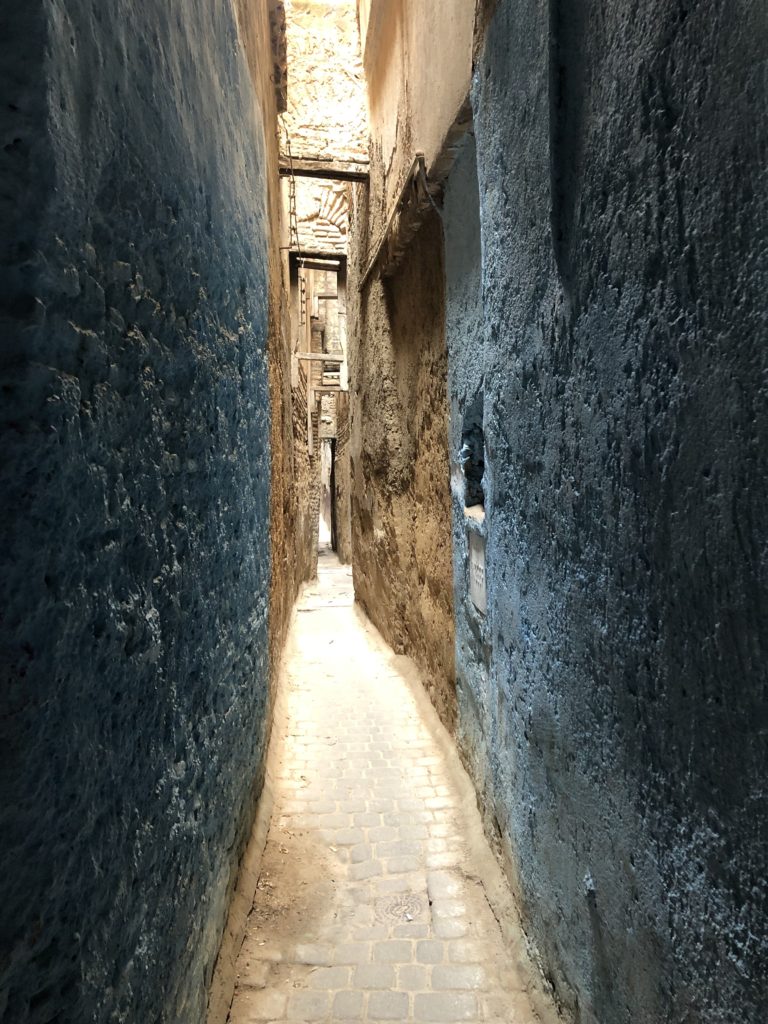 Now, you may know this of me already, I am a big fan of wandering around on my own, exploring and getting lost in the process. I enjoy walking around a city without a specific destination or purpose. You never know what you'll discover or where you'll end up.
But there's a time and place for that, and believe me, this is not it!
Yes, of course you can go out on your own if you want to, but there's a better way.
I highly recommend you hire a local tour guide to take you through the medina on the first day. It's extremely affordable, it's a private and personal tour that you can design to your liking, and so worthwhile.
This will give you the opportunity to see a lot more, without wasting time getting lost. These guides are locals, they are very knowledgeable people that have lived and worked  in the medina and know it like the back of their hand.
Then you'll know what to expect, and going out on your own will be a pleasant experience rather than a frustrating one.
We arranged for a guide through our riad. He took us out for 3-4 hrs and showed us the highlights of the medina. He shared a lot of interesting facts and tid bits about the places we saw and the areas we visited. Without him we would have missed out on so much.
Absolutely worth it!
A sketchy entrance to our lovely riad….the outside gives nothing away…you must enter to discover the beauty within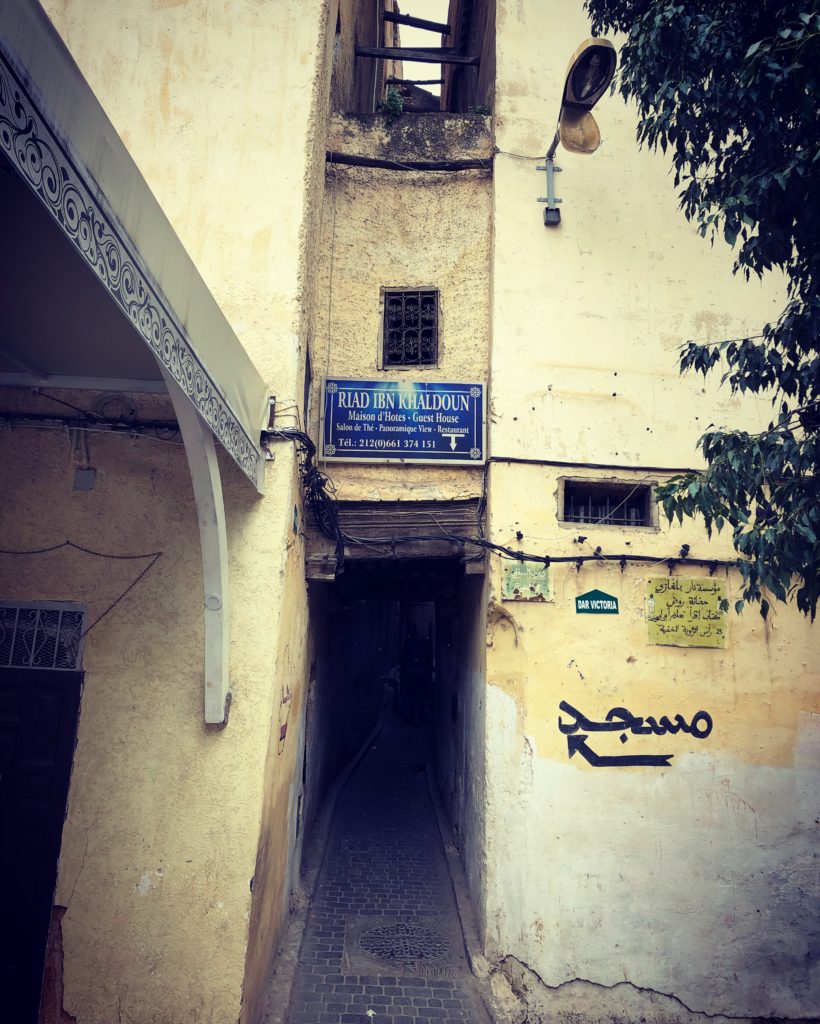 Some things to know about Fez and the medina
This is the largest pedestrian only area in the world. There are no motor vehicles allowed inside the medina because the streets are simply much too narrow to accommodate them.
You will see working animals such as donkeys, doing the work of pulling carts and carrying heavier loads, as well as men pulling carts by hand or on bikes.
Interesting to know…the famous red Fez hat bears the name of the city because the red dye was produced here. Originally it was worn as a protest against the French occupation, however it is now worn only by the king and royal court.
Hello there little donkey friend…taking a well deserved work break
The original Pop-up shops!
Exploring the Fez medina
This a working medina, people go about their lives here, much as they did a hundred years ago (minus the cell phones in their hands of course). So much of what you see around you has remained unchanged for centuries.
The whole area is actually divided into a variety of neighborhoods with their own specialties.
The markets, known as souks here, sell an amazing assortment of items. There's a textile souk, a wood souk and a leather souk.
The shopkeepers and artisans use very old methods to create many of their wares and often come from families that have been doing the same for generations.
So many stands like this one, selling an assortment of olives and other goodies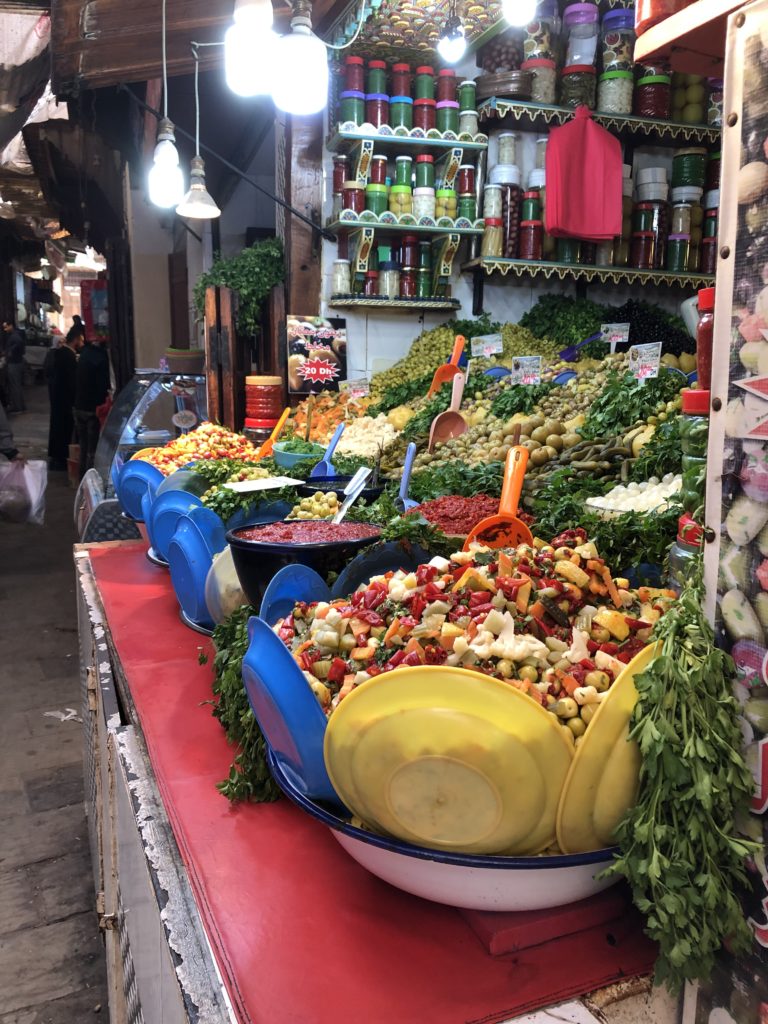 Camel meat stall
This camel meat butcher was an unexpected sight for us, but it's completely normal here. If you're curious to taste it, look for the camel burger found on the menu in the local restaurants. I have to admit it wasn't very high on my must-do list so it didn't happen.
 Beautiful ornate lights in the copper + metalworks souk


A textile shop where beautiful scarves and throws woven from cactus threads are made

The tannery…a smelly but fascinating stop
You absolutely must visit the oldest tanneries in the world!
The viewing terraces are found inside the leather shops nearby. Our guide brought us here thankfully, as finding it on our own through the maze would have been tricky at best. He left us with one of the store employees, who gave us the tour and explained what we were looking at.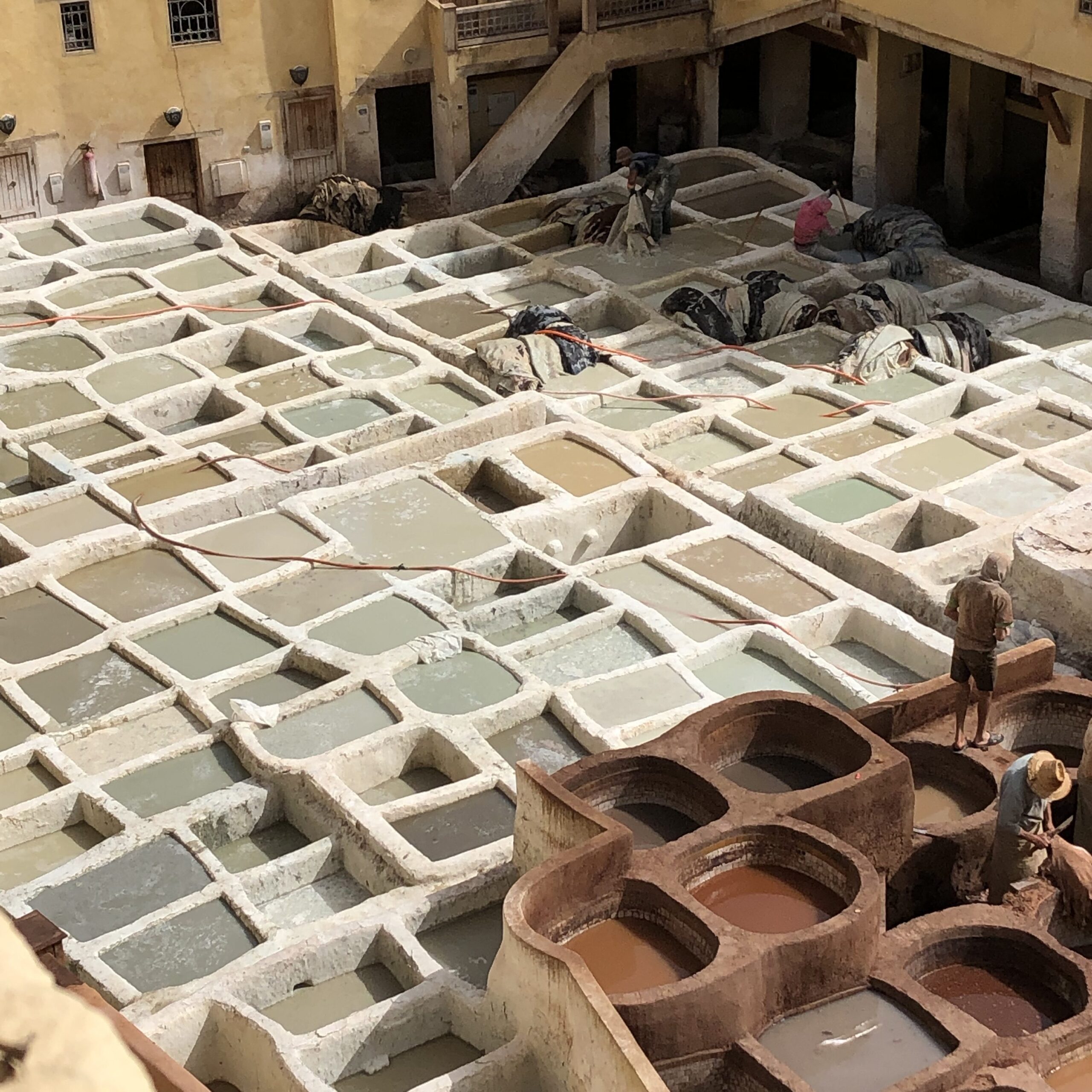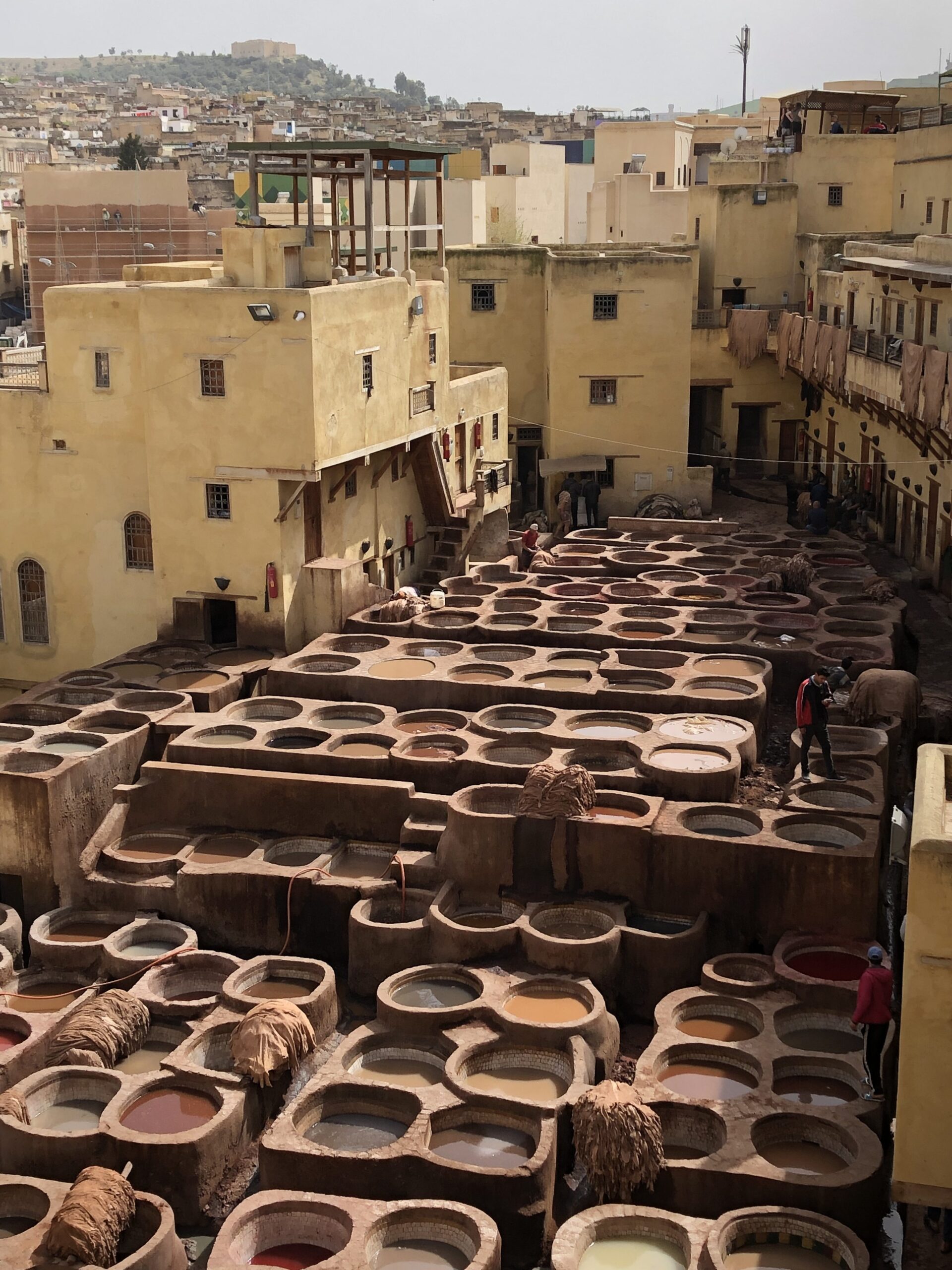 A word of warning, this is a stinky experience!  But don't let that deter you, it's fascinating and worth a visit.
We were given a sprig of mint, to be held under the nose if the smell became too strong for us.
Did we need it? Hell ya! Not the entire time mind you, but when the putrid odor hits you it's an attack to the senses and the mint was definitely helpful.
From the vantage point of the viewing terrace overlooking the tannery you can watch the process that leather is put through before it becomes the beautiful and colourful items sold in the shops. The skins need to be cleaned, softened and dyed. This method is thousands of years old, and the dyes are all made from natural products.
By the way, the horrid smell comes from the white vats where the hides are cleaned. They contain a mixture of salt, water, pigeon poo and cow pee….yes you read that correctly!
Of course the shops are hopeful that you will buy from them, and they offer an incredible assortment of leather goods such as bags, jackets, shoes and traditional pouffs, those round ottomans. I regret not buying a few more things, like a purse or the slippers…seriously, if you see something you want  just buy it.  Finding that shop again is highly unlikely and, while items might appear similar, so many are one of a kind.
Slipper heaven…I wish I had bought a pair or two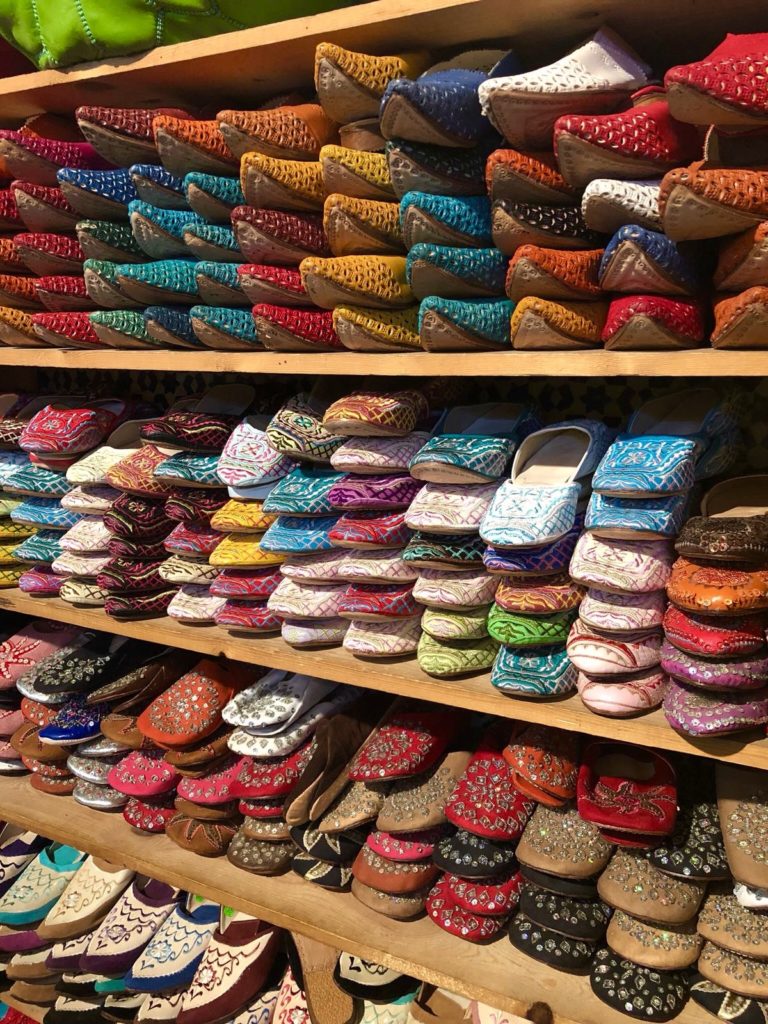 Al Quaraouiyine …the oldest university in the world
Founded in 859, the  oldest continuously open and still active university is also a mosque and therefore, as non Muslims, we were not allowed to enter, but were able to take a peek through the doorway.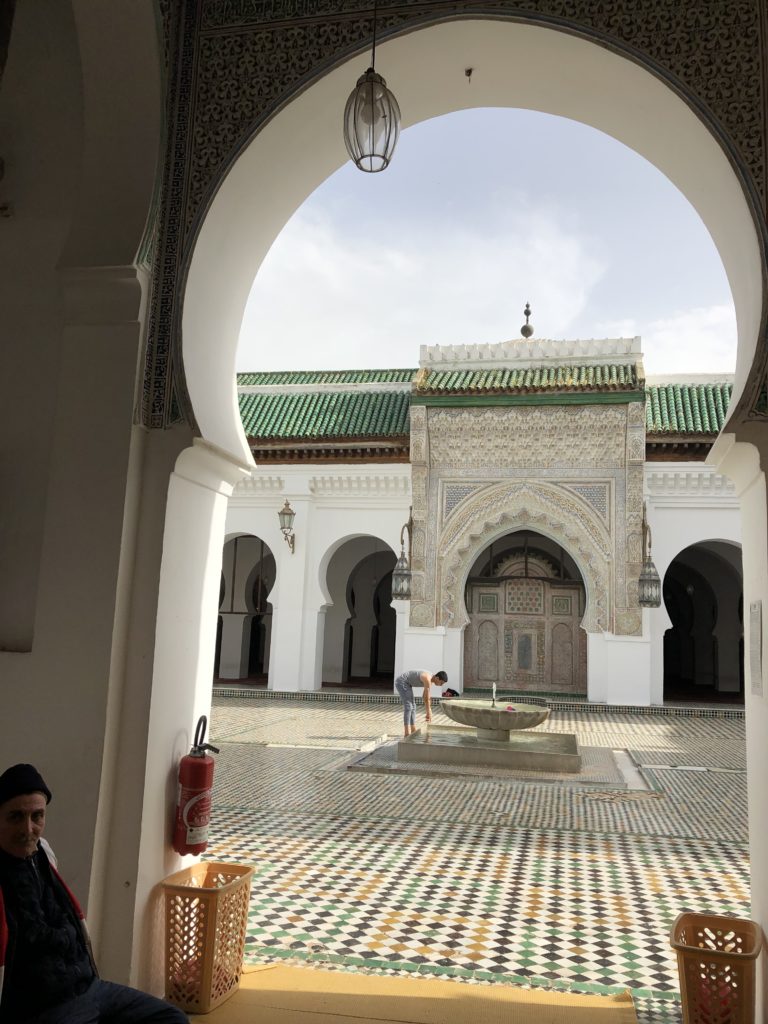 The Fez River was originally called the Oued Al Jawahir which means River of Jewels

Zaouia Moulay Idriss II
As with the other important places here in the Medina, this shrine is hardly noticeable from the outside. However a peek through the doorway reveals the beautiful and very ornate shrine dedicated to the founder of Fes.
It was completed in 1824 and since then Muslims have been visiting with the belief that this place brings good luck, especially to women hoping to have children.
Al Attarine Madrasa…beautiful woodwork and stucco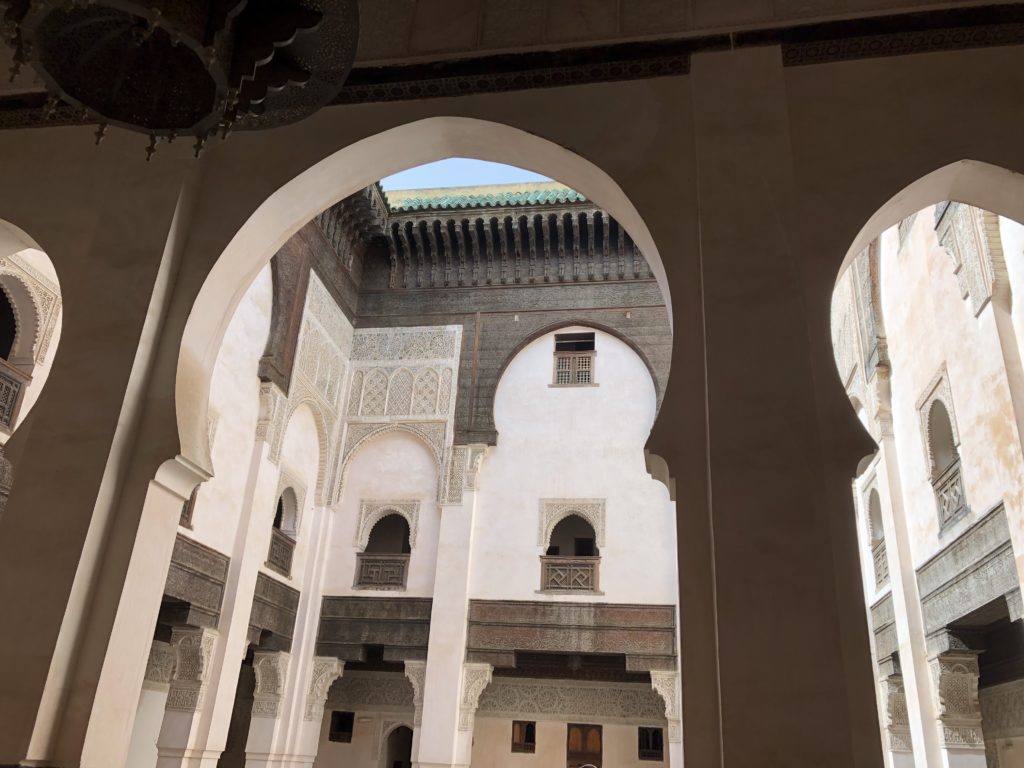 Bab Bou Jeloud…the blue gate
This is one of the well known entrance gates into the old medina. Its beautiful tile work is blue on the entrance side and green on the other.
One of many gorgeous doorways in Fez

8 Tips for the best experience
I highly recommend giving yourself 2 days to explore as this Medina is huge and the sights of interest are spread out. You will find it hard, and tiring to see them all in one day.
On your first full day hire a guide and let them show you the highlights.
On the second day go out and explore the points of interest that are further out such as the royal palace, either with a guide again or on your own, and perhaps spend some time shopping for all those great local handicrafts.
Wear your most comfortable shoes (no heels and flip flops). The streets of the medina are cobbled and uneven, not to mention dusty and dirty.
Leave your big purse or bag behind and take just the necessities in a cross body bag or fanny pack. Many alleyways are incredibly narrow and the medina is a bustling place so keep your valuables close.
Bring a bottle of water with you when out on a guided tour. There's a lot of ground to cover so don't expect to be stopping to eat or drink. They are trying to make the most of the hours you are paying them for, but it's definitely something you can plan with them if you wish to.
 Most times, from my experience and that of others who have taken similar tours, the guide will stop at a shop or two and give you time to browse. I do believe they bring you to very specific places and likely get a cut of any purchases. If shopping is not something you want to do just let them know and they will move on. Do not feel pressured to buy anything you don't want. On the other hand if you are looking for something specific, talk to your guide about it and they will help you out.
With regards to shopping, haggling is a way of life here, and is absolutely expected. Inform yourself on the going price of things you have your eye on and you will be well equipped to bargain successfully.  But please remember to do a quick exchange in your head while fighting for that extra discount. Often it's such a small amount that it really is not worth pursuing and these folks do need to make a living after all. Take advantage of having your guide with you and ask lots of questions, so that when you go out the next day on your own, you are well prepared to shop your little heart out.
Traditional riad decor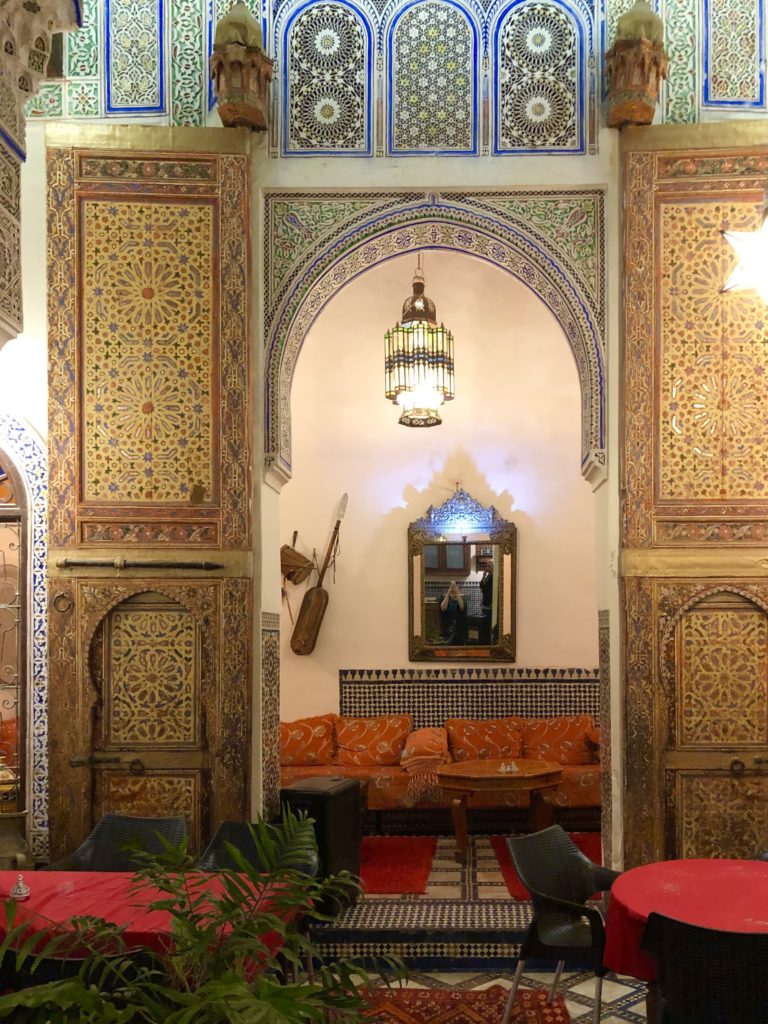 The thing I loved most about having a guided personal tour was seeing the medina through the eyes of someone who actually lives here. Sure he gave us the tourist view to a certain extent, but being able to ask questions and chat about daily life with a local really elevates the experience.
We didn't have time to explore much on our own the next day, which I regret. But still, I left with a sense of having experienced an authentic day in the medina. It was wonderful.
Fez is a great getaway point to other destinations in Morocco, with train service to Rabat, Casablanca and Marrakesh.
Make Fez your base city and you can easily see other interesting places nearby. Visit the ancient city of Volubilis, the fortified city of Ait Benhaddou ( used as a filming location for Game of Thrones) and the blue mountain town called Chefchaouen (read more about that HERE).
Orange trees line the tracks at the Fez train station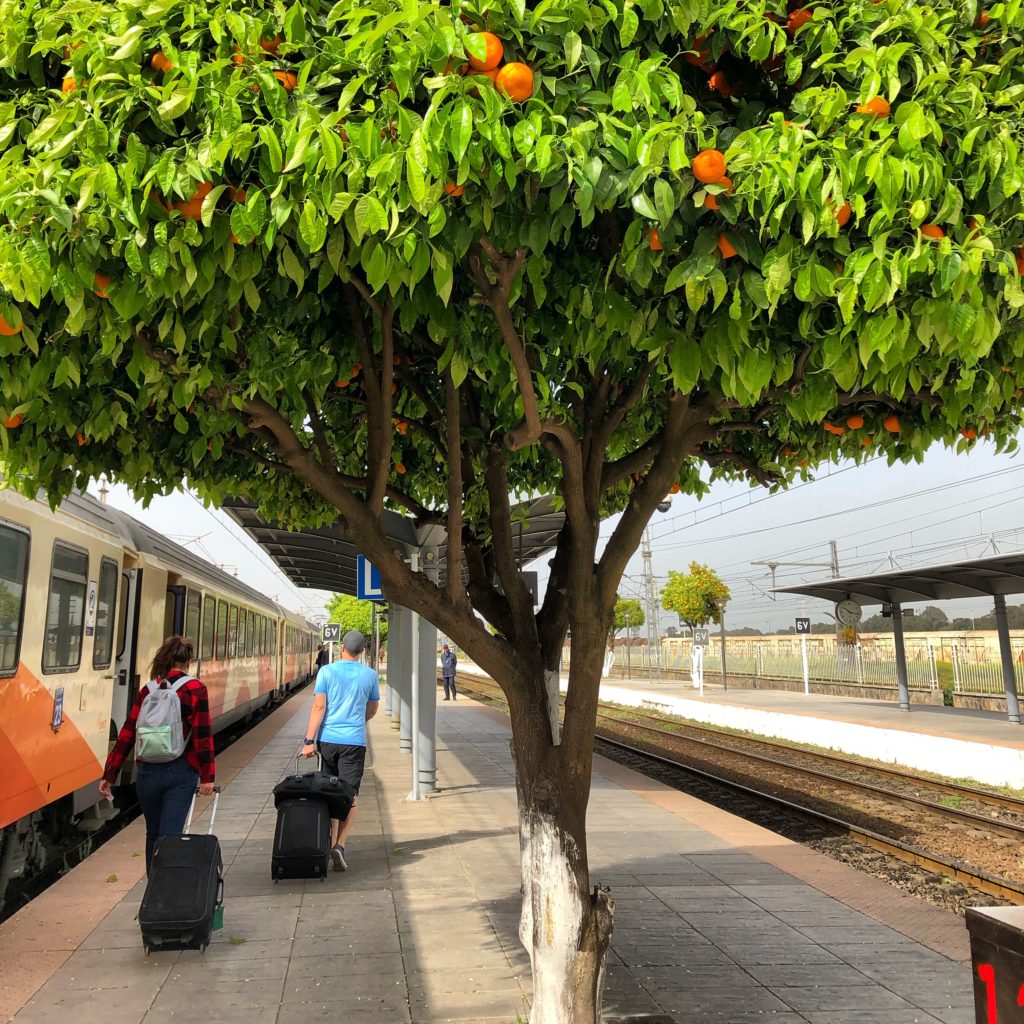 THIS POST WAS FEATURED AT:
FIESTA FRIDAY #301 @ Fiesta Friday
,center>
Please follow and like us: