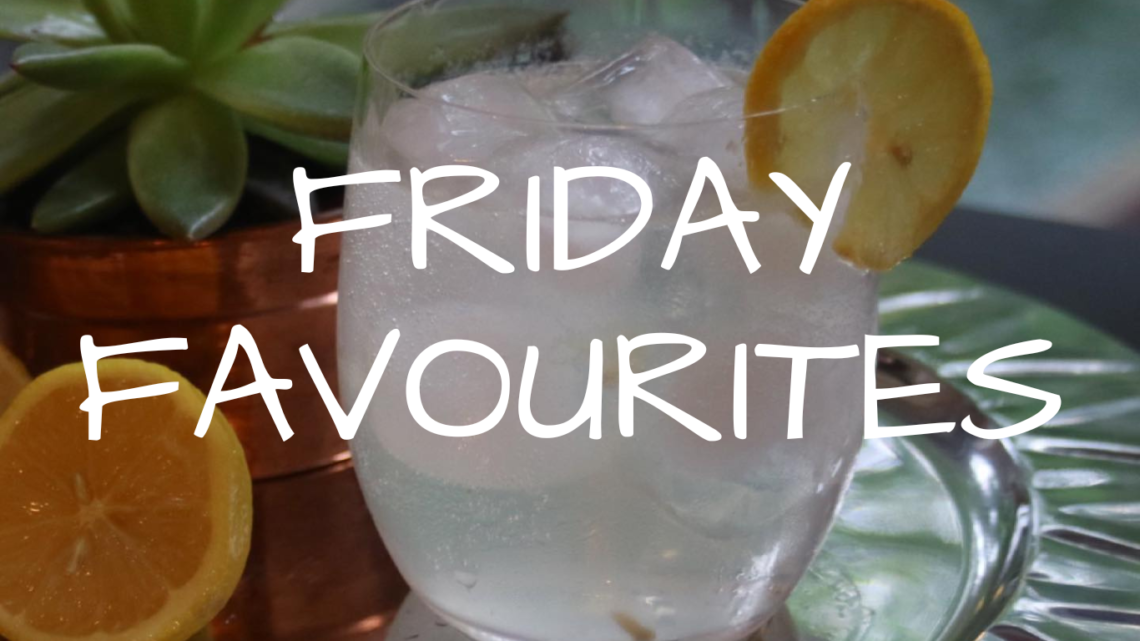 We made it through another week my friends and I hope yours was enjoyable.
I've spent a lot of time in the garden in the last few days trying to get things in order, before it gets too hot out there.
Doing a little bit every day, squeezing it in before I head to work, and being careful not to strain my back again.
It's a slow process, but I'm getting it done.
Take a look through my finds for the week and here's hoping your weekend is filled with sunshine and laughter.
What are Friday Favourites?
Every Friday many blogs and websites share a post about their "Favourite" finds for the week.
These finds might include a newfound recipe, home gadgets, interesting Amazon finds, a personal experience, a song, book or TV show, a useful app or maybe a newly discovered neighbourhood restaurant.
The possibilities are endless, obviously.
Because let's be honest, there's so much out there that it would be impossible for one person to discover it all, on their own.
And that's the whole point.
Honestly, I love the idea, because it's such a great way to spread the word about things that deserve some recognition, or simply help you to enjoy life a little bit more.
So without further ado, here's what I'm loving this week….
My Friday Favourites this Week
Fave #1 ~ Caramel Pecan Cheesecake
This is the recipe that caught my eye this week.
I found it on the blog COOKING WITH CARLEE and I've been dreaming of making it ever since.
The funny thing is that although I do enjoy a good cheesecake, it is not one of my favourite desserts.
But a good picture can make you crave just about anything. LOL
It just looks so creamy and delicious. I can almost taste it.
You can find the recipe HERE.

Fave #2 ~ Multitude… an Album and Tour by Stromae
If you haven't discovered Stromae yet, you need to.
This Belgian singer is fantastic, and his newest album Multitude is my new favourite.
I was really looking forward to seeing him in concert in Toulouse this fall, but unfortunately we just found yesterday that he's had to cancel all his remaining shows.
Darn it! I'm so sad.
Especially because the reason for the cancellation is that he's suffering from mental and other health issues.
Sounds like he really needs the break, but it's heartbreaking to hear.
We don't think much about what these entertainers put themselves through in order to present us with these amazing shows all over the world.
They make it look so easy, but obviously it is not, and  it takes its toll, not only physically but also mentally.
Hopefully he recovers soon, cause he's fabulous and I'd love to see him sing live one day.
Fave #3 ~ Unstable 
I started watching a new series last week, on Netflix.
It's called UNSTABLE and stars Rob Lowe and his real life son John Owen Lowe, who happens to play his son on the show.
The premise…
A biotech genius tries to bounce back from the depths of grief with help from his son, who works to escape his dad's shadow and save the family business.
Sounds rather serious but it's actually a comedy.
Now I will admit that I started watching the show because of Rob Lowe.
He's a handsome man, what can I say. A pleasure to watch. LOL
And he was in a Christmas movie a couple of years ago that I really liked, called HOLIDAY IN THE WILD, so I was happy to see him in something new.
I'm enjoying the show, but I'm not too far in yet, as I am not a binger at all.
In fact it takes me forever to get through a series.
And there's currently only one season, so I don't want to go through it too fast.
The bad news is that, thanks to the writer's strike going on in Hollywood, filming and writing has been suspended for season 2.
We shall see what happens…
Fave #4 ~ iPhone 13 Wallet Case
I've had several people ask me about my iphone case recently, so I thought I'd share it here also.
It's a fantastic case and I'm really happy with it.
Not only does it hold the phone safely, but the phone can easily be removed from the wallet case because it's held in place by a strong magnet.
I love this feature, because I use my phone as a camera a lot and the wallet would otherwise get in the way.
The wallet side of the case holds 6 cards, plus it has another pocket  for some extras, and it comes with a wrist strap.
The bonus of this case is that it also has a zippered compartment for keeping a couple of bills and coins.
I find this to be very useful, as it's handy to have a bit of cash with you always and a coin for the shopping carts (I hate those carts but you've got to be prepared).
It is also available in other sizes and colours, and it's reasonably priced.
If you are searching for a new case, I highly recommend this one.
Click on the image below for a link to the amazon site with lots more info.
Fave #5 ~ Trader Joes Meyer Lemon Cookie Thins
I'm going across the border for some USA shopping tomorrow, and one thing I will be coming home with (I hope) is these cookies from Trader Joe's.
They are delicious!
These very thin cookies are quite simple when it comes right down to it, but the lovely and light lemon flavour makes them special.
If you haven't tried them I suggest you run to the nearest Trader Joe's and get yourself some.
That's all for this week's Friday Favourites.
Let's see what the next 7 days bring.
,center>
Please follow and like us: