Instant Pot Lemon Shrimp Orzo
Been dreaming of Greece all week long thanks to a Facebook feed that won't stop teasing me with photo memories!
I was there this time last year and I thank my lucky stars that I was able to take part in such a wonderful trip before the covid craziness started.
We saw a lot, the weather was outstanding and we ate so well every day.
Greek food is delicious!
It's strange because it seems like it all happened yesterday and yet it also feels like a lifetime ago. So much has changed in such a short time…
To keep those memories alive and kicking, I have been topping everything I can with Feta cheese!
Yes I have!
Go ahead and laugh, but you know what? Feta is delicious and it needs to be used on more than just greek salads.
Memories of authentic Greek Feta
But then again, this salad topped with super fresh feta was absolutely divine…
Now, I will admit that the quality of the cheese you buy here in Canada is not quite up to par with the fresh stuff I was feasting on for breakfast, lunch and dinner on the beautiful islands of Naxos and Santorini.
Something is missing. It's definitely not as creamy and the flavour is lacking.
Perhaps it's just that I don't smell that beautiful salty sea air with every bite.
How can it possibly compare with this dreamy setting….aaah to be back there right now…
But, hey, I am here instead, and making do with the feta available to me.
It's definitely tasty enough to make a simple dinner a little more delicious.
I like to use orzo pasta as a substitute in my rice dishes every once in a while, just to keep things interesting.
It works really well in this recipe, and the orzo cooks perfectly in the Instant Pot, very much like rice does.
Top this tasty main dish or side with a generous handful of feta cheese and a nice drizzle of good quality olive oil.
Enjoy enjoy…
*need to bulk up the dish for extra servings? you can easily double the recipe, and add some extra ingredients such as scallops (marinade and cook along with shrimp) and extra veggies such as chopped zucchini
What do you mean you don't like seafood?
Ok so you're not a fan of shrimp? I can't say I understand, but go ahead and substitute with a couple of small chicken breasts (cubed), it will be almost as good….wink wink
You don't eat fish or meat?
Hmm well alrighty then, I get it and don't worry, it's still doable. Just sub the shrimp with mixed vegetables, like peppers, zucchini, eggplant, broccoli and cauliflower (this actually sounds so good, I will need to try it) and marinate it + cook as per recipe.
I still say shrimp wins but who am I to judge…it will be different but still delish!
You don't own an Instant Pot or Pressure cooker?
I can't help you…move along…nothing to see here…haha
Ok but seriously why don't you own one? They are fantastic, you must get yourself one! I suppose you can still make this recipe on the stove in a pot, saute veggies and shrimp, then add orzo, herbs, etc and a bit of the broth, keep cooking allowing orzo to absorb broth before adding more, keep at it until orzo is cooked (you might need more than a cup of broth)
*If you want to take a dreamy armchair trip to Greece check out this post:
 Instant Pot Lemon Shrimp Orzo
here is the printable recipe…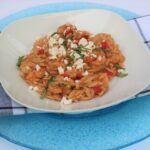 Print Recipe
Instant Pot Lemon Shrimp Orzo
Ingredients
10-14

medium to large shrimp (deveined, shelled)

both fresh and frozen work without changing recipe instructions

2

tsp

olive oil

2

tsp

lemon juice

1

clove garlic

minced

1/4

tsp

dried parsley

or 1 tsp freshly chopped parsley

a few dashes salt and pepper to taste

1

tbsp

olive oil

1

medium onion

diced

1

medium red pepper

diced

1/4

cup

white wine

(optional or sub with a bit more lemon juice)

1

cup

uncooked orzo pasta

1

cup

vegetable broth (or seafood/shrimp broth if you have it)

2

tsp

tomato paste

1

bay leaf

1/4

tsp

dried oregano

or sprig fresh oregano

a few sprigs fresh thyme

(or 1/4 tsp dried thyme)

2

tbsp

unsalted butter

1 1/2

tbsp

lemon juice

1/4

cup

crumbled feta cheese

or more to your liking
Instructions
Rinse shrimp under cold running water.

Pat dry and toss in a medium bowl with olive oil, lemon juice,garlic, parsley, salt and pepper.

Set aside.

Press SAUTE button on Instant Pot, add oil and heat until screen reads HOT.

Add diced onion and pepper, cook 2-3 min until softened, stirring often.

Add shrimp with the marinade and cook 2 min more, stirring well, then add wine and cook another minute more , stirring often.

Press CANCEL.

Add orzo noodles, broth, tomato paste, bay leaf, oregano and thyme and give it a good stir.

Lock on lid and turn pressure valve on lid to SEALING.

Press PRESSURE COOK and adjust timer to 5 minutes.

When time is done, allow timer to run another 10 minutes to Natural Pressure Release.

Press CANCEL.

Carefully turn valve on lid to VENTING to release any remaining pressure.

Open lid, remove bay leaf and the fresh herb sprigs if you used them, then add butter and give everything a really good stir until butter has melted.

Stir in lemon juice, taste and adjust salt and pepper to your liking.

Serve topped with crumbled feta and a bit of chopped basil, plus another squeeze of lemon and a drizzle of olive oil.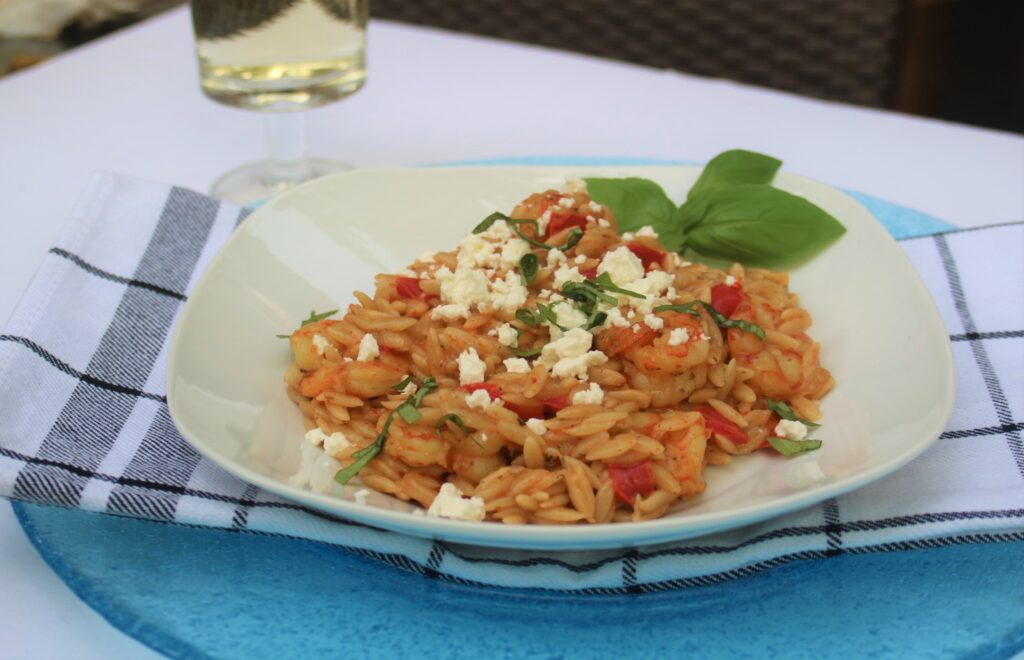 Looking for gift ideas? Check out these amazon finds
,center>
Please follow and like us: