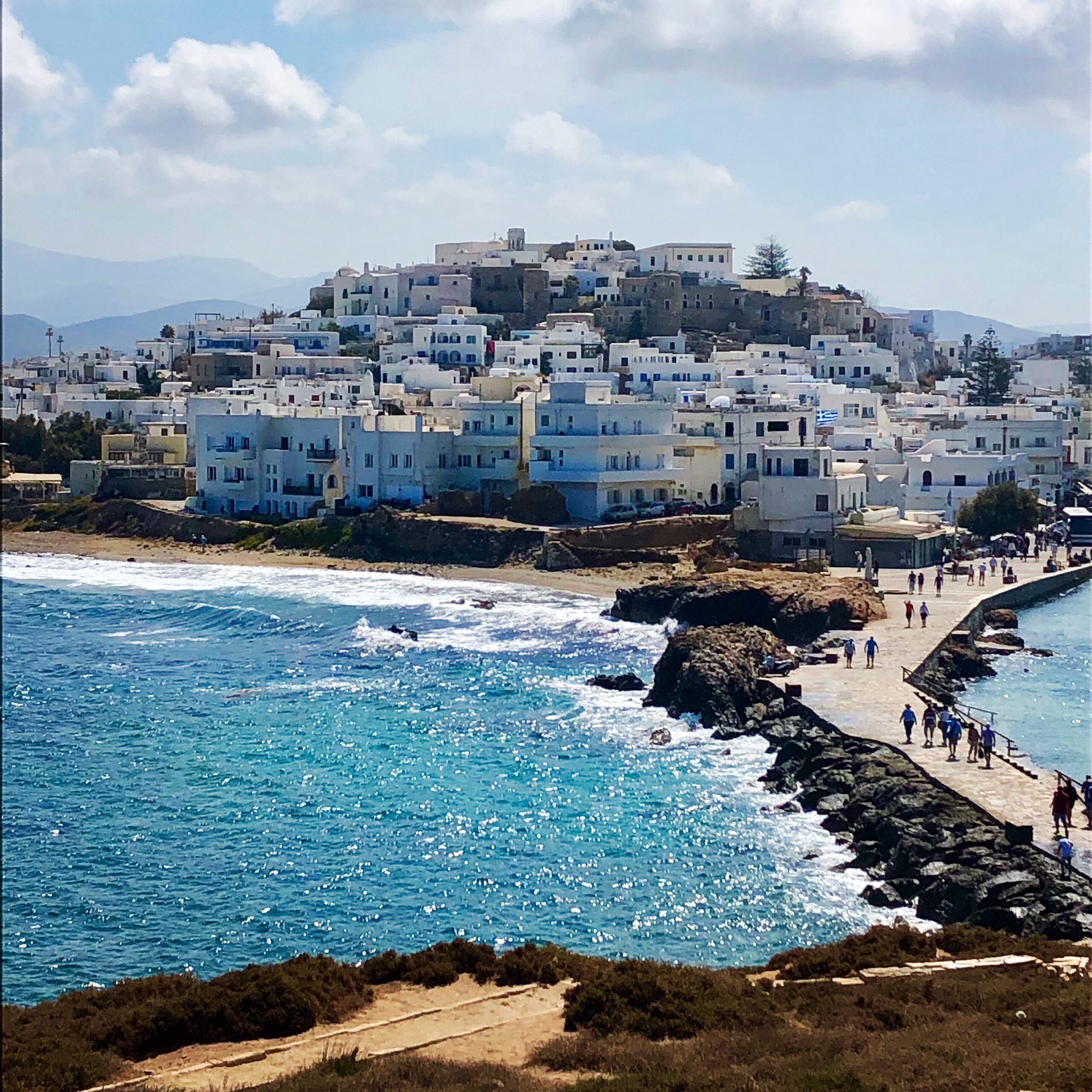 Naxos Island Greece ~ What to See + Do + Eat
I had never heard of Naxos before planning this trip.
Hard to believe perhaps, but it's true.
In fact when I told friends where I was going, they were as unfamiliar with this Greek island it as I was.
That's quite surprising, considering that Naxos is the largest island in the Cyclades archipelago. But, because it's not a cruise ship port, it has kept a lower profile when it comes to tourism.
And that my friends, is exactly what makes Naxos a perfect choice for your next vacation to Greece.
WHY YOU SHOULD VISIT NAXOS
If you're looking for a more authentic Greek island experience, a place where you wont be fighting your way through streets crowded with tourists, then this island is for you.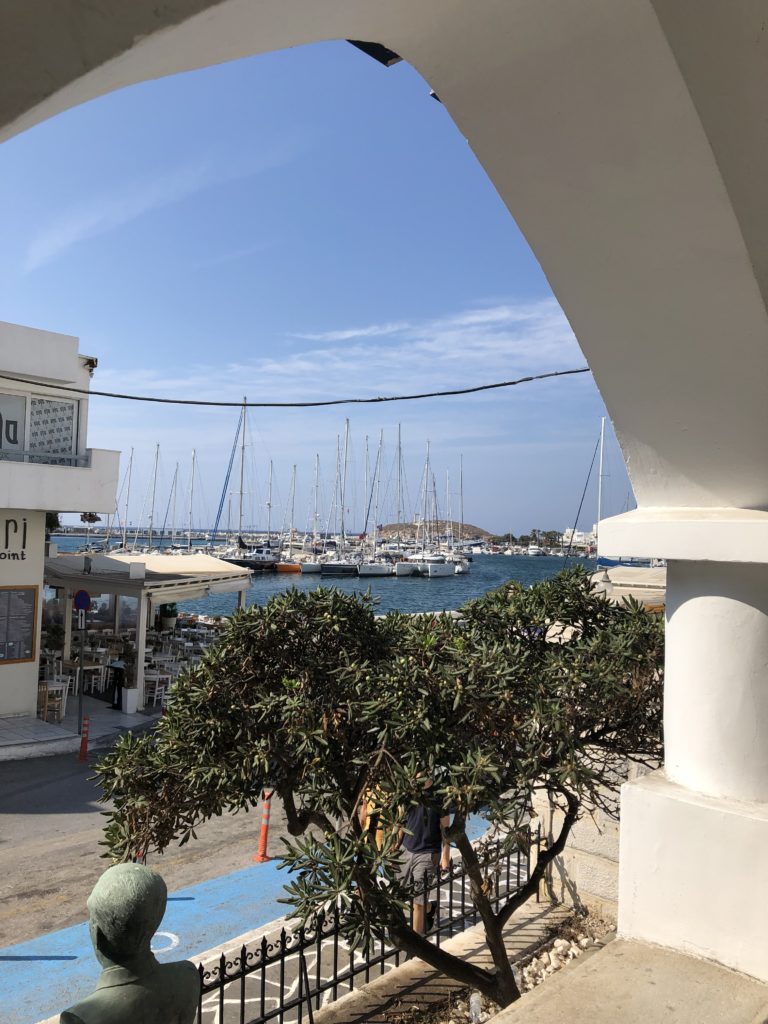 Naxos is truly a wonderful place to come and relax, take in the sea and sun, eat delicious Greek food and simply enjoy life.
We loved it!
There are no large resorts here or fancy signature hotels. However there are a variety of price points that cater to everyone, including those looking for a bit more luxury. Our accommodations were simple but very comfortable and perfectly situated.
Let me tell you that we barely scratched the surface as far as exploring this amazing island.
Our 3 day visit was definitely too short for any adventures. It was long enough though to see the potential for a very well rounded vacation here, and certainly gave me a pretty good idea of what this island has to offer.
But we really did miss out on a lot.
I will need to return, there's no question about that.
Naxos really does have a lot to offer. Here's a short list:
Sandy beaches and crystal clear blue waters
Secluded beaches and interesting seaside places to explore
Authentic greek villages, olive groves and vineyards
Boat tours and day tripping to nearby islands such as Delos, Paros, Santorini and Mykonos
Ancient archaeology and history. See the Portara, Kouros Statue, the marble village of Apiranthos. The sites are not as spectacular as the acropolis in Athens but are still interesting and worthwhile.
Hiking to interesting places such as the highest point in the Cyclades, Mount Zas.  Mythology tells us that this is where the greek god Zeus grew up.
Traditional and very delicious greek food and lots of fresh seafood
Budget friendly, affordable accommodations and food…definitely less expensive than some of the more popular islands like Santorini and Mykonos
Honestly, there are so many great reasons to visit Naxos, you won't be disappointed.
WHERE: The island of Naxos in Greece
WHEN: mid September
WEATHER: mostly sunny with temps in the mid to high 20s celsius + sea water temperature was a cool low 20s celsius
WHAT TO SEE IN NAXOS
NAXOS TOWN (CHORA)
If you are taking the ferry to the island, then the port of Naxos Town is where you will arrive. This is the capital of the island and well equipped as the arrival point for your visit to Naxos. Everything you need is here, including banks, a hospital and stores of all kinds.
Naxos Town is a unique place because of its mix of Cycladic and Venetian architecture, including a proper medieval Venetian Castle, Kastro (presently under restoration).
Put aside several hours to visit the old whitewashed town and walk around the narrow winding streets. It's all very charming, and you will want to stop and enjoy lunch or dinner or perhaps just an ice cream at one of the many small restaurants and bars around here. Take advantage and do some souvenir shopping here, there's lots to choose from. This area is definitely tourist oriented but very enjoyable.
We were tipped off by a passing tourist, to follow the signs pointing to the 1739 Cafe. She told us the view from the terrace was fantastic. It turned out to be a worthwhile trek, as the vistas from up there were indeed wonderful, and free (you don't need to sit down and buy a drink).
There is a beach area close to the town as well, called Agios Georgios. It's popular with visitors who want to stay in Naxos Town, but not as pretty as other beaches on the island.
PORTARA
You will catch a glimpse of this huge marble gate as you arrive by ferry into the port of Naxos town. It sits prominently on its own small island which is connected by a causeway to the main town and the pier area. The Portara, which means big door, looks so much smaller from a distance than it actually is, and it's only when you walk out to the site that you see that it's really quite impressive.
Surrounded by deep blue waters, this interesting archeological site basically consists of just the large doorway. Unfortunately that is all that's left of a temple believed to have been built to honour Apollo. It was never completed. The wind was quite strong when we visited and I suspect it's like that more often than not, so be prepared for wind swept hair in your photos.
Centuries ago there was more to this temple than what you see today. Unfortunately during the years when Venice occupied the area, the Venetians here deemed it necessary to build themselves a castle in Naxos Town, and conveniently used the marble slabs from the temple to do so. The arch was too large and heavy to transport and was, thankfully, left behind.
The water by the causeway is incredibly clear and very inviting. I regretted not wearing my bathing suit under my clothes. I would definitely have gone for a swim there.
We visited during the day and it was beautiful. But rumor has it that it's a wonderful place to watch the sunrise and sunset. I certainly can imagine that it is!
THE BEACHES
Not surprisingly there are many beaches here. Some are well equipped with loungers and umbrellas, washrooms and nearby restaurants and accommodations. Others, the most beautiful ones from the sounds of it, are off the beaten path and take some walking and exploring to be reached.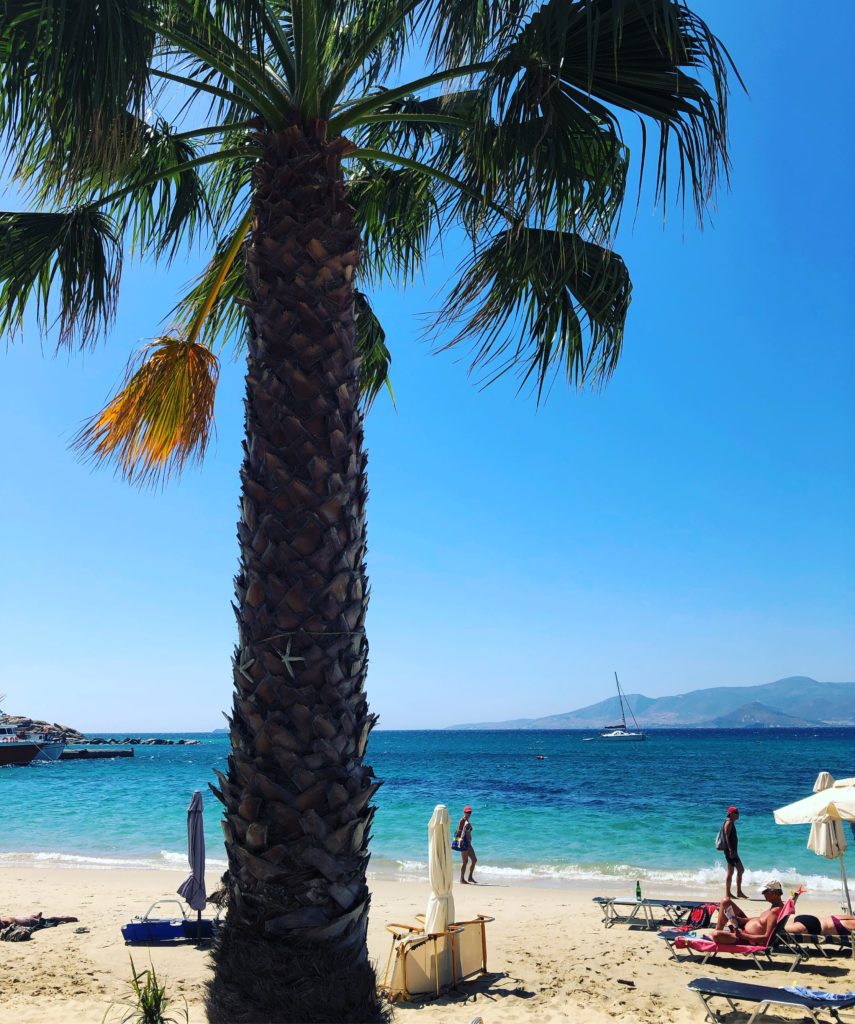 Agia Anna Beach
Our home for the three days we were in Naxos was at Agia Anna Beach. The coach bus from the pier dropped us off in front of our hotel which was incredibly convenient.
Our hotel was across the street from the beach, but with the road being quite narrow it was actually a short 1 minute walk to the beach from our rooms, and super easy to reach.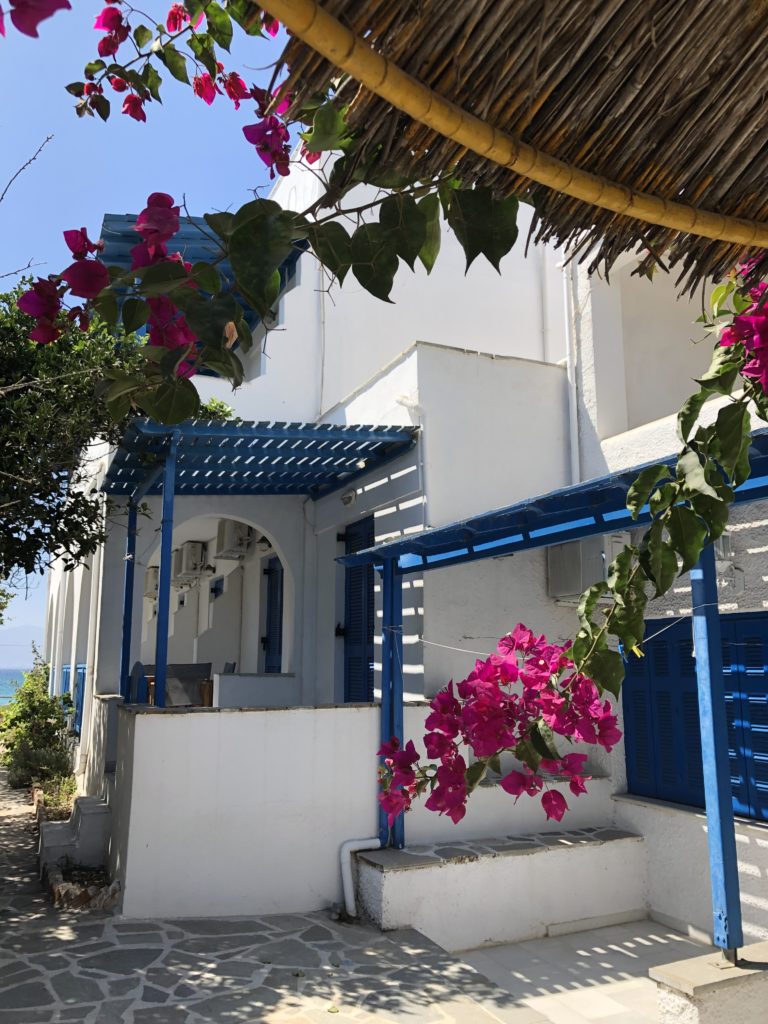 Lounge chairs and beach umbrellas sat out on the beach, day and night. Presumably they cost money to rent for the day. However we used the loungers and never did find out if there was a charge, as no one approached us asking for any money.
The sand here is golden and the sea is crystal clear. The water however was definitely colder than we had anticipated. Not sure if this is normal for September. You couldn't keep me out though, I still went in! Well…I ran in actually, but it was worth it as I quickly acclimatized and I enjoyed the swimming very much.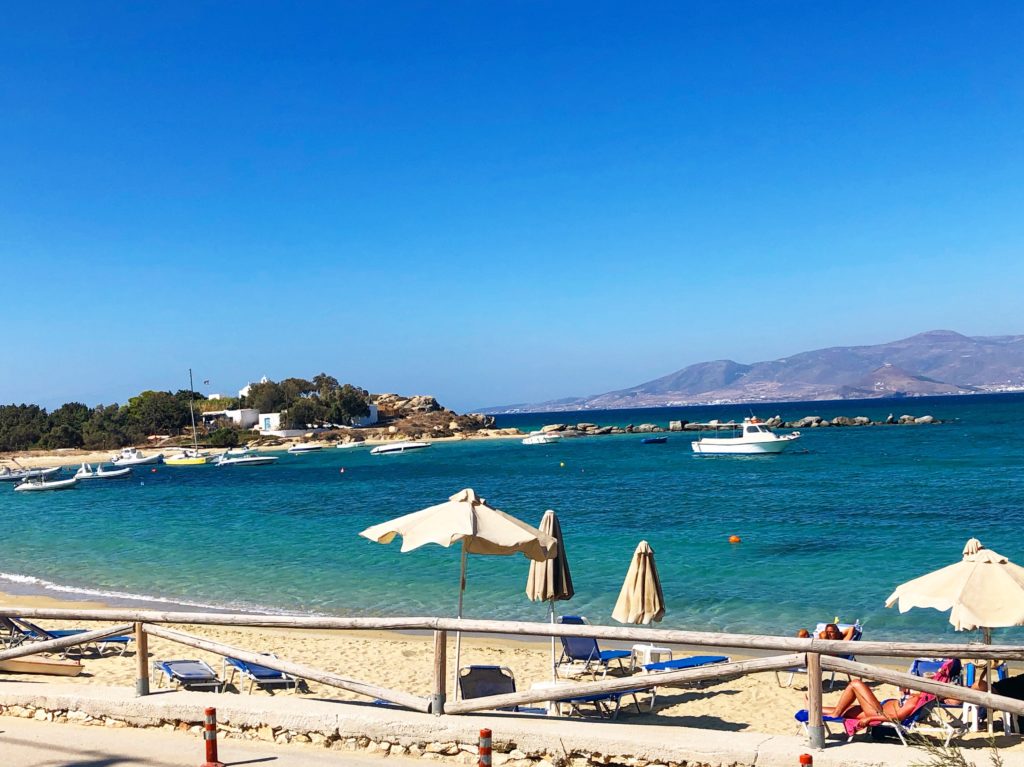 OTHER BEACHES
There are other beautiful beaches to explore on both sides of Agia Anna Beach. On one side, you will find the popular Agios Prokopios Beach, offering all the amenities you need, including water sports, beach side food and cocktails, loungers and umbrellas. It's a very popular and family friendly beach.
On the opposite side the walk is a bit more adventurous. You will come across some interesting rock formations that make for great photography.
Keep on walking and you will come across a tiny church called Agios Nikolaos. I couldn't find any information on this small Greek Orthodox church and it was closed to visitors, so unfortunately its secrets remain untold. Take a moment to stop and admire the view from here, it's lovely and worth the walk.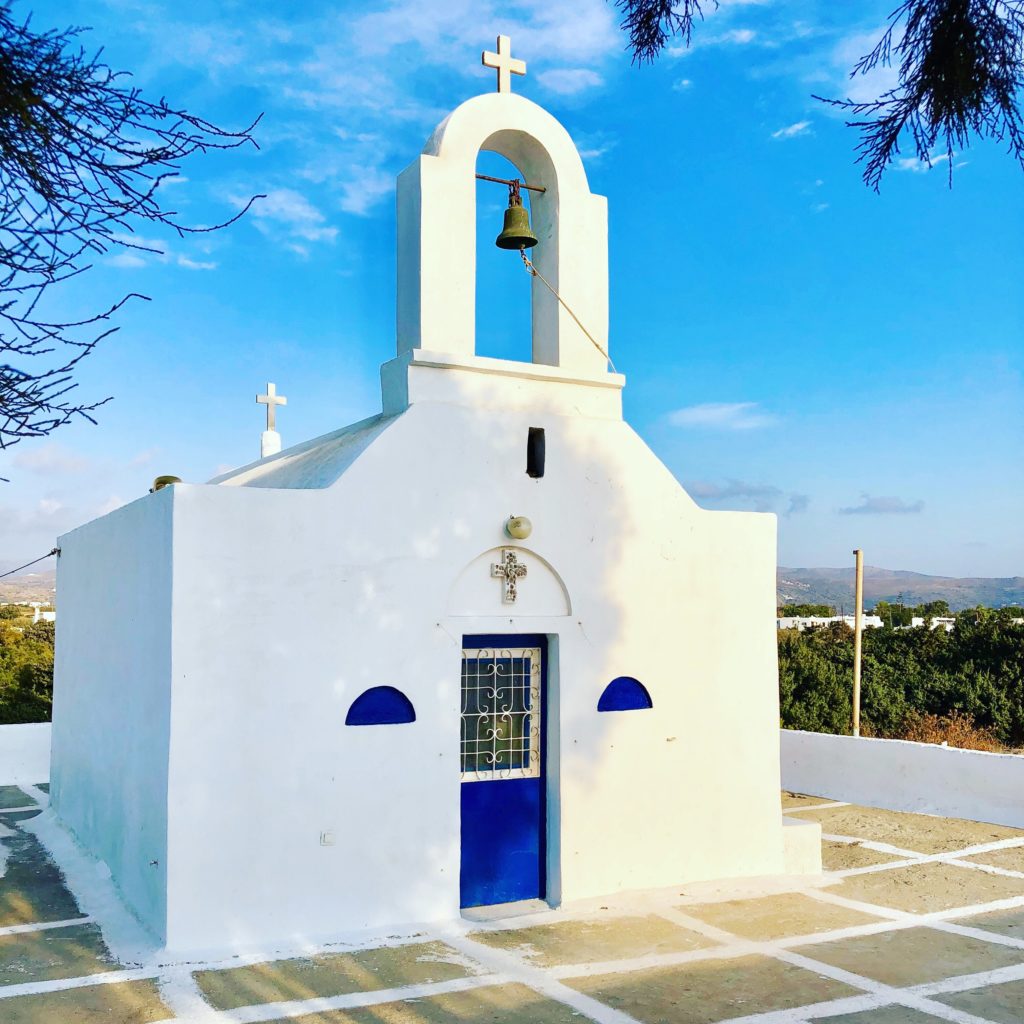 Continue onward down the path and through more rocky shoreline, and at some point you will find yourself staring at a naked body or two, or more…that's when you know you've arrived at the nudist beach. Sorry but no photos of that, you'll have to use your imagination!
We walked a bit further, but not much, then turned around and headed back. Had we known what lay further ahead, we would have continued on. One of the most beautiful beaches on Naxos called Plaka was just a tad further down. I'm sad we didn't know about it and missed it.
Honestly when it comes to the beaches here, we saw very little, although we enjoyed every second of what we did see.
I'll say it again…3 days is not enough on this island!
The whole area is beautiful for strolling during day and evening, and feels very safe. Oh, and the sunsets are not too shabby either.
WHAT TO EAT IN NAXOS
The food on this island is delicious! We did not have one bad meal!
There are so many places to choose from, along the beach and along the main road. As you peruse the posted menus you will quickly realize that they offer very similar dishes, and at comparable prices, so it's kinda hard to choose. But having said that you probably can't go wrong. Most of them have a great seaside view and are very inviting.
I stuck to some of the more typical greek dishes, simply because after eating them once, I wanted to savour them again and again! LOL everything was just sooo delicious!
Here are some my favourites that I recommend you try…
Moussaka is a layered casserole made with a base of potatoes, a layer of fried eggplant, a layer of meat sauce and a topping of bechamel sauce and cheese. It'd divinely delicious and I indulged on several occasions…all made slightly different but all so darn good!
Pastisio is another casserole dish, but this one is layered with penne pasta, meat sauce and bechamel….creamy and divine!
Chicken or Pork Gyro in a pita is a very typical greek offering,  it makes a great lunch choice and it's cheap too! It consists of a greek pita topped with meat shredded from the large gyro rotisseries you will see roasting and spinning at many restaurants along the road. The meat is incredibly flavourful and well seasoned, and it's then topped with tomatoes, tzatziki sauce and a few french fries, then folded into a cone shape and wrapped for easier handling. A definite favourite with our group.
Greek Salad is familiar to many of us, but did you know that a real Greek salad has no lettuce, unlike the salads you might be accustomed to being served in Canada or the US. It simply consists of chopped tomatoes, cucumbers, red onion, olives and a generous serving of feta cheese and olive oil. I have to tell you that the tomatoes and feta were absolutely delicious here.
For a variation on the traditional salad try the Dakos Salad, which has no cucumbers and is served over a slice of Rusk bread.
Souvlaki makes a great meal. You will get a choice of beef, pork or lamb and this well seasoned,delicious and tender meat is usually served with a side of rice, potatoes and some tzatziki sauce.
PS…the local beer is great tasting and very refreshing!
*for an easy and delicious greek inspired dish you can make at home check out this recipe:
A restaurant recommendation…
Kavourakia Grill
We ate at the larger location on the main road at Agios Propriakos Beach several times. You can't go wrong with a lunch of a chicken gyro in pita for only 2.80 euros. Outdoor seating facing the beach made the food that much more delicious and satisfying, and the draft beer was a perfect accompaniment.
There are two locations, the one in the photo below is a bit further in on the side street, but they are owned by the same family.
They were a bit slow with the food…island time I guess, but overall it was a great lunch. And they also have ice cream and crepes for dessert.
You can't go wrong with a dinner on the beach…this is what vacation dreams are made of.

Citron is traditional liqueur that is made from the Citron tree which is similar to a lemon tree and has been cultivated in Naxos since the 17th century.
It's similar to Limoncello and it's famous in Naxos and popular across Greece.  Look for it and give it a try if you get the chance.
We, unfortunately, missed out on tasting it, because we didn't find out about it, until after we had left.
Sadness.
But, on the other hand, yet another reason to return.
SHOPPING
There are lots of typical island souvenirs that you can pick up and bring home easily.
The grocery stores sell packages of various types Greek olives, as well as small containers of local olive oil and even olive soaps.
Gift shops offer beautiful jewellery and trinkets featuring the blue Mati or Evil Eye. The colour is so striking and enough to lure you in. But once they tell you that the eye has the ability to keep evil glares and vibes from cursing you, well that's enough to sell you on it! Not gonna take a chance!
HOW TO GET TO NAXOS
You have two options for getting to the island: ferry or flight.
Ferry to Naxos
We opted for the 5 hour ferry ride from Athens to Naxos, on Blue Star Ferries.
We liked the idea of a mini cruise with time spent enjoying the sea breeze and the opportunity to admire the scenery. It was a very pleasant and smooth ride with both indoor seating (reserved, we did this) and outdoor deck seating available.
We booked our passage, checked in and got the boarding passes online, so it was very convenient and easy. If you reserve seats then you are inside with freedom to go out if you wish. If you don't reserve a seat then your seats are in general areas and outside on the decks, and open to all passengers.
We chose to travel in the morning, from the main port of Piraeus.
Getting there by subway was super easy, as you exit the station and it's just a short walk to the ferries.
I recommend you pop in to the bakeries along the way, and pick up some munchies and drinks for the boat ride.
There is food available for purchase on the ferry but I found that what we picked up at those small shops was much better.
The Spanakopita (spinach and feta in phyllo) and Tiropita (similar but with no spinach) were delicious and travelled well, not to mention they were very inexpensive.
Golden Star Ferries and Seajets can also get you there.
Flights to Naxos
The island  of Naxos does have a small airport with direct flights to/from Athens on Aegean and Olympic Airlines.
One of my friends met up with us and flew directly into Naxos from Athens. She had a good experience with no issues.
PIN ME FOR LATER
This post was featured at:
OMHGWW LINK PARTY @ Country Crafting & The Simple Life
This post was shared at:
Through My Lens @ Mersad Photography
,center>
Please follow and like us: