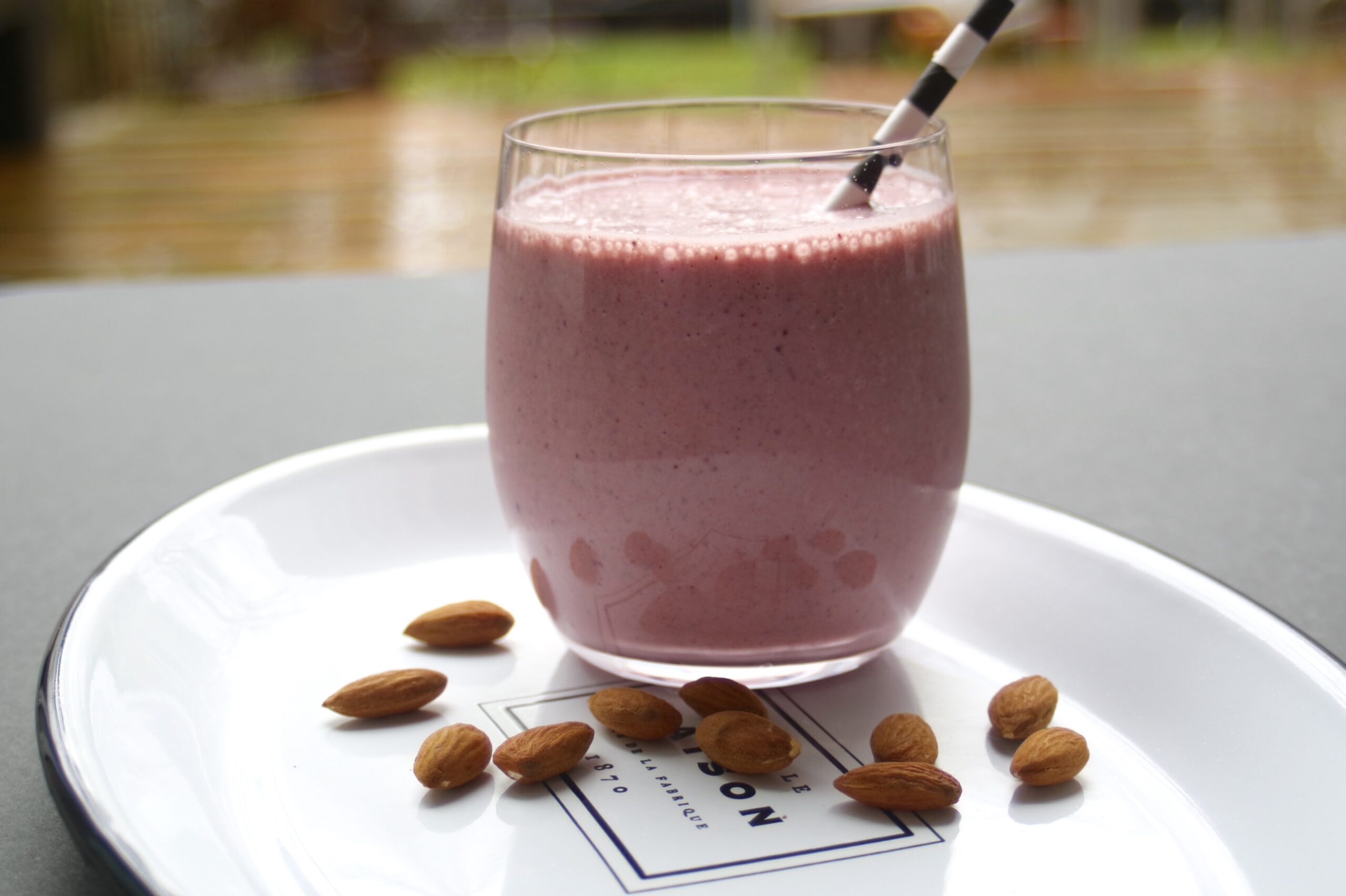 Almonds + Cherries Breakfast Smoothie (vegan friendly)
It's a smoothie kinda morning…
It was supposed to be a walk/run training day kinda morning also, but surprise surprise it's raining…again!
And unfortunately, I'm not that motivated. Truth.
I am so ready for some sunshine at this point, aren't you? This wet and dull weather has me day dreaming about where to escape to next.
But in the meantime here's the recipe for another favourite smoothie of mine that I think you will really enjoy.
Almonds and cherries with a hint of coconut and chocolate…yes it's as yummy as it sounds!
Now if you really want to make this extra good-for-ya, you can add a small handful of fresh spinach leaves. The almonds and cherries do a good job of masking the mild spinach flavour, which for me is a bonus as I'm not yet a fan of veggie based smoothies. Another truth.
This fantastic concoction is high in protein and perfect for breakfast, or if you're feeling that dreaded afternoon slump, it also makes for a great pick-me-up snack.
Give it a try and let me know what you think.
Enjoy😊
A note about almond butter…yes you can buy it ready-made (it's not cheap, but it's very smooth). You can also easily make it yourself. It's as simple as processing a cup of almonds in your food processor for about 5 minutes or until the almonds form a smooth paste (not as smooth as store-bought but just as delicious and perfectly acceptable for this recipe). I often buy it at my local Bulk Barn where you press it yourself and buy only as much as you need (it's very fresh tasting and really good!)
Love smoothies? You can find more delicious recipe by following the links below:
A High Protein Drink to Start Your Day: Peanut Butter + Cocoa Breakfast Smoothie
Matcha Banana Breakfast Smoothie
ALMONDS + CHERRIES BREAKFAST SMOOTHIE (vegan friendly)
Print Recipe
Almonds + Cherries Breakfast Smoothie (vegan friendly)
Ingredients
1/2

large banana, frozen, cut in chunks

3/4

cup

almond milk

(or milk of your choice)

1/3

cup

vanilla or plain Greek yogurt (vegan varieties work too)

(I use 1 single serving container which is about 1/3 cup)

8

frozen, pitted cherries

(find them in the frozen fruit section, very convenient to use)

1-2

tbsp

almond butter

1

tbsp

coconut flakes, unsweetened

1

tsp

ground flax

1

tsp

cacao nibs

1

tsp

pure maple syrup

optional-add a small handful of fresh spinach leaves

(a great addition if you're making this vegan)
Instructions
Place all ingredients in blender cup and process until well combined and smooth.

Pour into a glass, pop in a thick straw and enjoy!

PIN ME FOR LATER

This post was featured at:
SENIOR SALON PIT STOP@ Krafty Planner
THURSDAY FAVORITE THINGS LINK PARTY @ Ακολουθήστε το The Yellow Brick Home
,center>
Please follow and like us: