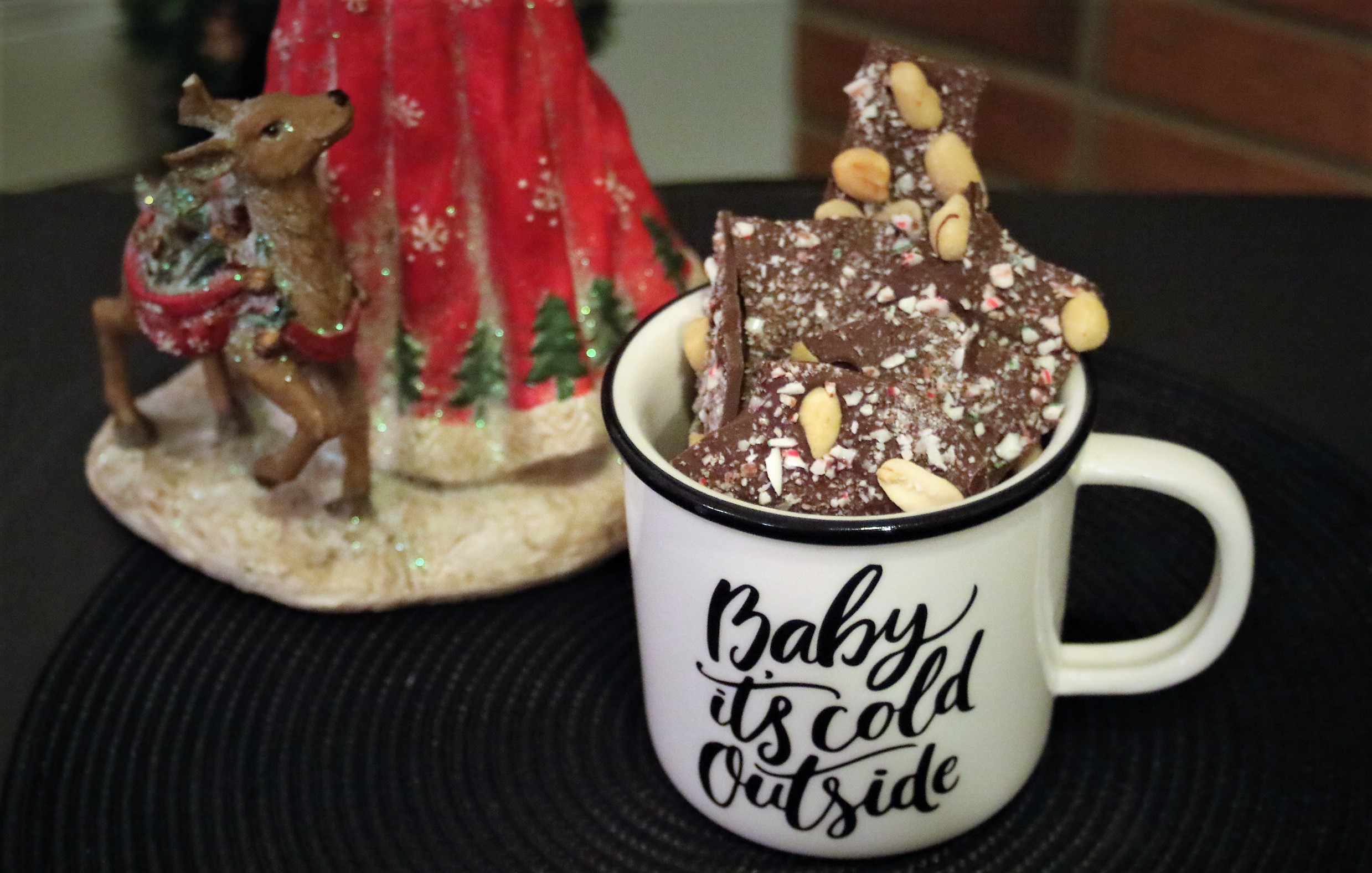 Christmas Salted Chocolate Bark
After waiting with much anticipation I finally got my hands on the holiday issue of the LCBO Food & Drink Magazine.
For those of you who are not from Ontario and are wondering what the heck I'm talking about let me explain….
This is a seasonal publication put out by the Liquor Board of Ontario advertising and promoting the latest in wines, liquors and liqueurs, presented in conjunction with a slew of interesting new recipes and other home entertainment ideas.
This year's offering is, as usual, a beauty.
In my humble opinion they do an amazing job with it. I always look forward to picking up the latest magazine, but the holiday edition is the extra special one that I wait for.
The food and drink photography is gorgeous and so so enticing. However it's the recipes that I love the most.
They're always interesting and unique, yet doable, and I've been very pleased with the ones I've tried out.
This year is no exception.
And, yes, I've already torn out several pages of recipes that I can't wait to make and enjoy.
*the issues are also available online, follow this link LCBO FOOD & DRINK 
Today's recipe is inspired by one I found in the newest publication.
I made some minor changes to make it my own, but stayed true to the original instructions.
This sweet + salty, minty, chocolatey and very yummy bark will make a great addition to my cookie tray and gift boxes this holiday season.
Why not make a batch of this deliciousness….
Fill a pretty Christmas tin with it, gift it to someone special and make their day.
CHRISTMAS 2020 here we go….
CHRISTMAS SALTED CHOCOLATE BARK
STEP 1
melt the chocolate
STEP 2
spread the chocolate out on a foil lined baking sheet
STEP 3
sprinkle with chopped peanuts (ignore my peanuts, I forgot to chop them but you should!) + crushed candy canes + sea salt
STEP 4
refrigerate until hard, then break into pieces and it's ready to enjoy 
*HERE IS THE PRINTABLE RECIPE
Print Recipe
Christmas Salted Chocolate Bark
Ingredients
500g

plain semi sweet, dark or milk chocolate

or a combination (I used plain milk and dark chocolate bars) (a big bar of Toblerone would also work very well)

1/2

cup

chopped salted peanuts

1/4

cup

coarsely crushed candy canes

(approx. 3 regular size candy canes)

1/2

tsp

coarse sea salt or himalayan salt
Instructions
Line a large baking sheet with tin foil.

Fill a medium pot a 1/4 full of water, set on stove and heat on medium.

Break chocolate into squares into a glass bowl that fits over the pot but does not touch the water in it.

Place bowl over pot, turn heat to med-low, and and allow chocolate to fully melt, stirring often with a rubber spatula until smooth.

Pour chocolate on prepared baking sheet and spread it out evenly to the edges.

Sprinkle nuts, then candy canes and salt over the chocolate and very gently press down with the back of a spoon.

Place sheet in fridge for a few hours to cool and harden.

Once firm, break into medium sized pieces or to your liking and enjoy.

(or store in a sealed container at room temperature until needed)
Notes
*makes one baking sheet of chocolate bark
*you can find the original recipe HERE 
*Some of the links you see on POTS + PLANES are affiliate links. This means that if you purchase a product after clicking an affiliate link, I might receive a small percentage of the sale for referring you, at zero cost to you
,center>
Please follow and like us: