Roasted Asparagus Spears Wrapped in Prosciutto
It's asparagus season around here, and asparagus spears wrapped in prosciutto and roasted till crispy is a fantastic way to enjoy these spring veggies.
This is isn't by any means a new idea, it's been around for decades.
But, perhaps like me, you might have forgotten it about it…or worse…never tried it. So here you go, super easy instructions for how to pull off this delicious appetizer or side dish.
Thanks to Jackie, who brought "fancy" asparagus back into my life, I am now slightly obsessed, and can't get enough of them.
My usual go-to method for asparagus is actually to toss them with a bit of olive oil, minced garlic, salt and pepper, and a bit of Parmesan cheese, then roast them in the oven for 15 minutes at 400F. Simple and really tasty.
However, you absolutely need to know that wrapping them in delicious prosciutto takes them to whole other level of yummmm!
Why have I been denying myself? I've been missing out….
What's that? Not a fan of asparagus?
Please, please give them another try with this recipe idea, it might just win you over.
And if you need more reasons to start eating asparagus, here are a some interesting facts:
They are very healthy, and a great source of vitamins, minerals and folates
At about 20 calories for 100 g of plain asparagus, they're a great low cal choice
They are an excellent way to get your daily fibre, aka roughage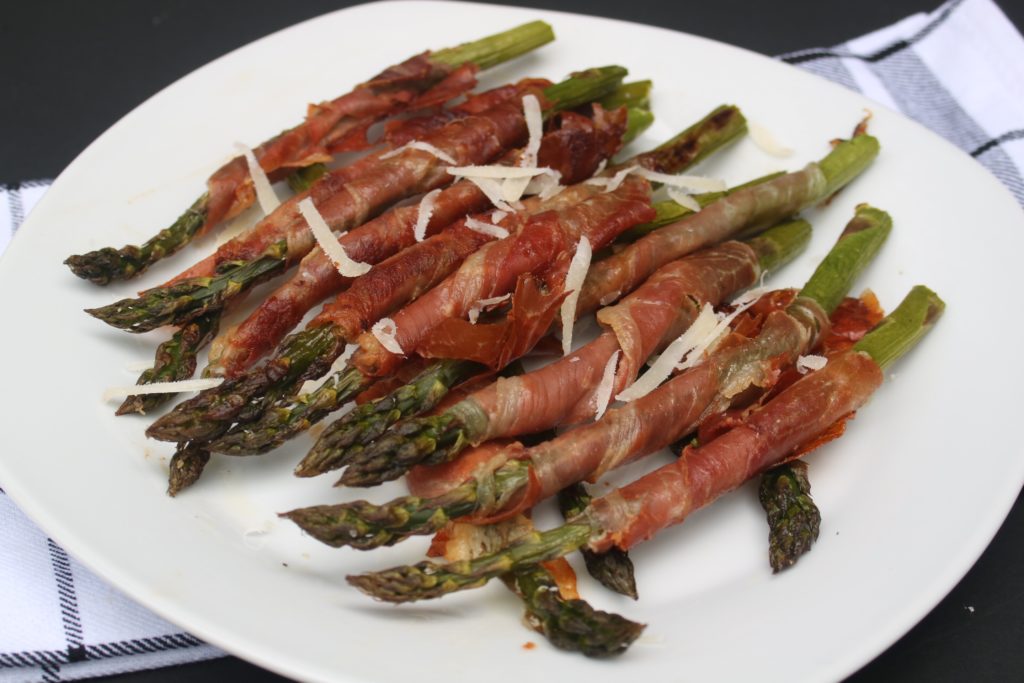 Print Recipe
Roasted Asparagus Wrapped in Prosciutto
Ingredients
1

bunch

asparagus spears (usually has approx 20-25 spears)

medium thickness, washed

1

tbsp

olive oil

20-25

slices

Prosciutto, thinly sliced

(the cheapest prosciutto is perfect for these)

grated Parmesan cheese for garnish
Instructions
Preheat oven to 400 F.

Line a baking sheet with parchment paper or tin foil.

Remove the hard part of asparagus spear by gently bending each stalk about a 1/4 of the way up the stalk, until it snaps, the weak point is where the hard (aka not as tasty) part of the spear begins. Reserve the top part and discard the bottom end. (If spears are very thin, simply cut of a bit of the end, as most of the spear will be good).

In a large bowl toss the asparagus with olive oil.

Wrap each asparagus spear with a slice of prosciutto.

Arrange asparagus in a single layer on the baking sheet.

Roast for about 15-17 minutes, depending on thickness of spears.

Remove from the oven and serve as a side to your meal, or as an appetizer (they are good at room temperature also, no need to reheat)
This post was featured at:
Your Whims Wednesdays @ MY GIRLISH WHIMS
WEDNESDAY LINK PARTY # 237 @ Grandmas House DIY
SHARE YOUR STYLE #298 @ French Ethereal
FABULOUS FRIDAY LINK PARTY @ South House Designs
,center>
Please follow and like us: